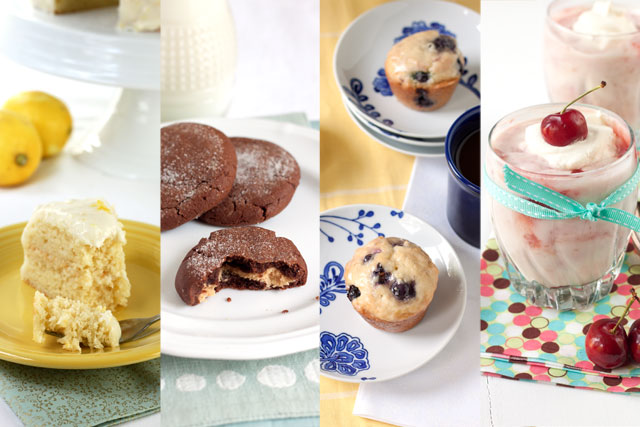 I was hoping to get a new recipe up here this week but several work deadlines haven't left me with much free time. So with Easter coming up I thought it would be a good time to post a round up of my favorite Spring recipes. At the end I also included a few links to fun looking Spring/Easter recipes from some of my favorite food bloggers. Check them out!
I'll be back next week with a new recipe. Hint: it's not very Springy but it'll be great for Cinco de Mayo next month. 🙂
Fresh and Lemony
As I said in my previous post, nothing says Spring to me like fresh lemons. These are some of my favorite lemon desserts.
Lemonade Layer Cake
A delicious (and lower fat!) cake that would make a perfect Easter dessert.
Glazed Lemon Cakes
If you don't have the time to make a full size layer cake, these glazed lemon cupcakes are easy to make and just as good.
Lemon Glazed Strawberry Tart with Pastry Cream
A sweet sugar cookie-like crust is filled with pastry cream and topped with fresh strawberries. This recipe is a bit finicky, but the result is worth it.
One of my favorite flavor combos is lemon and blueberry. Blueberries aren't in season quite yet, but you can use frozen for both of these breakfast recipes.
Lemon-glazed Blueberry Donut Muffins
Lemon Poppy Seed Waffles with Blueberry Syrup
Chocolate Treats for Easter
Magic Peanut Butter Middles
Chocolate cookies with a peanut butter surprise in the middle. My favorite cookie. Ever.
Chocolate Covered Nutella-Mallow Cookies
Soft cookies slathered with nutella (or peanut butter), topped with marshmallow and then covered in chocolate. Decadent and wonderful!
In season: Rhubarb
Cherry-Rhubarb Fool
Cherry-Rhubarb compote swirled into a fluffy cloud of whipped cream and yogurt.
Blueberry-Rhubarb Tarts
Blueberry-Rhubarb compote baked in a tasty cornmeal tart crust.
Dinner Time
Pineapple Stuff (AKA Scalloped Pineapple Casserole)
An absolute must side dish to serve with your Easter Ham. My mom served this at Christmas and Easter and it always got raves from everyone.
Asiago-Crusted Pork Chops with Sweet Pea and Pepper Toss
A fast and easy dinner. This is a staple in my dinner rotation.
Spring/Easter recipes from some of my favorite food bloggers: