Finally! I've been looking for this recipe for years and I finally found it. You see, Chicken and Dumplings are my boyfriend's favorite dish and he's always wanted me to make it at home. And I have tried, but the problem is there are lots of different recipes for chicken and dumplings and all the recipes I've tried haven't been "right", according to him.
Here's what the right kind isn't: the kind with actual little round dumplings on top. Because I guess that would just be too easy? I've tried several recipes like that, one from Martha Stewart, and while Brandon agreed that those recipes weren't bad, they still weren't "right".
The right kind of chicken and dumplings are the kind that Brandon's grandmother makes. They are the kind you get at Cracker Barrel. They are true southern style, and they don't actually have dumplings, it's more like slabs of tender and delicious biscuit dough. You could think of them as really big, thick noodles. There are no silly things like vegetables in here, it's just chicken, chicken stock and dumplings. Period. You can eat your green beans and fried okra on the side like the real Southerners do. Every single time we go to Cracker Barrel, that's what Brandon gets. EVERY. SINGLE. TIME. And you know that's going to be hard to live up to because I'm sure Cracker Barrel makes those things with lard and crack cocaine-like everything else they serve. (I kid, I love Cracker Barrel, lard and all!)
That's why I was so happy to find this recipe. I showed Brandon a photo and he said it looked right and then I made it and he said it was perfect. I have bested Cracker Barrel and his grandmother! In fact, a few weeks after I made this recipe for the first time we actually went to Cracker Barrel and he did not order Chicken and Dumplings!
I, on the other hand, took a bit more convincing. Even though I grew up in Mississippi and Tennessee, I was never a fan of Chicken and Dumplings. I don't think I'd ever eaten them before I started on this search. I'll be the first to admit that was based entirely on looks. These aren't the best photos I've ever taken, but even if I had perfect lighting, it's just not a very pretty dish. So you'll just have to take my word that I'm a Chicken and Dumplings convert now. This recipe is the ultimate comfort food. It will make you feel warm and fuzzy and very, very full.
This is great with Turkey as well as chicken. I made it with chicken the first time, but this last time I used my leftover Thanksgiving turkey and the stock from it. Just as good!
This is not the easiest recipe ever, but it's not complicated either. It's somewhat time-consuming, so this may be more of a weekend dish. But a lot of that is just waiting for the chicken to cook, so you can go do other things. If you do want a faster dinner, you cook the chicken and prepare the dumplings the day before. I like fast and easy dinners as much as the next person, but some things you just have to put in the time and effort to get right. This recipe is worth it!
Update: This has become one of the most popular recipes on my site and I've gotten lots of feedback from people with tips on how they make their own Chicken and Dumplings, so make sure to read through the comments if you have time!
For people who are averse to using shortening, one of the tips I got was to substitute chicken fat. It's healthier and it will give the dumplings more flavor. You'll need to prepare the chicken at least a day ahead so you can put the broth in the fridge and let the fat harden on top. I haven't tried it yet, but I plan to the next time I make this dish!
Another prominent tip is to use chicken broth instead of milk in the dumplings, but I DON'T recommend that with this particular recipe. I've tried it multiple times and the dumplings completely disintegrate once they're added to the broth. Milk seems to be necessary for this recipe to hold the dumplings together properly. If anyone has an alternative dumpling recipe for those that can't/don't want to use milk, feel free to post it in the comments.
Southern-Style Chicken and Dumplings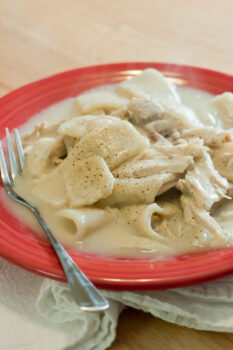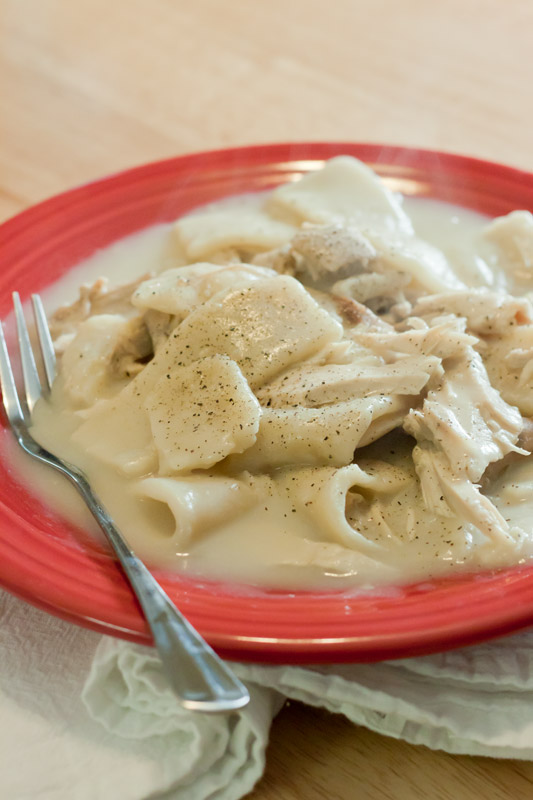 Makes 4 servings

Prep Time: 90 minutes
Cook Time: 30 minutes
Total Time: 2 hour


Ingredients
Chicken
1 large fryer chicken (4-5 lbs.), neck and gizzards removed
1 large onion, peeled and cut in half
3 carrots, cut into large pieces
3 stalks of celery, cut into large pieces
Kosher salt, to taste
Pepper, to taste
Dumplings
3 cups cake flour or White Lily flour*
3/4 tsp. baking soda
3/4 tsp. salt
4 1/2 tbsp. shortening*
1 cup milk
Process
Place the chicken, onions, carrots, and celery in a large stockpot and cover with water. Bring to a boil, then reduce heat so water maintains a gentle simmer. Cover and cook chicken for at least 1 hour or until cooked through (about 165 degrees).
While the chicken is cooking, mix flour, baking soda, and salt together in a bowl. Cut shortening into flour mixture with your fingertips until it resembles small peas. Add milk — 1/4 cup at a time, you may not need a full cup — and stir until a ball of dough just begins to form, being careful not to over-mix.
Divide the dough into two equal halves, loosely shaped into rectangles. Roll each half of the dough out onto a floured piece of waxed paper or parchment paper. Roll about 1/4 inch thick. Using a pizza cutter or sharp knife, cut dough into rectangles about 1 inch wide by 3 inches long. Allow the strips to rest and harden for at least 2 hours. You could also make these the night before and let them sit out, loosely covered with a tea towel or plastic wrap.


Once the chicken is done, remove it from the broth and let it cool. Remove chicken from the bone (this shouldn't be hard, it should be falling off pretty easily at this point) and shred into medium-sized pieces, discarding bones and skin.
Pour the chicken broth through a fine-mesh sieve lined with cheesecloth (you can improvise with a coffee filter or paper towel), discarding vegetables. Reserve 6 cups of broth for the dumplings. Refrigerate or freeze the rest to use for another recipe. It's much more flavorful than the chicken broth you buy at the grocery store.
In a large pot or dutch oven over medium heat, bring broth to a gentle simmer and drop in dumplings. Cover and allow to cook for 7-10 minutes.
Reduce heat to low and add chicken. Allow to cook until thickened, about 20 to 30 minutes (or longer, depending on your stove or if you want a thicker broth). Season generously with salt and pepper and serve.
Recipe Notes
*If you don't have cake flour, I have tried this recipe with AP flour and it turned out fine. The dumplings may just be a bit chewier and less light than if you use cake or White Lily flour.
*I imagine you could use butter, but I haven't tried it. I've never been a fan of shortening, but I stuck to the recipe because I didn't want to mess with its "right"-ness. You know Cracker Barrel and Southern grandmas aren't afraid of using shortening.
I love to serve this dish with my favorite Honey Cornbread and a side of black-eyed peas or collard greens.