I hope everyone had a nice weekend! Brandon and I had a pretty laid back Christmas, we stayed in and watched movies and played video games all weekend. It even snowed a little bit on Saturday so we got the proverbial white Christmas. After going all out for Thanksgiving last month, I really wasn't in the mood to kill myself making a big dinner again so instead we had a small ham and I made my favorite Pineapple Stuff to go with it. But it is Christmas, so I couldn't resist having fun with dessert.
One of my presents this year was a set of mini springform pans
. Cheesecake is most definitely our favorite dessert, and we agree that the recipe I use is the best cheesecake we've ever had (two years later I still get regular comments from people who love the recipe) but I only make it on special occasions for two reasons: 1) a 10″ cheesecake is A LOT for two people to eat and 2) we never ever agree on which flavor we like the best. I like to experiment with different flavors like Dark and White Chocolate or Pumpkin while Brandon just wants plain ol' no frills cheesecake with a boring fruit topping. Well, these mini springform pans solve both problems, because now I can make half the amount of cheesecake I usually make and each mini-cheesecake can be a different flavor. Brandon gets his plain cheesecake, I get a fun one like peppermint bark or red velvet and then we can split the Oreo cheesecake, which we both like. Everyone wins!
When I was deciding which flavors I wanted to make, Peppermint Bark was at the top of my list because I've already had a bunch of questions from readers about making one. I've never eaten peppermint bark cheesecake before and I didn't really look for a recipe, I just decided to have fun with it and come up with something that sounded good to me. It's a white chocolate cheesecake marbled with white chocolate-peppermint flavored cheesecake (dyed pink for fun) and then topped with a peppermint-chocolate ganache and sprinkled with crushed peppermints. Let me tell you…it's as good as it sounds. I was worried peppermint and cream cheese might be kind of weird together but adding the white chocolate makes it work perfectly. It honestly wasn't even as minty as it you would think. I preferred keeping it subtle because I didn't want to cover up the white chocolate flavor but you may want to increase the peppermint extract if you really like peppermint.
Red Velvet is another cheesecake I've never had before, but it sounded good and I thought the beautiful red color would compliment the red of the peppermint and the red of the cherries in the other cheesecakes. It's flavored with cocoa and topped with a layer of cream cheese frosting because why not add some more cream cheese to your cheesecake? It's Christmas, go all out!!
If you're like Brandon and you prefer to keep your cheesecake simple, the other two are just as good as those crazy cheesecakes. The Oreo cheesecake has an Oreo crust, Oreos mixed in and more sprinkled on top. It's pretty much your ultimate Oreo cheesecake.
Last but not least there's the good ol' basic cheesecake with a sweet cherry topping. And it's not those weird fake looking cherries in a jar either, you can use fresh or frozen dark sweet cherries. Brandon said it was exactly what he wanted, so it will surely become a staple every time I make cheesecakes in the future.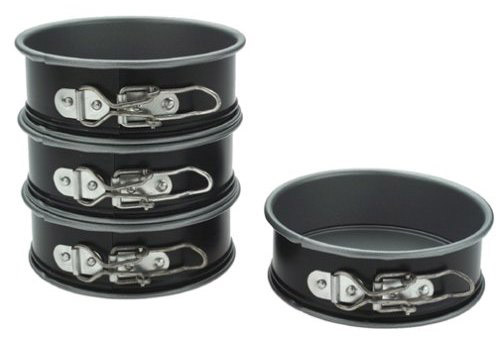 I realize the most people won't have these mini springform pans, so there are directions for making each of these cheesecakes full size and in smaller pans. But since it's Christmas and these pans are so awesome I decided I want to give a set of four 4.5″ pans
away to one lucky reader! This isn't a sponsored giveaway, I just love these pans and I want to give something back to you guys for making this such a great year for Back to the Cutting Board.
All you have to do to enter is leave a comment on this post. Next Monday, January 3rd, I will pick a winner at random and announce it on this post as well as on the Back to the Cutting Board Facebook page.
To get extra entries for the giveaway:
"Like" Back to the Cutting Board on Facebook (it counts if you're already a fan, too).
Tweet a link to this post about the giveaway or the recipes in this post.
Just come back here and add a new comment after you've "liked" me to get another entry. If you tweet a link to this post, it should automatically appear here as a comment, but if not, then add a comment with a link to your tweet.
Good Luck!
UPDATE 1-3-11: The contest is now closed. The winner is Intisar:
Those look great! I would love to have a set of mini springform pans, I love cheesecake, but DH doesn't so this would be perfect!!!
Thanks so much to everyone who commented and tweeted and liked Back to the Cutting Board on Facebook! I will definitely be doing more of these kinds of giveaways in the future!
Skip down to the cheesecake recipe you want:
You might also like my previous cheesecake recipes:
Each recipe makes enough for a full-size 10-inch cheesecake or six 4.5 inch cheesecakes. If you want to half the recipe, use 3 blocks of cream cheese and 3 whole eggs instead of a combo of eggs and egg yolks.
If you have leftover cheesecake batter or you want to make even smaller cheesecakes, you can also make this recipe in cupcake tins with foil cupcake liners. Follow the small size baking instructions, but bake for only 30 minutes at 200 degrees (F) instead of 1 hour. Immediately remove from oven to cool. You don't need to bake the crust for cupcake-sized cheesecakes.