October 7, 2008
Okay, so actually this recipe is called Applesauce Loaf, but that name just doesn't do it justice. It makes it sound vaguely gross, like meatloaf (I'm not saying meatloaf is necessarily gross, but it sure sounds like it is). This recipe is really similar to Banana Bread, so to call it Applesauce Bread makes much more sense to me. In fact, both recipes go really well together. My mother almost always made both at the same time and while I like Banana Bread just fine, it's the Applesauce Bread that I could never get enough of.
This recipe is perfect for this time of year. It's sweet and lightly spiced with cinnamon and nutmeg, so it's a great start to nice fall day. We don't have fall down here in Florida, which is why I always make applesauce bread and similar recipes this time of year. If it can't actually look/feel like the season, then I can at least make things that remind me of it.
More Recipes
December 4, 2008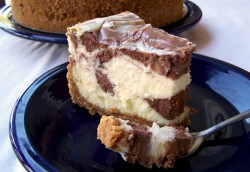 I decided to buck tradition this year and I made a cheesecake for Thanksgiving instead of apple or pumpkin pie. Brandon and I both LOVE cheesecake and he insists that it's more pie than cake, so in his mind I still made the traditional pie. I used my previous cheesecake recipe, (which IMHO is the best) but modified it by adding melted white and dark chocolate, a method I've seen in a bunch of other recipes. If you remember from my previous sojourn into cheesecake baking I had some issues getting it right (it looked undercooked, though it really wasn't). I baked it a bit differently this time and found this is definitely the right way to do it. Plus I think this new method makes it much more like a real New York cheesecake (or so I've heard) because it browns the …
November 21, 2012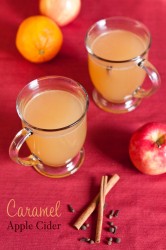 November has passed in a flash and here we are, it's almost Thanksgiving! I'm freaking out about this because I just got back from vacation and I'm having a hard time adjusting to normal life again. We spent half the week in a secluded cabin in the Smokey mountains and the other half in Asheville, NC, which is a pretty little town with lots of wonderful restaurants. I had such a good time that I'm already mentally planning a trip back to the same area next year!
I didn't mean to take such a long break from posting but between work deadlines and vacation it didn't leave much time for cooking this month. But thanks to how easy this recipe is, I did have a chance to whip up this delicious drink in my spare time. I wanted to post it before Thanksgiving …
March 18, 2009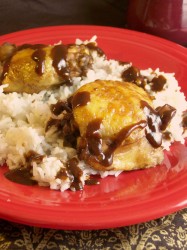 This easy to make recipe is from the Philippines. You might think it was just your garden variety chicken and rice dish, but the sauce is so good it takes it to a whole other level. It's rich, tangy, tart and kinda sweet all at the same time. Maybe like a Filipino version of BBQ sauce…but honestly that description does not do it justice at all. You just have to taste it, you'll see what I mean. I got it from Mark Bittman's cookbook How to Cook Everything, which I LOVE and highly recommend for the sheer number of recipes, but also the tips and helpful info he offers.
I'm pretty sure I remember Anthony Bourdain talking about Adobo on a recent episode of No Reservations? It's a very popular Filipino dish and this …
July 2, 2009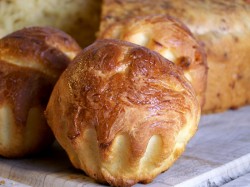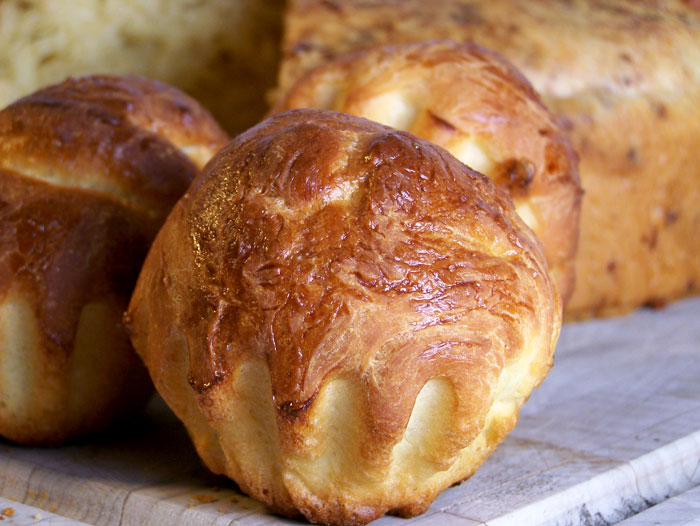 So I'm still going at a normal pace for the BBA Challenge, but I'm behind on actually posting about it. I keep going back and forth about whether I even want to post about every single bread and that leads to more procrastination. But I think ultimately, I do want written and photographic evidence that I did in fact bake every single bread in this book, in order. I may do these combo posts for bread I have less to say about, but for instance, I have LOTS to say about the Ciabatta I did this week, so that's going to be it's own post (hopefully next week).
February 4, 2010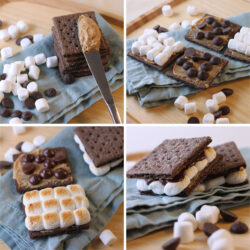 I'm doing Project 365 this year, which is a challenge to take a picture every single day for a full year. It's a month in and I'm already starting to run out of ideas of what to take pictures of. Last week I was sitting in my kitchen trying to come up with something, but my mind kept wandering to dessert (this is not unusual). Then I realized: I should take a picture of dessert! Perfect.
This is my favorite go-to snack. I always have all the ingredients in my pantry and when I'm having a chocolate craving I can make a couple of these in 5 minutes, which is much faster (and healthier) than making up a batch of cookies or brownies. It's not a mind-blowing dessert or anything, but when I posted this picture on flickr a lot of people commented saying how …
September 17, 2013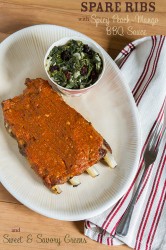 One interesting aspect of Whole30 has been adding a lot more protein to my diet. In the past, I didn't eat much meat during the day, for the most part defaulting to smoothies, toast, cereal/oatmeal and sandwiches (usually PB&J) and for dinner I'd usually make some kind of chicken or fish (occasionally pork or beef) that was served alongside pasta, rice or potatoes. So when I started Whole30 and I couldn't eat any gluten, grains or starchy vegetables I basically had to start over. I never had a problem planning dinners but breakfast and lunch was hard to figure out.
It quickly became apparent that when I ate meat and/or eggs during the day, I had a lot more energy and felt much better. Despite that, it's been …
October 6, 2010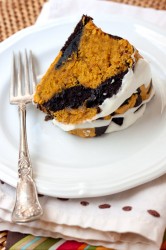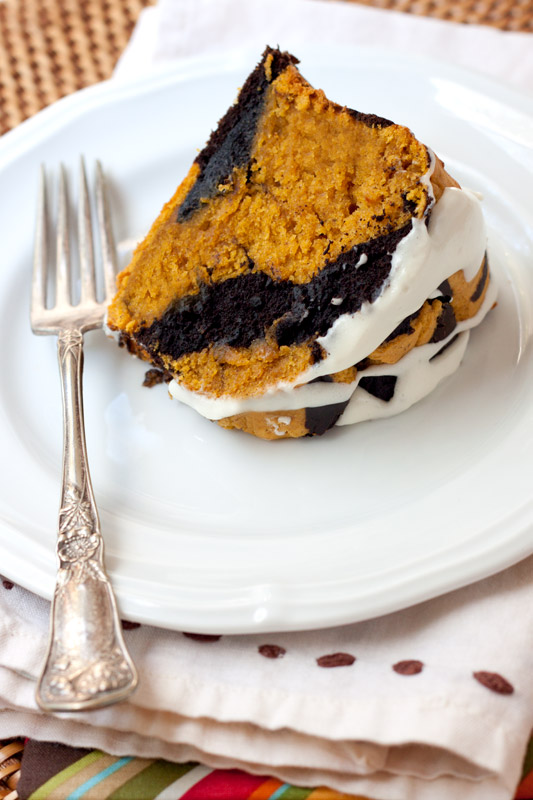 I am officially addicted to pumpkin. Maybe I'm just trying to make up for all the lost years of not eating it, but I've been making myself a pumpkin spice latte every morning and it's pretty much the only thing I'm interested in baking with lately. And did you hear? The canned pumpkin shortage is over, so it shouldn't be so hard to find it this year! I've already stocked up.
When I was going though my recipe archives for last week's Fall round-up post and remembered the Double Chocolate Pumpkin Cupcakes, I knew I wanted to make something else with pumpkin and chocolate and since we've already established that I love any kind of marbled dessert, I decided a marbled chocolate and pumpkin cake would be perfect.