March 24, 2009
My boyfriend skyped me from work on Friday with a link to the article on Whoopie Pies in the New York Times. "You need to learn how to make these", he said. Not being one to pass up a baking challenge I made them later that night.
Apparently, whoopie pies are the new cupcake, but I don't know…I'll stick with cupcakes thanks very much. Not to say they aren't good because they are, but my issue was with the filling. Personally, I HATE making frosting. It was a miles better experience with my new stand mixer (I completely gave up making frosting with my hand mixer as it was just disaster after disaster with that thing), but it was still a pain and in the end I wasn't that impressed. I know it's called Buttercream, but geez, it's 2 whole sticks of butter! I thought it was butter overload.
Next time I'll be cutting the amount of salt in the recipe by half as both the cakes and the filling were a bit too salty. Also, I'm going to skip the frosting and fill …
More Recipes
August 28, 2012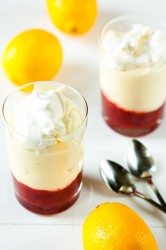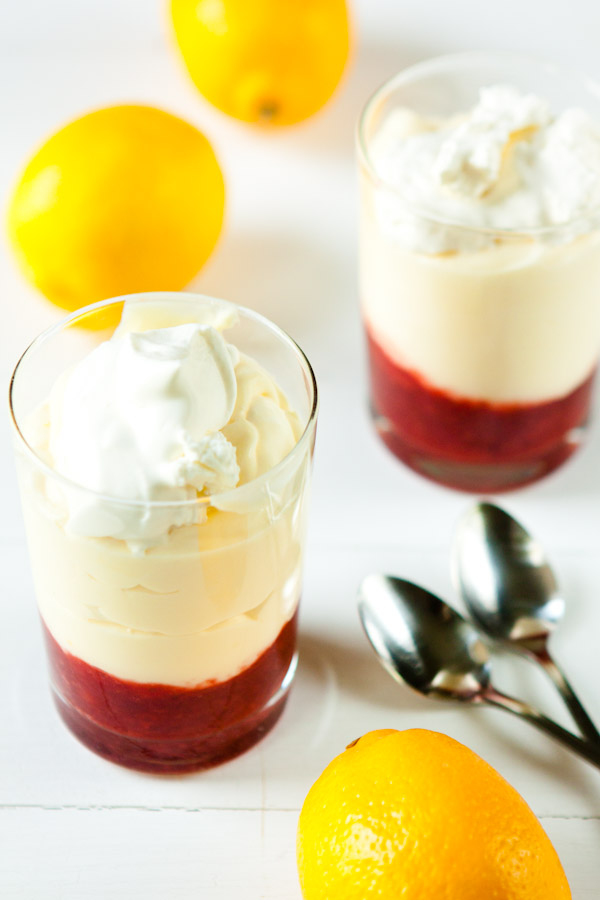 The mousse is very simple mixture of lemon curd (which only takes about 15 minutes to make and can be made up to a week in advance) and whipped cream. So simple! I make a big batch of lemon curd at the beginning of the week, then when dessert time rolls around I whip up a little cream and mix in a few heaping spoonfuls of curd. In 5 minutes you have a smooth-silky-light-fluffy-sweet-tart lemony treat. Bonus: the extra lemon curd is fantastic in yogurt, slathered on cake or muffins or just eaten by the spoonful!
And be sure to try this with Meyer Lemons when they're in season again next year. I was lucky enough to find Meyer lemons very late in the season and this was one of the first things I made with them.
August 26, 2009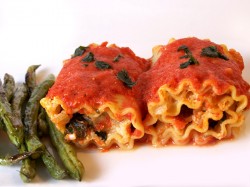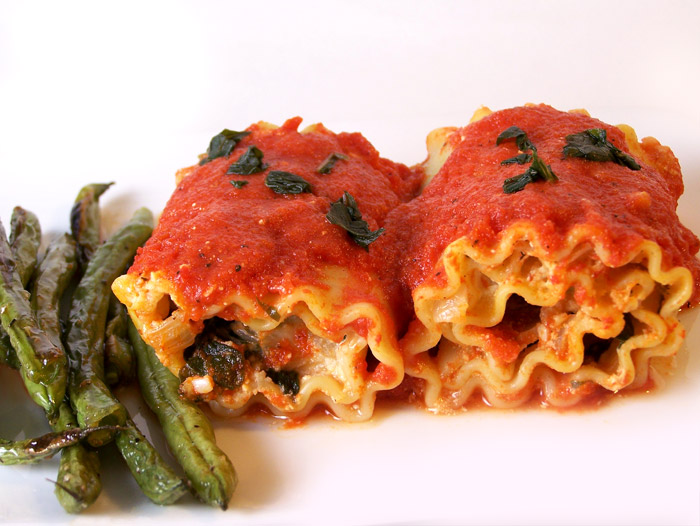 This is a fun one! I recently got a new Cooking Light Cookbook so I've been trying out lots of different stuff in it. I was looking for something meatless because I decided we should have at least one day a week without meat, as it would be good for our diet as well as our bank account. This just looked like a fun and interesting way to lighten up lasagna and it didn't disappoint one bit. There was so much good stuff going on, that I didn't care one bit that there was no meat in it.
The dish is fairly easy to make and doesn't take too long to prepare. You prepare the three different components separately (the noodles, the cheese filling and the sauce) and then you combine them. …
March 9, 2010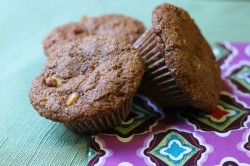 I haven't eaten enough bran muffins to say if these are the best ever but these muffins are pretty damn good. In fact, I thought they tasted a lot like these molasses cookies, which are a favorite of mine. Any muffin that tastes like a cookie is a win for me, so I liked these a lot.
June 20, 2011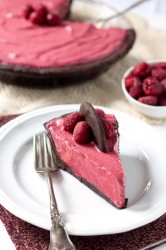 Sometimes I worry that people think I'm way better at this while cooking/baking thing than I actually am. But if anyone is to blame for this perception, it's obviously me because I'm always telling you how easy this or that recipe is to make and blah blah blah…look how great it turned out, too! Here's what you should be taking away from any recipe I post on this site: If I can make this thing, then you most definitely can as well. Because the truth is I'm still learning and I make mistakes ALL the time. But the awesome thing about learning to cook is that the more you do it, the more you learn little tricks and shortcuts so that you can fix your mistakes and learn to steer clear of them next time. But even then, things don't always go your way. It always sucks …
November 11, 2010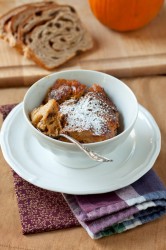 I love bread. It's probably my favorite food. When we order pizza, I take off the greasy cheese and just eat the crust. My favorite restaurants are the ones that bring you a basket of bread. Low-carb diets? I couldn't make it more than a couple days. I have a pretty major sweet tooth, but if I was ever forced to choose between bread or sugar, well, this blog would have a whole lot less desserts on it. (But let's really hope that "Sophie's Choice" never comes to fruition, okay?) What I find really strange is that despite my love of bread, I have never had bread pudding before. I don't know how that happened, but I have been meaning to rectify it for a while.
I had a loaf of raisin bread sitting around and getting stale so I finally decided this …
July 21, 2008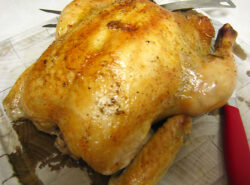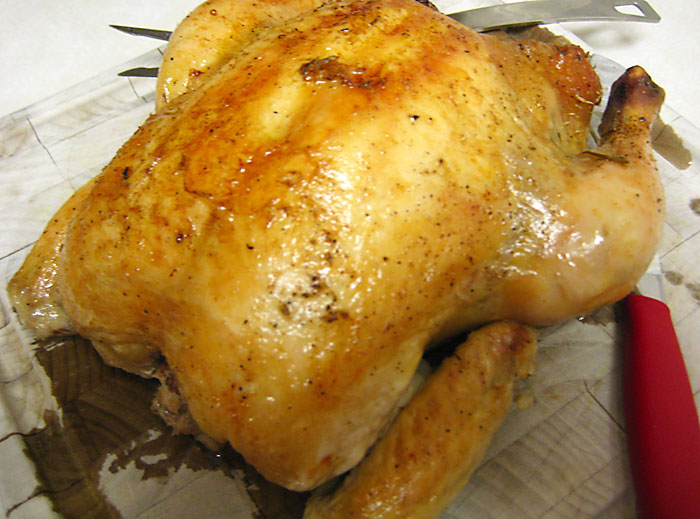 The idea of making a whole chicken for dinner used to scare me. But then I realized that I make a giant turkey every year on Thanksgiving and that's never been a problem so why am I scared of a little chicken? In fact whole chicken is one of the simplest dinners to make. The thing I especially love about this recipe that it uses chicken broth instead of butter or oil, so you still get a perfectly tender and juicy chicken without all the fat.
And I've never been a big fan of gravy, but I think it compliments the chicken perfectly. It's also great on top of rice or vegetables or stuffing or whatever else you are serving with your chicken. I found myself pouring gravy over my entire plate because I liked it so much.
January 26, 2011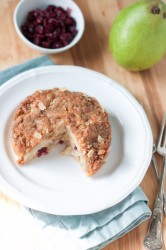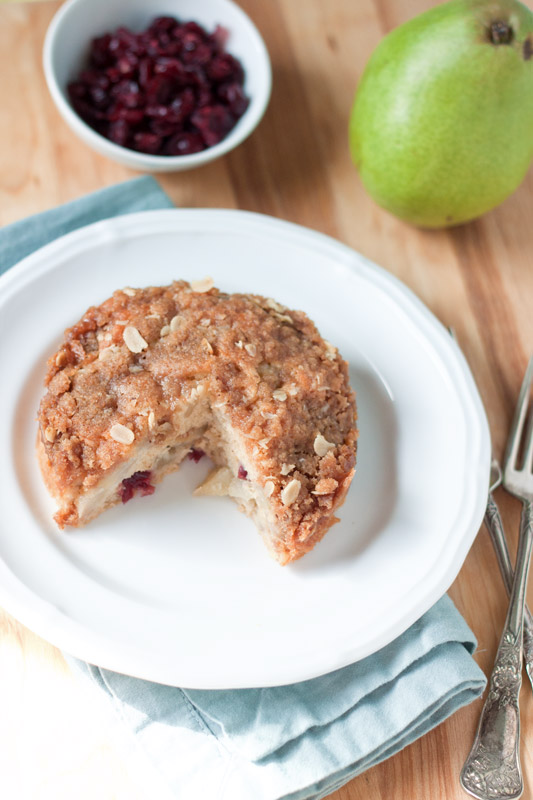 Streusal is probably one of my most favorite words to say as well as one of my favorite things to eat. But now I have a new favorite word: Kuchen. Kuchen just means cake in German, but it's so much more fun to call it kuchen, isn't it? Whatever you want to call this recipe, it's really good and very easy to make. It got the Brandon seal of approval and he rarely likes fruit-filled cakes, especially ones with cranberry. He said it tasted way too good to be a light recipe, but it is, so you don't even have to feel guilty about eating it!
This is basically a coffee cake, but it doesn't matter if you eat it for breakfast or dessert. I would venture to guess that you'll want to have it both times! It's an extremely moist cake, filled with caramelized pears …