March 24, 2010
It's been a while since I posted a dessert here, mainly because I've been trying to stay away from things like that, but also because I haven't found anything that interested me. But since it's the first week of Spring, I decided I wanted to make a dessert that was light and fruity, nothing chocolate or heavy (which is my usual preference for desserts). So when I was flipping though my beloved Cooking Light cookbook, this recipe jumped right out at me.
But I have a confession: I haven't made many layer cakes before. Most of the ones I've tried have been unmitigated disasters with uneven and/or rounded layers and frosting catastrophes aplenty. So I was bracing myself for another un-perfect cake, but it turns out I didn't need to worry. This cake should be called "Baby's First Layer Cake". Seriously, it's really easy to make and I didn't have any of the problems I normally have. For one, the tops didn't puff up and get rounded like many cakes I've baked (I know I could slice them off, but let's just say I'm not too …
More Recipes
May 10, 2011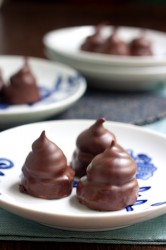 I think I'm starting to look forward our Game Nights more for the baking, than for the actual, you know, playing games. Since 99% of the cooking I do is for me and my boyfriend it's really fun to have an excuse to make something for other people. It's also pushing me to challenge myself and try new techniques. These mallow cookies are a prime example. I've been wanting to make this recipe for a long time, but it always seemed like too much effort for cookies that only one other person would see. But making them for a group of people seemed much more worth it and even sounded like the process would be really fun. Plus, these cookies are seriously impressive looking. What can I say, I like to show off. Who doesn't?
So, are these as big a pain in …
September 23, 2008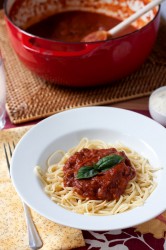 I am all about comfort food. What I love even more is food that is dead simple to make and that stores easily. That's probably why spaghetti is my all time favorite dish. Judging from how many brands of spaghetti sauce there are at the grocery store, I would venture to say that not many people make their own sauce anymore. This was one of my mom's staple recipes and I don't think I ever saw her use sauce from a jar her entire life. This was the first recipe I asked for when I moved into my own apartment during college and I've been making it ever since. I've tried jar sauces before, but I always wind up feeling like I've let my mom down. Plus none of them taste even one fifth as good as homemade.
August 20, 2009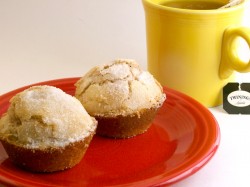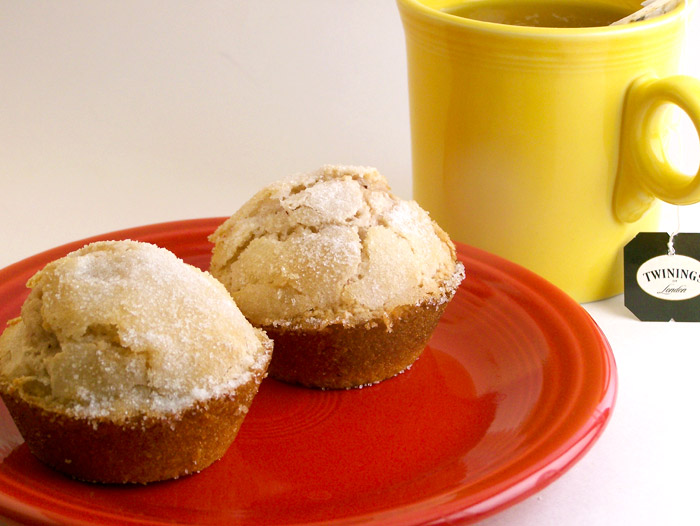 img class="centered" src="http://farm3.static.flickr.com/2463/3840762246_ddca3e4635.jpg" alt="Light Strawberry-Lemon Muffins" width="500″ height="376″/>
Well, summer is almost over and strawberry season has ended, and every time I go to the grocery store they always seem to be having a sale on their strawberries, obviously trying to get rid of them as fast as possible. But looking closely at the strawberries, many are bruised or mushy and just don't look that great. Definitely not something I'd want to display on a strawberry tart. But I have a hard time passing up such a good deal, so I buy these sad looking strawberries and immediately freeze them when I get home for use in smoothies or granita.
But sometimes this means I'll look in the freezer and see that I have way too many strawberries. I came upon this recipe a while ago when I was looking for a recipe to use up some of these strawberries. It's pretty much the …
July 13, 2010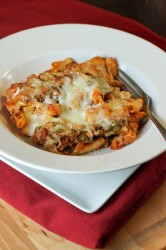 Lately, I've been feeling like I'm in a food rut, making the same things over and over again, so I'm making an effort to try new things; not just new recipes, but new ingredients that I've never eaten or cooked with before. The easiest way I've found to do this is to pick one cookbook and only make recipes from that cookbook for the next couple of weeks. That way I can't just go through and pick and choose the "safe" recipes, I actually have to try things that I would normally flip right past. This led me to choose a recipe with goat cheese in it, something I've liked in restaurant dishes, but not something I've ever bought and cooked with before. Well, that did it. I guess maybe it never occurred to me that you could buy goat cheese at a normal grocery store? …
October 9, 2012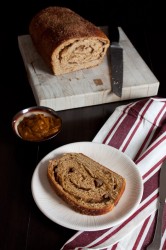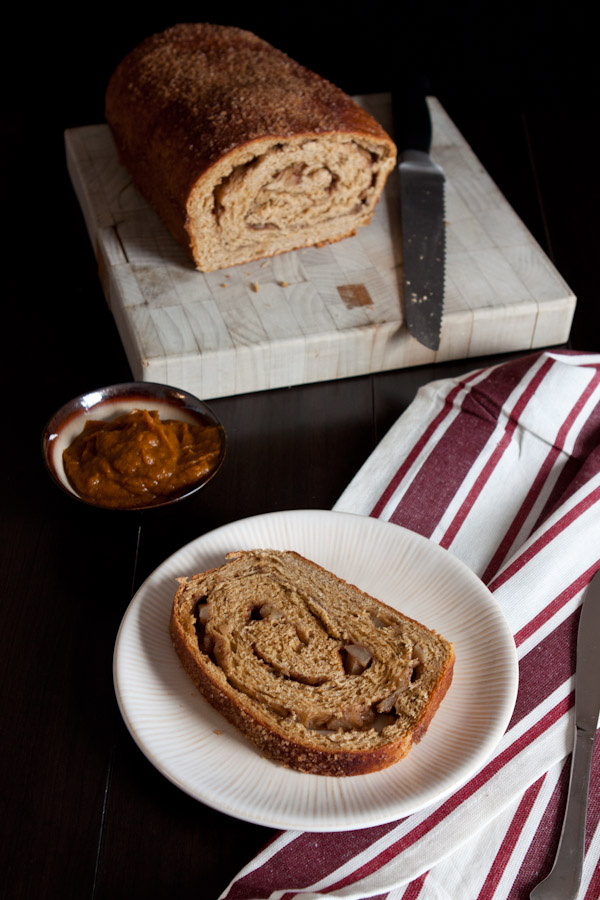 It looks like Fall has finally arrived in Tennessee this past week. The temperature has been dropping as the leaves are starting to change and that has me instinctively heading into my kitchen to bake with my favorite ingredients: pumpkin and apples! This recipe is inspired by the apple fritter bread and pumpkin streusel bread that I've been obsessively buying from Target for the past couple of months. I'd been wanting to try to make a homemade version of the apple fritter bread but then I realized it would be so much better if the apple fritter bread had pumpkin in it, too!
I started with a pumpkin yeast bread recipe that I really like because it's quite healthy in addition to being delicious. It's made with all-purpose flour but also has some whole wheat flour and oats to add …
December 9, 2008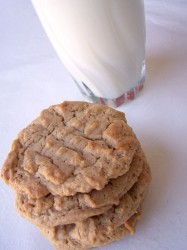 So I guess December is the official cookie baking month, right? I don't feel so bad about making/eating cookies in November and December. Diets are what January is for. I consider myself quite the cookie connoisseur but I realized last month that despite my love for all things peanut butter, that I've never made peanut butter cookies from scratch. Of course, I had to remedy this immediately. Brandon had a cookie craving one night and didn't want to wait the requisite 36 hours for chocolate chip cookies so I found this recipe and whipped it up. I LOVED how fast and easy these were to make. This recipe also had more peanut butter in it than any others I found, and I don't think you can go wrong with more peanut butter.
While I liked these cookies a lot, I couldn't help but think that …
November 17, 2009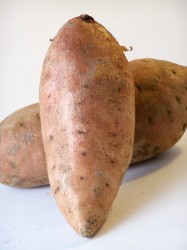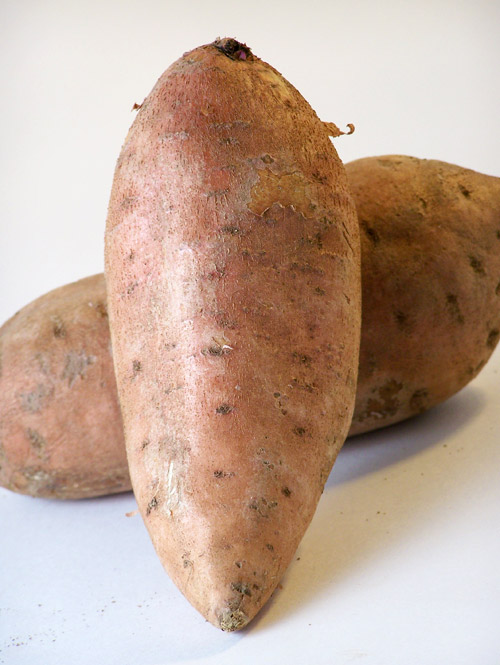 It's Thanksgiving week on Back to the Cutting Board, which means you get not one recipe like usual, but a ton of yummy Thanksgiving recipes over the next 4 days! This was all brought by the people at SpringPad who invited me to participate in their Springsgiving Event. My mission, if I chose to accept it, was to come up with a Thanksgiving menu consisting of five dishes: appetizer, turkey dish, two sides and a dessert. I didn't get too much advance notice, so I immediately sprung (ohh, bad pun) into action coming up with a pre-thanksgiving meal last week. The thing is, I couldn't decide on just 5 things, so we actually wound up eating about 3 days of Thanksgiving last week trying out different recipes (I love being a food blogger). I ultimately did decide on the five things I wanted to submit to the …