Back to the Cutting Board
Southern-Style Chicken and Dumplings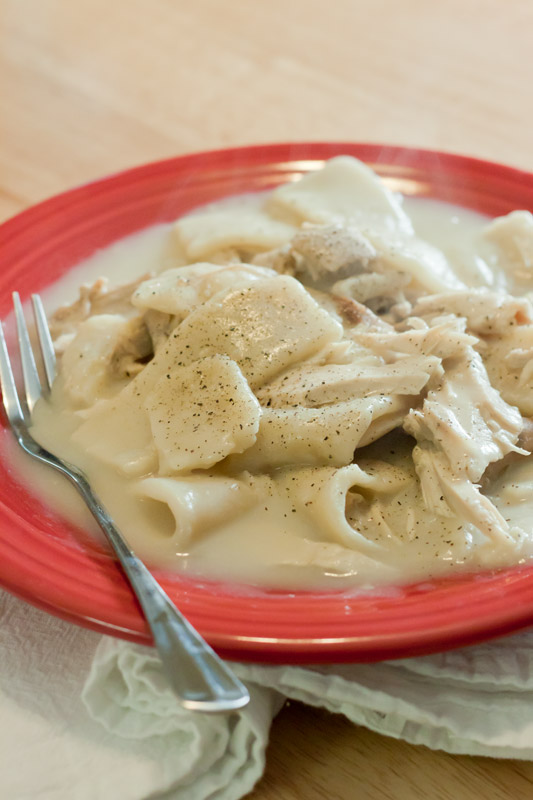 Ingredients
Chicken
1 large fryer chicken (4-5 lbs.), neck and gizzards removed
1 large onion, peeled and cut in half
3 carrots, cut into large pieces
3 stalks of celery, cut into large pieces
Kosher salt, to taste
Pepper, to taste
Dumplings
3 cups cake flour or White Lily flour*
3/4 tsp. baking soda
3/4 tsp. salt
4 1/2 tbsp. shortening*
1 cup milk
Process
Place the chicken, onions, carrots, and celery in a large stockpot and cover with water. Bring to a boil, then reduce heat so water maintains a gentle simmer. Cover and cook chicken for at least 1 hour or until cooked through (about 165 degrees).
While the chicken is cooking, mix flour, baking soda, and salt together in a bowl. Cut shortening into flour mixture with your fingertips until it resembles small peas. Add milk — 1/4 cup at a time, you may not need a full cup — and stir until a ball of dough just begins to form, being careful not to over-mix.
Divide the dough into two equal halves, loosely shaped into rectangles. Roll each half of the dough out onto a floured piece of waxed paper or parchment paper. Roll about 1/4 inch thick. Using a pizza cutter or sharp knife, cut dough into rectangles about 1 inch wide by 3 inches long. Allow the strips to rest and harden for at least 2 hours. You could also make these the night before and let them sit out, loosely covered with a tea towel or plastic wrap.


Once the chicken is done, remove it from the broth and let it cool. Remove chicken from the bone (this shouldn't be hard, it should be falling off pretty easily at this point) and shred into medium-sized pieces, discarding bones and skin.
Pour the chicken broth through a fine-mesh sieve lined with cheesecloth (you can improvise with a coffee filter or paper towel), discarding vegetables. Reserve 6 cups of broth for the dumplings. Refrigerate or freeze the rest to use for another recipe. It's much more flavorful than the chicken broth you buy at the grocery store.
In a large pot or dutch oven over medium heat, bring broth to a gentle simmer and drop in dumplings. Cover and allow to cook for 7-10 minutes.
Reduce heat to low and add chicken. Allow to cook until thickened, about 20 to 30 minutes (or longer, depending on your stove or if you want a thicker broth). Season generously with salt and pepper and serve.