October 24, 2011
Looking back through my archives I realized I've posted at least one chocolate-pumpkin dessert before Halloween for the past few years, so I figured it was past time to post a recipe like this, especially after all the apple recipes I've posted lately. Fruit is great, but for me at least, chocolate will always be better.
I've actually been working on this recipe for a while. I made some pumpkin swirl brownies last Halloween and even photographed them, but I kept deciding against posting them because they weren't quite good enough. Something was missing. But then earlier this year I discovered Supernatural Brownies. These are hands down my favorite brownies. Ever. And I have tried lots and lots AND LOTS of brownie recipes. I'm not into cakey brownies (if I wanted cake, I'd make that instead!), I like fudgey brownies and these are moist and fudgey beyond belief.
June 28, 2008
I consider myself a fairly good baker. I've always had a sweet tooth, cakes, cookie, brownies, etc. I've been making those since I was a kid. Pies are different though. Pies always seemed too hard, so I haven't made many pies before. Maybe once a year during the holidays I'll try to make one, always with varying results. But when I saw this pie the other day, I knew I had to make that.
I thought this was kind of hard to make if only because it had so many steps with varying wait times before and after each part. But that's probably just because all the pies I've made in the past have been the mix it together, pour in crust variety. Next time, I'd probably just do a premade pie crust to make things a bit easier and faster.
The hardest part was definitely the marshmallow topping. My crappy little handmixer was not made for such things. Plus I think I burned the syrup (it turned yellow!). As I was trying to pour …
November 23, 2009
By far, the most popular recipe on this site is my Black and White Chocolate Cheesecake Supreme. I actually made it for the first time for Thanksgiving last year and I decided it would be our new Thanksgiving tradition to have cheesecake instead of pie. I'll take cheesecake over pie any day!
But this year, after discovering my love for all things pumpkin flavored, I decided I wanted to attempt a pumpkin cheesecake. But of course, I didn't want to use any other recipes because Brandon and I both think that my Cheesecake Supreme recipe is the best cheesecake we've ever had (other commenters agree, I've had a bunch of people come back after they made it and tell me how much they loved it). I also really like the concept of the black and white chocolate version and wanted to do something like that instead of having just a plain pumpkin cheesecake. In the end, I took my black and white chocolate cheesecake recipe and substituted pumpkin and caramel for the white and dark chocolates, then I topped the whole …
June 17, 2009
I love chocolate cake. It's one of my biggest cravings, one that pops up over and over again (almost always late at night). But in the last few years, I've noticed something disturbing (to me, at least): I don't seem to be able to eat it anymore. Take last month, for instance:
Brandon was out with some friends so I was home alone. For some reason when I'm home alone I always want to bake so I decided I would finally indulge my chocolate cake craving and make a cake. After looking though my delicious account, I decided to try Smitten Kitchen's Peanut Butter and Chocolate cake. So I went to all the trouble of making the cake layers and the two different kinds of icing and after a couple hours finally sat down with a delicious looking piece of it to eat. I took two bites, two bites, and I had to set it down. I couldn't eat anymore. It's not a bad cake, in fact, it's a wonderful cake but it was just so rich that it was too …
July 9, 2008
So this is one of those titular "30 Minutes Meals", which is definitely what attracted me to this recipe. Well, that and the potatoes. I love red potatoes! The problem is that it took wayyyy longer than 30 minutes, but I fully attribute that to the fact that I've never made it before and that I'm just a slow cook. I have no doubt an experienced cook would totally knock this out of the park in 30 minutes, but it you're like me, it's probably going to take you longer.
I made quite a few mistakes with this one (though it still turned out well), so after the recipe I will include notes that go a bit more into my process and what I learned, so that you won't make the same mistakes as well. As usual I made some substitutions which I'll note also, but I'm listing the original ingredients.
September 30, 2010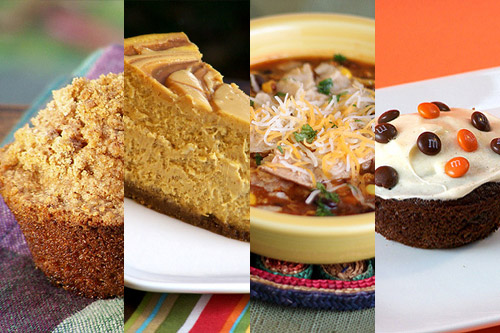 Okay, I'm cheating a little with this post. I've just gotten back from vacation so I haven't had time to try out any new recipes in a few weeks, but I did bake a bunch of muffins and breads to take on our trip and that got me looking though my recipe archives. Plus, I've seen a big increase in search engine traffic looking for soups and other Fall comfort foods, so I thought I'd make a list of my favorites.
I'll be back next week with something new, until then try out some of these great recipes:
March 9, 2011
I meant to post this recipe yesterday since it was Mardi Gras and beignets are pretty synonymous with New Orleans. Better late than never, right? I grew up on the Mississippi gulf coast (where they also celebrate Mardi Gras) and have spent some time in New Orleans so I know what a good beignet tastes like and this recipe is pretty perfect, but I put my own spin on it by adding some chocolate in middle. Why? I don't know. Is "because it sounded like it would be awesome" a good enough answer for you? Because it really did (And guess what? It really is!)
But lets back up a bit. It's possible some of you may not know what a beignet is, maybe you're not even sure how to pronounce it. It's very simple, actually: it's a donut, covered in lots of powdered sugar. And it's pronounced benYAY. You will really want to emphasize that "Yay" because eating these will make you a very happy person. A beignet is sort of the lazyman's donut. I can just imagine some old french baker going …
October 7, 2008
Okay, so actually this recipe is called Applesauce Loaf, but that name just doesn't do it justice. It makes it sound vaguely gross, like meatloaf (I'm not saying meatloaf is necessarily gross, but it sure sounds like it is). This recipe is really similar to Banana Bread, so to call it Applesauce Bread makes much more sense to me. In fact, both recipes go really well together. My mother almost always made both at the same time and while I like Banana Bread just fine, it's the Applesauce Bread that I could never get enough of.
This recipe is perfect for this time of year. It's sweet and lightly spiced with cinnamon and nutmeg, so it's a great start to nice fall day. We don't have fall down here in Florida, which is why I always make applesauce bread and similar recipes this time of year. If it can't actually look/feel like the season, then I can at least make things that remind me of it.