November 4, 2008
I had a bunch of overripe bananas that I didn't want to go to waste, so I was going to make some banana bread. That's what you do with overripe bananas, right? But I couldn't help thinking how boring that is. I have a great banana bread recipe from my mom, but that's the point, everyone and their mom already has a great banana bread recipe on hand. So I made it my mission to find something different to make with overripe bananas and boy did I hit gold. This banana coffee cake recipe is AWESOME! I'll be making this again and again. If I have kids, they will have this recipe from me, just like I have my mom's banana bread recipe. That's how good this stuff is.
The one fault issue nit pick, I have with the recipe is that it's actually too good. Seriously. It's almost too rich to eat in the morning. That could just be me, though. I'm used to eating very light in the mornings, and the amount …
More Recipes
August 14, 2008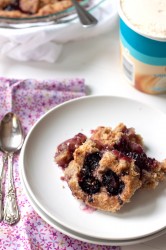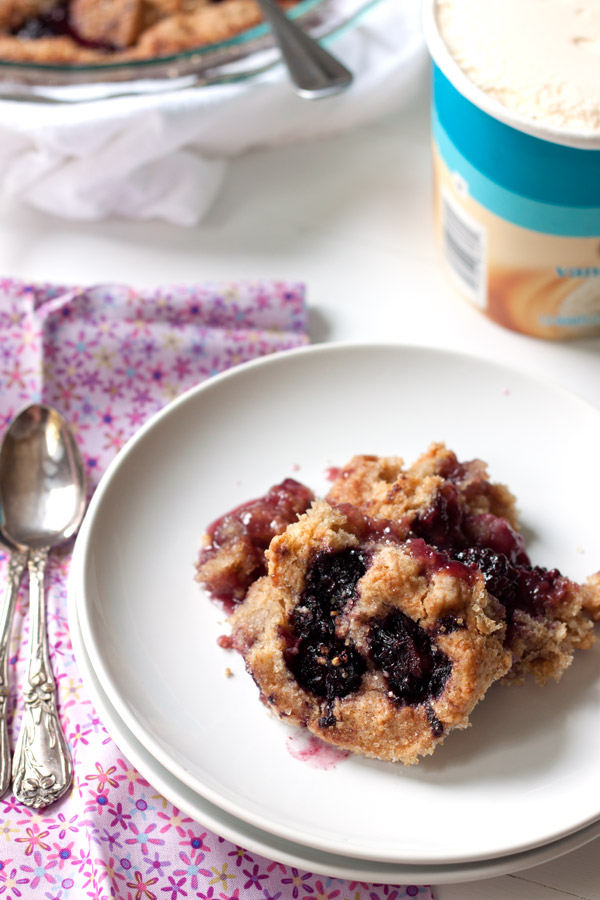 When I made my last trek to the grocery store, I was wandering aimlessly around the produce section (as you do) and saw they a large carton of blackberries on sale. I love blackberries and this made me think back to when I was kid living on the Mississippi Gulf Coast. My neighborhood was right across from the beach (I say was because it's not there anymore due to Katrina) and there was house at the front of the street that had been ripped away by one hurricane or another and all that was left was the foundation. Plants and weeds had grown up around the destruction over the years and it was CRAZY with blackberries. I remember riding my bike over there in the summers and picking blackberries and then I brought them home and my mom made a yummy cobbler with them.
February 9, 2011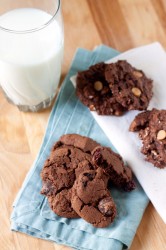 I wasn't able to post last week due to my work load being particularly crazy lately, so this week you get two recipes! I've been good about eating better and counting my Weight Watchers points for the past month, but sometimes I just get a craving for chocolate that won't go away. Especially now since it's almost Valentine's Day and there are lots of chocolate recipes floating around trying to tempt me. That's when I head to my trusty Cooking Light cookbooks because they always have really satisfying desserts that won't kill my diet. Both recipes I'm sharing today are rich and chocolatey and will satisfy your worst chocolate craving, but they happen to be quite low in fat and calories so you don't have to feel bad about eating either of them!
March 24, 2009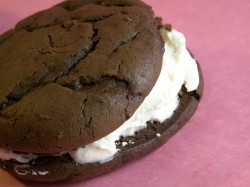 My boyfriend skyped me from work on Friday with a link to the article on Whoopie Pies in the New York Times. "You need to learn how to make these", he said. Not being one to pass up a baking challenge I made them later that night.
Apparently, whoopie pies are the new cupcake, but I don't know…I'll stick with cupcakes thanks very much. Not to say they aren't good because they are, but my issue was with the filling. Personally, I HATE making frosting. It was a miles better experience with my new stand mixer (I completely gave up making frosting with my hand mixer as it was just disaster after disaster with that thing), but it was still a pain and in the end I wasn't that impressed. I know it's called Buttercream, but geez, it's 2 whole sticks of butter! I …
December 9, 2008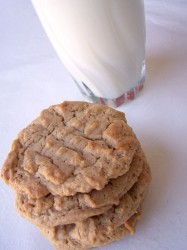 So I guess December is the official cookie baking month, right? I don't feel so bad about making/eating cookies in November and December. Diets are what January is for. I consider myself quite the cookie connoisseur but I realized last month that despite my love for all things peanut butter, that I've never made peanut butter cookies from scratch. Of course, I had to remedy this immediately. Brandon had a cookie craving one night and didn't want to wait the requisite 36 hours for chocolate chip cookies so I found this recipe and whipped it up. I LOVED how fast and easy these were to make. This recipe also had more peanut butter in it than any others I found, and I don't think you can go wrong with more peanut butter.
While I liked these cookies a lot, I couldn't help but think that …
July 27, 2009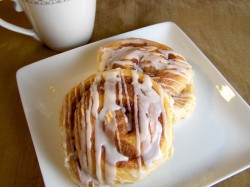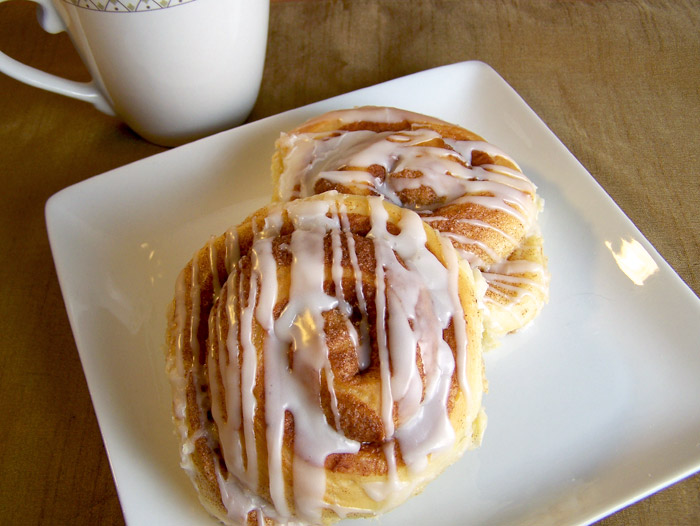 It seems like every week I keep saying "this is my favorite", but hands down, these two breads are my favorite from this challenge. A couple of reasons for this:
1. Both recipes were extremely easy. No waiting a day for pre-ferments, just mix up the ingredients, knead, shape, proof, bake and boom: you have yummy bread in about 4 hours.
2. They're just good. Period. The raisin bread tasted just like the raisin bread you buy at the store. The cinnamon rolls were just amazing. I could have eaten about a million of them. In fact, after picking out the photos for this entry (it's been a few weeks since I actually made them), I got such a craving for them that I had to make another batch.
July 20, 2010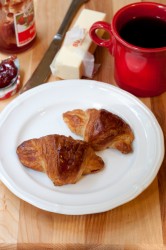 I'm always up for a baking challenge so when Julie over at Willow Bird Baking challenged her readers to make croissants, I didn't hesitate to sign up. I love croissants, but like donuts, I rarely eat them because of how bad they are for you. But there's just something about making something from scratch that makes it seem less bad for you. I guess because you have to put actual time and effort into making it instead of just going into a store and buying it. Plus, it's Brandon's birthday this week and that is one of the 4 times of the year (along with my birthday, Thanksgiving and Christmas) that I let myself eat whatever I want without feeling guilty about it.
And these croissants? Are absolutely worthy of much guilt, but they're just way too delicious and way too much work to feel guilty about. I mean, I made these …
November 21, 2012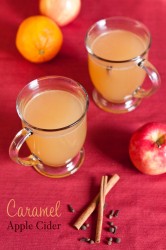 November has passed in a flash and here we are, it's almost Thanksgiving! I'm freaking out about this because I just got back from vacation and I'm having a hard time adjusting to normal life again. We spent half the week in a secluded cabin in the Smokey mountains and the other half in Asheville, NC, which is a pretty little town with lots of wonderful restaurants. I had such a good time that I'm already mentally planning a trip back to the same area next year!
I didn't mean to take such a long break from posting but between work deadlines and vacation it didn't leave much time for cooking this month. But thanks to how easy this recipe is, I did have a chance to whip up this delicious drink in my spare time. I wanted to post it before Thanksgiving …