If you couldn't tell from previous posts I have quite a long list of store-bought-food-I-want-to-learn-to-make-at-home. After I cleared off Spaghetti-Os, Soft Batch cookies were next on the list. They're probably my second favorite kind of store-bought cookie (because nothing is better than Oreos). I like them so that I can only ever buy the small packs that you get from gas stations because I can't trust myself around an entire package. If you're unfamiliar with these cookies, they're basically what they sound like: extremely soft and chewy chocolate chip cookies. It's sort of like eating cookie dough but without the threat of getting sick since they're baked.
I bookmarked this recipe for Soft Batch cookies a while back and finally got around to trying it out earlier this month. That's when I realized that although I love the texture of those cookies, they don't really have much flavor other than the chocolate chips. So I decided to change the recipe a bit and add one of my favorite ingredients: peanut butter! I had to do several tests (Is Cookie Recipe Tester a real job? Because I really want that job.) but eventually I found the right ratio of flour to peanut butter that still resulted in cookies with the correct "Soft Batch" texture. In a perfect world, I would add even more peanut butter, but I don't think you can reduce the flour much more without hurting the structure/texture of the cookies.
To intensify the nutty flavor of these cookies I also used browned butter. One of the important steps in the recipe is reducing some of the water content in the butter. Since that's pretty much one step away from browning the butter it seemed like the obvious way to go. Other than that, the rest of the recipe is ridiculously easy, you don't even need a mixer.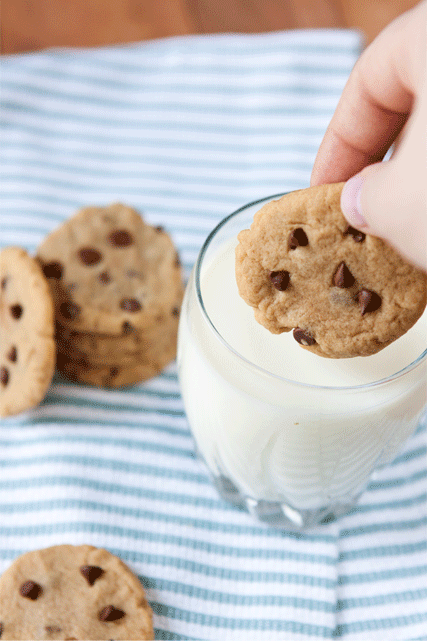 The only downside to these cookies is that it's another recipe, like my favorite chocolate chip cookie recipe, where you have to wait a certain amount of time before you can actually eat them. The last step involves putting the still warm cookies into an air-tight container. The residual heat steams the cookies which is an important part of giving them that soft texture. You have to let the cookies sit in the sealed container for 24 hours to develop the best flavor and texture. It's tough to have a box of cookies in your kitchen that you can't eat for a whole day, but they're definitely worth the wait!
Peanut Butter Chocolate Chip "Soft Batch" Cookies
adapted from Serious Eats
Dessert, Cookies | Yield: 24 cookies
Prep time: 25 min | Cook time: 6 min | Total time: 40 min
Ingredients
1 1/4 cups all-purpose flour
1 1/2 tbsp. cornstarch
6 tbsp. (3 oz.) butter, cut into thin, equal slices
1/4 cup (2.25 oz.) peanut butter
1/4 cup (3 oz.) dark corn syrup
1 tbsp. heavy cream
2 tbsp. brown sugar
1 1/2 tsp. vanilla
1/4 tsp. baking soda
Pinch of course salt
1 egg yolk
1/4 cup mini semi-sweet chocolate chips, plus more for garnish
Process
Preheat oven to 350 degrees (F). Line two large cookie sheets with parchment.
Sift together flour and cornstarch; set aside.
Heat a medium thick-bottomed saucepan over medium-low heat. Add the slices of butter and let it completely melt. Cook for another minute or so until the butter is steaming. Turn the heat up slightly, about halfway between medium-low and medium. The butter should start to bubble within a minute or two, increase heat a bit more if necessary. Continue cooking until the butter starts to brown and gives off a nutty smell, about 3-5 more minutes. Watch carefully because the butter can turn from browned to burnt very quickly. Immediately remove the pan from heat and pour the butter into a small bowl to cool.
Tip: Brush the inside of your measuring cup with a bit of the brown butter, the peanut butter and corn syrup will slide out easily. Add the peanut butter, corn syrup and cream to the now empty pan (no need to wash it out) and stir until well combined. Set the pan in a cool spot along with the bowl of brown butter and let both cool for about 10 minutes. It's important for these components not to be too warm or else the chocolate chips will melt when you add them!
Once both are cooled, stir the brown butter into the peanut butter mixture. If you want, you can pour the butter through a fine strainer to strain out the browned solids. (I tried it strained and not strained and couldn't really taste much of a difference.)
Stir in brown sugar, vanilla, baking soda and egg yolk and mix until smooth.
Stir in the flour mixture until smooth and well combined, dough will be thick. Fold in the the chocolate chips.
Measure out an even tablespoon of cookie dough and roll into a ball. Place on the baking sheet and flatten with the palm of your hand until it's between 1/4 and 1/2-inch thick. (These cookies don't spread or rise much at all so don't make them too flat.) Repeat with remaining dough. Gently press a few more chocolate chips into the top of each cookie. Once you fill up one cookie sheet with 12 cookies, you can immediately put it in the oven or you can wait and bake both sheets together.
Bake for about 6 minutes. The cookies should be puffed but NOT fully set. Do not overbake.
Cool the cookies directly on the tray for about 10 minutes. Important: While they're still warm, transfer the cookies to an air-tight container. Trapping the residual heat from the cookies will create steam inside the container. Steaming the cookies results in the best "soft batch" flavor and texture. You can stack them, but separate the layers with wax paper/parchment or else the cookies will stick together. Seal the container and let the cookies "cure" for 24 hours before serving.
Store at room temperature for up to 2 weeks.