July 9, 2009
Brandon and I started on a diet a few weeks ago. And not one those "I'm eating more fruits and vegetables" kind of things, like an actual counting calories, keeping a food log kind of thing (though of course we are eating more fruits and vegetables, too). The first week was really scary because I thought it would be impossible to come up with a week's worth of low-fat meals. But now in week 2, I'm realizing that I was very, very wrong. With the help of a couple of great cookbooks, I'm finding that it's really not difficult and it doesn't even take a lot of extra time. In fact, all the dishes I've made in the past few weeks take MUCH less time to make and both Brandon and I agree that they've been really good and filling. If someone else made these dishes for me, I wouldn't even think they were supposed to be light. They're just good recipes and they happen to be low fat as well.
Even though I'm on a diet, this isn't going to …
More Recipes
April 19, 2011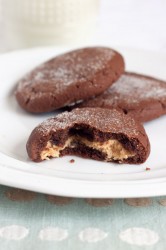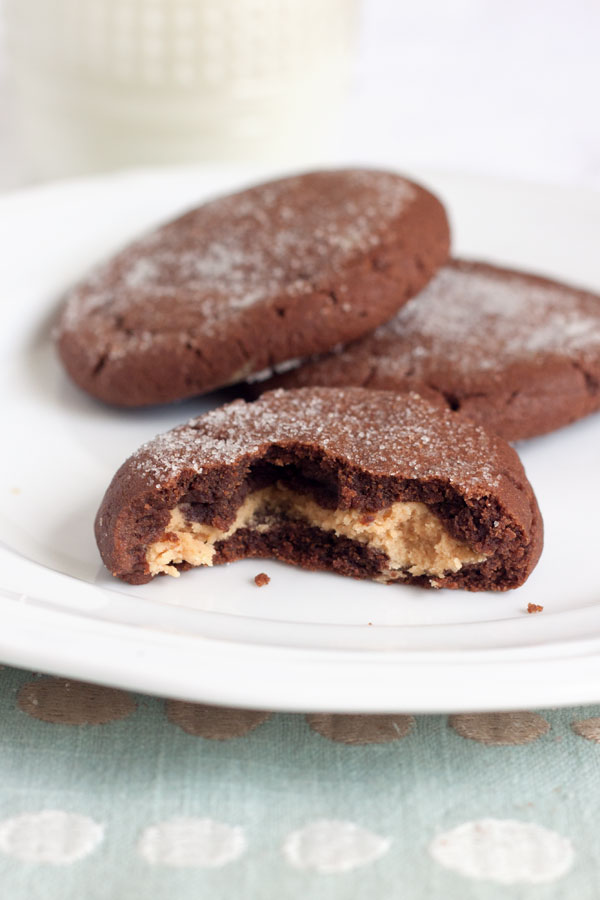 In a perfect world, this would be purely a baking blog where I posted one decadent dessert after the other, but since this is not a perfect world I often struggle with my desire to make these decadent desserts and the reality of trying to be a healthier (and lighter) person. It's especially hard in a two person household where a whole cake can be entirely too much…and entirely too tempting. So I've found the key is to make what I want, but try to give as much away as possible. This strategy has been working out well lately and Brandon's coworkers seem to be quite happy to eat all of our extra sweets. We also regularly attend a Saturday game night and I've found that to be the perfect event for trying out new cookie recipes. I get to satisfy my sweet tooth, and by the end …
October 19, 2011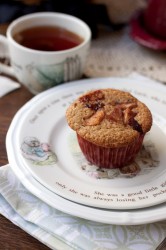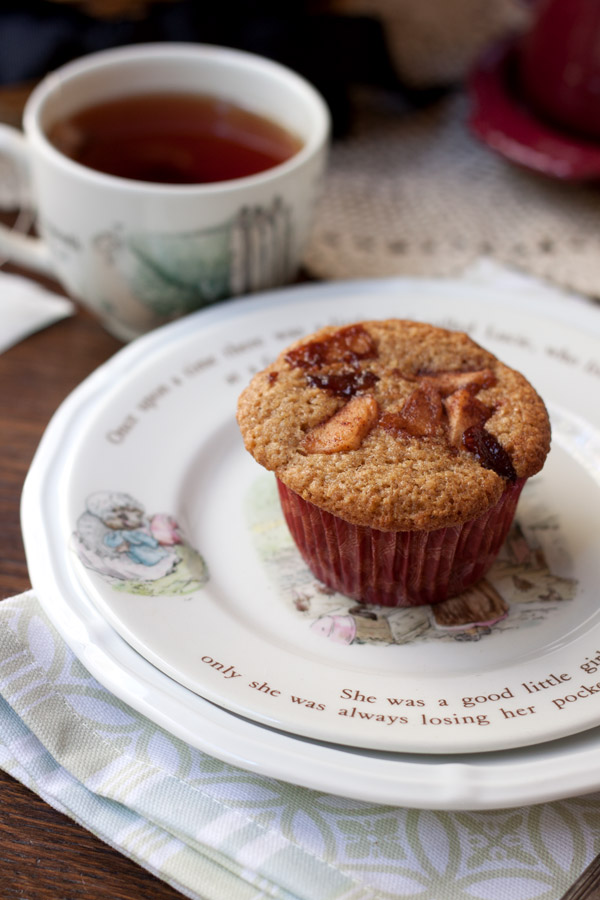 Recipe inspiration can come from some funny places. I decided to make these muffins after buying some cute red cupcake liners from Target. I just knew I had to put something with apple in them (and it helped that I had basket full of apples waiting for me at home). I promise I'll move on to something else besides apples after this, but I had to share this recipe because I was so happy with how these muffins turned out.
It's a little hard to tell from the pictures what exactly these muffins are since many of the components are a similar color, so let me just describe it for you: it all starts with a graham cracker crust on the bottom (like a little pie!), the muffin is a spiced applesauce cake with a cinnamon cream cheese center and it's all topped with caramelized apples. Basically, I was torn …
November 11, 2010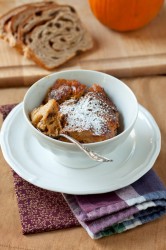 I love bread. It's probably my favorite food. When we order pizza, I take off the greasy cheese and just eat the crust. My favorite restaurants are the ones that bring you a basket of bread. Low-carb diets? I couldn't make it more than a couple days. I have a pretty major sweet tooth, but if I was ever forced to choose between bread or sugar, well, this blog would have a whole lot less desserts on it. (But let's really hope that "Sophie's Choice" never comes to fruition, okay?) What I find really strange is that despite my love of bread, I have never had bread pudding before. I don't know how that happened, but I have been meaning to rectify it for a while.
I had a loaf of raisin bread sitting around and getting stale so I finally decided this …
October 7, 2008
Okay, so actually this recipe is called Applesauce Loaf, but that name just doesn't do it justice. It makes it sound vaguely gross, like meatloaf (I'm not saying meatloaf is necessarily gross, but it sure sounds like it is). This recipe is really similar to Banana Bread, so to call it Applesauce Bread makes much more sense to me. In fact, both recipes go really well together. My mother almost always made both at the same time and while I like Banana Bread just fine, it's the Applesauce Bread that I could never get enough of.
This recipe is perfect for this time of year. It's sweet and lightly spiced with cinnamon and nutmeg, so it's a great start to nice fall day. We don't have fall down here in Florida, which is why I always make applesauce bread and similar recipes this time of year. If …
July 24, 2008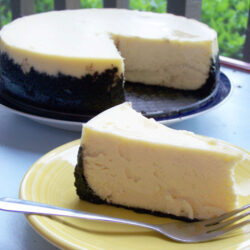 It was my boyfriend's birthday last weekend and I wanted to make him something special despite the fact that he didn't really want to celebrate his birthday. The problem is that he doesn't like many traditional desserts, most especially cake. I can't even conceive of disliking cake, but somehow he does. Thankfully, though, he does love cheesecake (which he vehemently insists is not really a cake, so much does the taint of the word "cake" bother him). But even having found a dessert he actually likes, he's almost impossible to entirely please because every single cheesecake I've made for him in the past, though always praised as "good" comes with the disclaimer of "but not as good as the New York cheesecake I had that one time". AAARRRRRRGGGGGGG! So I have made it my mission of find and make a real New York style cheesecake and this time I …
March 24, 2010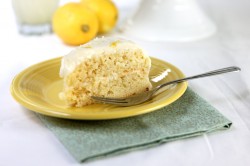 It's been a while since I posted a dessert here, mainly because I've been trying to stay away from things like that, but also because I haven't found anything that interested me. But since it's the first week of Spring, I decided I wanted to make a dessert that was light and fruity, nothing chocolate or heavy (which is my usual preference for desserts). So when I was flipping though my beloved Cooking Light cookbook, this recipe jumped right out at me.
But I have a confession: I haven't made many layer cakes before. Most of the ones I've tried have been unmitigated disasters with uneven and/or rounded layers and frosting catastrophes aplenty. So I was bracing myself for another un-perfect cake, but it turns out I didn't need to worry. This cake should be called "Baby's First Layer Cake". Seriously, it's really easy to make and …
October 6, 2011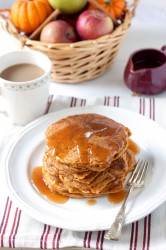 I hope you guys like pumpkin and apples because those are pretty much the only two ingredients I'm interested in baking with for at least another month (ok, that's probably not true…I may have to use chocolate at some point). In fact, I've been going back and forth since last week about whether I should post another apple recipe or another pumpkin recipe and finally the idea came to me to put both of them together in one recipe for pumpkin-apple pancakes!
Brandon is on a business trip this week which means I'm not putting effort into making dinner, instead I've been eating lots of pancakes. You see, I was looking for the best pumpkin pancakes to share which meant I had to try several different recipes. I know, it was a tough job. 😉 But ultimately the one I like best is this one from Nicole at Pinch …