August 6, 2009
I started making a meal plan every week and now that I've been doing it for a little while, I have to wonder why I haven't been doing this all along. It's saving me so much trouble. Here's an example of a typical nightly exchange between me and my boyfriend pre-meal plan:
Me: What do you want for dinner?
Him: I don't know, what do you want for dinner?
Me: Whatever you want.
Him: I want whatever you want.
Me: I forgot to take any meat out of the freezer.
Him: So…pizza or chinese?
It was just unbelievably frustrating and there was no excuse for it other than laziness on our part. Now I've been making a meal plan for the upcoming week on Sunday and then I go to the grocery store and buy only the ingredients I need (so I'm saving some money as well since I'm not buying produce or anything that goes bad before we get a chance to eat it). I have it written out on a big white board in my kitchen, so the night before I'm reminded of what I'm making the …
More Recipes
July 14, 2008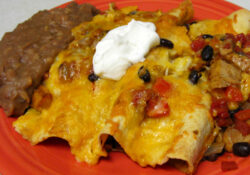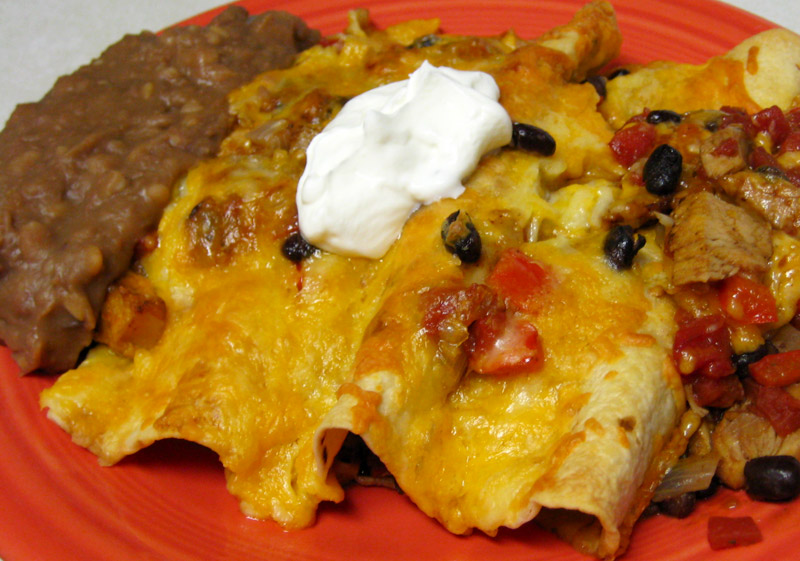 Mexican and Italian are my favorite kinds of food. While I have a pretty good handle on cooking Italian food, I've always thought Mexican food to be beyond my reach. Until I found this recipe. Now, if you are looking for totally authentic Mexican food, then you need to be going to your nearest Mexican restaurant, because this recipe won't be anywhere near as good as the food you get from there. But this recipe is easy and relatively low fat and despite those things it still very much fulfills my Mexican food cravings. It's gotten to be a staple in my house and whereas we used to go out for Mexican regularly, we're now more likely to stay in and have this instead, which is definitely better for our bank account and our diets.
October 17, 2012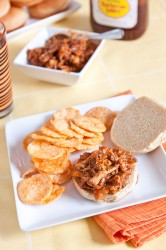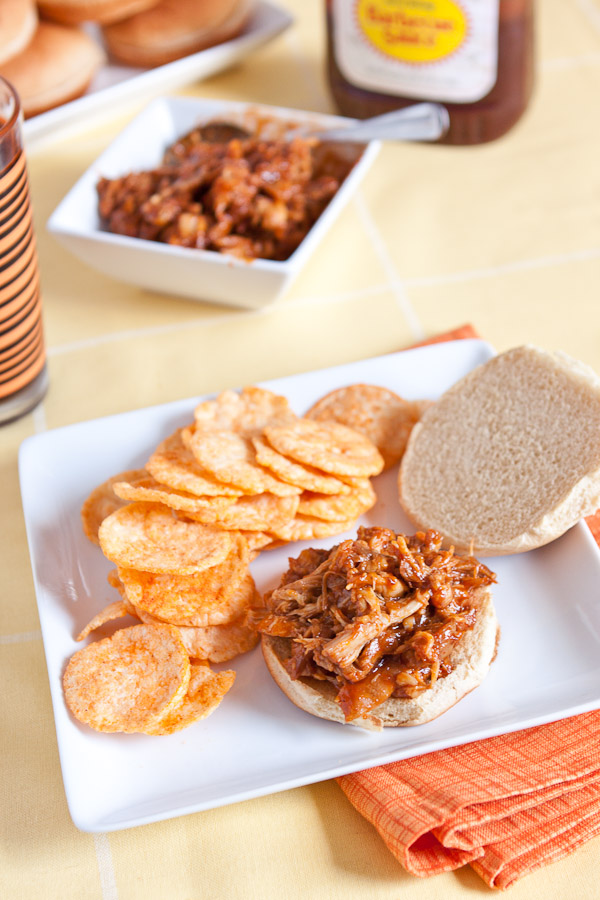 I'm so happy that the weather is cooler because now I can finally make my favorite comfort foods again. The list includes:
Unfortunately, all of those recipes either heat up the kitchen too much or they're just too hot to eat on a muggy summer day so I haven't made them in what feels like forever. When I was excitedly making up a new weekly meal plan full of these recipes I realized I hadn't yet shared one of my very favorite comfort foods: Barbecue Chicken!
Back when I lived in Florida, Brandon and I had a favorite barbecue restaurant nearby that we ate at regularly but when we moved to Charlottesville the nearest good barbecue was a 45 minute drive away. That's when I started making this recipe …
September 23, 2008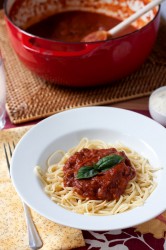 I am all about comfort food. What I love even more is food that is dead simple to make and that stores easily. That's probably why spaghetti is my all time favorite dish. Judging from how many brands of spaghetti sauce there are at the grocery store, I would venture to say that not many people make their own sauce anymore. This was one of my mom's staple recipes and I don't think I ever saw her use sauce from a jar her entire life. This was the first recipe I asked for when I moved into my own apartment during college and I've been making it ever since. I've tried jar sauces before, but I always wind up feeling like I've let my mom down. Plus none of them taste even one fifth as good as homemade.
October 15, 2009
I'm finally back from my little hiatus. We're settled into our new apartment in Virginia and I'm ready to start cooking again. I was ready to start last week but after two things I tried to bake burnt to a crisp and set off the smoke alarm, it became apparent that the oven was broken. Luckily, the maintenance guy was able to fix it after he ordered a new part and now my oven stays at the right temperature (which I verified with an new oven thermometer, I'm not taking anymore chances with burning the house down).
But while I work on getting some new recipes under my belt, I wanted to finish posting things that I made this past summer. You may have noticed I have a thing for black and white desserts (see Black and White Chocolate Cheesecake Supreme, Black and White Cupcakes and Cheesecake Brownies), so when I saw Black and White Cake Cookies in my new Cooking Light cookbook, I knew I had to try them.
June 28, 2008
I consider myself a fairly good baker. I've always had a sweet tooth, cakes, cookie, brownies, etc. I've been making those since I was a kid. Pies are different though. Pies always seemed too hard, so I haven't made many pies before. Maybe once a year during the holidays I'll try to make one, always with varying results. But when I saw this pie the other day, I knew I had to make that.
I thought this was kind of hard to make if only because it had so many steps with varying wait times before and after each part. But that's probably just because all the pies I've made in the past have been the mix it together, pour in crust variety. Next time, I'd probably just do a premade pie crust to make things a bit easier and faster. …
June 8, 2009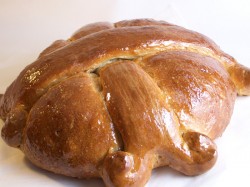 I'm still chugging along with the Bread Baker's Apprentice Challenge. So far I'm (mostly) having fun and learning a lot.
The second week bread was Artos or Greek Celebration bread. I really didn't have any trouble at all with this bread because it was really similar to my King Cake except that Artos has a lot more spices: cinnamon, nutmeg, allspice and cloves. The only trouble I had was the shaping, of course. I can tell it's going to take a lot of practice to get good at shaping things because I'm just not good at that at all. The version of artos I did was called Christopsomos (though I made it plain, it's technically supposed to have nuts and dried fruit in it), which is shaped into a boule (an oval, the only …
October 3, 2013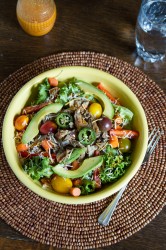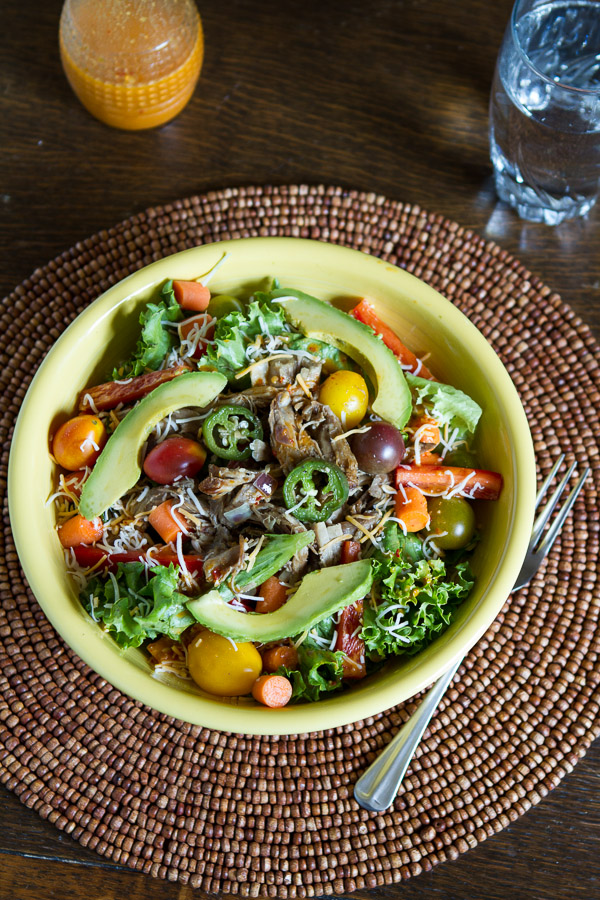 I'm not going to lie: for most of my life I've hated salad. Mostly, it's the lettuce. It's so limp and flavorless. I've never had a true BLT because the lettuce was always the first thing to be discarded from any sandwich. But earlier this year I realized the problem wasn't all lettuce it was just iceberg lettuce. So I put aside my lettuce prejudice and tried a bunch of other kinds of lettuce only to discover that they're not that bad. Especially once you add a bunch of veggies, cheese and dressing on top.
Since making that discovery I've implemented a weekly Salad Night where we eat a very large salad, usually topped with chicken. It's a simple but filling dinner on nights when I don't feel like making much effort and it saves us from ordering …