January 4, 2012
Hello January, we meet again. I used to try to make resolutions, the usual ones about going on a diet, exercising more, etc. but after years of pretty much not ever following through I'm officially giving up resolutions. I know it's the New Year and that seems like a great time to "start over" but January just never works for me. The cold weather makes it hard for to get motivated to go walking (the only form of exercise I enjoy) and I crave lots of warm and hearty foods that are rarely low-calorie. And even if I do make some progress in January, February comes along and there's Valentine's Day and my birthday and I lose all my motivation.
So I'm not going to bother going on a diet this year or maybe ever again. I'm just going to keep doing what I've been working on since I started this blog: eat more real food like fruits and vegetables and a little less carb, sugar and processed crap. That's why I was really happy to get this new cookbook for Christmas, Green Market Baking Book…
More Recipes
December 1, 2008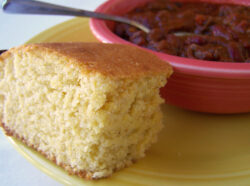 Who's tired of turkey? I am, I am! I've eaten nothing but turkey and leftovers since Thursday and I'm ready for something new. The problem is that after preparing such a big meal last week, I am not in the mood to make anything complicated or time consuming. For times like this, I have my two old standbys: my mom's spaghetti and chili. It was rainy and cold all day, so that translates to the perfect weather for some chili.
Now, I'll be the first to tell you that this is not some mind-blowing recipe for chili. There are probably tons of more creative recipes out there. But I've been making this stuff forever and it tastes great and gets the job done. I like it because I can make it up in 10 minutes in the afternoon and let it simmer …
June 8, 2009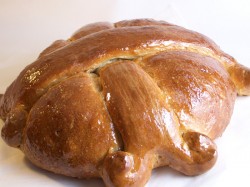 I'm still chugging along with the Bread Baker's Apprentice Challenge. So far I'm (mostly) having fun and learning a lot.
The second week bread was Artos or Greek Celebration bread. I really didn't have any trouble at all with this bread because it was really similar to my King Cake except that Artos has a lot more spices: cinnamon, nutmeg, allspice and cloves. The only trouble I had was the shaping, of course. I can tell it's going to take a lot of practice to get good at shaping things because I'm just not good at that at all. The version of artos I did was called Christopsomos (though I made it plain, it's technically supposed to have nuts and dried fruit in it), which is shaped into a boule (an oval, the only …
January 19, 2009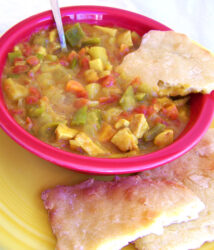 So I'm finally back. We moved in to the new apartment about a week and half ago and I got the last few things unpacked and my pictures hung this weekend so I guess we're officially settled in. After looking through my cookbooks I went on a grocery shopping spree last week and restocked my new kitchen (LOVE my brand new oven and dishwasher) and I've been cooking up a storm since then. Because, seriously, for the two weeks while we were moving, ALL we did was eat at restaurants and fast food places. I was sooooo tired of greasy food by the end of it and I think I've had my fill for the foreseeable future.
So for the next month (up until my birthday, exactly a month away), my goal is try as many recipes as possible from my Weight Watchers cookbook. I'm not going …
December 20, 2010

I tried to make a pie for you guys this weekend. I really did. But, it didn't work out. I could post it, but (A) it's really ugly and (B) it's just ok. I think it could be really good, but the recipe needs work and probably a whole different crust (I think it needs to be a tart instead of a pie), so I'll wait to post it until I have it right. But unfortunately, that leaves me with nothing to post this week, so I decided a round up was in order. These are all great choices if you're looking for some last minute cookies or sweets to make. You also may want to check out the Cookies archive as there are a few others I didn't include here.
I have a really awesome dessert I'm planning for Christmas dinner, …
February 7, 2012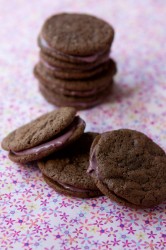 I've never made a big deal about Valentine's Day. It's nice to get some flowers but I don't expect anything else. We don't even bother going out to eat on Valentine's Day anymore because the restaurants are always so crowded. Besides, my birthday is less than a week later so it's easier to celebrate both occasions then. But there is one thing I love about Valentine's day, especially since I started this blog: it's a great excuse to make chocolate desserts!
I decided to make some cookies because Brandon's coworkers have been asking for more cookies from me ever since my epic cookie testing project last December. It's definitely flattering that they liked my cookies so much, so it seemed like a good idea to keep them happy and to find a great recipe to post for Valentine's Day at the same time! I found these chocolate malt cookies in one …
February 23, 2009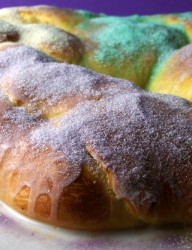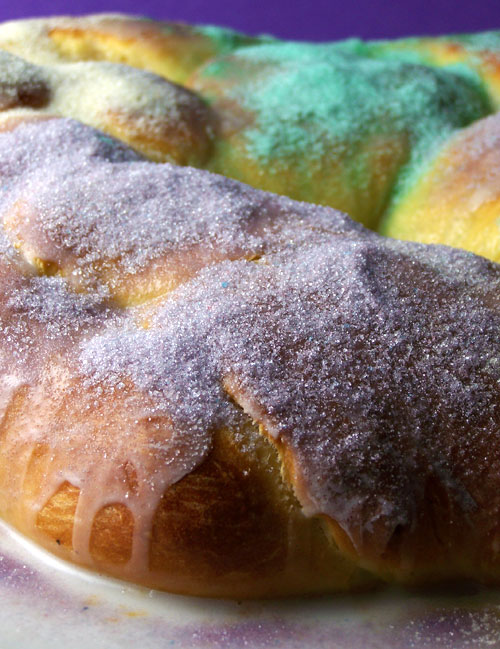 I am so happy with how this turned out! Yes, it's a little lopsided, but I don't care. I am not at all experienced with making breads (my only previous sojourns into yeast bread baking were making rolls this past Thanksgiving and Christmas), so I thought I would screw this up but it turned out so much better than I thought. And the best part is that it tastes exactly how I remember it. I was worried I'd go to all the trouble of making a King Cake and it wouldn't taste right, but this recipe is totally authentic.
October 15, 2009
I'm finally back from my little hiatus. We're settled into our new apartment in Virginia and I'm ready to start cooking again. I was ready to start last week but after two things I tried to bake burnt to a crisp and set off the smoke alarm, it became apparent that the oven was broken. Luckily, the maintenance guy was able to fix it after he ordered a new part and now my oven stays at the right temperature (which I verified with an new oven thermometer, I'm not taking anymore chances with burning the house down).
But while I work on getting some new recipes under my belt, I wanted to finish posting things that I made this past summer. You may have noticed I have a thing for black and white desserts (see Black and White Chocolate Cheesecake Supreme, Black and White Cupcakes and Cheesecake Brownies), so when I saw Black and White Cake Cookies in my new Cooking Light cookbook, I knew I had to try them.