August 31, 2010
I can barely believe it's September already. The summer is basically over and I realized that I haven't made any ice cream yet! I had all these grand plans that I was going to finally buy an ice cream maker and make all different kinds of flavors of ice cream and frozen yogurt. But no, I never did get that ice cream maker and now it's looking like I'm going to have to buy a new blender, so I guess the ice cream maker will just have to wait another year.
But I didn't want the summer to be over without making any ice cream and luckily, it's still pretty easy to make without the machine. All you need is a freezer and a mixer (or even strong arms and sturdy whisk will do). I decided to make frozen yogurt again because of how much I enjoyed the frozen yogurt I made last summer. It's better for you than ice cream, but it's just as creamy and delicious so it doesn't taste like you're sacrificing anything.
More Recipes
October 14, 2008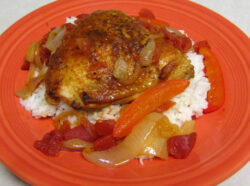 My boyfriend and I have this inside joke about paprikash and goulash. It makes no sense to anyone but us, but suffice it to say, when I saw a recipe for paprikash, I HAD to save it. I finally got around to making it last week and while I may have made it sort of as joke, it's really good. And easy to make as well.
This recipe is supposed to be made in a dutch oven, but I don't have one (it's on my Christmas list!). I just made it in a skillet and then transferred everything to my 13×9 Pyrex to cook in the oven. Because I was making it in a larger dish, I didn't think there were enough diced tomatoes so I added a second can. But even if I was making it in a smaller dish, I still think I would have doubled …
June 30, 2011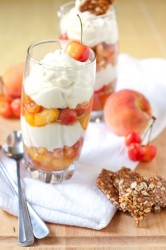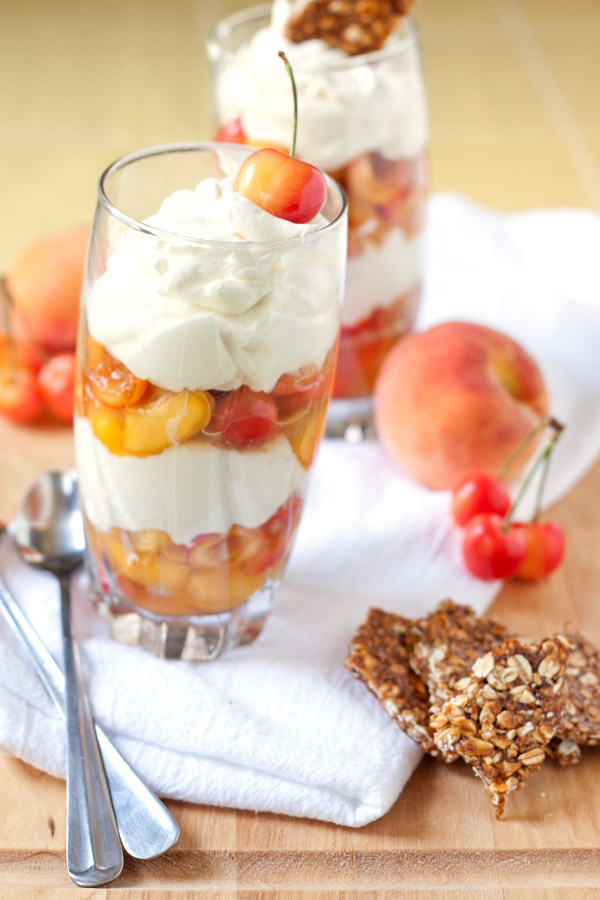 I have a confession: I don't really like yogurt. I've tried so many times over the years to make myself like it, but it always ends with me having to throw out a bunch of expired yogurt containers. But then I made that Cherry-Rhubarb Fool last month and I realized that yogurt can be good as long as it's the base for something else. So yogurt by itself = meh, but yogurt + fruit + whipped cream = yum.
Last week I got some absolutely gorgeous peaches and cherries from my CSA and I had big container of yogurt that was close to expiring, so I decided combining them would be a great way to use everything up. But instead of mixing it all together like I did with the fool I made it a yogurt parfait. Because what's more fun than a parfait? It just …
September 26, 2011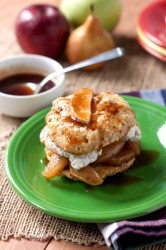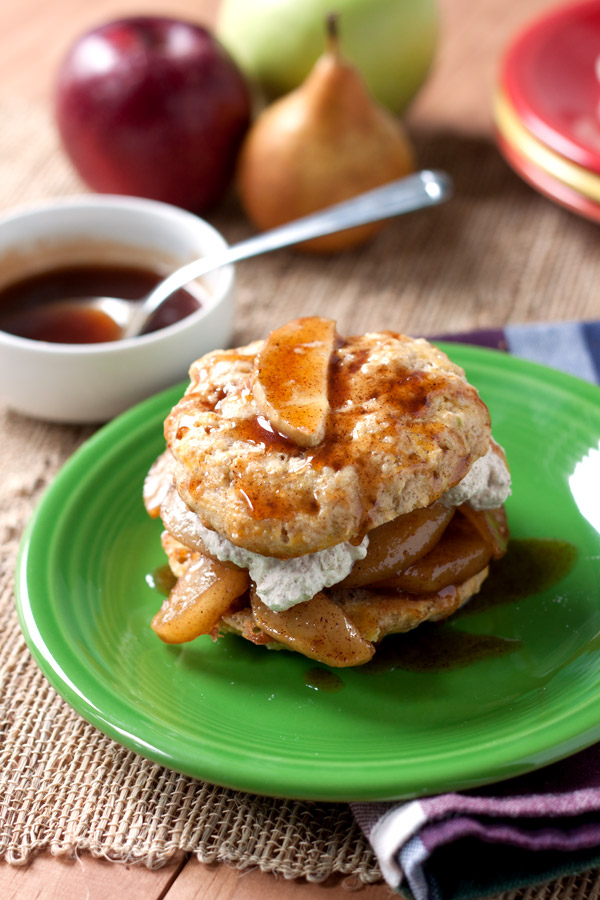 I've been learning to cook for several years now and I finally feel like I'm getting a handle on adapting recipes and improvising to suit my needs, but since I never went to culinary school or anything like that some of the science behind making food still alludes me. Baking can be especially tricky since I've been trying to use more whole grain flours and they don't have quite the same properties as white flour. Today's recipe comes from what I originally thought of as a baking failure, but through some quick thinking I was able to turn it into something pretty awesome.
This started out as a recipe for apple scones because I needed to use up some of the apples I've been getting in my CSA box the past few weeks. I like scones but have always had trouble making them on my own. I can't think of …
November 18, 2008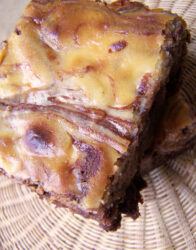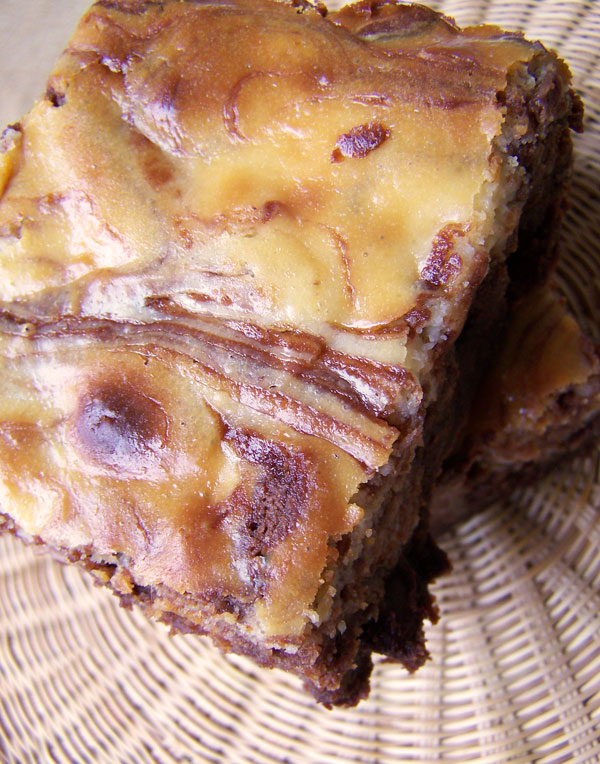 I was really craving some chocolate last Friday night. My usual standby is brownies, because they are simple to whip up, but plain old brownies sounded so boring. I went and searched for brownies at one of my favorite recipe sites and as soon as I saw the name of these brownies I was already drooling.
They did not disappoint at all. Simple to make and they turned out so rich and fudgy. I've made a ton of brownie recipes and this is definitely one of the best. The recipe has chocolate chips in it, but I don't think they were even necessary. They made the brownies almost too rich, so I don't think I'll be adding them next time.
My boyfriend is usually not a fan of brownies (which I can't even fathom), but he loves cheesecake, so he liked these. He's …
July 9, 2009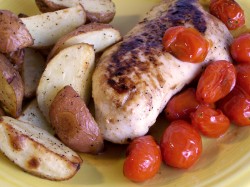 Brandon and I started on a diet a few weeks ago. And not one those "I'm eating more fruits and vegetables" kind of things, like an actual counting calories, keeping a food log kind of thing (though of course we are eating more fruits and vegetables, too). The first week was really scary because I thought it would be impossible to come up with a week's worth of low-fat meals. But now in week 2, I'm realizing that I was very, very wrong. With the help of a couple of great cookbooks, I'm finding that it's really not difficult and it doesn't even take a lot of extra time. In fact, all the dishes I've made in the past few weeks take MUCH less time to make and both Brandon and I agree that they've been really good and filling. If …
June 28, 2010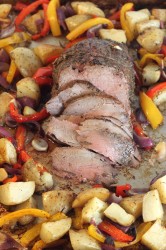 Thanks to everyone who entered last week's giveaway! You guys really love your mac n' cheese, which makes me think I should post my favorite recipe for it. Anyway, if you haven't commented on that post yet, you still can and you'll be entered to win Everyday Food: Fresh Flavor Fast. Computer issues prevented me from posting on Friday like I had planned, so I'm posting the second giveaway today and will announce the winners of both cookbooks on Friday instead of Wednesday (barring other computer issues, which I'm still working through). If you comment on today's post as well then you'll get another chance to win!
October 31, 2009
I just had to pop in today and post these cupcakes that I made on a whim last night. They are so good and super easy to make. And I have to tell you, they've kind of changed my world view. Or maybe just my…food view?
Anyway, on twitter last night someone posted that pumpkin and chocolate should never go together and until I made these, I totally would have agreed. In fact, this whole month, I've been turning my nose up as pumpkin flavored anything. I don't know when I got it in my head that I don't like pumpkin, but I think it's just one of those things that I decided as a kid and I never challenged it. I've been overcoming a lot of these prejudices lately, it's a wonder I ever ate anything with how picky I was!
I had read about the pumpkin shortage that is going on and despite the fact that I don't ever make anything with pumpkin in it, when I saw a big can of it at the grocery store a few weeks ago I couldn't help but buy it. I just felt it was something I had to do. What if I find a recipe that calls for it and I can't find anymore at the grocery store? I'd have been kicking myself for not buying it when I could, right? Well…maybe not, but this is how my mind works.