March 21, 2012
Spring is officially here! And in the spirit of spring cleaning I've started going through my packed freezer to finally use up the last of the fruit that I froze last year. I got a ton of blueberries and blackberries from my CSA and have been using them in muffins all winter but after last week's Pop Tart adventure I didn't really want muffins or anything too carb-y. I've been craving a lemon dessert lately and lemons always pair well with berries so this was the perfect opportunity to finally make something.
Even though lemons are technically a summer fruit, there's really nothing else that evokes Spring to me as much as a lemon. It's just so fresh and bright, like the colorful blooms that are popping up all around my neighborhood these days. It's the perfect thing to help transition between the stark coldness of winter and the hot sunniness of summer.
I had bookmarked a recipe for lemon cream a while ago so I finally decided to give it a try. The recipe turned out to be so simple and tasty that I immediately made another …
More Recipes
August 29, 2011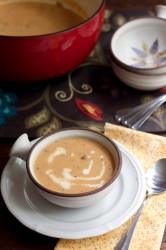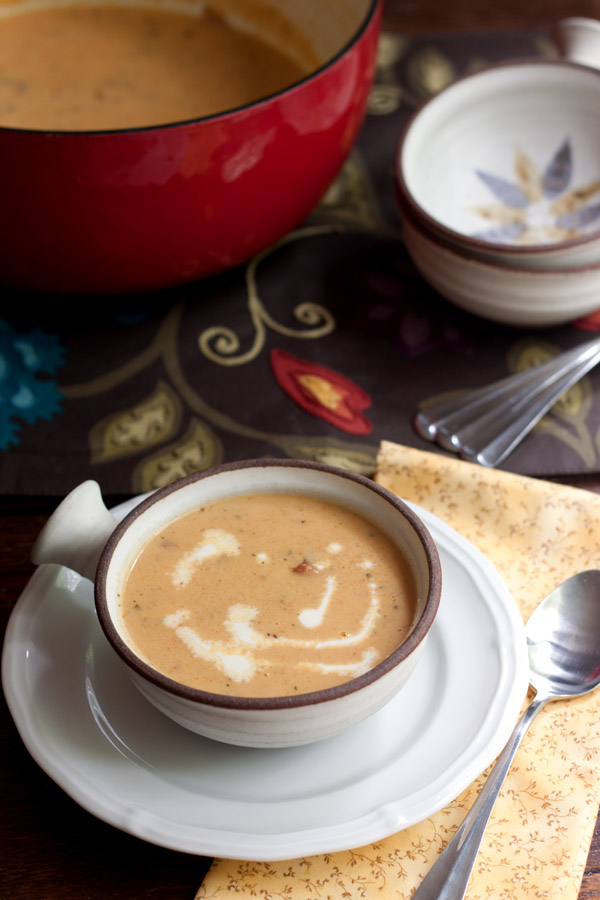 Remember when I said I was excited about making soup this fall? Well, the prospect of soup sounded so good that I may have jumped the gun a little. But that's ok because this might as well be called "Summer's Almost Over Soup." It's full of fresh and bright summer produce but it's warm and hearty and creamy and perfect for those late summer evenings when the temperatures are finally starting to drop.
I really wasn't expecting this soup to be so good, I was just trying to use up the two weeks worth of yellow tomatoes from my CSA and this recipe fit the bill. I wound up changing the original recipe quite a bit, though. That's what I love about soup, you can almost always add your own spin to it without risking messing it up completely. For instance, if you can't get your hands on yellow tomatoes, I'm sure regular …
January 19, 2009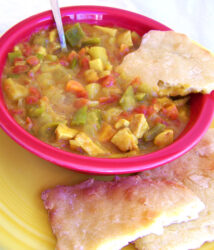 So I'm finally back. We moved in to the new apartment about a week and half ago and I got the last few things unpacked and my pictures hung this weekend so I guess we're officially settled in. After looking through my cookbooks I went on a grocery shopping spree last week and restocked my new kitchen (LOVE my brand new oven and dishwasher) and I've been cooking up a storm since then. Because, seriously, for the two weeks while we were moving, ALL we did was eat at restaurants and fast food places. I was sooooo tired of greasy food by the end of it and I think I've had my fill for the foreseeable future.
So for the next month (up until my birthday, exactly a month away), my goal is try as many recipes as possible from my Weight Watchers cookbook. I'm not going …
September 5, 2008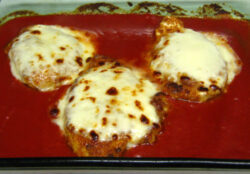 This is probably one of those basic recipes that everyone in the world (but me) knows, but I've always been scared of making food that sounded, you know, foreign. Like just because it has a fancy-smancy name that means it's also complicated to make, right? Well, there's another cooking misconception down the the drain because I found out last night Chicken Parmigiana is just about the easiest thing in the world to make. And it turned out very very good with very little effort or time on my part. That's definitely a recipe I can get behind for nights when I'm tired or just don't feel like cooking, but I still want a nice meal instead of greasy take-out or pizza.
December 15, 2009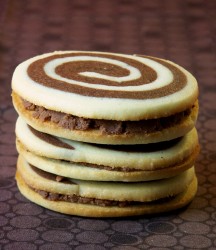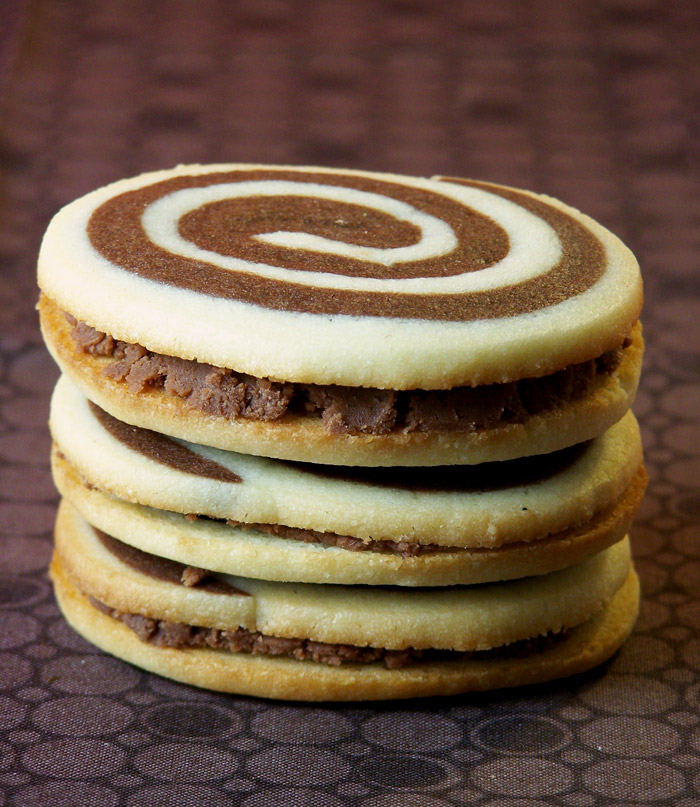 Christmas is my favorite time of year and one of the main reasons for that is all the baking I get to do. Even when I didn't cook much, I've always liked to bake and cookies are just about my favorite thing to make. Plus this time of year is the only time besides my birthday and Thanksgiving that I let myself make/eat whatever I want and I don't feel guilty about it. Diets are what January is for. (I've already signed up for Recipe Girl's Ten in '10 challenge!) So expect a bunch of sweet recipes around here for the next few weeks because I'm in the baking mood.
I'm obviously obsessed with black and white desserts, so I knew I had to make these as soon as I saw them. The original recipe isn't very christmas-y, but that was easily remedied …
September 12, 2013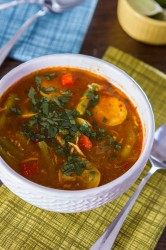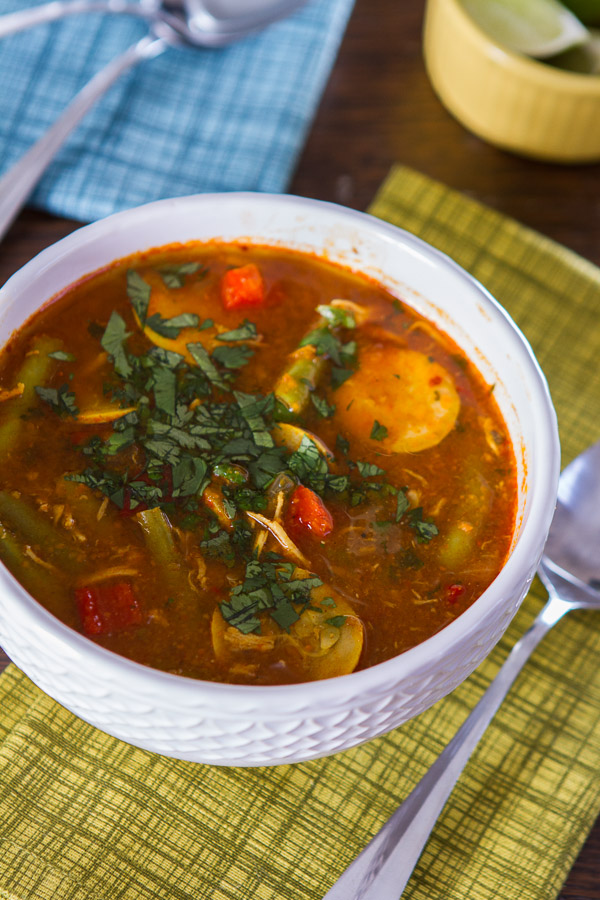 Well, hello there. It's been awhile. I hope you all had a nice summer! You might remember (but you probably don't) that I mentioned in my previous post that work was overwhelming me. Well, it kind of took over this summer and since this blog doesn't exactly pay the bills (though it helps pay for my Sephora habit) I had to put work first and get all my projects done. As of last week I finished everything and now I can finally get back to a more normal posting schedule.
Work hasn't been the only overwhelming thing that happened this summer, though. I decided to challenge myself to do something that I never thought I could do. As of today I am 24 days into Whole30. If you've never heard of it before, that means …
July 2, 2010
Thanks so much to everyone who participated in my giveaway, it was really fun to read everyone's comments and learn about some of your food preferences. I'll definitely be thinking about your answers when I'm looking for new recipes to share in the future!
Anyway, let's get to it, shall we? I wanted to make it as fair as possible, so I made a numbered list of each comment in the order they were posted and then I entered the number range in the random number generator and got it to pick 2 numbers.
July 13, 2010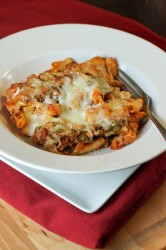 Lately, I've been feeling like I'm in a food rut, making the same things over and over again, so I'm making an effort to try new things; not just new recipes, but new ingredients that I've never eaten or cooked with before. The easiest way I've found to do this is to pick one cookbook and only make recipes from that cookbook for the next couple of weeks. That way I can't just go through and pick and choose the "safe" recipes, I actually have to try things that I would normally flip right past. This led me to choose a recipe with goat cheese in it, something I've liked in restaurant dishes, but not something I've ever bought and cooked with before. Well, that did it. I guess maybe it never occurred to me that you could buy goat cheese at a normal grocery store? …