March 2, 2011
I generally put a lot of effort into making dinner. I comb through my cookbooks and bookmarks to come up with a meal plan every week and I try to make dinner most nights so that we won't go out to eat instead. Brandon is a good sous chef and helps me prep everything, but sometimes I'm just not in the mood to put in all the effort, so over the past couple of years I have gathered a bunch of go-to recipes just for this occasion. I keep the ingredients in stock so that if I'm tired or I forgot to defrost the meat for my planned recipe or whatever else goes wrong, I can pull them out and have dinner within an hour. This is one such meal and probably the one I default to the most. I realized I had never blogged about it, which felt weird since we eat it so much. But I think it's because these chicken tenders are so good that I've never wanted to bother with photographing them when I could be eating them …
More Recipes
July 27, 2009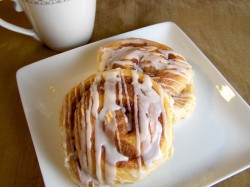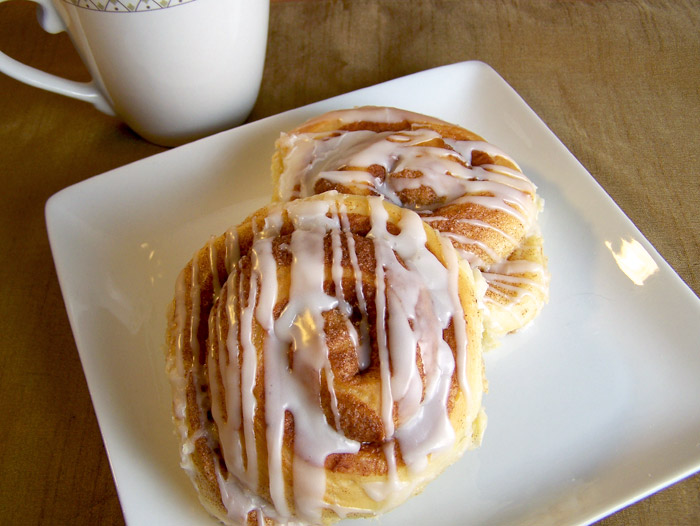 It seems like every week I keep saying "this is my favorite", but hands down, these two breads are my favorite from this challenge. A couple of reasons for this:
1. Both recipes were extremely easy. No waiting a day for pre-ferments, just mix up the ingredients, knead, shape, proof, bake and boom: you have yummy bread in about 4 hours.
2. They're just good. Period. The raisin bread tasted just like the raisin bread you buy at the store. The cinnamon rolls were just amazing. I could have eaten about a million of them. In fact, after picking out the photos for this entry (it's been a few weeks since I actually made them), I got such a craving for them that I had to make another batch.
July 17, 2008
Is it is just me or is it really depressing when you spend a bunch of time to make a new recipe and then it tastes awful?  I think this is one the main reasons I've never been a very adventurous eater.  I find things I like and I eat them over and over.  Maybe it gets a little boring to eat the same stuff, but at least I don't have the disappointed (and hungry) feeling when I try something new and it turns out badly.
But the thing is I am trying to be a more adventurous eater, and I've actually been really lucky with all the new recipes I've tried since I started cooking.  Until now.  This week I've made two things that I just couldn't finish eating.  And it's not that I cooked them wrong, it's that I didn't like the taste.  Luckily, I think I can make some ingredient changes in both that would make them better.  …
June 30, 2011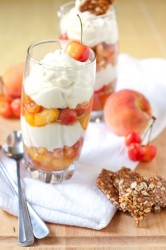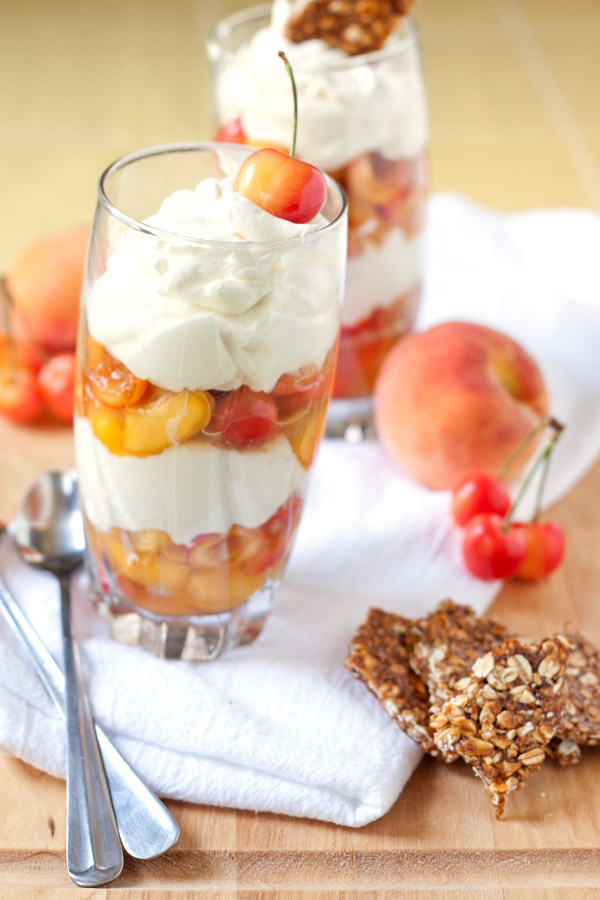 I have a confession: I don't really like yogurt. I've tried so many times over the years to make myself like it, but it always ends with me having to throw out a bunch of expired yogurt containers. But then I made that Cherry-Rhubarb Fool last month and I realized that yogurt can be good as long as it's the base for something else. So yogurt by itself = meh, but yogurt + fruit + whipped cream = yum.
Last week I got some absolutely gorgeous peaches and cherries from my CSA and I had big container of yogurt that was close to expiring, so I decided combining them would be a great way to use everything up. But instead of mixing it all together like I did with the fool I made it a yogurt parfait. Because what's more fun than a parfait? It just …
May 20, 2009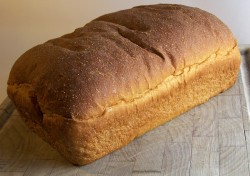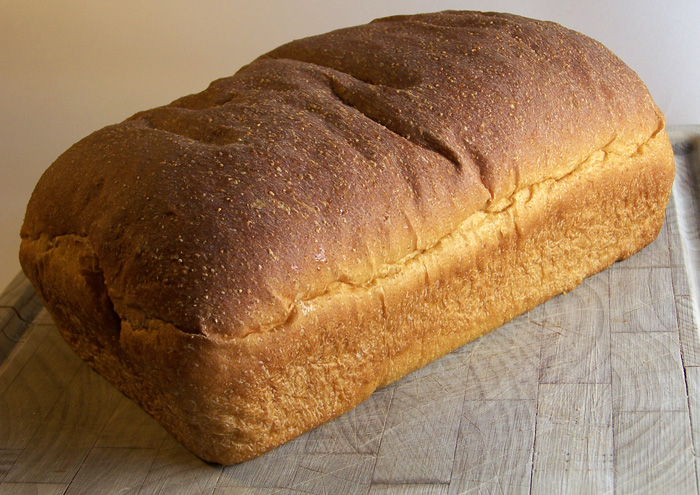 So I decided to do something a little crazy. The awesome Nicole at Pinch My Salt started a group to make every single recipe in The Bread Baker's Apprentice by Peter Reinhart. When she first announced it on Twitter, I was interested but ultimately decided it would be too much work. But then more and more people started joining with her and I kept thinking about it until she announced she was closing the group to new members. As soon as I heard that it made me realize how much I wanted to do this, so I emailed her immediately to join the group.
October 22, 2008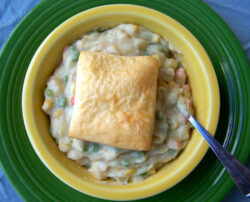 You could also call this Creamy Chicken Vegetable Soup. We've already established how much I love Jason's Deli. Well, this is another item they have that I love almost as much as their muffins. When I was searching around for a similar recipe, I wound up finding two. One was made from scratch and kinda high in fat, while the other was uber simple (10 minutes to make it – TOTAL) and low fat. I decided to make both and see how they compared. In end all taste-testers (which would be me and Brandon) agreed that the made from scratch version was better, but the other version was definitely still good and the fact that it was so simple and also low in fat made up for the taste discrepancies.
December 16, 2010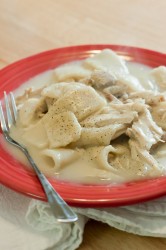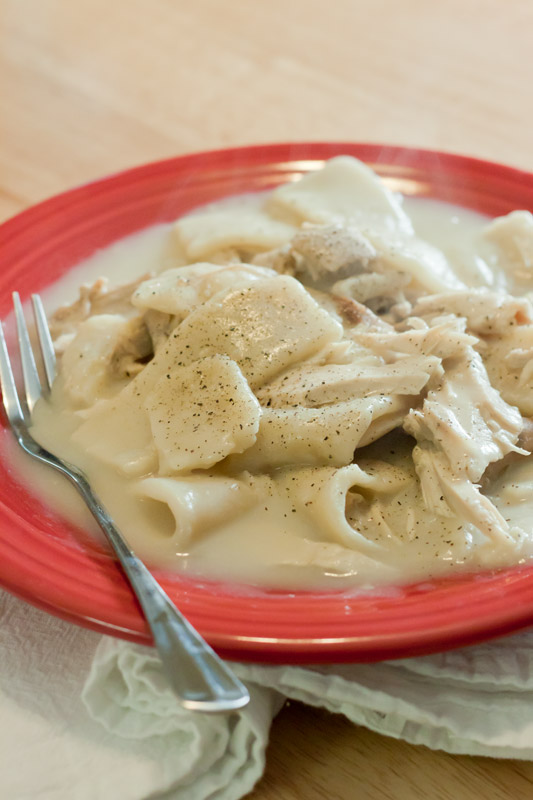 Finally! I've been looking for this recipe for years and I finally found it. You see, Chicken and Dumplings is my boyfriend's favorite dish and he's always wanted me to make it at home. And I have tried, but the problem is there are lots of different recipes for chicken and dumplings and all the recipes I've tried haven't been "right", according to him.
Here's what the right kind aren't: the kind with actual little round dumplings on top. Because I guess that would just be too easy? I've tried several recipes like that, one from Martha Stewart, and while Brandon agreed that those recipes weren't bad, they still weren't "right".
The right kind of chicken and dumplings are the kind that Brandon's grandmother makes. They are the kind you get at Cracker Barrel. They are true southern style, and they don't actually have dumplings, it's …
November 6, 2009
I'm always looking for new and interesting things to do with chicken. For years, practically the only thing I cooked was chicken with some lemon pepper on it. As you can imagine, I have no desire to make (or eat) boring lemon pepper chicken anymore. So when I saw this recipe, I definitely wanted to try it and I'm glad I did because I know this is going to be a new staple in our house. It's really easy and fast to make. It's low fat and it results in a moist, tender and flavorful chicken. That's everything I could ever want in a dinner.
The initial recipe says to use chicken breasts, but the second time I made these I only had tenderloins and I thought they were still really good (and even faster to make because the cooking time is only about 12 minutes). If you have picky kids that would look at yellow chicken in disgust, making tenderloins instead might make them a bit more palatable.
I was initially worried that it would taste too ginger-y, but it really didn't. In fact, I thought the flavor was pretty tame. So in my second attempt I added some more spices and flavors that I found from similar chicken recipes, which helped amp up the flavor. Also, this recipe benefits from some marinating to make the flavors even deeper, but if you don't have the time, it still tastes great.