July 17, 2008
Is it is just me or is it really depressing when you spend a bunch of time to make a new recipe and then it tastes awful?  I think this is one the main reasons I've never been a very adventurous eater.  I find things I like and I eat them over and over.  Maybe it gets a little boring to eat the same stuff, but at least I don't have the disappointed (and hungry) feeling when I try something new and it turns out badly.
But the thing is I am trying to be a more adventurous eater, and I've actually been really lucky with all the new recipes I've tried since I started cooking.  Until now.  This week I've made two things that I just couldn't finish eating.  And it's not that I cooked them wrong, it's that I didn't like the taste.  Luckily, I think I can make some ingredient changes in both that would make them better.  I guess that's part of the fun of cooking, though?  Trying new things, seeing what works and what doesn't.  And hopefully that disappointed feeling doesn't stay long because instead of dwelling, I'm thinking of ways to make it better next …
More Recipes
September 5, 2012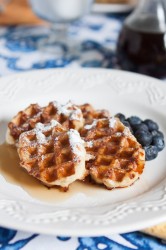 Has this ever happened to you: you see someone eating something on TV or in the movies and all of sudden you just have a huge craving for what they're eating? This summer I've been rewatching one of my favorite TV shows, Gilmore Girls — Remember? Lauren Graham? Rory? Stars Hallow? The dear, departed WB? — and this has become a major problem for me. If you don't remember or never watched the show, let me just tell you: those Girls can eat. A lot. But they live in magical TV land where people can eat 20 pounds of junk food a day and not gain weight or have any kind of serious health problems. Sigh. I want to live in that world! Sadly, I don't so there's been a lot of watching Lauren Graham and Alexis Bledel eating delicious things as my stomach growls grumpily.
But some things you just can't shake. …
April 7, 2010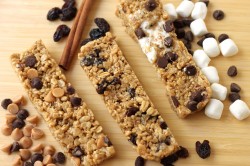 I've been looking for this recipe forever. These Quaker granola bars are just about my favorite snack and I've been eating them my whole life. I like them because they are soft and chewy and not hard and tooth breaking like other granola bars I've tried. I also like the rice cereal in them because it makes them seem more like Rice Krispy treats with granola in them rather than boring old "healthy" granola bars. Healthy food isn't inherently fun, Rice Krispy treats are always fun.
December 12, 2011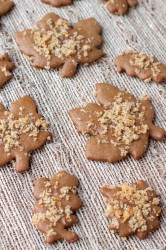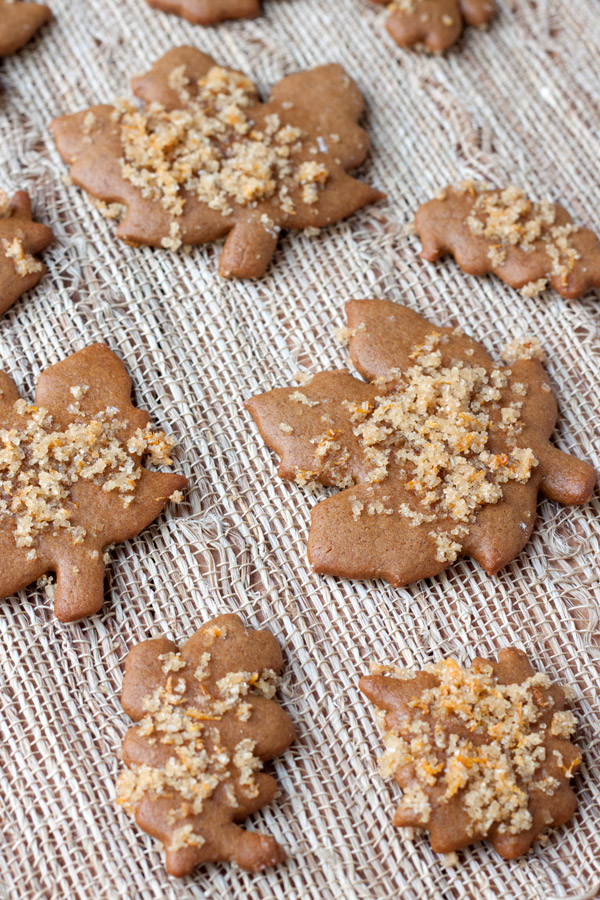 If you couldn't tell from many of the recipes on this blog, I love to bake and I struggle throughout the year trying to balance the sweet treats with savory and/or healthier recipes. But from Thanksgiving to New Years Day all that falls away and I embrace what I like to call "baking season". I don't put restrictions on myself, I don't worry about calories, I just let loose and make whatever I want and I don't feel the least bit guilty about anything I eat. It's my yearly Christmas present to myself.
Cookies are my favorite thing to make during the holiday season and I think I've been mentally saving up because I haven't posted any cookie recipes here since May. So when I heard about the Food Blogger Cookie Swap I immediately signed up. I'd be making cookies anyway so why not share some of them with others?
The thing I didn't …
August 7, 2008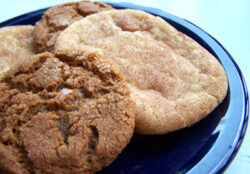 Have you ever seen two different recipes for the same thing and didn't know which one to make? That happens to me all the time. Sometimes I don't bother at all, thinking it's too much pressure to pick the "right" recipe, but if it's something that looks really good I might just make both and see what I like better. That is the case for these dueling snickerdoodle recipes that I found on two or my favorite sites: What Geeks Eat and Simply Recipes. The big difference between the recipes is the Shuna's at Simply Recipes has cornstarch, while Vanessa's has the more traditional cream of tartar. You can go read Shuna's post about why cornstarch is special. Due to this different "secret" ingredient in the cookies, I found the outcome of both to be completely different tasting cookies.
If you are cookie dough connoisseur, the …
October 7, 2008
Okay, so actually this recipe is called Applesauce Loaf, but that name just doesn't do it justice. It makes it sound vaguely gross, like meatloaf (I'm not saying meatloaf is necessarily gross, but it sure sounds like it is). This recipe is really similar to Banana Bread, so to call it Applesauce Bread makes much more sense to me. In fact, both recipes go really well together. My mother almost always made both at the same time and while I like Banana Bread just fine, it's the Applesauce Bread that I could never get enough of.
This recipe is perfect for this time of year. It's sweet and lightly spiced with cinnamon and nutmeg, so it's a great start to nice fall day. We don't have fall down here in Florida, which is why I always make applesauce bread and similar recipes this time of year. If …
September 27, 2012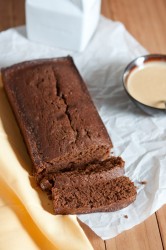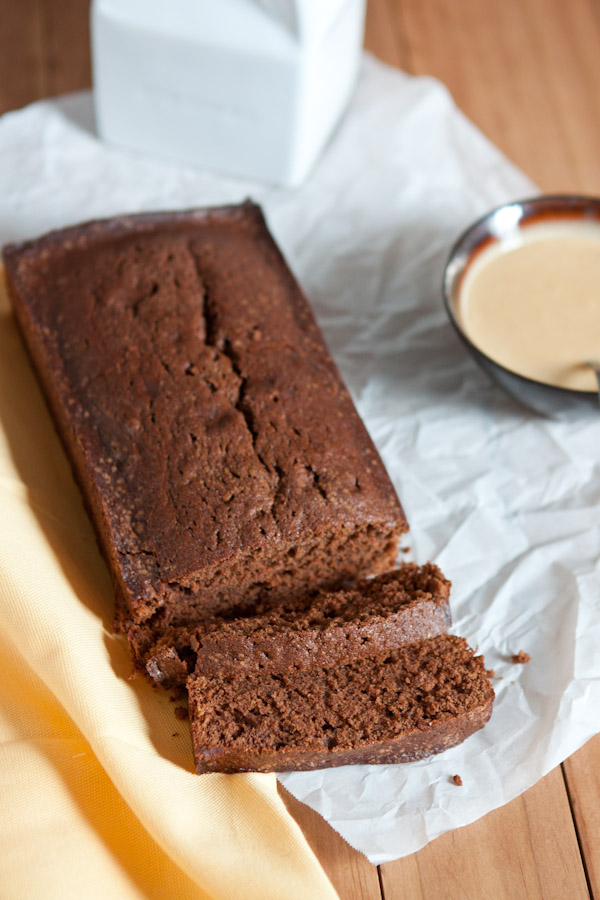 I know last week I was all about being healthy, but this week…well, sometimes you just need chocolate! This is my go-to recipe for such times. This is my "It's Saturday night and I need something sweet and chocolatey or I'm gonna lose it" cake. Since time is of the essence in these situations, this recipe is perfect because it's so easy. It only takes about 15 minutes to whip up and 30 minutes to bake. Plus there's none of that "let it cool completely" nonsense. It tastes just as good warm from the oven than it does at room temperature the next day.
A little cinnamon and coffee are added to this chocolate pound cake to give it a nice kick. Since it's so moist and flavorful on it's own you don't really need frosting. That said, if you wanted to …
July 20, 2010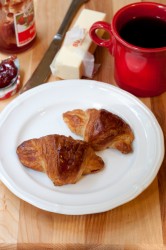 I'm always up for a baking challenge so when Julie over at Willow Bird Baking challenged her readers to make croissants, I didn't hesitate to sign up. I love croissants, but like donuts, I rarely eat them because of how bad they are for you. But there's just something about making something from scratch that makes it seem less bad for you. I guess because you have to put actual time and effort into making it instead of just going into a store and buying it. Plus, it's Brandon's birthday this week and that is one of the 4 times of the year (along with my birthday, Thanksgiving and Christmas) that I let myself eat whatever I want without feeling guilty about it.
And these croissants? Are absolutely worthy of much guilt, but they're just way too delicious and way too much work to feel guilty about. I mean, I made these …