October 24, 2011
Looking back through my archives I realized I've posted at least one chocolate-pumpkin dessert before Halloween for the past few years, so I figured it was past time to post a recipe like this, especially after all the apple recipes I've posted lately. Fruit is great, but for me at least, chocolate will always be better.
I've actually been working on this recipe for a while. I made some pumpkin swirl brownies last Halloween and even photographed them, but I kept deciding against posting them because they weren't quite good enough. Something was missing. But then earlier this year I discovered Supernatural Brownies. These are hands down my favorite brownies. Ever. And I have tried lots and lots AND LOTS of brownie recipes. I'm not into cakey brownies (if I wanted cake, I'd make that instead!), I like fudgey brownies and these are moist and fudgey beyond belief.
More Recipes
July 28, 2010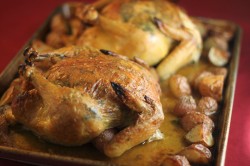 img class="centered" src="http://farm5.static.flickr.com/4112/4838051960_4e5193608b_z.jpg" alt="Thyme-roasted Chicken with Potatoes" width="640″ height="426″/>
I'm not a very talkative person. I think that's something that readers of this blog might be surprised about. Because I know my posts tend to be long, especially compared to a lot of other food blogs I read. But if you met me at a party, I might not say much, whereas if you give me a keyboard and a textbox to fill, I could probably "talk" for hours on end. That's one reason I love blogging and the internet so much. I guess I just feel more free to express myself here than I do in "real life". That's probably something I need to work on, but that's not really for this post to address.
The point I'm trying to make is that I'm usually so excited about sharing a recipe and describing why it's so good and my experience making it …
September 17, 2013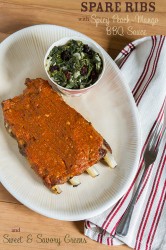 One interesting aspect of Whole30 has been adding a lot more protein to my diet. In the past, I didn't eat much meat during the day, for the most part defaulting to smoothies, toast, cereal/oatmeal and sandwiches (usually PB&J) and for dinner I'd usually make some kind of chicken or fish (occasionally pork or beef) that was served alongside pasta, rice or potatoes. So when I started Whole30 and I couldn't eat any gluten, grains or starchy vegetables I basically had to start over. I never had a problem planning dinners but breakfast and lunch was hard to figure out.
It quickly became apparent that when I ate meat and/or eggs during the day, I had a lot more energy and felt much better. Despite that, it's been …
June 20, 2011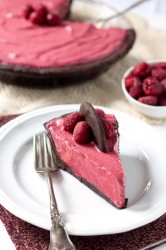 Sometimes I worry that people think I'm way better at this while cooking/baking thing than I actually am. But if anyone is to blame for this perception, it's obviously me because I'm always telling you how easy this or that recipe is to make and blah blah blah…look how great it turned out, too! Here's what you should be taking away from any recipe I post on this site: If I can make this thing, then you most definitely can as well. Because the truth is I'm still learning and I make mistakes ALL the time. But the awesome thing about learning to cook is that the more you do it, the more you learn little tricks and shortcuts so that you can fix your mistakes and learn to steer clear of them next time. But even then, things don't always go your way. It always sucks …
October 15, 2009
I'm finally back from my little hiatus. We're settled into our new apartment in Virginia and I'm ready to start cooking again. I was ready to start last week but after two things I tried to bake burnt to a crisp and set off the smoke alarm, it became apparent that the oven was broken. Luckily, the maintenance guy was able to fix it after he ordered a new part and now my oven stays at the right temperature (which I verified with an new oven thermometer, I'm not taking anymore chances with burning the house down).
But while I work on getting some new recipes under my belt, I wanted to finish posting things that I made this past summer. You may have noticed I have a thing for black and white desserts (see Black and White Chocolate Cheesecake Supreme, Black and White Cupcakes and Cheesecake Brownies), so when I saw Black and White Cake Cookies in my new Cooking Light cookbook, I knew I had to try them.
May 27, 2009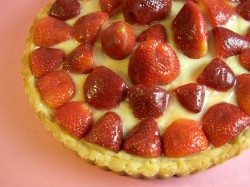 I've been on a strawberry kick lately (seriously, I hope you like strawberries because I have two more strawberry recipes coming up). I also finally bought a tart pan last week and I wanted to make something fun and different. This may not sound like such a "different" dessert, but it's really different for me. The majority of the desserts I make are either cake or cookies (or some variation like cupcakes and brownies). I've only make pie during the holidays and as much as I'd LOVE to make my cheesecake all the time I have to force myself to save that for special occasions.
Anyway, I found this recipe in my favorite cookbook and decided to go for it. I'm glad I did because this was damn good but it's kind of involved. It's definitely worth the effort …
February 9, 2010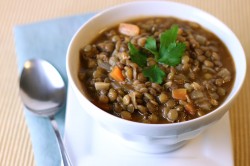 Yep, I'm still obsessed with soup and things I can make in my Dutch oven so this recipe called out to me as I was flipping though the cookbook's pages.
Also calling out to me? Bacon! Put some bacon in anything and I'm there. There's not a lot of bacon, though, so this is still a relatively healthy soup. And if you took out the bacon it would still be hearty and filling thanks to the lentils and the vegetables.
With the exception of the lentils, which I personally had never eaten or bought before I made this recipe, it doesn't have any other specialized ingredients. I had everything already sitting in my kitchen and I definitely prefer recipes where I can use ingredients I already have. I hate, hate, hate, buying a special ingredient for a recipe and then having the leftovers go bad or …
October 7, 2008
Okay, so actually this recipe is called Applesauce Loaf, but that name just doesn't do it justice. It makes it sound vaguely gross, like meatloaf (I'm not saying meatloaf is necessarily gross, but it sure sounds like it is). This recipe is really similar to Banana Bread, so to call it Applesauce Bread makes much more sense to me. In fact, both recipes go really well together. My mother almost always made both at the same time and while I like Banana Bread just fine, it's the Applesauce Bread that I could never get enough of.
This recipe is perfect for this time of year. It's sweet and lightly spiced with cinnamon and nutmeg, so it's a great start to nice fall day. We don't have fall down here in Florida, which is why I always make applesauce bread and similar recipes this time of year. If …