November 6, 2009
I'm always looking for new and interesting things to do with chicken. For years, practically the only thing I cooked was chicken with some lemon pepper on it. As you can imagine, I have no desire to make (or eat) boring lemon pepper chicken anymore. So when I saw this recipe, I definitely wanted to try it and I'm glad I did because I know this is going to be a new staple in our house. It's really easy and fast to make. It's low fat and it results in a moist, tender and flavorful chicken. That's everything I could ever want in a dinner.
The initial recipe says to use chicken breasts, but the second time I made these I only had tenderloins and I thought they were still really good (and even faster to make because the cooking time is only about 12 minutes). If you have picky kids that would look at yellow chicken in disgust, making tenderloins instead might make them a bit more palatable.
I was initially worried that it would taste too ginger-y, but it really didn't. In fact, I thought the flavor was pretty tame. So in my second attempt I added some more spices and flavors that I found from similar chicken recipes, which helped amp up the flavor. Also, this recipe benefits from some marinating to make the flavors even deeper, but if you don't have the time, it still tastes great.
More Recipes
February 15, 2012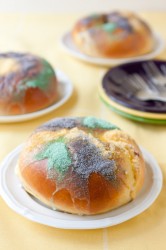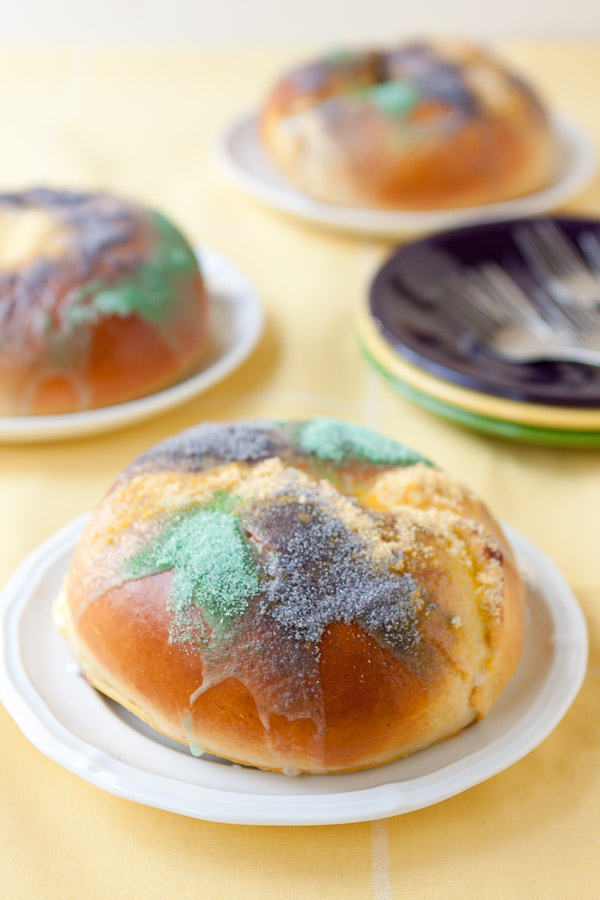 Even though I haven't lived anywhere that celebrates Mardi Gras for a very long time, I grew up on the Gulf Coast and still have lots of fond memories of going to the parade every year. And since my birthday is in late February, Mardi Gras has fallen on or near the same day—the date changes every year, along with Easter—a bunch of times so I would usually have some kind of Mardi Gras themed party and we'd order a King Cake instead a normal birthday cake. This year, Mardi Gras happens to be next Tuesday, the day after my birthday, so I thought it would be fun to have a King Cake again.
King Cakes I've made in the past have always been huge, not only hard to handle and store but they'd wind up drying out before we could finish eating them. So this time, rather than making …
December 12, 2011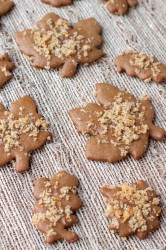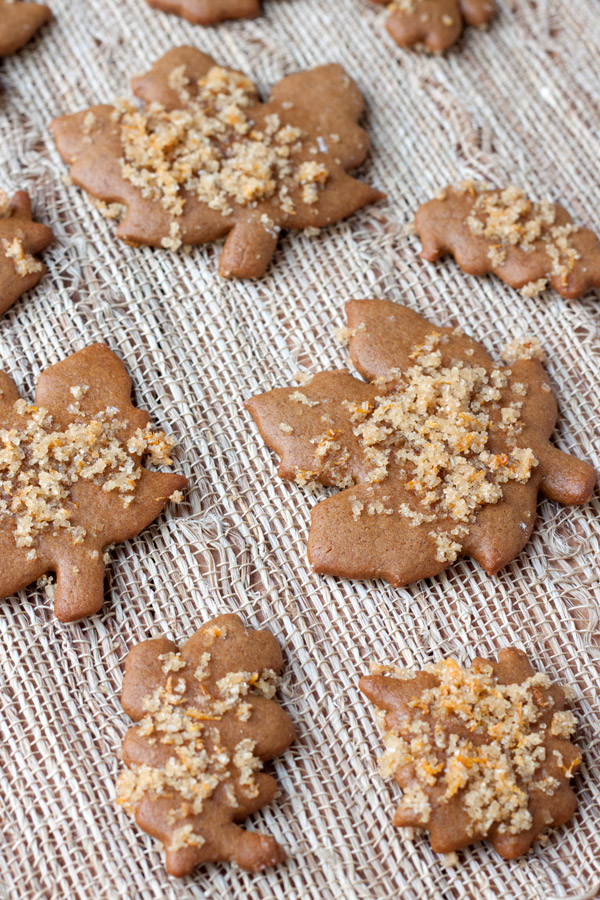 If you couldn't tell from many of the recipes on this blog, I love to bake and I struggle throughout the year trying to balance the sweet treats with savory and/or healthier recipes. But from Thanksgiving to New Years Day all that falls away and I embrace what I like to call "baking season". I don't put restrictions on myself, I don't worry about calories, I just let loose and make whatever I want and I don't feel the least bit guilty about anything I eat. It's my yearly Christmas present to myself.
Cookies are my favorite thing to make during the holiday season and I think I've been mentally saving up because I haven't posted any cookie recipes here since May. So when I heard about the Food Blogger Cookie Swap I immediately signed up. I'd be making cookies anyway so why not share some of them with others?
The thing I didn't …
November 11, 2008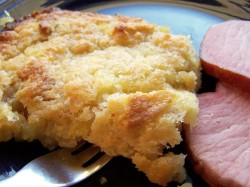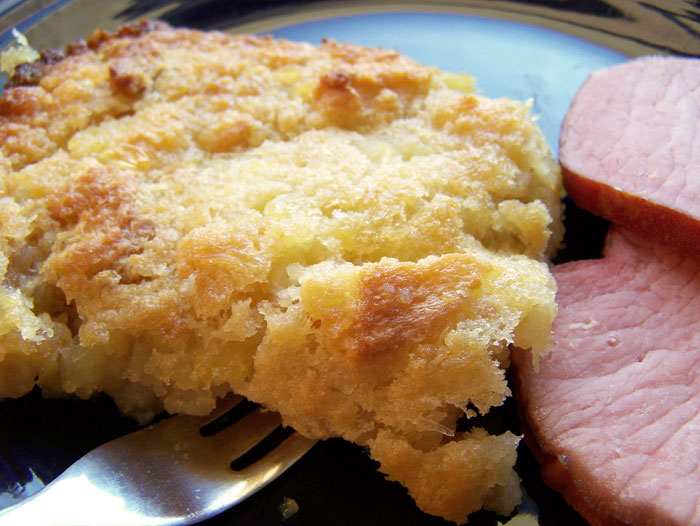 Okay, "Pineapple Stuff" is not the actual name of this recipe, it's technically called Scalloped Pineapple (think scalloped potatoes, not seafood). But I, in my infinite wisdom as a child dubbed this dish Pineapple Stuff and as thus it will be known forever. I guess you can call this Pineapple Casserole as I think that's a bit more descriptive. This is probably my favorite recipe in the whole wide world and has been since I was a kid. It was my mom's signature dish, which she served at all the dinner parties and all the pot lucks and which everyone raved about. I've made it a million times at this point, but I don't think mine has ever tasted as good as when she made it. I guess that's just how it goes, but that certainly doesn't stop me from making it.
This is not a …
March 24, 2010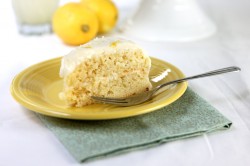 It's been a while since I posted a dessert here, mainly because I've been trying to stay away from things like that, but also because I haven't found anything that interested me. But since it's the first week of Spring, I decided I wanted to make a dessert that was light and fruity, nothing chocolate or heavy (which is my usual preference for desserts). So when I was flipping though my beloved Cooking Light cookbook, this recipe jumped right out at me.
But I have a confession: I haven't made many layer cakes before. Most of the ones I've tried have been unmitigated disasters with uneven and/or rounded layers and frosting catastrophes aplenty. So I was bracing myself for another un-perfect cake, but it turns out I didn't need to worry. This cake should be called "Baby's First Layer Cake". Seriously, it's really easy to make and …
July 3, 2008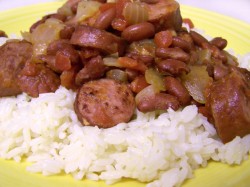 This is my favorite new recipe. What's really surprising about that is: (1) it's dead simple (or at least I made it that way) and (2) it's from the Weight Watchers cookbook. You wouldn't think something like that would be so good, but I swear I could eat it every single night.
The main thing to note is that this my version of the recipe. I took some shortcuts and also switched the meat (but I've had it with the original meat and it was good that way, too). I'll make notes where the changes are, though.
September 14, 2010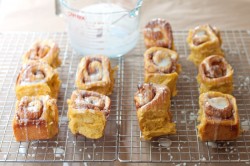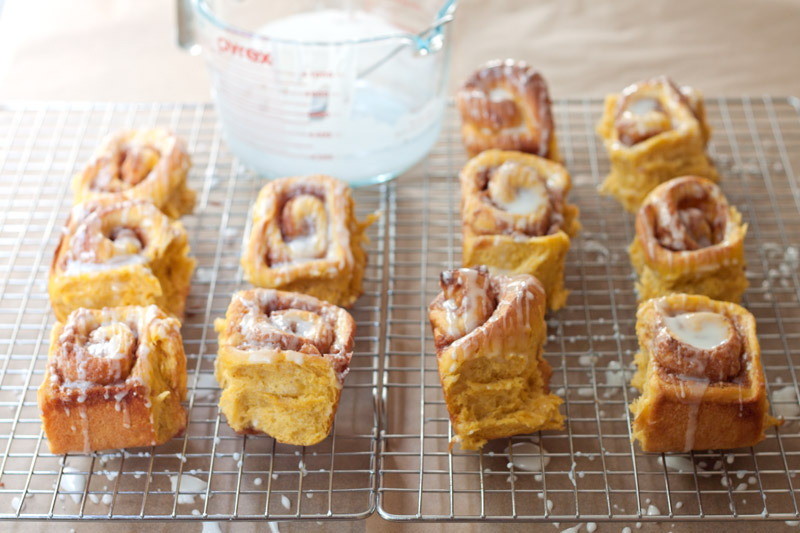 So I know the actual first day of Fall isn't for a few weeks, but as far as I'm concerned Labor Day is the end of summer. After that it's Fall. Even when it's still 90 degrees outside. A year ago Brandon had just gotten a job here and we were preparing to make the move from Florida to Virginia. I cannot tell you how much happier I am in Virginia and the main reason for that is because of Fall (and Winter, Spring and even Summer). There are actual seasons here! Maybe I'm strange for being so affected by the weather, but I found the static-ness of Florida's temperature and landscape to be utterly depressing (I probably would've felt differently if we had lived closer to the ocean, which I love, but unfortunately we were right in the middle of the state). Since I …
November 18, 2011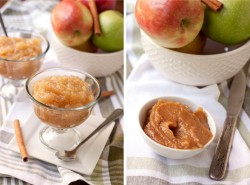 Hey look, it's more apple recipes! Have you had enough yet? I promise to cool it with the apples after this, but I just had to share these easy and delicious recipes since apple season is almost over. Thankfully apples are available year round, but they don't seem to taste quite as good as they do in the fall.
The great thing about this is that it's two recipes in one. Start with 5 pounds of apples and you can make both applesauce and apple butter in the span of about 2 hours (less than 30 minutes of which is actual hands on time). I honestly couldn't believe how simple it was.
I always figured making homemade applesauce was easy, but my laziness won out in the end. After trying this recipe, I feel really dumb because this applesauce literally takes 30 minutes to make. 30 minutes! And most of that …