May 20, 2010
Do you ever go to the grocery store and randomly pick up something that looks so inviting or is such a good deal that you can't pass it up, even though you don't know what you will actually do with it? Well, that's how I ended up with 2 cartons of giant blackberries this week. They were beautiful and they were buy one, get one free. How could you not buy those?
But then, if course, I had to find something to make with them so they wouldn't all go to waste (although they were pretty perfect in a bowl with a little sugar sprinkled on top, too). I already posted a blackberry cobbler a while ago, so that was out. After searching around for a while, this recipe jumped out me, and for good reason! It's extremely simple and produces a very moist and delicious cake. And since I really like the combination of lemon and blackberry, I added a lemon glaze on top (the same one from these lemon cakes). I think the glaze perfectly balances out the tartness …
More Recipes
December 23, 2008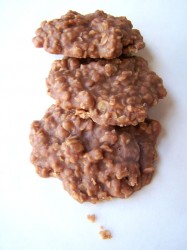 In January I promise to post some low fat recipes to get in the New Year's resolution diet mood, but until then it's still December and I'm baking like there's no tomorrow! The cookies come to me courtesy of my boyfriend's grandma from Tennessee who I like to think of as the quintessential southern woman. Almost every time I've been over to her house she has a feast prepared, even if she's only expecting a few people to come over! Brandon compares my cooking to hers all the time (That's not how my grandmother makes it…), but that's ok because she's a great cook, so if I could be as good as her one day that would be a great compliment.
I'd never had these cookies until the first time I went over to her house and I think I must have eaten about 50 of them that …
June 30, 2008
I'm always looking for new recipes for easy and fast dinners to make. But a lot of times fast and easy = boring and no flavor. The other thing I'm always looking for is good pork recipes. I have chicken dishes out the wazoo, but barely any good pork ones. The other night I was pleasantly surprised to find a recipe, which I had torn out of a Real Simple magazine ages ago, that was successful on all counts.
I paired this recipe with my absolute favorite side dish: mashed potatoes. I used to think "real" mashed potatoes were too much work and would make the kind from a box instead, but then I found this recipe and realized how simple they are to make. I probably make mashed potatoes at least once a week these days.
May 5, 2011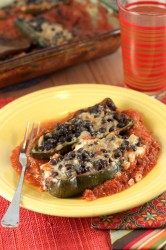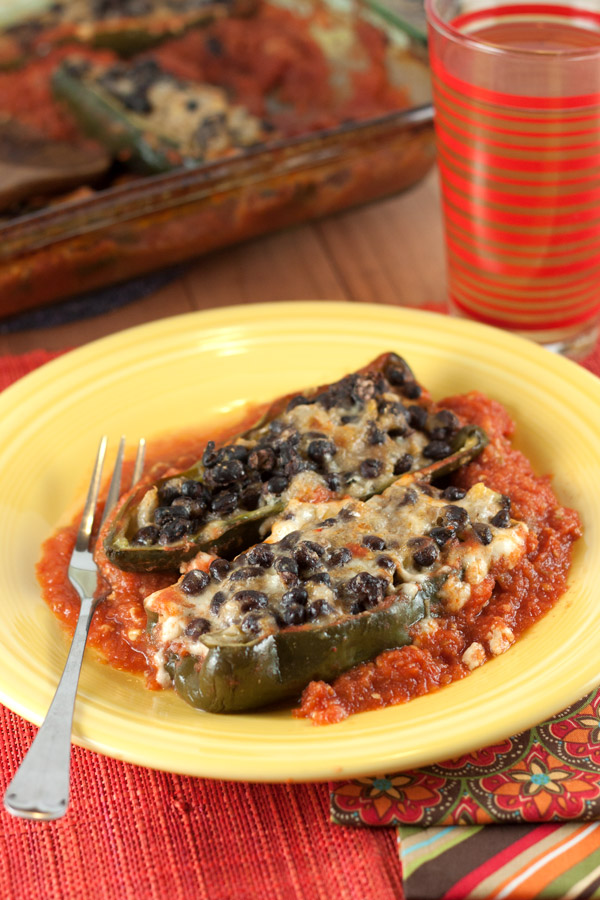 Most of the time I don't have the forethought to plan recipes related to holidays that aren't Thanksgiving or Christmas, but I happened to make this for dinner a few days ago and I knew it would be perfect to post on Cinco de Mayo. And in fact, this dish is sort of a celebration for me because it signifies that I've finally graduated from the realm of the picky eaters! Chile peppers were my last big food phobia and I'm very happy to say this recipe has put all my fears to rest. And, even crazier, as I was shoveling a stuffed poblano into my mouth my main thought was that I wanted it to be spicier. Five years ago, I wouldn't even touch bell peppers, so eating a dish with not one, but two kinds of chile peppers in it would have been crazy talk.
This recipe is like …
August 11, 2011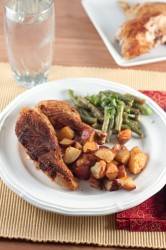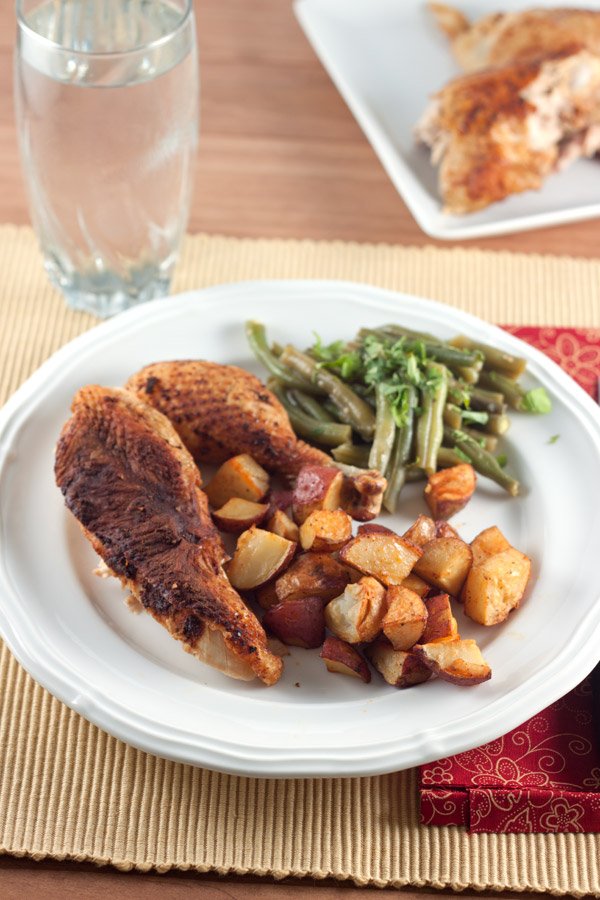 It's still pretty hot out, but I can't put off posting this recipe anymore. It's worth heating up your kitchen on a hot summer day to make this for dinner. If you've been reading this blog for awhile you may remember last year when I posted a recipe for thyme-roasted chicken and I said it was the best roast chicken I've ever had. I'm not going back on that, in fact I still stand by that statement and I still make it regularly. But. Even the best recipes can get stale if you make them over and over again. That's where this chili-roasted chicken comes in to save the day. Now I alternate between the two recipes so we never get tired of eating either of them!
The thing that attracted me to this recipe in the first place is that the method is really similar to the other recipe …
May 1, 2013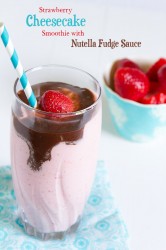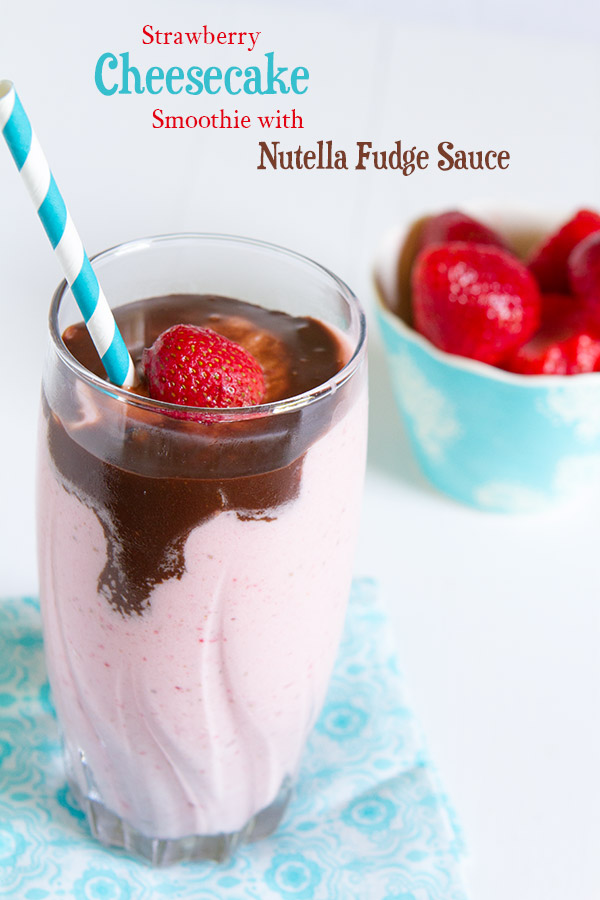 I'm pretty sure I've stated before that I'm not a fan of the warmer months. Spring is pretty, but here in Tennessee it's mostly just a few weeks of nice weather before it turns into a 90 or 100 degree hell-scape for four months. But there is one thing I like when it gets warm: I can finally drink smoothies again! I know some people drink them all year round, but for some reason I can't bring myself to make a smoothie when it's 30 or even 60 degrees outside. It's the same reason I rarely make soup during the summer. It just doesn't sound appetizing. But now that it's warmer, I'm happily back to my smoothie-a-day habit which makes lunch time so much easier.
I am very particular about smoothies. I've been making this …
July 7, 2010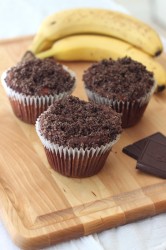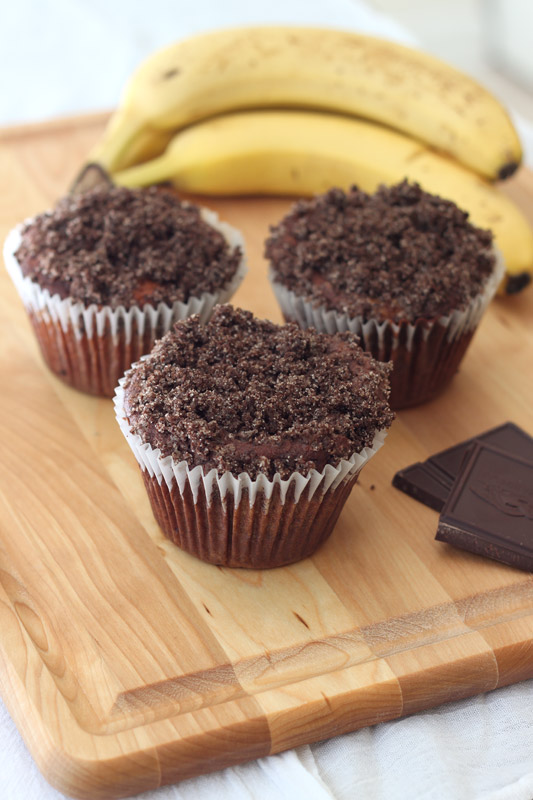 I did it again. I bought a bunch of bananas and let them sit there until they looked worse and worse. Tell me I'm not the only one who does that? Please? In the grand scheme of things bananas are cheap, but still…starving kids in blahblah and all that…so I always feel bad about wasting food. I cannot tell you how much I didn't want to make banana bread, though. I don't even really like banana bread, I much prefer my mom's applesauce bread. But what do you make with mushy bananas besides banana bread? I searched for alternatives but didn't find anything interesting that I had all the ingredients for or that wasn't a million calories.
Since I was stuck with banana bread, my next thought was that I should do something to make it less banana-y. …
October 8, 2013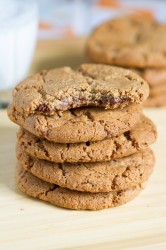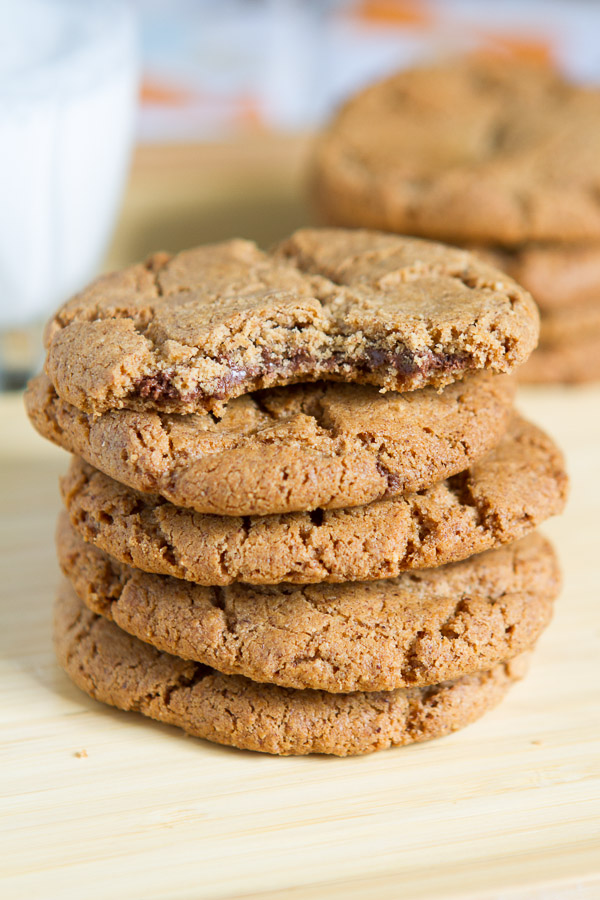 It's been a little over two weeks since I completed Whole30. It wasn't easy, but I'm so glad that I did it and I'm really happy with the results. So far, I've dropped 15 pounds but the biggest difference has been losing 6 inches off my waist and 3 inches off my hips. Hello, smaller pants size! The only other time I've ever lost this much weight was when I did Weight Watchers about 5 years ago. That took a lot of dedication and point counting and feeling hungry most of the time. What I really liked about Whole30 was just being able to eat without counting calories or feeling like I was supposed to starve myself to get results.
It's also been very illuminating to find that even when you can't have grains, sugar or dairy, there is …