April 10, 2009
I guess this is one of those basic everyone-has-made-this kind of dishes, but OH. MY. GOD. you just wouldn't even believe how many years have gone into finding this recipe and then actually being able to make it. This recipe, like the inscrutably named Pineapple Stuff, was one of my absolute favorite dishes my mom made when I was a kid. So much so, that I still remember it fondly despite not eating it in almost 15 years. So last year when I started cooking again, I made it my mission to find this recipe. Except I couldn't remember what it was called or what the ingredients were other than broccoli and some adorable little puff pastry shells my mom always used. So I looked through every single recipe in my mom's old recipe collection (which is just a book with hundreds of handwritten recipe cards and magazine cut-outs taped into it in a semi-organized, but still haphazard fashion) several times and finally figured out which one it was.
It was called Tuna a la King and I didn't remember it having tuna, but everything else …
More Recipes
July 21, 2009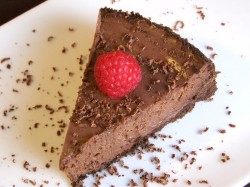 It was Brandon's birthday yesterday and as is my tradition I wanted to make him a cheesecake since he's not a fan of regular cake. But, as I mentioned last week, we are supposed to be on a diet and he, especially, didn't want to ruin the progress we've made. Personally, I think you deserve to eat whatever you want on your birthday (a right which also extends to the celebrators of said birthday, ie me), but he was very adamant about staying within our allotted points (we're doing weight watchers). In fact, he didn't even want me to make a cake at all, but I just wouldn't have that. You celebrate your birthday by eating some damn cake, diet or not diet. So to appease him, I said I'd find a light version. This, of course, filled me with dread. I mean, light cheesecake, …
October 6, 2010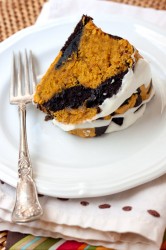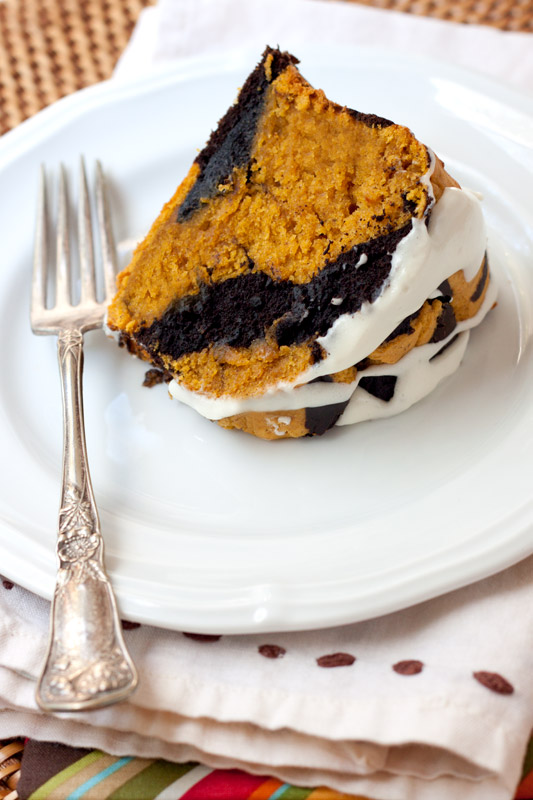 I am officially addicted to pumpkin. Maybe I'm just trying to make up for all the lost years of not eating it, but I've been making myself a pumpkin spice latte every morning and it's pretty much the only thing I'm interested in baking with lately. And did you hear? The canned pumpkin shortage is over, so it shouldn't be so hard to find it this year! I've already stocked up.
When I was going though my recipe archives for last week's Fall round-up post and remembered the Double Chocolate Pumpkin Cupcakes, I knew I wanted to make something else with pumpkin and chocolate and since we've already established that I love any kind of marbled dessert, I decided a marbled chocolate and pumpkin cake would be perfect.
February 22, 2011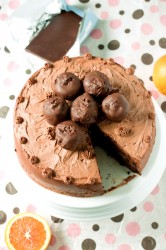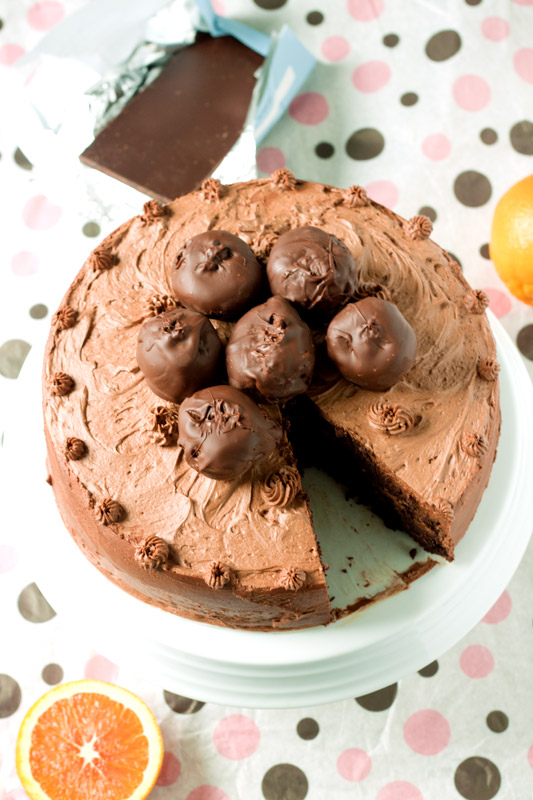 To celebrate Valentine's Day and my birthday, Brandon and I spent a wonderful weekend in a little cottage I rented in the mountains a few hours away. It was such a fun getaway: we did some hiking, we drove around and got lost and we spent a lot of time soaking in the hot tub. When we got back home on Sunday afternoon, I wanted to make myself a birthday cake but after such a relaxing weekend I didn't want to deal with complicated recipes or put time into making something that didn't turn out great. That's why I love the internet and recipe sites with reviews like Epicurious. I mean, if you can find a cake that has 1,400+ mostly raving reviews, that has to be a good cake, right?
I am very glad to have found this recipe because those reviewers were right: I now …
October 8, 2013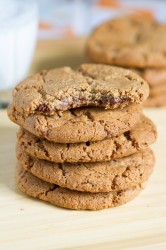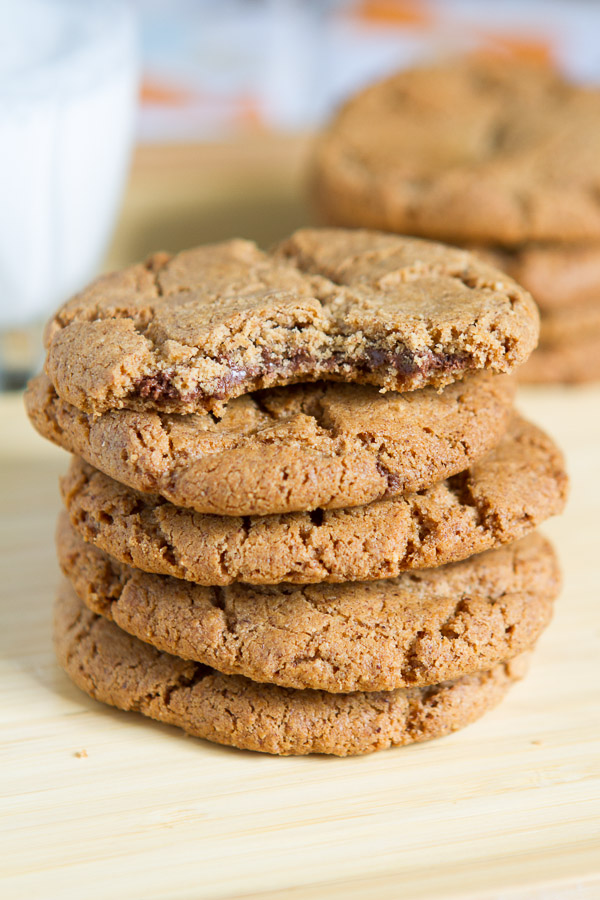 It's been a little over two weeks since I completed Whole30. It wasn't easy, but I'm so glad that I did it and I'm really happy with the results. So far, I've dropped 15 pounds but the biggest difference has been losing 6 inches off my waist and 3 inches off my hips. Hello, smaller pants size! The only other time I've ever lost this much weight was when I did Weight Watchers about 5 years ago. That took a lot of dedication and point counting and feeling hungry most of the time. What I really liked about Whole30 was just being able to eat without counting calories or feeling like I was supposed to starve myself to get results.
It's also been very illuminating to find that even when you can't have grains, sugar or dairy, there is …
December 23, 2008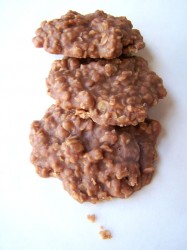 In January I promise to post some low fat recipes to get in the New Year's resolution diet mood, but until then it's still December and I'm baking like there's no tomorrow! The cookies come to me courtesy of my boyfriend's grandma from Tennessee who I like to think of as the quintessential southern woman. Almost every time I've been over to her house she has a feast prepared, even if she's only expecting a few people to come over! Brandon compares my cooking to hers all the time (That's not how my grandmother makes it…), but that's ok because she's a great cook, so if I could be as good as her one day that would be a great compliment.
I'd never had these cookies until the first time I went over to her house and I think I must have eaten about 50 of them that …
November 4, 2008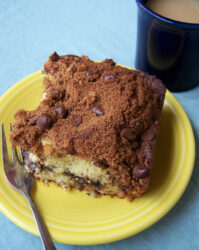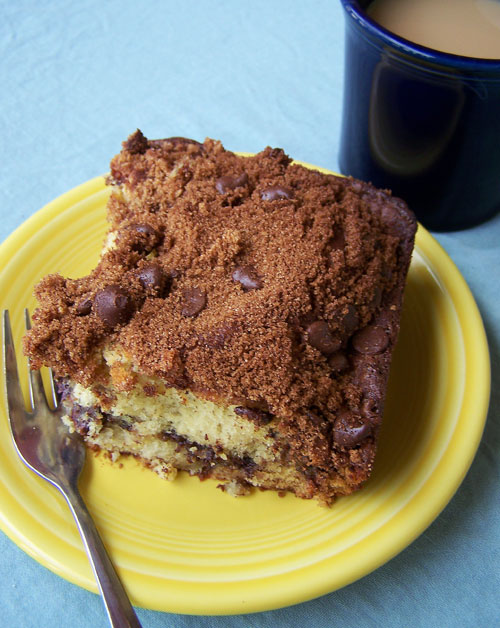 I had a bunch of overripe bananas that I didn't want to go to waste, so I was going to make some banana bread. That's what you do with overripe bananas, right? But I couldn't help thinking how boring that is. I have a great banana bread recipe from my mom, but that's the point, everyone and their mom already has a great banana bread recipe on hand. So I made it my mission to find something different to make with overripe bananas and boy did I hit gold. This banana coffee cake recipe is AWESOME! I'll be making this again and again. If I have kids, they will have this recipe from me, just like I have my mom's banana bread recipe. That's how good this stuff is.
The one fault issue nit pick, I have with …
July 21, 2008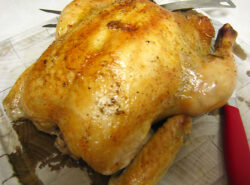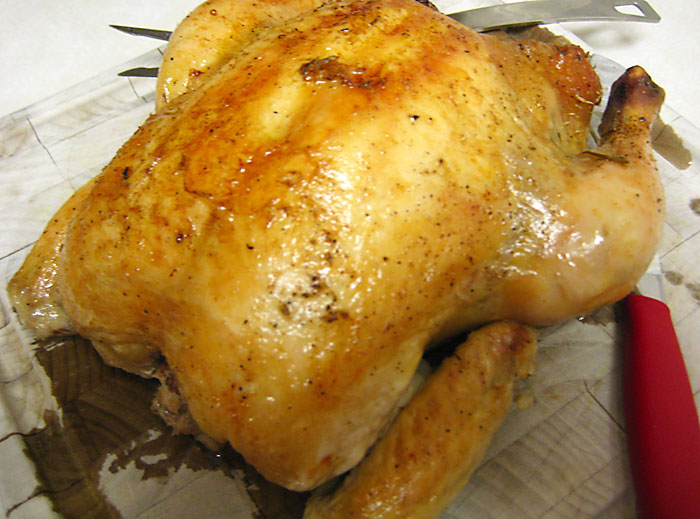 The idea of making a whole chicken for dinner used to scare me. But then I realized that I make a giant turkey every year on Thanksgiving and that's never been a problem so why am I scared of a little chicken? In fact whole chicken is one of the simplest dinners to make. The thing I especially love about this recipe that it uses chicken broth instead of butter or oil, so you still get a perfectly tender and juicy chicken without all the fat.
And I've never been a big fan of gravy, but I think it compliments the chicken perfectly. It's also great on top of rice or vegetables or stuffing or whatever else you are serving with your chicken. I found myself pouring gravy over my entire plate because I liked it so much.