December 20, 2012
I always have grand plans every Christmas. This year I'm going to send homemade Christmas cards! This year I'm going to make peppermint bark and send it to everyone in pretty tins! This year I'm going to make cookies for Brandon's whole office! Over the years, I have actually accomplished all of these things—though rarely all in the same year—but sometimes it doesn't work out. I get too busy with work or I'm just too lazy to make all the effort.
This is definitely one of those years. This month has gone by so fast, and I can't believe we're less than a week from Christmas. I have a few (store-bought) cards and (not handmade) gifts to send but who knows when I'll get to the post office. I still have quite a few people to find gifts for! Besides all that, I also have work deadlines hanging over everything. I hate being this stressed, especially during my favorite time of the year! All I really want to be doing this week is watching Christmas movies and …
More Recipes
December 21, 2009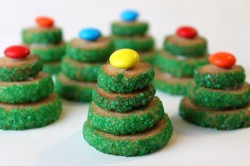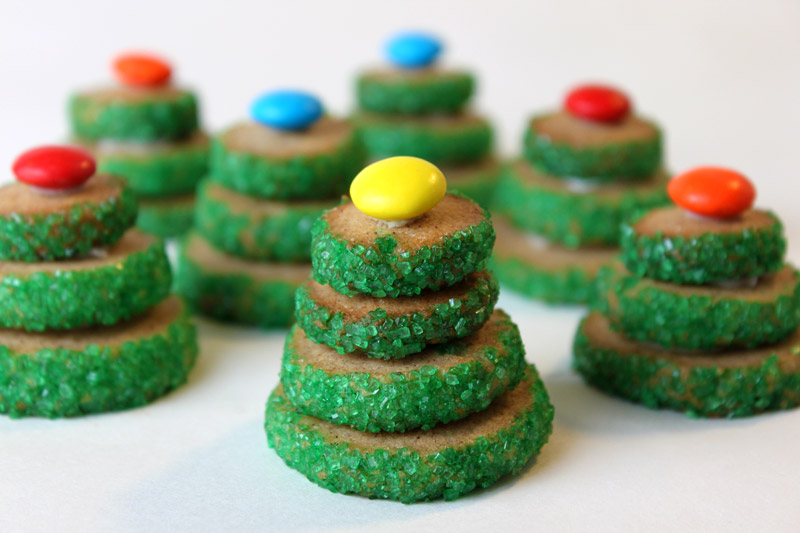 I may have gone a bit cookie crazy. Besides my Peppermint Fudge Pinwheels, I have two more cookie recipes to share. Well, it's more like one recipe and one technique, but I'll get to that.
I've never been able to find a sugar cookie that I actually like. I've tried about a million and they all just taste blah to me. But I think that's just the kind of person I am. Brandon told me the other day that I have tendency to put too much flavoring in the things I bake and that may be true, but I just want something that tastes like…something. I hate blah food. Even something that has too much flavor is better than something that doesn't have any. But I think this is just that age old debate of people who like vanilla ice cream and people who like chocolate. Of course I choose chocolate! The only time I'll eat vanilla ice cream is if it's covered in fudge or caramel.
Anyway, I'm not sure I even have a point other than to say that this desire for flavor translates into everything I cook and share on this blog. I make a lot of stuff that I don't share here because it's boring or basic. I always try to find recipes that are fun (at least to me). Which leads me to these totally adorable Christmas Tree Cookies. They are fun and easy to make and did I mention how adorable they are? But that's not even the best part of them. The original recipe was for plain ol' sugar cookies, but of course I modified them! The best part is that they taste just like cinnamon graham crackers, which are my absolute favorite. And my boyfriend, Mr. You-put-too-much flavoring, actually said that these were perfect! And he hates cinnamon, so if he likes these cookies, anyone will.
I bet these cookies would be fun to make if you have kids. You divide the dough into three rolls which you cover in green sugar, then after they've chilled for a while, you just sliced them up and bake. I think kids would definitely have fun assembling the little trees; I did and I'm almost 30 years old! These would be really festive and pretty for a party and they keep well in an air-tight container. As with all Betty Crocker cookies I've made (or maybe it's just a personal preference?) I think these taste better the day after you bake them.
The other kind of cookies I made are technically called Stained Glass cookies, but I'm not sure that's really accurate, especially after I modified them. I have seen recipes for stained glass cookies that actually have a little transparent window of sugar in them and these are not like those at all. These are just your basic sugar cookie recipe, but you divide up the dough and color parts of it with food coloring.
You are supposed to cut out shapes with cookie cutters in the uncolored dough and then cut up the colored doughs into little squares and arrange them on top of the uncolored cut-outs so that it looks like a stained glass window. But OH MY GOD, that is tedious. Seriously, I did about 3 cookies like that and I was done. It took forever and the colored dough kept getting too soft so I had to keep freezing it every 5 minutes. I was about ready to shoot someone and that is not the attitude you should have when making Christmas cookies! It's supposed to be fun, not mind-numbing. So I pretty much just gave up on the whole "stained glass" thing and just cut out circles and whatever else I wanted. Then I took the colored doughs and cut them with cookie cutters and added more little details. It was much more fun when I could just do what I wanted to.
Despite all that work, the cookies that came out were pretty but they were blah. Just about the blandest sugar cookies I've ever tasted: they weren't even that sweet! So I won't be posting that recipe, but the technique is still interesting and fun (as long as you do what you want and don't try to kill yourself being "perfect"), and it should work with your favorite sugar cookie recipe.
December 15, 2009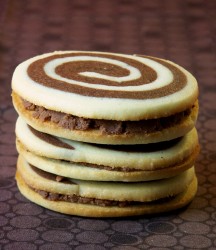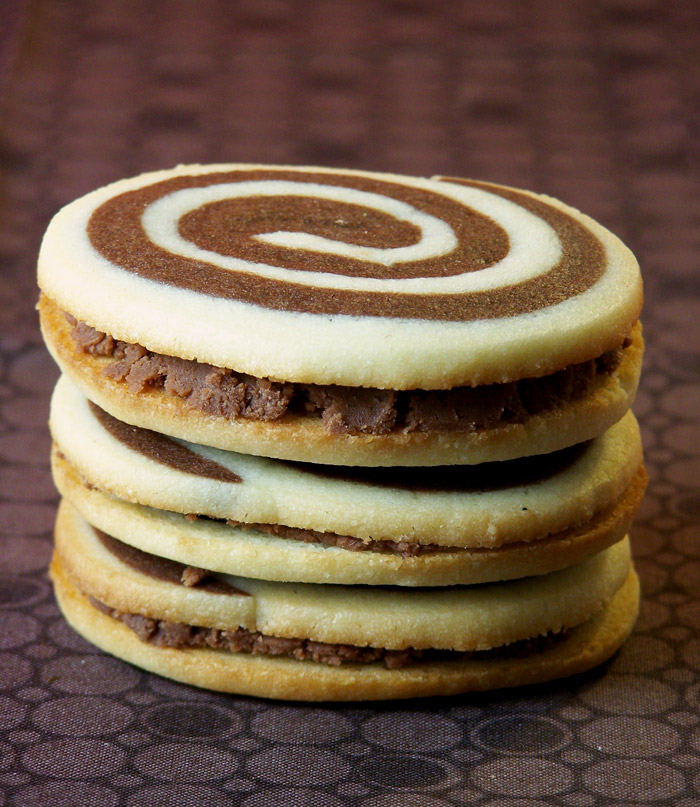 Christmas is my favorite time of year and one of the main reasons for that is all the baking I get to do. Even when I didn't cook much, I've always liked to bake and cookies are just about my favorite thing to make. Plus this time of year is the only time besides my birthday and Thanksgiving that I let myself make/eat whatever I want and I don't feel guilty about it. Diets are what January is for. (I've already signed up for Recipe Girl's Ten in '10 challenge!) So expect a bunch of sweet recipes around here for the next few weeks because I'm in the baking mood.
I'm obviously obsessed with black and white desserts, so I knew I had to make these as soon as I saw them. The original recipe isn't very christmas-y, but that was easily remedied …
November 23, 2009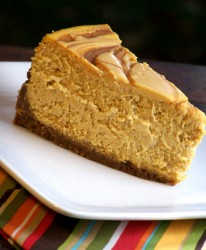 By far, the most popular recipe on this site is my Black and White Chocolate Cheesecake Supreme. I actually made it for the first time for Thanksgiving last year and I decided it would be our new Thanksgiving tradition to have cheesecake instead of pie. I'll take cheesecake over pie any day!
But this year, after discovering my love for all things pumpkin flavored, I decided I wanted to attempt a pumpkin cheesecake. But of course, I didn't want to use any other recipes because Brandon and I both think that my Cheesecake Supreme recipe is the best cheesecake we've ever had (other commenters agree, I've had a bunch of people come back after they made it and tell me how much they loved it). I also really like the concept of the black and white chocolate version and wanted to do …
November 20, 2009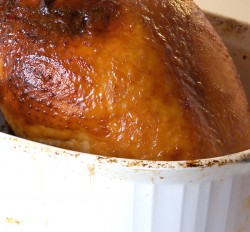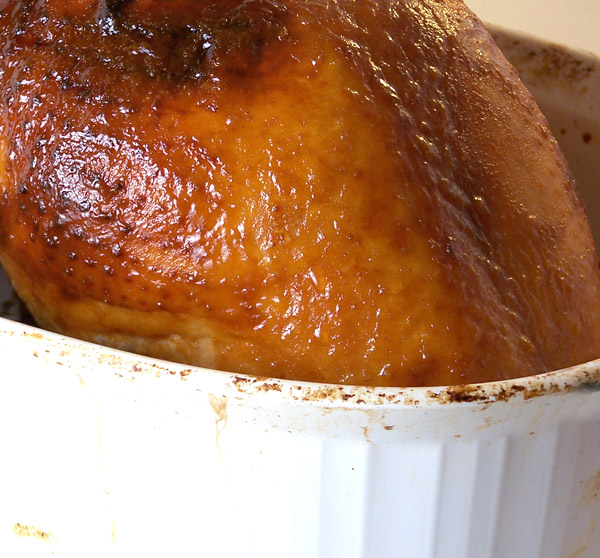 I'll always remember my first Thanksgiving with Brandon when we were living in our first apartment together at the ripe old age of 20 and I didn't really know how to cook anything except brownies. The turkey was the thing I most afraid of. I had always thought that cooking a turkey was so complicated and was surprised to find that it…wasn't. I had much more problems with my stuffing which I completely ruined when instead of using a real actual onion (I think the only vegetables I cooked with back then were potatoes and tomatoes) I put in 1/2 cup (!!) of onion powder. You haven't tasted onion until you put a 1/2 cup onion powder in something. To this day I really can't use onion powder in anything, I think I used up my life quota of it.
But anyway, I think anyone can make a turkey. …
June 30, 2011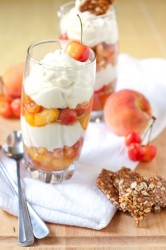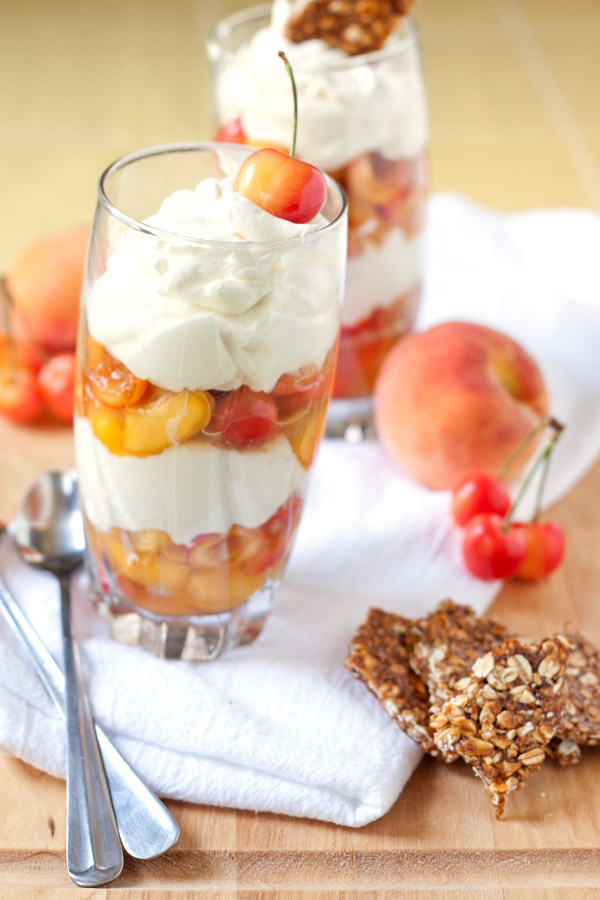 I have a confession: I don't really like yogurt. I've tried so many times over the years to make myself like it, but it always ends with me having to throw out a bunch of expired yogurt containers. But then I made that Cherry-Rhubarb Fool last month and I realized that yogurt can be good as long as it's the base for something else. So yogurt by itself = meh, but yogurt + fruit + whipped cream = yum.
Last week I got some absolutely gorgeous peaches and cherries from my CSA and I had big container of yogurt that was close to expiring, so I decided combining them would be a great way to use everything up. But instead of mixing it all together like I did with the fool I made it a yogurt parfait. Because what's more fun than a parfait? It just …
November 19, 2009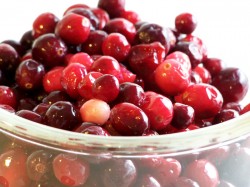 This whole blogging every day thing is hard. I don't know how some of you do it. It's hard for me to blog even once a week sometimes (though I've been trying to remedy that). Anyway, a work emergency left me unable to post yesterday and I still have lots to do today, so a slight change of plans: I'll post all the rest of the side dishes today and the turkey tomorrow. Then next week I'll post my favorite part of Thanksgiving (or any meal, really): Dessert!
So I already posted all my sweet potato side dishes but you can't just eat sweet potatoes (well, I actually think I could, but I'm weird). All of today's recipes (as well as the turkey) are courtesy of my mother. I found them all in her battered, food covered, recipe scrapbook where she dutifully taped in handwritten recipe cards or …
March 31, 2010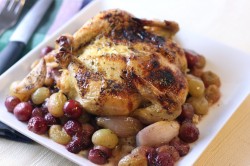 Do you ever make roast chicken for dinner? A while ago a fellow food blogger I follow on twitter asked this question to her followers and said she was surprised to learn that many people had never roasted a chicken before. I also found this somewhat surprising but then I remembered that I used to be scared of making a whole chicken, too. After I roasted a chicken the first time, it became one my favorite dinners, but I can still understand why people would be apprehensive.
So for anyone still on the fence, I present to you: Cornish Hens. They're basically miniature chickens and as such are even easier to handle and only take about 30 minutes to cook. Cornish Hens are a great stepping stone if you're not quite ready to make the leap to a whole chicken yet. Plus…it's …