October 3, 2013
I'm not going to lie: for most of my life I've hated salad. Mostly, it's the lettuce. It's so limp and flavorless. I've never had a true BLT because the lettuce was always the first thing to be discarded from any sandwich. But earlier this year I realized the problem wasn't all lettuce it was just iceberg lettuce. So I put aside my lettuce prejudice and tried a bunch of other kinds of lettuce only to discover that they're not that bad. Especially once you add a bunch of veggies, cheese and dressing on top.
Since making that discovery I've implemented a weekly Salad Night where we eat a very large salad, usually topped with chicken. It's a simple but filling dinner on nights when I don't feel like making much effort and it saves us from ordering pizza like we used to. It's been especially great while we've been doing the Whole30 because it's one less meal I have plan out every week.
More Recipes
July 1, 2008
Have you ever heard of such a thing?  I mean, I know you can fry pretty much anything, but fried pasta?  I've never heard of that before.  Well, I'm here to say fried pasta = yum!
A few weeks ago my boyfriend, Brandon, and I went to Copelands and we were basically blindsided with this item.  We had ordered spinach and artichoke dip as an appetizer and assumed that it would come with tortilla chips like every other restaurant we've ever eaten spinach and artichoke dip at (which is A LOT).  But Copeland's is not every other restaurant.  The dip comes out with a plate of fried bow-tie pasta.  At first we just looked at it in astonishment and even a little disgust, but neither of us are ones to turn away fried food so we tried one.  Oh.  My.  God.  I could eat them all day long.  I would say pasta and fried food are my two biggest weaknesses, so …
October 7, 2008
Okay, so actually this recipe is called Applesauce Loaf, but that name just doesn't do it justice. It makes it sound vaguely gross, like meatloaf (I'm not saying meatloaf is necessarily gross, but it sure sounds like it is). This recipe is really similar to Banana Bread, so to call it Applesauce Bread makes much more sense to me. In fact, both recipes go really well together. My mother almost always made both at the same time and while I like Banana Bread just fine, it's the Applesauce Bread that I could never get enough of.
This recipe is perfect for this time of year. It's sweet and lightly spiced with cinnamon and nutmeg, so it's a great start to nice fall day. We don't have fall down here in Florida, which is why I always make applesauce bread and similar recipes this time of year. If …
October 31, 2008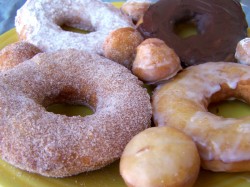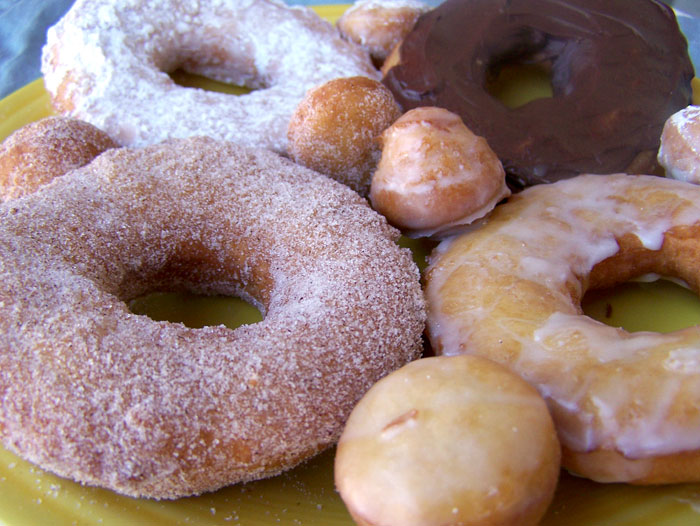 As I mentioned in my last post, I have major sweet tooth. So donuts are one of my very favorite things. But since they are also one of the very worst things for you to eat, I try to stay away from them. It helps that my boyfriend HATES donuts (unless they are fresh from the oven Krispy Kreme donuts), so I never have a good enough excuse to buy them. Because of that, I probably only eat donuts a few times a year, but that doesn't mean I don't have cravings for them, well, all the time.
So a couple of weeks ago, when I stumbled upon this recipe for dead simple donuts I just could not pass it up. I had to see if they were any good! I bought a can of pizza dough the next time I went to grocery store and tried it …
December 16, 2010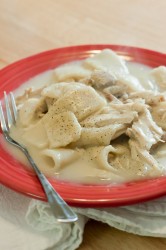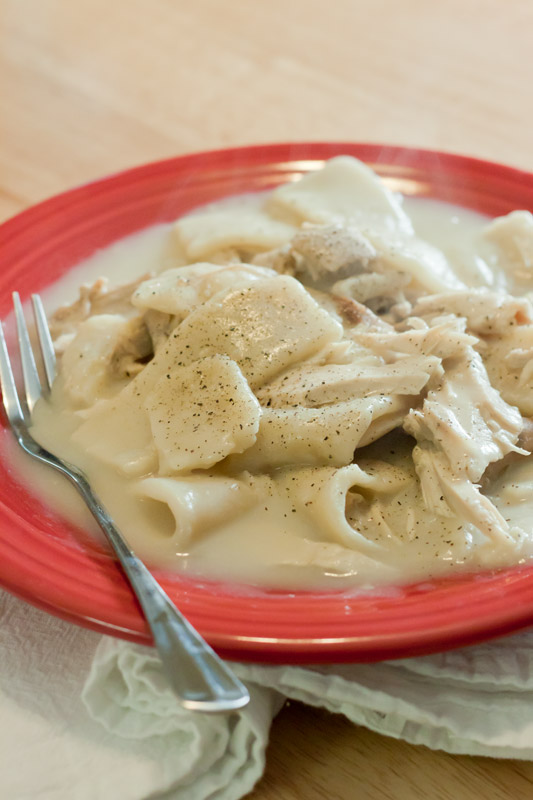 Finally! I've been looking for this recipe for years and I finally found it. You see, Chicken and Dumplings is my boyfriend's favorite dish and he's always wanted me to make it at home. And I have tried, but the problem is there are lots of different recipes for chicken and dumplings and all the recipes I've tried haven't been "right", according to him.
Here's what the right kind aren't: the kind with actual little round dumplings on top. Because I guess that would just be too easy? I've tried several recipes like that, one from Martha Stewart, and while Brandon agreed that those recipes weren't bad, they still weren't "right".
The right kind of chicken and dumplings are the kind that Brandon's grandmother makes. They are the kind you get at Cracker Barrel. They are true southern style, and they don't actually have dumplings, it's …
December 21, 2009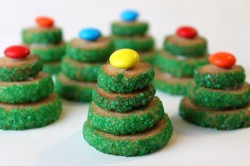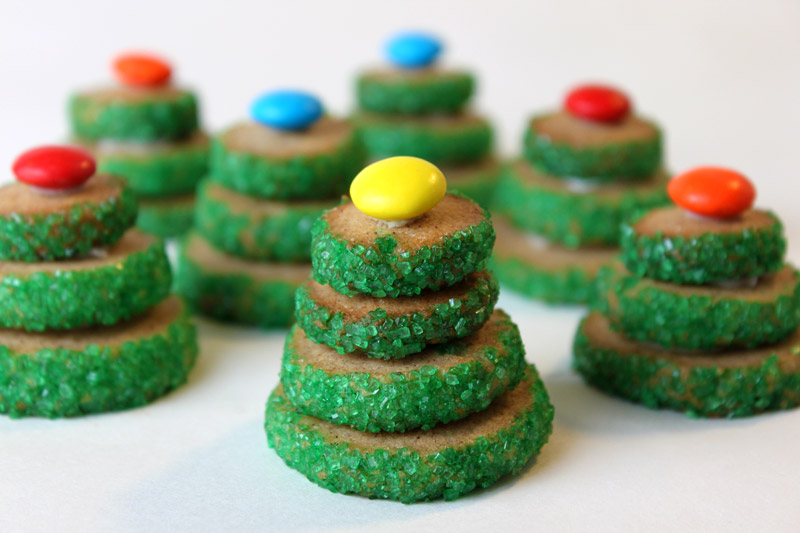 I may have gone a bit cookie crazy. Besides my Peppermint Fudge Pinwheels, I have two more cookie recipes to share. Well, it's more like one recipe and one technique, but I'll get to that.
I've never been able to find a sugar cookie that I actually like. I've tried about a million and they all just taste blah to me. But I think that's just the kind of person I am. Brandon told me the other day that I have tendency to put too much flavoring in the things I bake and that may be true, but I just want something that tastes like…something. I hate blah food. Even something that has too much flavor is better than something that doesn't have any. But I think this is just that age old debate of people who like vanilla ice cream and people who like chocolate. Of course I choose chocolate! The only time I'll eat vanilla ice cream is if it's covered in fudge or caramel.
Anyway, I'm not sure I even have a point other than to say that this desire for flavor translates into everything I cook and share on this blog. I make a lot of stuff that I don't share here because it's boring or basic. I always try to find recipes that are fun (at least to me). Which leads me to these totally adorable Christmas Tree Cookies. They are fun and easy to make and did I mention how adorable they are? But that's not even the best part of them. The original recipe was for plain ol' sugar cookies, but of course I modified them! The best part is that they taste just like cinnamon graham crackers, which are my absolute favorite. And my boyfriend, Mr. You-put-too-much flavoring, actually said that these were perfect! And he hates cinnamon, so if he likes these cookies, anyone will.
I bet these cookies would be fun to make if you have kids. You divide the dough into three rolls which you cover in green sugar, then after they've chilled for a while, you just sliced them up and bake. I think kids would definitely have fun assembling the little trees; I did and I'm almost 30 years old! These would be really festive and pretty for a party and they keep well in an air-tight container. As with all Betty Crocker cookies I've made (or maybe it's just a personal preference?) I think these taste better the day after you bake them.
The other kind of cookies I made are technically called Stained Glass cookies, but I'm not sure that's really accurate, especially after I modified them. I have seen recipes for stained glass cookies that actually have a little transparent window of sugar in them and these are not like those at all. These are just your basic sugar cookie recipe, but you divide up the dough and color parts of it with food coloring.
You are supposed to cut out shapes with cookie cutters in the uncolored dough and then cut up the colored doughs into little squares and arrange them on top of the uncolored cut-outs so that it looks like a stained glass window. But OH MY GOD, that is tedious. Seriously, I did about 3 cookies like that and I was done. It took forever and the colored dough kept getting too soft so I had to keep freezing it every 5 minutes. I was about ready to shoot someone and that is not the attitude you should have when making Christmas cookies! It's supposed to be fun, not mind-numbing. So I pretty much just gave up on the whole "stained glass" thing and just cut out circles and whatever else I wanted. Then I took the colored doughs and cut them with cookie cutters and added more little details. It was much more fun when I could just do what I wanted to.
Despite all that work, the cookies that came out were pretty but they were blah. Just about the blandest sugar cookies I've ever tasted: they weren't even that sweet! So I won't be posting that recipe, but the technique is still interesting and fun (as long as you do what you want and don't try to kill yourself being "perfect"), and it should work with your favorite sugar cookie recipe.
August 26, 2009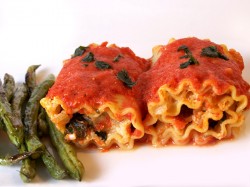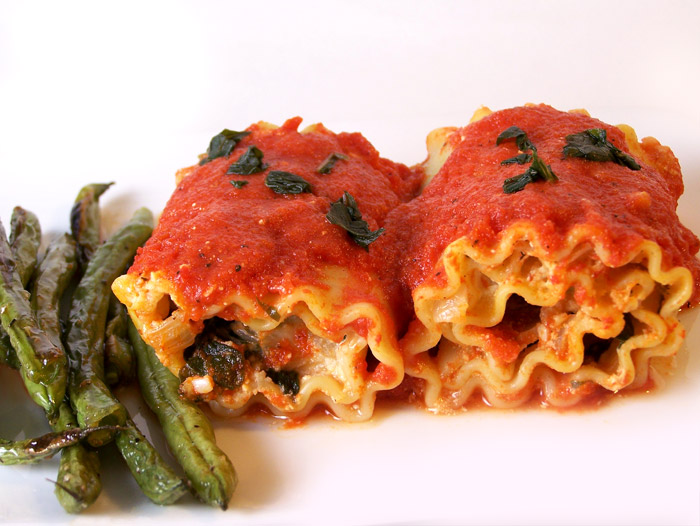 This is a fun one! I recently got a new Cooking Light Cookbook so I've been trying out lots of different stuff in it. I was looking for something meatless because I decided we should have at least one day a week without meat, as it would be good for our diet as well as our bank account. This just looked like a fun and interesting way to lighten up lasagna and it didn't disappoint one bit. There was so much good stuff going on, that I didn't care one bit that there was no meat in it.
The dish is fairly easy to make and doesn't take too long to prepare. You prepare the three different components separately (the noodles, the cheese filling and the sauce) and then you combine them. …
November 20, 2009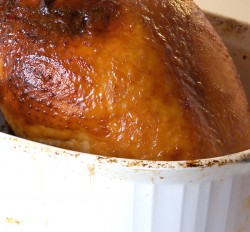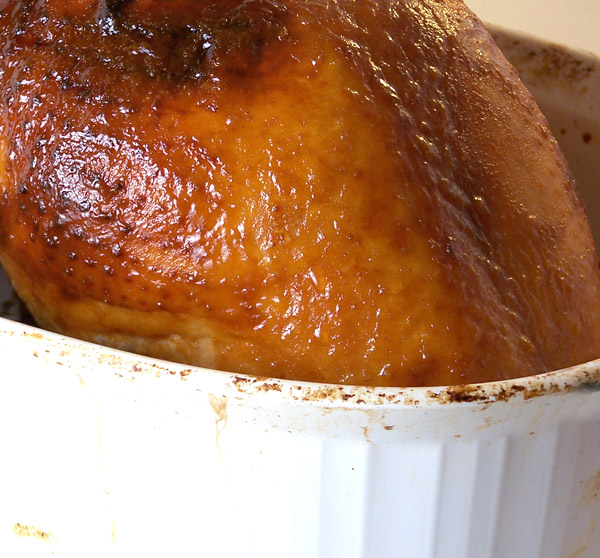 I'll always remember my first Thanksgiving with Brandon when we were living in our first apartment together at the ripe old age of 20 and I didn't really know how to cook anything except brownies. The turkey was the thing I most afraid of. I had always thought that cooking a turkey was so complicated and was surprised to find that it…wasn't. I had much more problems with my stuffing which I completely ruined when instead of using a real actual onion (I think the only vegetables I cooked with back then were potatoes and tomatoes) I put in 1/2 cup (!!) of onion powder. You haven't tasted onion until you put a 1/2 cup onion powder in something. To this day I really can't use onion powder in anything, I think I used up my life quota of it.
But anyway, I think anyone can make a turkey. …