August 31, 2010
I can barely believe it's September already. The summer is basically over and I realized that I haven't made any ice cream yet! I had all these grand plans that I was going to finally buy an ice cream maker and make all different kinds of flavors of ice cream and frozen yogurt. But no, I never did get that ice cream maker and now it's looking like I'm going to have to buy a new blender, so I guess the ice cream maker will just have to wait another year.
But I didn't want the summer to be over without making any ice cream and luckily, it's still pretty easy to make without the machine. All you need is a freezer and a mixer (or even strong arms and sturdy whisk will do). I decided to make frozen yogurt again because of how much I enjoyed the frozen yogurt I made last summer. It's better for you than ice cream, but it's just as creamy and delicious so it doesn't taste like you're sacrificing anything.
More Recipes
March 31, 2010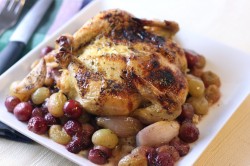 Do you ever make roast chicken for dinner? A while ago a fellow food blogger I follow on twitter asked this question to her followers and said she was surprised to learn that many people had never roasted a chicken before. I also found this somewhat surprising but then I remembered that I used to be scared of making a whole chicken, too. After I roasted a chicken the first time, it became one my favorite dinners, but I can still understand why people would be apprehensive.
So for anyone still on the fence, I present to you: Cornish Hens. They're basically miniature chickens and as such are even easier to handle and only take about 30 minutes to cook. Cornish Hens are a great stepping stone if you're not quite ready to make the leap to a whole chicken yet. Plus…it's …
October 15, 2009
I'm finally back from my little hiatus. We're settled into our new apartment in Virginia and I'm ready to start cooking again. I was ready to start last week but after two things I tried to bake burnt to a crisp and set off the smoke alarm, it became apparent that the oven was broken. Luckily, the maintenance guy was able to fix it after he ordered a new part and now my oven stays at the right temperature (which I verified with an new oven thermometer, I'm not taking anymore chances with burning the house down).
But while I work on getting some new recipes under my belt, I wanted to finish posting things that I made this past summer. You may have noticed I have a thing for black and white desserts (see Black and White Chocolate Cheesecake Supreme, Black and White Cupcakes and Cheesecake Brownies), so when I saw Black and White Cake Cookies in my new Cooking Light cookbook, I knew I had to try them.
September 12, 2012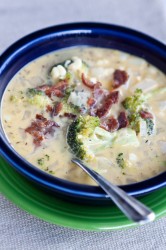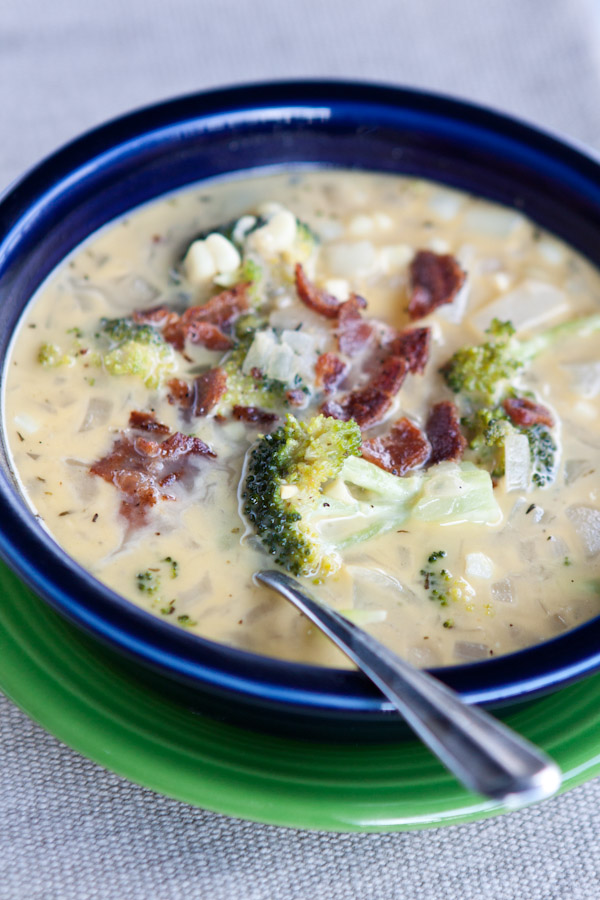 I've said here many times that Fall is my favorite season. Summer can never be over fast enough for me. Usually, I'm ready to declare it Fall as of September 1st despite what the actual weather or calendar says. But this year is different. It's weird. I almost feel like I'm cheating on Fall when I say this, but: I'm not ready for Summer to be over.
It's not so much that this has been a great summer, in fact it's been a pretty crappy summer filled with record high temps that chased me back into the safety of my air-conditioned apartment. No, the thing I'm regretting is that I missed out on all of the great produce. Looking back through my archives of last summer, I'm reminded of my Peach Dumplings and Blueberry Donut Muffins and …
July 24, 2008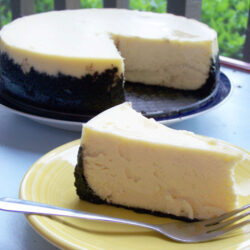 It was my boyfriend's birthday last weekend and I wanted to make him something special despite the fact that he didn't really want to celebrate his birthday. The problem is that he doesn't like many traditional desserts, most especially cake. I can't even conceive of disliking cake, but somehow he does. Thankfully, though, he does love cheesecake (which he vehemently insists is not really a cake, so much does the taint of the word "cake" bother him). But even having found a dessert he actually likes, he's almost impossible to entirely please because every single cheesecake I've made for him in the past, though always praised as "good" comes with the disclaimer of "but not as good as the New York cheesecake I had that one time". AAARRRRRRGGGGGGG! So I have made it my mission of find and make a real New York style cheesecake and this time I …
June 6, 2011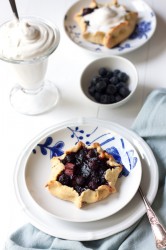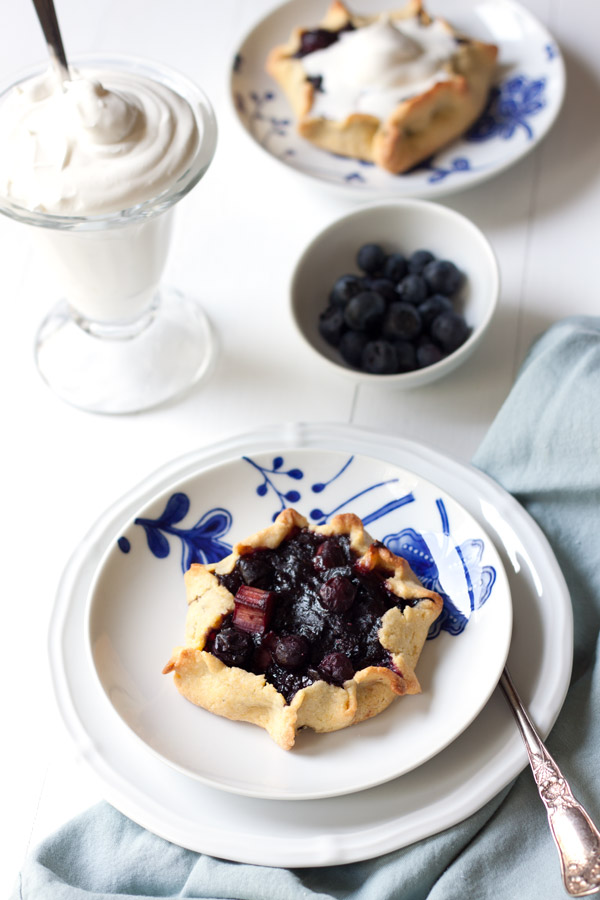 Since my last experience with rhubarb went so well, I picked up another pound of it at the grocery store to try out some more recipes. This tart recipe was the first on my list because it's on the cover of Kim Boyce's cookbook, Good to the Grain and I think I've opened that book about a million times since I got it a month ago. I just couldn't look at it one more time without making those tarts.
The only problem was that my rhubarb wasn't as blindingly red as hers looked, so I decided to change the filling and add some blueberries to it to give it a deeper color. I've tried rhubarb with cherries, strawberries and now blueberries and I have to say that blueberry-rhubarb combo is my favorite of the three. I cooked the …
May 20, 2009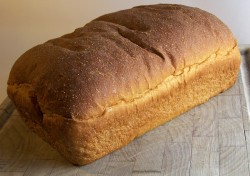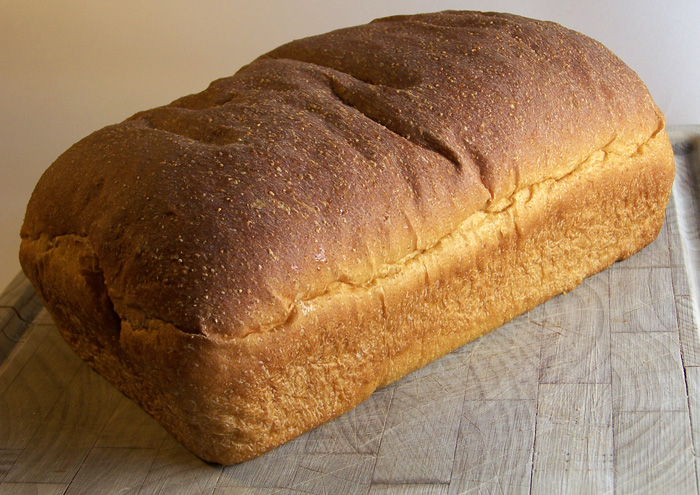 So I decided to do something a little crazy. The awesome Nicole at Pinch My Salt started a group to make every single recipe in The Bread Baker's Apprentice by Peter Reinhart. When she first announced it on Twitter, I was interested but ultimately decided it would be too much work. But then more and more people started joining with her and I kept thinking about it until she announced she was closing the group to new members. As soon as I heard that it made me realize how much I wanted to do this, so I emailed her immediately to join the group.
November 20, 2009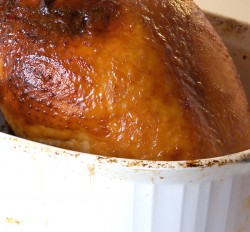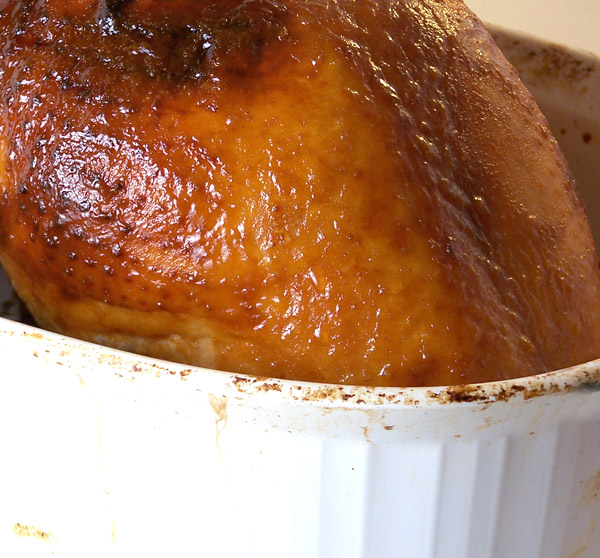 I'll always remember my first Thanksgiving with Brandon when we were living in our first apartment together at the ripe old age of 20 and I didn't really know how to cook anything except brownies. The turkey was the thing I most afraid of. I had always thought that cooking a turkey was so complicated and was surprised to find that it…wasn't. I had much more problems with my stuffing which I completely ruined when instead of using a real actual onion (I think the only vegetables I cooked with back then were potatoes and tomatoes) I put in 1/2 cup (!!) of onion powder. You haven't tasted onion until you put a 1/2 cup onion powder in something. To this day I really can't use onion powder in anything, I think I used up my life quota of it.
But anyway, I think anyone can make a turkey. …