July 29, 2008
I was reading someone's blog the other day and they mentioned sweet potatoes, insinuating that the majority of people don't like them. Is this true? Because if it is, then I am making it my mission to spread the word about sweet potatoes. I love them so much I could eat them every single night. I guess when people think of sweet potatoes they mostly think of sweet potato casserole at Thanksgiving, and while I love me some yams, there is sooo much more you do with sweet potatoes.
This recipe is a new staple in my house as it combines my two favorite things into one dish and it is oh so yummy. I also love that this is a very simple, one-pot dish. I guess you could serve with it some rice or a vegetable, but chicken and sweet potatoes are always enough food to fill me up.
Now, I do understand if the idea of maple syrup on chicken makes your stomach crawl, but I assure that once the dish is cooked, you just get this wonderfully subtle maple-y flavoring to the …
More Recipes
October 6, 2010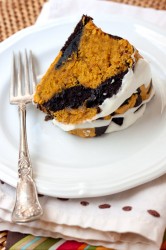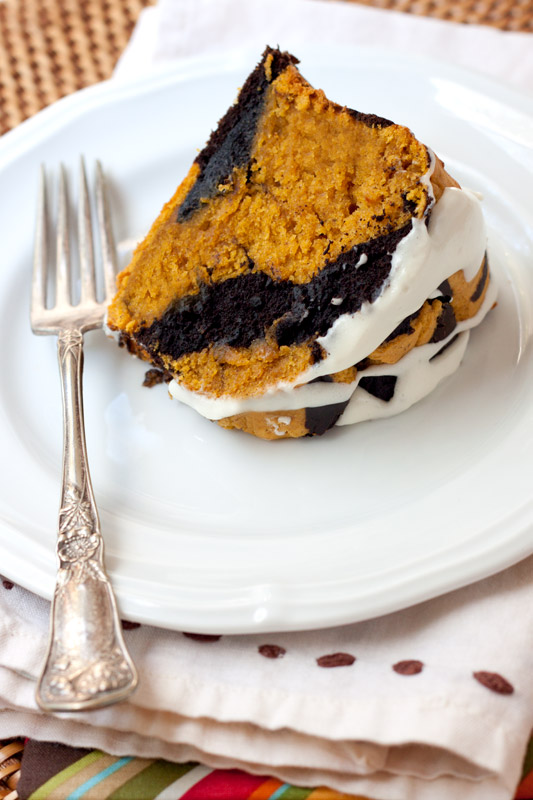 I am officially addicted to pumpkin. Maybe I'm just trying to make up for all the lost years of not eating it, but I've been making myself a pumpkin spice latte every morning and it's pretty much the only thing I'm interested in baking with lately. And did you hear? The canned pumpkin shortage is over, so it shouldn't be so hard to find it this year! I've already stocked up.
When I was going though my recipe archives for last week's Fall round-up post and remembered the Double Chocolate Pumpkin Cupcakes, I knew I wanted to make something else with pumpkin and chocolate and since we've already established that I love any kind of marbled dessert, I decided a marbled chocolate and pumpkin cake would be perfect.
November 3, 2010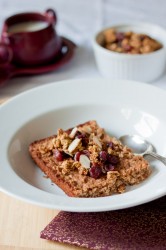 Now that Halloween is over and there's no more candy to tempt me, it's time to start eating better. I've recently decided to make an effort to eat less processed food. (Do homemade twix bars count?) I pretty much have the healthy dinner thing down, so most of the processed food I eat was coming during the day because it was simpler to grab of bowl of sugary cereal or a handful of overly salty crackers from box rather than take the time to make real food.
But I had certain criteria when looking for things to eat during the day:
Easy to make (either the day of or ahead of time)
Eaten at room temperature or easy to reheat
Easy to snack on (e.g. can be eaten at my computer without being too messy)
Common denominator? EASY. I put a lot of effort into making a good dinner so I don't …
July 24, 2008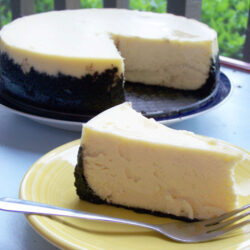 It was my boyfriend's birthday last weekend and I wanted to make him something special despite the fact that he didn't really want to celebrate his birthday. The problem is that he doesn't like many traditional desserts, most especially cake. I can't even conceive of disliking cake, but somehow he does. Thankfully, though, he does love cheesecake (which he vehemently insists is not really a cake, so much does the taint of the word "cake" bother him). But even having found a dessert he actually likes, he's almost impossible to entirely please because every single cheesecake I've made for him in the past, though always praised as "good" comes with the disclaimer of "but not as good as the New York cheesecake I had that one time". AAARRRRRRGGGGGGG! So I have made it my mission of find and make a real New York style cheesecake and this time I …
October 24, 2011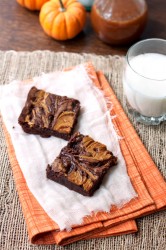 Looking back through my archives I realized I've posted at least one chocolate-pumpkin dessert before Halloween for the past few years, so I figured it was past time to post a recipe like this, especially after all the apple recipes I've posted lately. Fruit is great, but for me at least, chocolate will always be better.
I've actually been working on this recipe for a while. I made some pumpkin swirl brownies last Halloween and even photographed them, but I kept deciding against posting them because they weren't quite good enough. Something was missing. But then earlier this year I discovered Supernatural Brownies. These are hands down my favorite brownies. Ever. And I have tried lots and lots AND LOTS of brownie recipes. I'm not into cakey brownies (if I wanted cake, I'd make that instead!), I like fudgey brownies and these are moist and fudgey beyond belief.
July 21, 2008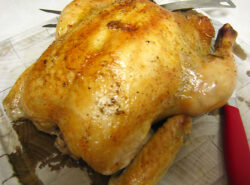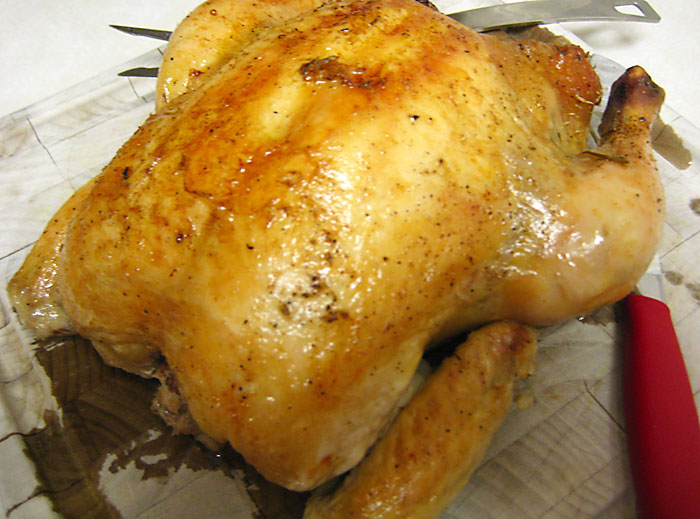 The idea of making a whole chicken for dinner used to scare me. But then I realized that I make a giant turkey every year on Thanksgiving and that's never been a problem so why am I scared of a little chicken? In fact whole chicken is one of the simplest dinners to make. The thing I especially love about this recipe that it uses chicken broth instead of butter or oil, so you still get a perfectly tender and juicy chicken without all the fat.
And I've never been a big fan of gravy, but I think it compliments the chicken perfectly. It's also great on top of rice or vegetables or stuffing or whatever else you are serving with your chicken. I found myself pouring gravy over my entire plate because I liked it so much.
December 6, 2011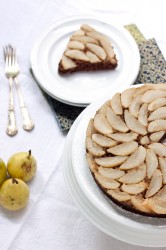 It's finally December! Not only is it my favorite month with my favorite holiday, but it's my favorite time of the year to bake since there are always so many fun recipes to try. I love gingerbread so this recipe has been on my "To Make" list for while and it finally seemed like the perfect time for it. I already have a gingerbread muffin recipe that I love, but this gingerbread cake turned out to be quite different and I love the twist of making it an upside-down cake, too.
The big difference from most gingerbread recipes I've made is that this recipe uses fresh ginger instead of ground. I was a little weary about this because I haven't always been a huge fan of fresh ginger. It's ok in small doses, but in a lot of recipes I find it really overpowering. Luckily, it turned out to …
June 28, 2008
I consider myself a fairly good baker. I've always had a sweet tooth, cakes, cookie, brownies, etc. I've been making those since I was a kid. Pies are different though. Pies always seemed too hard, so I haven't made many pies before. Maybe once a year during the holidays I'll try to make one, always with varying results. But when I saw this pie the other day, I knew I had to make that.
I thought this was kind of hard to make if only because it had so many steps with varying wait times before and after each part. But that's probably just because all the pies I've made in the past have been the mix it together, pour in crust variety. Next time, I'd probably just do a premade pie crust to make things a bit easier and faster. …