October 31, 2008
As I mentioned in my last post, I have major sweet tooth. So donuts are one of my very favorite things. But since they are also one of the very worst things for you to eat, I try to stay away from them. It helps that my boyfriend HATES donuts (unless they are fresh from the oven Krispy Kreme donuts), so I never have a good enough excuse to buy them. Because of that, I probably only eat donuts a few times a year, but that doesn't mean I don't have cravings for them, well, all the time.
So a couple of weeks ago, when I stumbled upon this recipe for dead simple donuts I just could not pass it up. I had to see if they were any good! I bought a can of pizza dough the next time I went to grocery store and tried it out the next day. I have never fried anything before, so I was scared to death I was going to burn the house down, but frying is surprisingly easy. And the donuts turned out to be pretty good, …
More Recipes
June 20, 2011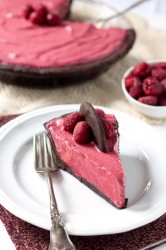 Sometimes I worry that people think I'm way better at this while cooking/baking thing than I actually am. But if anyone is to blame for this perception, it's obviously me because I'm always telling you how easy this or that recipe is to make and blah blah blah…look how great it turned out, too! Here's what you should be taking away from any recipe I post on this site: If I can make this thing, then you most definitely can as well. Because the truth is I'm still learning and I make mistakes ALL the time. But the awesome thing about learning to cook is that the more you do it, the more you learn little tricks and shortcuts so that you can fix your mistakes and learn to steer clear of them next time. But even then, things don't always go your way. It always sucks …
September 30, 2010
Okay, I'm cheating a little with this post. I've just gotten back from vacation so I haven't had time to try out any new recipes in a few weeks, but I did bake a bunch of muffins and breads to take on our trip and that got me looking though my recipe archives. Plus, I've seen a big increase in search engine traffic looking for soups and other Fall comfort foods, so I thought I'd make a list of my favorites.
I'll be back next week with something new, until then try out some of these great recipes:
November 19, 2010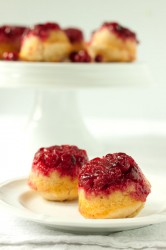 I tend to stay away from making cakes a lot just because I am not so great with the portion control. But I had been thinking about making a cranberry upside down cake for a while so when I saw it in muffin form I knew I had to try this recipe immediately.
Do you like cranberry sauce? If you do, you'll love these muffins. For the longest time, I absolutely refused to eat cranberry sauce with whole cranberries. I'd only eat the jellied kind that come out of the can…in the shape of a can. I still have that kind at my Thanksgiving, mostly out of tradition, but I make real cranberry sauce, too, and these muffins make me love it even more.
This is a really easy and fast recipe to make and I think the muffins come out so pretty! If you wanted to …
August 11, 2011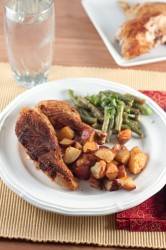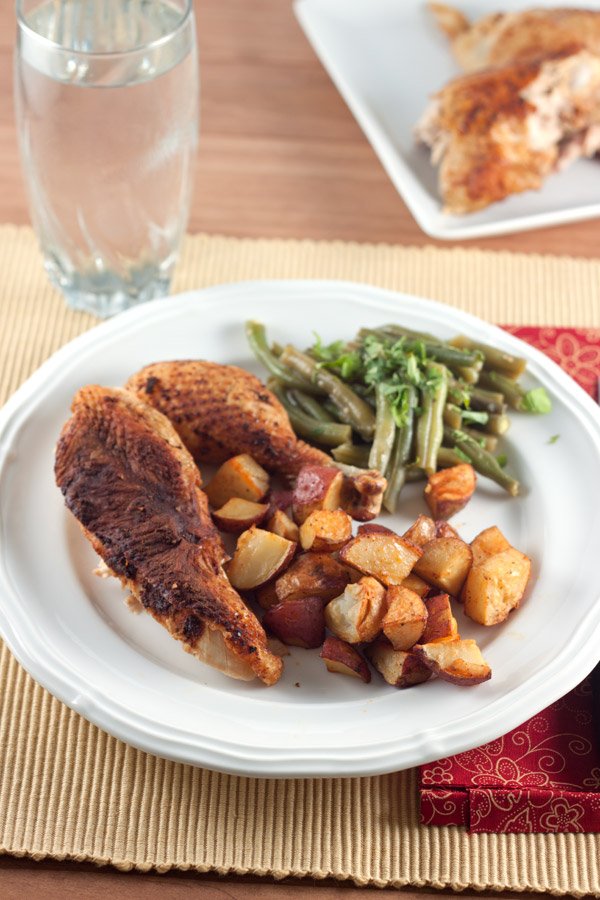 It's still pretty hot out, but I can't put off posting this recipe anymore. It's worth heating up your kitchen on a hot summer day to make this for dinner. If you've been reading this blog for awhile you may remember last year when I posted a recipe for thyme-roasted chicken and I said it was the best roast chicken I've ever had. I'm not going back on that, in fact I still stand by that statement and I still make it regularly. But. Even the best recipes can get stale if you make them over and over again. That's where this chili-roasted chicken comes in to save the day. Now I alternate between the two recipes so we never get tired of eating either of them!
The thing that attracted me to this recipe in the first place is that the method is really similar to the other recipe …
December 21, 2009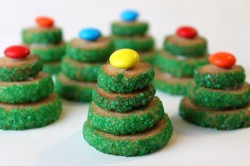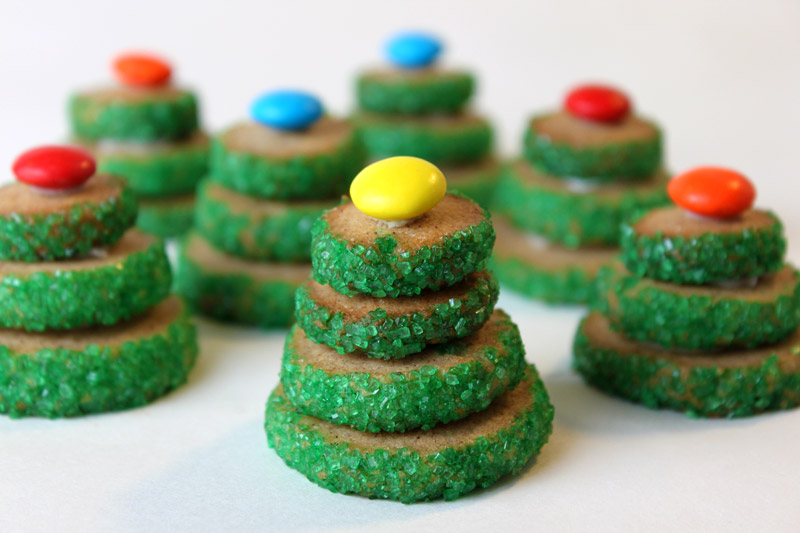 I may have gone a bit cookie crazy. Besides my Peppermint Fudge Pinwheels, I have two more cookie recipes to share. Well, it's more like one recipe and one technique, but I'll get to that.
I've never been able to find a sugar cookie that I actually like. I've tried about a million and they all just taste blah to me. But I think that's just the kind of person I am. Brandon told me the other day that I have tendency to put too much flavoring in the things I bake and that may be true, but I just want something that tastes like…something. I hate blah food. Even something that has too much flavor is better than something that doesn't have any. But I think this is just that age old debate of people who like vanilla ice cream and people who like chocolate. Of course I choose chocolate! The only time I'll eat vanilla ice cream is if it's covered in fudge or caramel.
Anyway, I'm not sure I even have a point other than to say that this desire for flavor translates into everything I cook and share on this blog. I make a lot of stuff that I don't share here because it's boring or basic. I always try to find recipes that are fun (at least to me). Which leads me to these totally adorable Christmas Tree Cookies. They are fun and easy to make and did I mention how adorable they are? But that's not even the best part of them. The original recipe was for plain ol' sugar cookies, but of course I modified them! The best part is that they taste just like cinnamon graham crackers, which are my absolute favorite. And my boyfriend, Mr. You-put-too-much flavoring, actually said that these were perfect! And he hates cinnamon, so if he likes these cookies, anyone will.
I bet these cookies would be fun to make if you have kids. You divide the dough into three rolls which you cover in green sugar, then after they've chilled for a while, you just sliced them up and bake. I think kids would definitely have fun assembling the little trees; I did and I'm almost 30 years old! These would be really festive and pretty for a party and they keep well in an air-tight container. As with all Betty Crocker cookies I've made (or maybe it's just a personal preference?) I think these taste better the day after you bake them.
The other kind of cookies I made are technically called Stained Glass cookies, but I'm not sure that's really accurate, especially after I modified them. I have seen recipes for stained glass cookies that actually have a little transparent window of sugar in them and these are not like those at all. These are just your basic sugar cookie recipe, but you divide up the dough and color parts of it with food coloring.
You are supposed to cut out shapes with cookie cutters in the uncolored dough and then cut up the colored doughs into little squares and arrange them on top of the uncolored cut-outs so that it looks like a stained glass window. But OH MY GOD, that is tedious. Seriously, I did about 3 cookies like that and I was done. It took forever and the colored dough kept getting too soft so I had to keep freezing it every 5 minutes. I was about ready to shoot someone and that is not the attitude you should have when making Christmas cookies! It's supposed to be fun, not mind-numbing. So I pretty much just gave up on the whole "stained glass" thing and just cut out circles and whatever else I wanted. Then I took the colored doughs and cut them with cookie cutters and added more little details. It was much more fun when I could just do what I wanted to.
Despite all that work, the cookies that came out were pretty but they were blah. Just about the blandest sugar cookies I've ever tasted: they weren't even that sweet! So I won't be posting that recipe, but the technique is still interesting and fun (as long as you do what you want and don't try to kill yourself being "perfect"), and it should work with your favorite sugar cookie recipe.
December 20, 2010

I tried to make a pie for you guys this weekend. I really did. But, it didn't work out. I could post it, but (A) it's really ugly and (B) it's just ok. I think it could be really good, but the recipe needs work and probably a whole different crust (I think it needs to be a tart instead of a pie), so I'll wait to post it until I have it right. But unfortunately, that leaves me with nothing to post this week, so I decided a round up was in order. These are all great choices if you're looking for some last minute cookies or sweets to make. You also may want to check out the Cookies archive as there are a few others I didn't include here.
I have a really awesome dessert I'm planning for Christmas dinner, …
April 30, 2009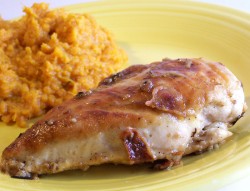 This is just a damn good dinner. I mean, come on, can you ever go wrong with bacon? Bacon makes everything better (Seriously people, you can still eat bacon, virus be damned). Also, sweet potatoes are in my top 5 favorite foods ever. I could eat them pretty much everyday and I think they get a bad rap as being "that stuff with marshmallows that you eat at Thanksgiving". They are way more versatile than that one dish (see exhibit B another great chicken dish with sweet potatoes and where I got part of the inspiration for this recipe).
I've been making this chicken dish for a while and it's always a treat. In fact, I don't make it all that often because I think of it as my "special" chicken dish. I think it tastes better when you only save it for special …