August 17, 2010
I've always been a really picky eater. I've made some progress on that front since I started this blog, but I'm still way too picky to be called a "foodie" or anything like that. But this summer I've made some pretty big discoveries that have challenged my preconceptions of certain foods and because of that I've decided to change. I made this challenge to myself: I will try everything at least once. If I don't like it, fine, but at least now I know I don't like it and I'm not just assuming based on how it looks or smells or whatever weird childhood memories it brings up.
For example, I've never liked carrots because in elementary school I threw up in the middle of the cafeteria after eating some. Now it turns out, I still don't really like the taste of raw carrots. But I use carrots in my cooking all the time now because I've discovered that if they are in something else, like a soup or salad or pot pie, then I don't mind them. I used to obsessively pick …
More Recipes
April 30, 2009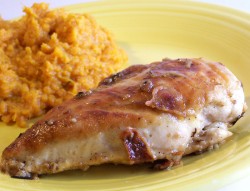 This is just a damn good dinner. I mean, come on, can you ever go wrong with bacon? Bacon makes everything better (Seriously people, you can still eat bacon, virus be damned). Also, sweet potatoes are in my top 5 favorite foods ever. I could eat them pretty much everyday and I think they get a bad rap as being "that stuff with marshmallows that you eat at Thanksgiving". They are way more versatile than that one dish (see exhibit B another great chicken dish with sweet potatoes and where I got part of the inspiration for this recipe).
I've been making this chicken dish for a while and it's always a treat. In fact, I don't make it all that often because I think of it as my "special" chicken dish. I think it tastes better when you only save it for special …
February 4, 2010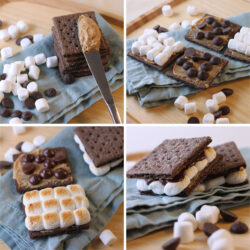 I'm doing Project 365 this year, which is a challenge to take a picture every single day for a full year. It's a month in and I'm already starting to run out of ideas of what to take pictures of. Last week I was sitting in my kitchen trying to come up with something, but my mind kept wandering to dessert (this is not unusual). Then I realized: I should take a picture of dessert! Perfect.
This is my favorite go-to snack. I always have all the ingredients in my pantry and when I'm having a chocolate craving I can make a couple of these in 5 minutes, which is much faster (and healthier) than making up a batch of cookies or brownies. It's not a mind-blowing dessert or anything, but when I posted this picture on flickr a lot of people commented saying how …
July 24, 2008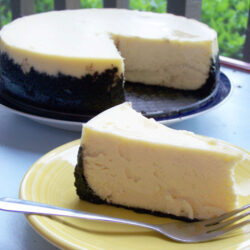 It was my boyfriend's birthday last weekend and I wanted to make him something special despite the fact that he didn't really want to celebrate his birthday. The problem is that he doesn't like many traditional desserts, most especially cake. I can't even conceive of disliking cake, but somehow he does. Thankfully, though, he does love cheesecake (which he vehemently insists is not really a cake, so much does the taint of the word "cake" bother him). But even having found a dessert he actually likes, he's almost impossible to entirely please because every single cheesecake I've made for him in the past, though always praised as "good" comes with the disclaimer of "but not as good as the New York cheesecake I had that one time". AAARRRRRRGGGGGGG! So I have made it my mission of find and make a real New York style cheesecake and this time I …
December 29, 2011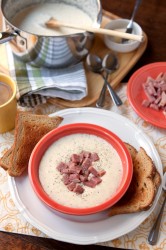 I almost didn't think I'd make it, but it looks like I'll be able to squeeze in one final post in 2011. I was in crazy work deadline mode the week before Christmas and barely had time to cook anything much less photograph and post it here. After I got all my work done, I went a little cooking crazy figuring something I make over the weekend would be worth posting but it turns out everything has already been posted! I made Chicken and Dumplings and Honey Cornbread on Christmas Eve. The next day, we had our traditional Christmas dinner of glazed ham and my mom's famous "Pineapple Stuff." For dessert I made mini Oreo and Peppermint Bark cheesecakes and we snacked on my favorite Mint-Chocolate Shortbread Cookies all weekend long.
It was definitely a satisfying Christmas, food and gift-wise, but I couldn't help …
September 27, 2012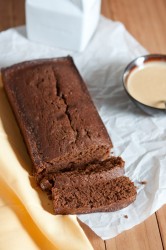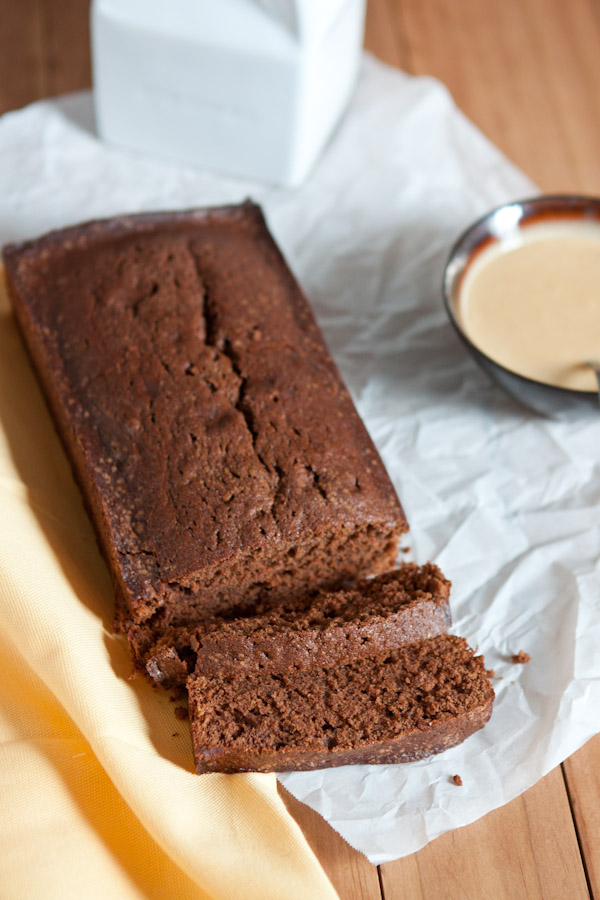 I know last week I was all about being healthy, but this week…well, sometimes you just need chocolate! This is my go-to recipe for such times. This is my "It's Saturday night and I need something sweet and chocolatey or I'm gonna lose it" cake. Since time is of the essence in these situations, this recipe is perfect because it's so easy. It only takes about 15 minutes to whip up and 30 minutes to bake. Plus there's none of that "let it cool completely" nonsense. It tastes just as good warm from the oven than it does at room temperature the next day.
A little cinnamon and coffee are added to this chocolate pound cake to give it a nice kick. Since it's so moist and flavorful on it's own you don't really need frosting. That said, if you wanted to …
April 26, 2012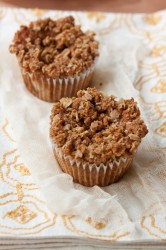 I've been making an effort to eat breakfast every morning. This is pretty difficult for several reasons: I'm not a morning person and even pouring a bowl of cereal can be too much to handle some days. Also, I'm just not very hungry in the mornings. A cup of coffee is more than enough to fill me up. For these reasons I have to cheat by making myself a "dessert" in the mornings. Basically, something that's so good, I can't pass it up. Since they can be made ahead of time, muffins are usually my go-to treat. I've made a lot of muffins in my time and they usually fall under delicious but unhealthy or healthy but dry and/or boring. With these peanut butter muffins I feel like I finally found the perfect compromise of healthy but still delicious.
These muffins are packed to gills with nutritious ingredients. They're made …
August 1, 2008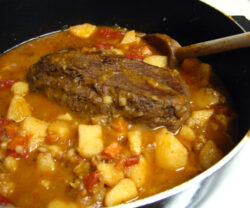 I just rediscovered pot roast and I really like it. See what happened was, at some point in my childhood I decided I didn't like beef. I don't know why. There's no rhyme or reason when you're a kid, you just decide things like that. I wasn't a vegetarian and it's not like I never ate beef (I'd never turn down a hamburger), but I just refused to eat most dishes made with beef.
Slowly, I've been adding more beef back into my life. I like steak and I use ground beef for a lot of dishes. When I saw this recipe, it made me remember that my mom used to make Pot Roast all the time and I liked it. So why did I stop eating it? I guess maybe I thought it would be too complicated to make, but it's really not. It's quite …