July 7, 2010
I did it again. I bought a bunch of bananas and let them sit there until they looked worse and worse. Tell me I'm not the only one who does that? Please? In the grand scheme of things bananas are cheap, but still…starving kids in blahblah and all that…so I always feel bad about wasting food. I cannot tell you how much I didn't want to make banana bread, though. I don't even really like banana bread, I much prefer my mom's applesauce bread. But what do you make with mushy bananas besides banana bread? I searched for alternatives but didn't find anything interesting that I had all the ingredients for or that wasn't a million calories.
Since I was stuck with banana bread, my next thought was that I should do something to make it less banana-y. Of course, chocolate popped right into my head. Chocolate makes everything better. You might know I'm kinda obsessed with marbled chocolate desserts, so I decided to do a marbled chocolate banana muffin. It's just more …
More Recipes
August 4, 2010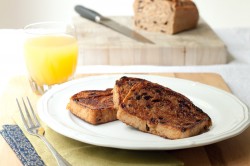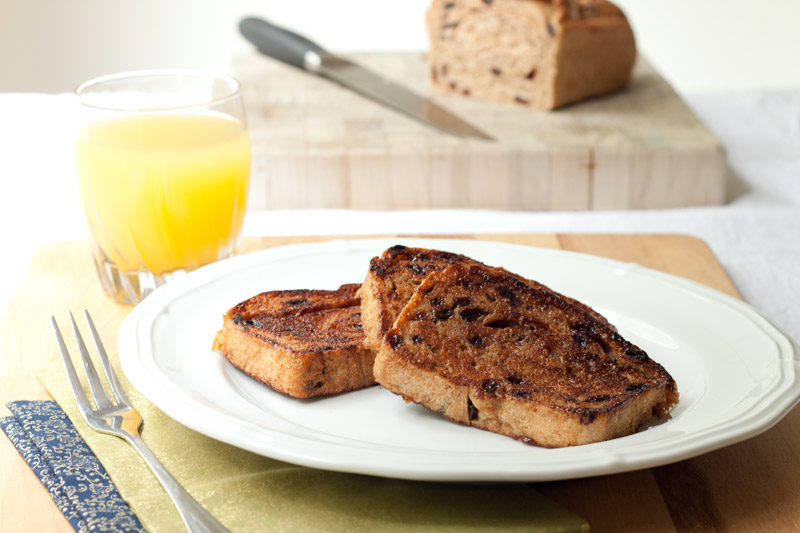 I'm not 100% happy with the name of this recipe. Caramelized Cinnamon Toast might be better, but calling it French Toast is more descriptive of how it's made. I would say this is a combination of French Toast and Cinnamon Toast, but Caramelized Cinnamon French Toast is way too long, so we'll just keep it simple. Everyone knows what French Toast is, right?
I've never been a big fan of French Toast. Don't get me wrong, I've never disliked it, but in the world of breakfast foods, I'd usually rather have pancakes or pastries. In fact, I'm not sure I've ever even made it at home before. I remember my mom used to make it when I was a kid (though not as much as pancakes or waffles) and of course I've had it at restaurants, but I guess it's never occurred to me to actually make …
January 10, 2011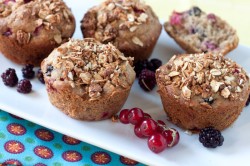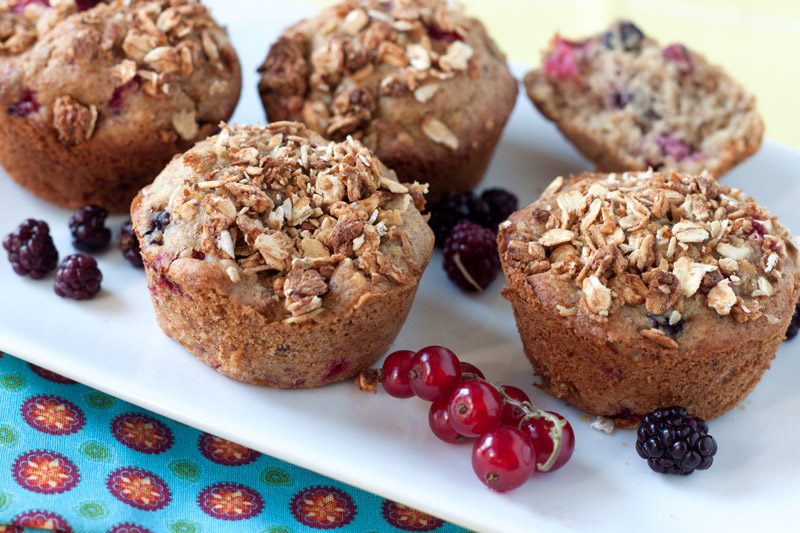 Happy New Year, everyone! It's time for my semi-annual I'm-going-to-get-in-shape-I-really-mean-it-this-time, so you'll have to indulge me while I post some healthier recipes over the next few months. (Don't worry, there will still be treats! I'd never give up dessert, I just find ones that aren't as bad for you.) Honestly, I really overindulged on cheesecake and cookies last month, so I'm ready to get back to eating better and eating less processed food. I've been eating a piece of fruit for dessert every day this past week and it's been perfection.
I'm always looking for easy things to have in the morning with my coffee and muffins are definitely my favorite. Unfortunately, a lot of muffin recipes are not that healthy. And of course, my favorite kinds of muffins have things like streusal on them which make them even worse for you. These muffins surprised …
May 27, 2009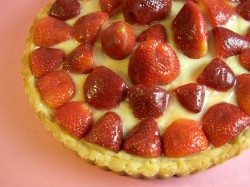 I've been on a strawberry kick lately (seriously, I hope you like strawberries because I have two more strawberry recipes coming up). I also finally bought a tart pan last week and I wanted to make something fun and different. This may not sound like such a "different" dessert, but it's really different for me. The majority of the desserts I make are either cake or cookies (or some variation like cupcakes and brownies). I've only make pie during the holidays and as much as I'd LOVE to make my cheesecake all the time I have to force myself to save that for special occasions.
Anyway, I found this recipe in my favorite cookbook and decided to go for it. I'm glad I did because this was damn good but it's kind of involved. It's definitely worth the effort …
February 23, 2012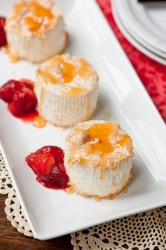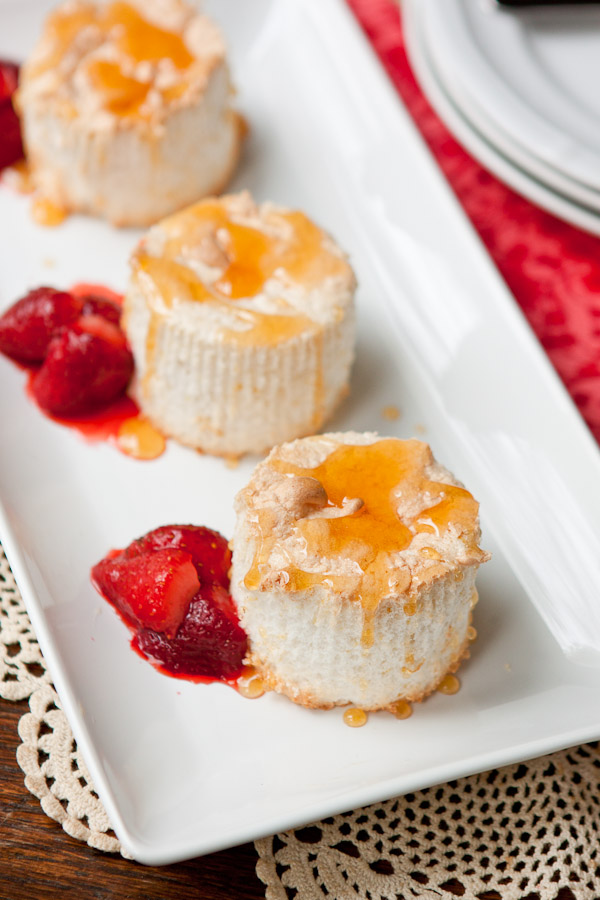 I mentioned last week that I had a lot of egg whites left over after making my king cakes. I wanted to make a cake since I was still in birthday mode, but after a fairly indulgent month eating chocolate cookies and cream cheese filled cakes, an angel food cake seemed like a nice alternative. A sweet treat without any of the guilt!
But I didn't want a plain angel food cake and I already made a chocolate one a few years ago so I decided to incorporate my current obsession: citrus! I just can't get enough of oranges and lemons and grapefruits lately and a citrus cake sounded really refreshing. I always feel like grapefruit is kind of underrated compared to other citrus fruits, so I decided to make the grapefruity-est dessert I could come up with. This grapefruit angel food cake is flavored with grapefruit juice and …
August 7, 2008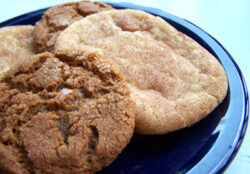 Have you ever seen two different recipes for the same thing and didn't know which one to make? That happens to me all the time. Sometimes I don't bother at all, thinking it's too much pressure to pick the "right" recipe, but if it's something that looks really good I might just make both and see what I like better. That is the case for these dueling snickerdoodle recipes that I found on two or my favorite sites: What Geeks Eat and Simply Recipes. The big difference between the recipes is the Shuna's at Simply Recipes has cornstarch, while Vanessa's has the more traditional cream of tartar. You can go read Shuna's post about why cornstarch is special. Due to this different "secret" ingredient in the cookies, I found the outcome of both to be completely different tasting cookies.
If you are cookie dough connoisseur, the …
June 28, 2008
I consider myself a fairly good baker. I've always had a sweet tooth, cakes, cookie, brownies, etc. I've been making those since I was a kid. Pies are different though. Pies always seemed too hard, so I haven't made many pies before. Maybe once a year during the holidays I'll try to make one, always with varying results. But when I saw this pie the other day, I knew I had to make that.
I thought this was kind of hard to make if only because it had so many steps with varying wait times before and after each part. But that's probably just because all the pies I've made in the past have been the mix it together, pour in crust variety. Next time, I'd probably just do a premade pie crust to make things a bit easier and faster. …
June 10, 2010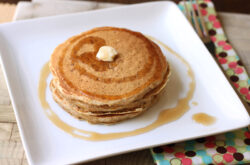 Since I already found a healthy waffle recipe that I liked a lot, I decided it was time to find a better recipe for pancakes, too. I'd seen some recipes for oatmeal pancakes and was intrigued by the idea. Before last winter I hated oatmeal, but moving to a place that actually gets cold and my desire to eat something warm in the mornings finally converted me into an oatmeal lover (also finding out about steel-cut oats helped a lot). But I was still unconvinced about oatmeal in pancakes. Mainly, I was worried about the texture. Would they wind up being lumpy or mushy? Would they be really heavy or dense? Also, all the recipes I'd seen required that the oatmeal sit in liquid overnight to soften and I just don't have that much forethought about whether I'm going to want pancakes when I get up in …