April 7, 2010
I've been looking for this recipe forever. These Quaker granola bars are just about my favorite snack and I've been eating them my whole life. I like them because they are soft and chewy and not hard and tooth breaking like other granola bars I've tried. I also like the rice cereal in them because it makes them seem more like Rice Krispy treats with granola in them rather than boring old "healthy" granola bars. Healthy food isn't inherently fun, Rice Krispy treats are always fun.
More Recipes
March 9, 2011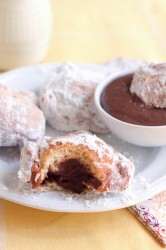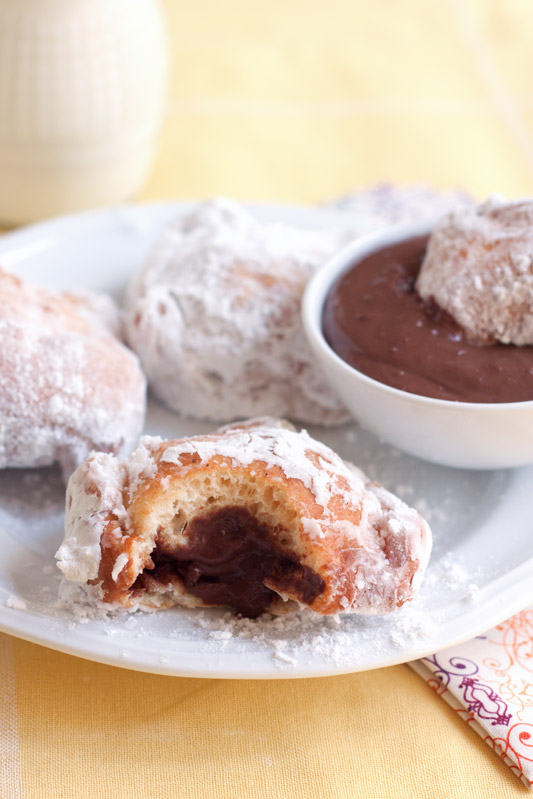 I meant to post this recipe yesterday since it was Mardi Gras and beignets are pretty synonymous with New Orleans. Better late than never, right? I grew up on the Mississippi gulf coast (where they also celebrate Mardi Gras) and have spent some time in New Orleans so I know what a good beignet tastes like and this recipe is pretty perfect, but I put my own spin on it by adding some chocolate in middle. Why? I don't know. Is "because it sounded like it would be awesome" a good enough answer for you? Because it really did (And guess what? It really is!)
But lets back up a bit. It's possible some of you may not know what a beignet is, maybe you're not even sure how to pronounce it. It's very simple, actually: it's a donut, covered in lots of powdered sugar. And it's …
January 29, 2009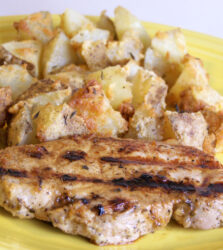 I made this the other night and even though it's not from the weight watchers cookbook, it's definitely low fat (the pork is anyway) and it's quite flavorful. I have some other WW recipes I need to post, but I'm having some technical issues, mainly that I'm having trouble getting good pictures in my horribly lit new kitchen (as you can see from the pic above, which I wouldn't normally post, but it's the best I had)*. I'm thinking about getting one of those table top lighting systems, possibly this one (mostly because it's under $100, and I'm cheap) . Anyone have experiences with these things like this? Recommendations? It really takes the fun out of it when I make something really good that I want to share and all …
September 30, 2010
Okay, I'm cheating a little with this post. I've just gotten back from vacation so I haven't had time to try out any new recipes in a few weeks, but I did bake a bunch of muffins and breads to take on our trip and that got me looking though my recipe archives. Plus, I've seen a big increase in search engine traffic looking for soups and other Fall comfort foods, so I thought I'd make a list of my favorites.
I'll be back next week with something new, until then try out some of these great recipes:
December 1, 2010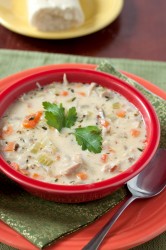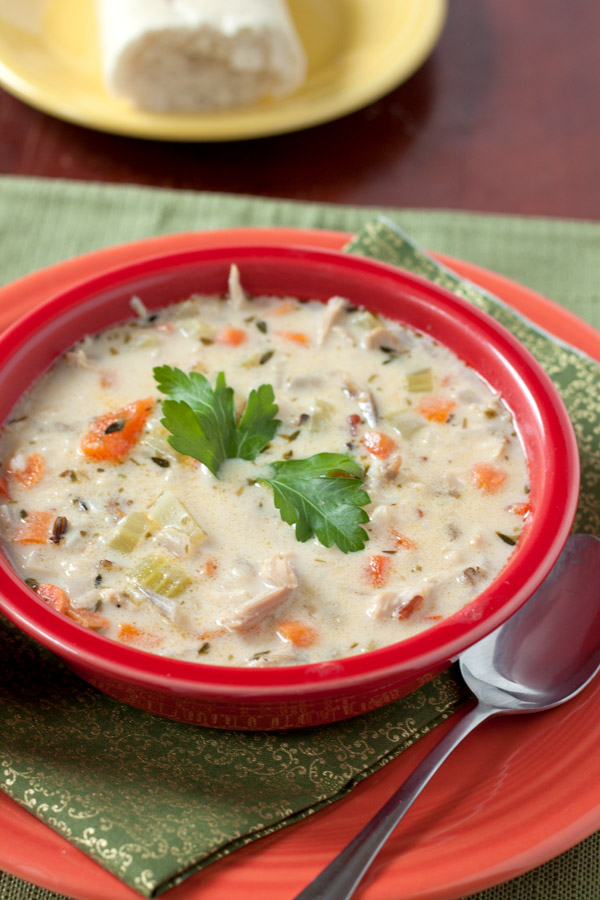 Well, I don't know about you, but I am absolutely swimming in leftovers after Thanksgiving. Every year I say I will halve all the recipes, but I never do! This year we wound up having a surprise guest when Brandon's brother called a few days before Thanksgiving asking if he could join us, so it was good that I had planned to make so much. But even with one extra person eating, my fridge is still stuffed with food almost a week later. I decided I needed to get rid of the turkey since that was taking up the most space and this soup was the first thing that came to mind.
This recipe is sort of a combination between a creamy soup and a–I guess I'd call it–brothy soup. It has the stock/broth base with evaporated milk added in which gives it a bit of creaminess, …
January 25, 2010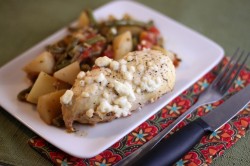 The main reason this recipe caught my eye is because it's a one pot meal that you can make in your Dutch oven. I've been wanting a Dutch oven for years and finally got one for Christmas so anytime I see a recipe that mentions a dutch oven, I'll almost always give it a try. I couldn't afford one of those uber expensive Le Creuset's, so I wound up getting one from Lodge that looks almost exactly the same and is well made, but costs about a quarter less. So far I love it and use it as much as possible: soup, spaghetti sauce, chili, oatmeal, whole chicken. And now I have this new recipe to make in it.
July 20, 2010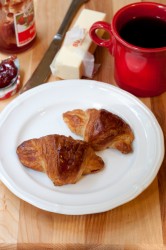 I'm always up for a baking challenge so when Julie over at Willow Bird Baking challenged her readers to make croissants, I didn't hesitate to sign up. I love croissants, but like donuts, I rarely eat them because of how bad they are for you. But there's just something about making something from scratch that makes it seem less bad for you. I guess because you have to put actual time and effort into making it instead of just going into a store and buying it. Plus, it's Brandon's birthday this week and that is one of the 4 times of the year (along with my birthday, Thanksgiving and Christmas) that I let myself eat whatever I want without feeling guilty about it.
And these croissants? Are absolutely worthy of much guilt, but they're just way too delicious and way too much work to feel guilty about. I mean, I made these …
March 21, 2012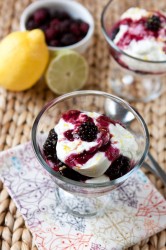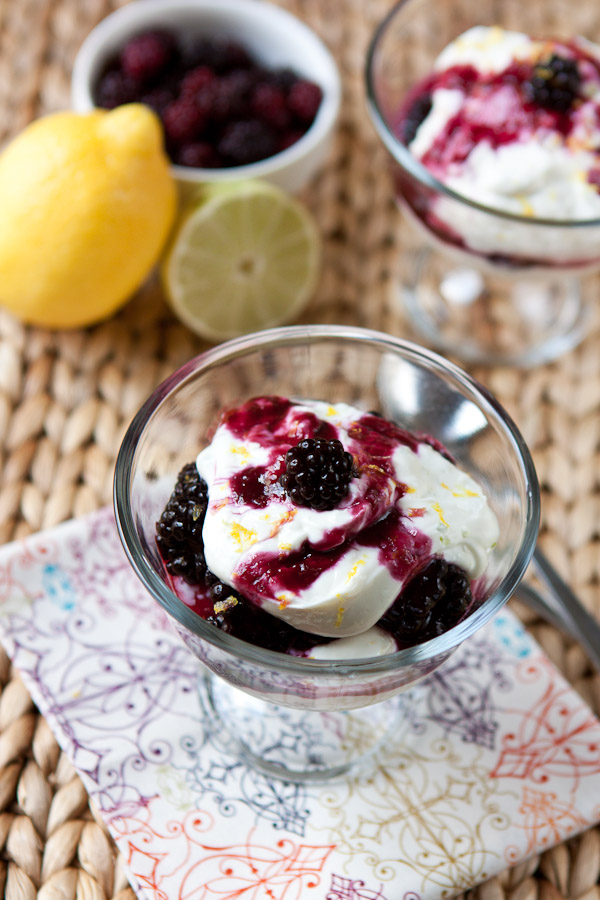 Spring is officially here! And in the spirit of spring cleaning I've started going through my packed freezer to finally use up the last of the fruit that I froze last year. I got a ton of blueberries and blackberries from my CSA and have been using them in muffins all winter but after last week's Pop Tart adventure I didn't really want muffins or anything too carb-y. I've been craving a lemon dessert lately and lemons always pair well with berries so this was the perfect opportunity to finally make something.
Even though lemons are technically a summer fruit, there's really nothing else that evokes Spring to me as much as a lemon. It's just so fresh and bright, like the colorful blooms that are popping up all around my neighborhood these days. It's the perfect thing to help transition between the stark coldness of winter and …