November 21, 2012
November has passed in a flash and here we are, it's almost Thanksgiving! I'm freaking out about this because I just got back from vacation and I'm having a hard time adjusting to normal life again. We spent half the week in a secluded cabin in the Smokey mountains and the other half in Asheville, NC, which is a pretty little town with lots of wonderful restaurants. I had such a good time that I'm already mentally planning a trip back to the same area next year!
I didn't mean to take such a long break from posting but between work deadlines and vacation it didn't leave much time for cooking this month. But thanks to how easy this recipe is, I did have a chance to whip up this delicious drink in my spare time. I wanted to post it before Thanksgiving because it's easy to make ahead of time and would be an excellent addition to any holiday get-together, particularly if you serve a nice piece of pie along with it.
More Recipes
August 14, 2008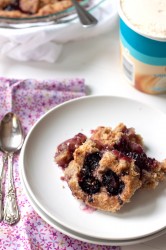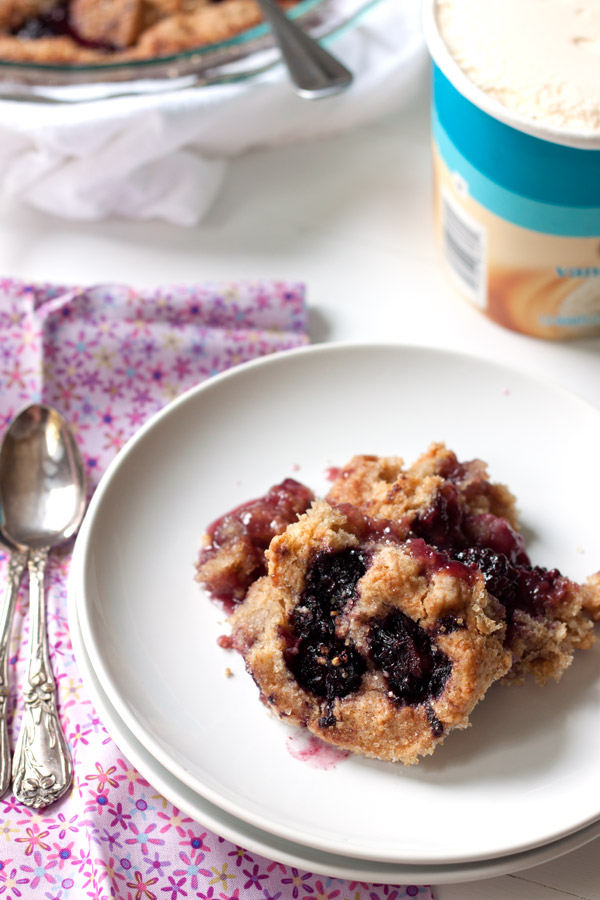 When I made my last trek to the grocery store, I was wandering aimlessly around the produce section (as you do) and saw they a large carton of blackberries on sale. I love blackberries and this made me think back to when I was kid living on the Mississippi Gulf Coast. My neighborhood was right across from the beach (I say was because it's not there anymore due to Katrina) and there was house at the front of the street that had been ripped away by one hurricane or another and all that was left was the foundation. Plants and weeds had grown up around the destruction over the years and it was CRAZY with blackberries. I remember riding my bike over there in the summers and picking blackberries and then I brought them home and my mom made a yummy cobbler with them.
April 17, 2013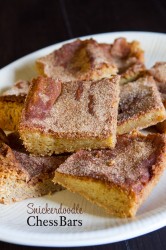 Do you ever get obsessed with a certain food and eat it every single day for weeks or even months? This is not a rhetorical question. I'm genuinely wondering if I'm crazy or not. I do this same thing with new music or TV shows on Netflix, so it may just be my personality to become obsessed with things. In this case, I've recently rediscovered my childhood love of cinnamon toast that my mom used to make for me. My new favorite afternoon snack is cinnamon toast with a cup of my favorite Earl Gray tea. I cannot get enough, even though I know that eating bread with butter and sugar on it everyday is not the healthiest thing in the world. Eventually, I'll get tired of it and move on but I can tell I'm not anywhere near that point yet.
In the …
January 29, 2009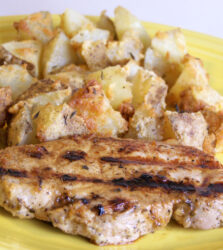 I made this the other night and even though it's not from the weight watchers cookbook, it's definitely low fat (the pork is anyway) and it's quite flavorful. I have some other WW recipes I need to post, but I'm having some technical issues, mainly that I'm having trouble getting good pictures in my horribly lit new kitchen (as you can see from the pic above, which I wouldn't normally post, but it's the best I had)*. I'm thinking about getting one of those table top lighting systems, possibly this one (mostly because it's under $100, and I'm cheap) . Anyone have experiences with these things like this? Recommendations? It really takes the fun out of it when I make something really good that I want to share and all …
October 31, 2009
I just had to pop in today and post these cupcakes that I made on a whim last night. They are so good and super easy to make. And I have to tell you, they've kind of changed my world view. Or maybe just my…food view?
Anyway, on twitter last night someone posted that pumpkin and chocolate should never go together and until I made these, I totally would have agreed. In fact, this whole month, I've been turning my nose up as pumpkin flavored anything. I don't know when I got it in my head that I don't like pumpkin, but I think it's just one of those things that I decided as a kid and I never challenged it. I've been overcoming a lot of these prejudices lately, it's a wonder I ever ate anything with how picky I was!
I had read about the pumpkin shortage that is going on and despite the fact that I don't ever make anything with pumpkin in it, when I saw a big can of it at the grocery store a few weeks ago I couldn't help but buy it. I just felt it was something I had to do. What if I find a recipe that calls for it and I can't find anymore at the grocery store? I'd have been kicking myself for not buying it when I could, right? Well…maybe not, but this is how my mind works.
September 14, 2010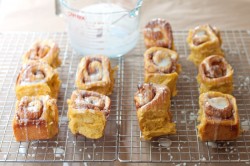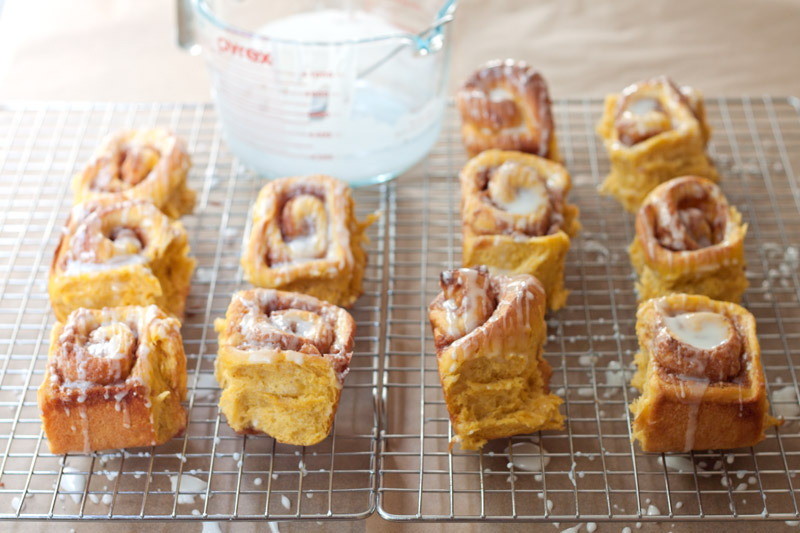 So I know the actual first day of Fall isn't for a few weeks, but as far as I'm concerned Labor Day is the end of summer. After that it's Fall. Even when it's still 90 degrees outside. A year ago Brandon had just gotten a job here and we were preparing to make the move from Florida to Virginia. I cannot tell you how much happier I am in Virginia and the main reason for that is because of Fall (and Winter, Spring and even Summer). There are actual seasons here! Maybe I'm strange for being so affected by the weather, but I found the static-ness of Florida's temperature and landscape to be utterly depressing (I probably would've felt differently if we had lived closer to the ocean, which I love, but unfortunately we were right in the middle of the state). Since I …
February 22, 2011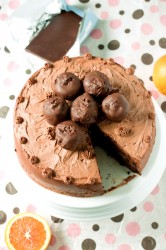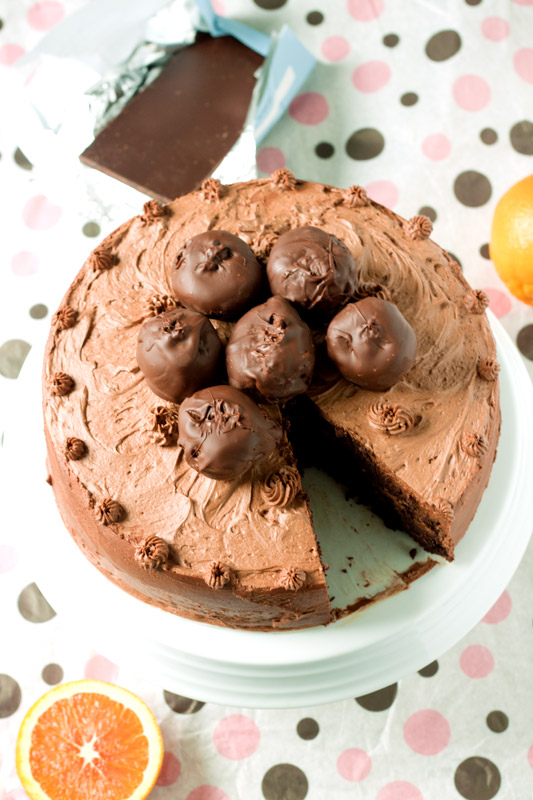 To celebrate Valentine's Day and my birthday, Brandon and I spent a wonderful weekend in a little cottage I rented in the mountains a few hours away. It was such a fun getaway: we did some hiking, we drove around and got lost and we spent a lot of time soaking in the hot tub. When we got back home on Sunday afternoon, I wanted to make myself a birthday cake but after such a relaxing weekend I didn't want to deal with complicated recipes or put time into making something that didn't turn out great. That's why I love the internet and recipe sites with reviews like Epicurious. I mean, if you can find a cake that has 1,400+ mostly raving reviews, that has to be a good cake, right?
I am very glad to have found this recipe because those reviewers were right: I now …
January 20, 2011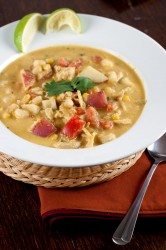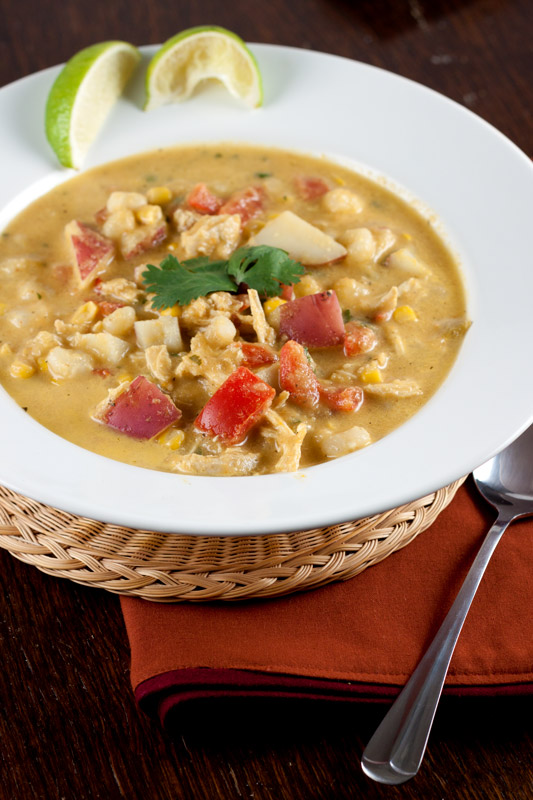 Since last fall I've tried a ton of soup recipes looking for that one perfect soup. A soup recipe that could stand up against my absolute favorite: Chicken Tortilla Soup. I've found quite a few good soups, even some great ones, but nothing that I loved as much as that tortilla soup. But, finally, after months of looking I think I may have found it. I'm not sure I'd say I like it more than tortilla soup, but it's definitely tied with it now.
I would call this chowder a cousin to that tortilla soup. They are different and yet quite similar. That's probably why I like it so much. Both have a base of pureed vegetables, but this one doesn't have tomatoes in the base like the tortilla soup does. This chowder is much creamier and has potatoes, which only makes me love …