October 31, 2009
I just had to pop in today and post these cupcakes that I made on a whim last night. They are so good and super easy to make. And I have to tell you, they've kind of changed my world view. Or maybe just my…food view?
Anyway, on twitter last night someone posted that pumpkin and chocolate should never go together and until I made these, I totally would have agreed. In fact, this whole month, I've been turning my nose up as pumpkin flavored anything. I don't know when I got it in my head that I don't like pumpkin, but I think it's just one of those things that I decided as a kid and I never challenged it. I've been overcoming a lot of these prejudices lately, it's a wonder I ever ate anything with how picky I was!
I had read about the pumpkin shortage that is going on and despite the fact that I don't ever make anything with pumpkin in it, when I saw a big can of it at the grocery store a few weeks ago I couldn't help but buy it. I just felt it was something I had to do. What if I find a recipe that calls for it and I can't find anymore at the grocery store? I'd have been kicking myself for not buying it when I could, right? Well…maybe not, but this is how my mind works.
More Recipes
June 8, 2009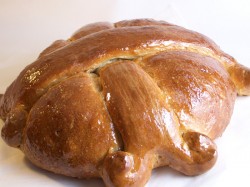 I'm still chugging along with the Bread Baker's Apprentice Challenge. So far I'm (mostly) having fun and learning a lot.
The second week bread was Artos or Greek Celebration bread. I really didn't have any trouble at all with this bread because it was really similar to my King Cake except that Artos has a lot more spices: cinnamon, nutmeg, allspice and cloves. The only trouble I had was the shaping, of course. I can tell it's going to take a lot of practice to get good at shaping things because I'm just not good at that at all. The version of artos I did was called Christopsomos (though I made it plain, it's technically supposed to have nuts and dried fruit in it), which is shaped into a boule (an oval, the only …
January 10, 2011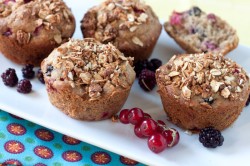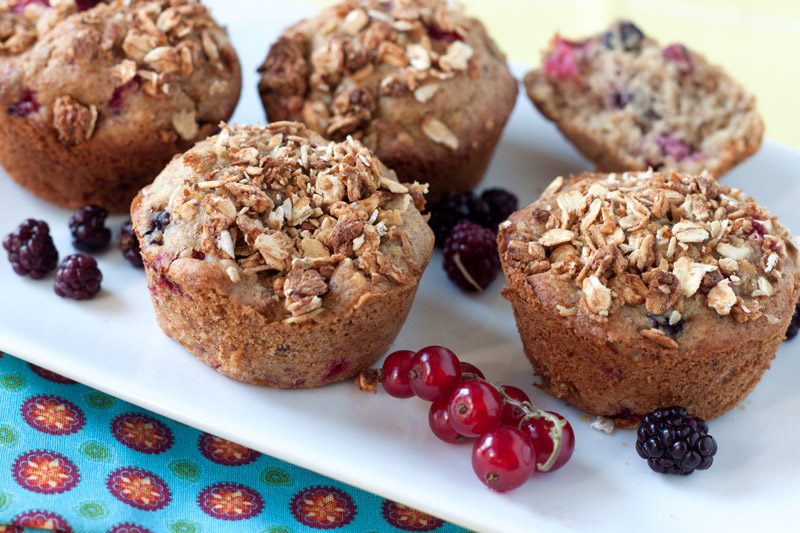 Happy New Year, everyone! It's time for my semi-annual I'm-going-to-get-in-shape-I-really-mean-it-this-time, so you'll have to indulge me while I post some healthier recipes over the next few months. (Don't worry, there will still be treats! I'd never give up dessert, I just find ones that aren't as bad for you.) Honestly, I really overindulged on cheesecake and cookies last month, so I'm ready to get back to eating better and eating less processed food. I've been eating a piece of fruit for dessert every day this past week and it's been perfection.
I'm always looking for easy things to have in the morning with my coffee and muffins are definitely my favorite. Unfortunately, a lot of muffin recipes are not that healthy. And of course, my favorite kinds of muffins have things like streusal on them which make them even worse for you. These muffins surprised …
June 17, 2009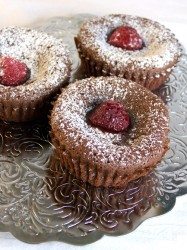 I love chocolate cake. It's one of my biggest cravings, one that pops up over and over again (almost always late at night). But in the last few years, I've noticed something disturbing (to me, at least): I don't seem to be able to eat it anymore. Take last month, for instance:
Brandon was out with some friends so I was home alone. For some reason when I'm home alone I always want to bake so I decided I would finally indulge my chocolate cake craving and make a cake. After looking though my delicious account, I decided to try Smitten Kitchen's Peanut Butter and Chocolate cake. So I went to all the trouble of making the cake layers and the two different kinds of icing and after a couple hours finally sat down with a delicious looking piece of it to eat. …
June 10, 2010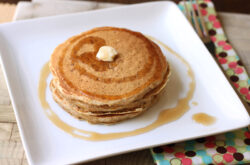 Since I already found a healthy waffle recipe that I liked a lot, I decided it was time to find a better recipe for pancakes, too. I'd seen some recipes for oatmeal pancakes and was intrigued by the idea. Before last winter I hated oatmeal, but moving to a place that actually gets cold and my desire to eat something warm in the mornings finally converted me into an oatmeal lover (also finding out about steel-cut oats helped a lot). But I was still unconvinced about oatmeal in pancakes. Mainly, I was worried about the texture. Would they wind up being lumpy or mushy? Would they be really heavy or dense? Also, all the recipes I'd seen required that the oatmeal sit in liquid overnight to soften and I just don't have that much forethought about whether I'm going to want pancakes when I get up in …
April 26, 2012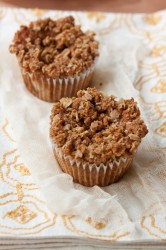 I've been making an effort to eat breakfast every morning. This is pretty difficult for several reasons: I'm not a morning person and even pouring a bowl of cereal can be too much to handle some days. Also, I'm just not very hungry in the mornings. A cup of coffee is more than enough to fill me up. For these reasons I have to cheat by making myself a "dessert" in the mornings. Basically, something that's so good, I can't pass it up. Since they can be made ahead of time, muffins are usually my go-to treat. I've made a lot of muffins in my time and they usually fall under delicious but unhealthy or healthy but dry and/or boring. With these peanut butter muffins I feel like I finally found the perfect compromise of healthy but still delicious.
These muffins are packed to gills with nutritious ingredients. They're made …
October 25, 2012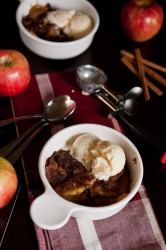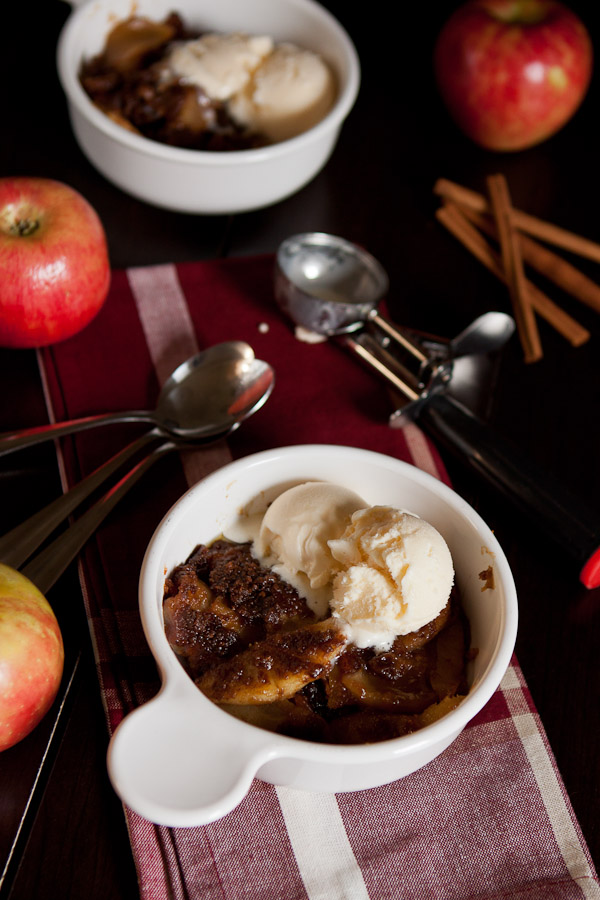 You know that saying, "An apple a day keeps the doctor away?" Of course you do, everyone does, but I wonder how many people actually eat an apple every day? After eating poorly and—not surprisingly—feeling crappy all summer I've been making an effort to get my diet back on track and eating an apple every day was the first thing I decided to do. But not just apples, I've been making sure I have at least one fruit or vegetable with every meal. That includes dessert, too, which is where this wonderful Brown Betty comes in.
A Brown Betty is a dessert that's similar to a crisp but instead of just having the awesome streusel-y part on the top you get several layers of it. Crisps are already one of my favorite desserts so a layered version is …
December 6, 2011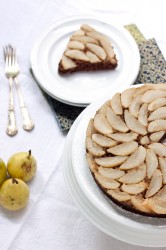 It's finally December! Not only is it my favorite month with my favorite holiday, but it's my favorite time of the year to bake since there are always so many fun recipes to try. I love gingerbread so this recipe has been on my "To Make" list for while and it finally seemed like the perfect time for it. I already have a gingerbread muffin recipe that I love, but this gingerbread cake turned out to be quite different and I love the twist of making it an upside-down cake, too.
The big difference from most gingerbread recipes I've made is that this recipe uses fresh ginger instead of ground. I was a little weary about this because I haven't always been a huge fan of fresh ginger. It's ok in small doses, but in a lot of recipes I find it really overpowering. Luckily, it turned out to …