May 20, 2009
So I decided to do something a little crazy. The awesome Nicole at Pinch My Salt started a group to make every single recipe in The Bread Baker's Apprentice by Peter Reinhart
. When she first announced it on Twitter, I was interested but ultimately decided it would be too much work. But then more and more people started joining with her and I kept thinking about it until she announced she was closing the group to new members. As soon as I heard that it made me realize how much I wanted to do this, so I emailed her immediately to join the group.
More Recipes
September 14, 2010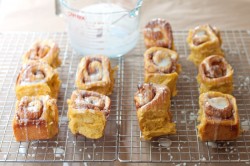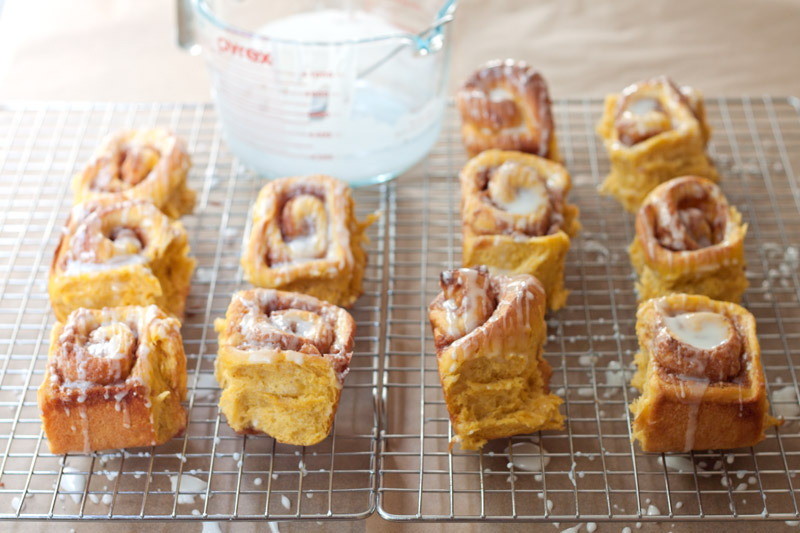 So I know the actual first day of Fall isn't for a few weeks, but as far as I'm concerned Labor Day is the end of summer. After that it's Fall. Even when it's still 90 degrees outside. A year ago Brandon had just gotten a job here and we were preparing to make the move from Florida to Virginia. I cannot tell you how much happier I am in Virginia and the main reason for that is because of Fall (and Winter, Spring and even Summer). There are actual seasons here! Maybe I'm strange for being so affected by the weather, but I found the static-ness of Florida's temperature and landscape to be utterly depressing (I probably would've felt differently if we had lived closer to the ocean, which I love, but unfortunately we were right in the middle of the state). Since I …
March 21, 2012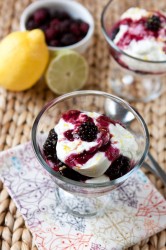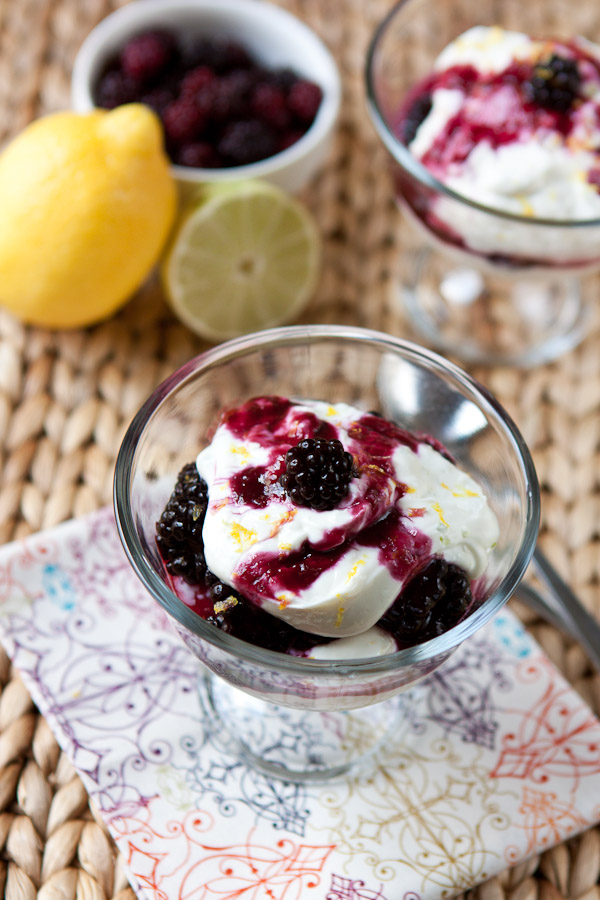 Spring is officially here! And in the spirit of spring cleaning I've started going through my packed freezer to finally use up the last of the fruit that I froze last year. I got a ton of blueberries and blackberries from my CSA and have been using them in muffins all winter but after last week's Pop Tart adventure I didn't really want muffins or anything too carb-y. I've been craving a lemon dessert lately and lemons always pair well with berries so this was the perfect opportunity to finally make something.
Even though lemons are technically a summer fruit, there's really nothing else that evokes Spring to me as much as a lemon. It's just so fresh and bright, like the colorful blooms that are popping up all around my neighborhood these days. It's the perfect thing to help transition between the stark coldness of winter and …
February 7, 2012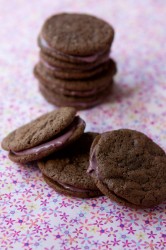 I've never made a big deal about Valentine's Day. It's nice to get some flowers but I don't expect anything else. We don't even bother going out to eat on Valentine's Day anymore because the restaurants are always so crowded. Besides, my birthday is less than a week later so it's easier to celebrate both occasions then. But there is one thing I love about Valentine's day, especially since I started this blog: it's a great excuse to make chocolate desserts!
I decided to make some cookies because Brandon's coworkers have been asking for more cookies from me ever since my epic cookie testing project last December. It's definitely flattering that they liked my cookies so much, so it seemed like a good idea to keep them happy and to find a great recipe to post for Valentine's Day at the same time! I found these chocolate malt cookies in one …
March 7, 2013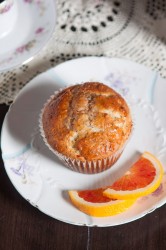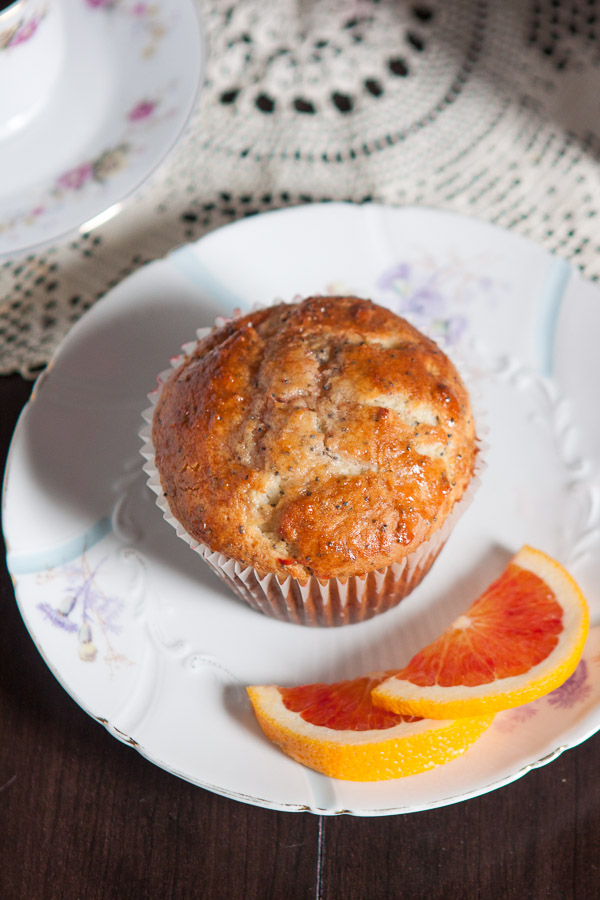 I didn't mean to take so much time away, but after a pretty crazy month I should finally be able to start posting regularly again. It all started with me getting what I thought was food poisoning but turned out to be the stomach flu. It was bad enough that I went to emergency room for the first time in my life. That was an interesting experience! I'm a lifelong cookie dough and brownie batter eater, but I may be done after having to admit to about 10 different people at the hospital that I gave myself food poisoning from eating brownie batter. And then it turned out to be the stomach flu! So embarrassing. (In hindsight, I'm laughing at myself, but at the time I really was mortified.)
A week or so after that, I found out that my grandmother had …
August 29, 2011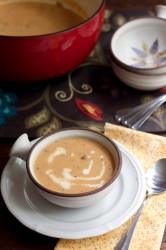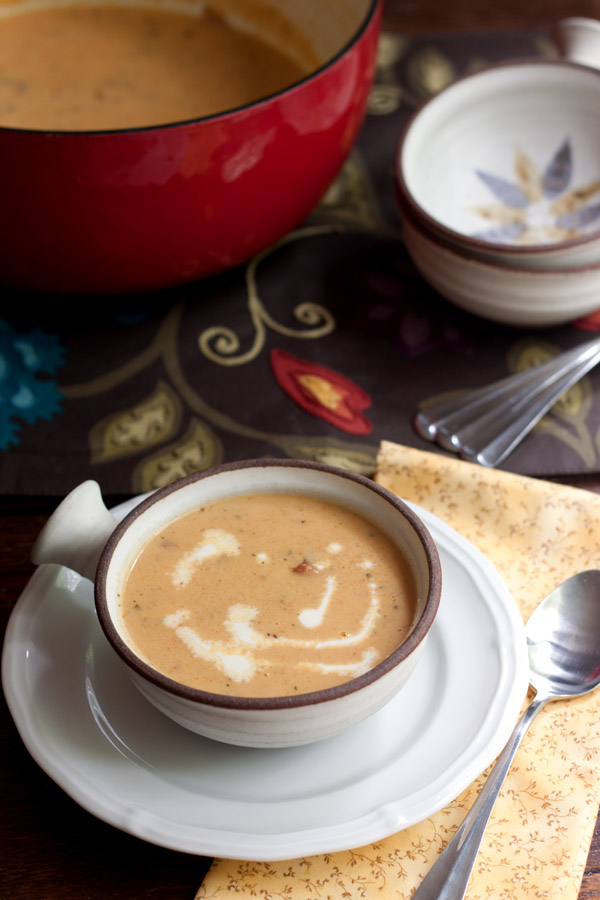 Remember when I said I was excited about making soup this fall? Well, the prospect of soup sounded so good that I may have jumped the gun a little. But that's ok because this might as well be called "Summer's Almost Over Soup." It's full of fresh and bright summer produce but it's warm and hearty and creamy and perfect for those late summer evenings when the temperatures are finally starting to drop.
I really wasn't expecting this soup to be so good, I was just trying to use up the two weeks worth of yellow tomatoes from my CSA and this recipe fit the bill. I wound up changing the original recipe quite a bit, though. That's what I love about soup, you can almost always add your own spin to it without risking messing it up completely. For instance, if you can't get your hands on yellow tomatoes, I'm sure regular …
October 6, 2011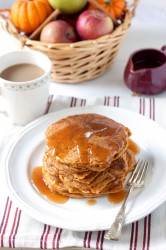 I hope you guys like pumpkin and apples because those are pretty much the only two ingredients I'm interested in baking with for at least another month (ok, that's probably not true…I may have to use chocolate at some point). In fact, I've been going back and forth since last week about whether I should post another apple recipe or another pumpkin recipe and finally the idea came to me to put both of them together in one recipe for pumpkin-apple pancakes!
Brandon is on a business trip this week which means I'm not putting effort into making dinner, instead I've been eating lots of pancakes. You see, I was looking for the best pumpkin pancakes to share which meant I had to try several different recipes. I know, it was a tough job. 😉 But ultimately the one I like best is this one from Nicole at Pinch …
June 6, 2011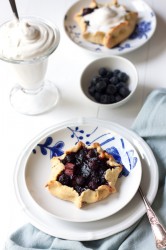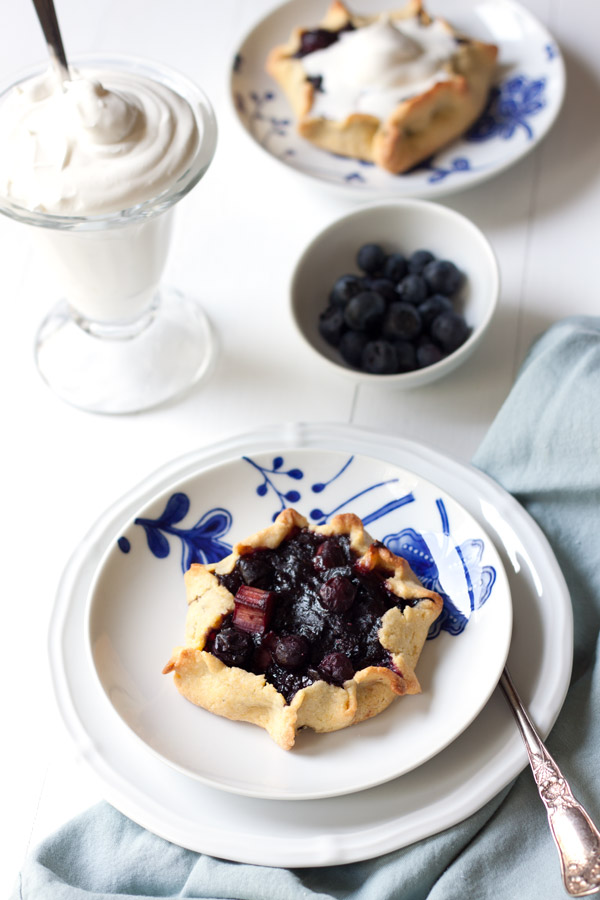 Since my last experience with rhubarb went so well, I picked up another pound of it at the grocery store to try out some more recipes. This tart recipe was the first on my list because it's on the cover of Kim Boyce's cookbook, Good to the Grain and I think I've opened that book about a million times since I got it a month ago. I just couldn't look at it one more time without making those tarts.
The only problem was that my rhubarb wasn't as blindingly red as hers looked, so I decided to change the filling and add some blueberries to it to give it a deeper color. I've tried rhubarb with cherries, strawberries and now blueberries and I have to say that blueberry-rhubarb combo is my favorite of the three. I cooked the …