January 25, 2010
The main reason this recipe caught my eye is because it's a one pot meal that you can make in your Dutch oven. I've been wanting a Dutch oven for years and finally got one for Christmas so anytime I see a recipe that mentions a dutch oven, I'll almost always give it a try. I couldn't afford one of those uber expensive Le Creuset's
, so I wound up getting one from Lodge
that looks almost exactly the same and is well made, but costs about a quarter less. So far I love it and use it as much as possible: soup, spaghetti sauce, chili, oatmeal, whole chicken. And now I have this new recipe to make in it.
More Recipes
December 16, 2010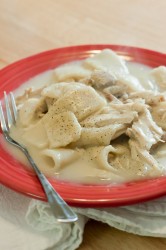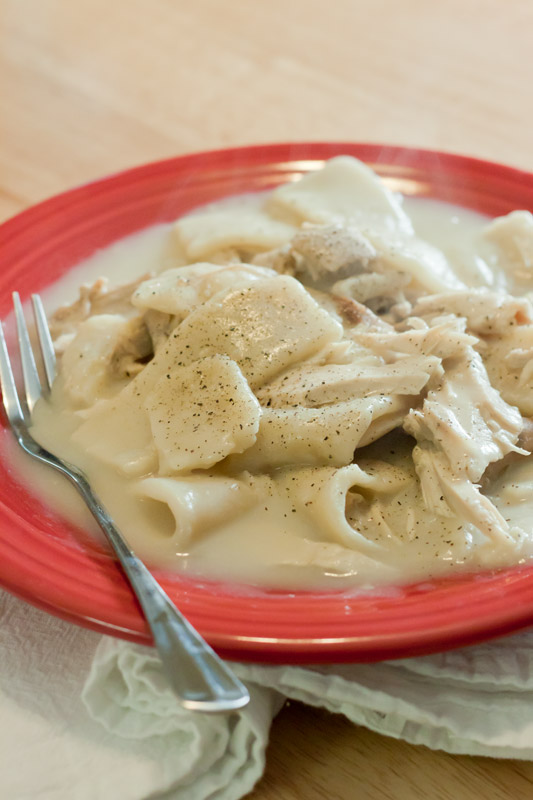 Finally! I've been looking for this recipe for years and I finally found it. You see, Chicken and Dumplings is my boyfriend's favorite dish and he's always wanted me to make it at home. And I have tried, but the problem is there are lots of different recipes for chicken and dumplings and all the recipes I've tried haven't been "right", according to him.
Here's what the right kind aren't: the kind with actual little round dumplings on top. Because I guess that would just be too easy? I've tried several recipes like that, one from Martha Stewart, and while Brandon agreed that those recipes weren't bad, they still weren't "right".
The right kind of chicken and dumplings are the kind that Brandon's grandmother makes. They are the kind you get at Cracker Barrel. They are true southern style, and they don't actually have dumplings, it's …
November 19, 2010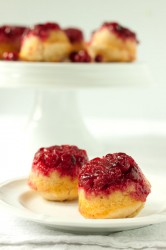 I tend to stay away from making cakes a lot just because I am not so great with the portion control. But I had been thinking about making a cranberry upside down cake for a while so when I saw it in muffin form I knew I had to try this recipe immediately.
Do you like cranberry sauce? If you do, you'll love these muffins. For the longest time, I absolutely refused to eat cranberry sauce with whole cranberries. I'd only eat the jellied kind that come out of the can…in the shape of a can. I still have that kind at my Thanksgiving, mostly out of tradition, but I make real cranberry sauce, too, and these muffins make me love it even more.
This is a really easy and fast recipe to make and I think the muffins come out so pretty! If you wanted to …
November 6, 2009
I'm always looking for new and interesting things to do with chicken. For years, practically the only thing I cooked was chicken with some lemon pepper on it. As you can imagine, I have no desire to make (or eat) boring lemon pepper chicken anymore. So when I saw this recipe, I definitely wanted to try it and I'm glad I did because I know this is going to be a new staple in our house. It's really easy and fast to make. It's low fat and it results in a moist, tender and flavorful chicken. That's everything I could ever want in a dinner.
The initial recipe says to use chicken breasts, but the second time I made these I only had tenderloins and I thought they were still really good (and even faster to make because the cooking time is only about 12 minutes). If you have picky kids that would look at yellow chicken in disgust, making tenderloins instead might make them a bit more palatable.
I was initially worried that it would taste too ginger-y, but it really didn't. In fact, I thought the flavor was pretty tame. So in my second attempt I added some more spices and flavors that I found from similar chicken recipes, which helped amp up the flavor. Also, this recipe benefits from some marinating to make the flavors even deeper, but if you don't have the time, it still tastes great.
August 7, 2008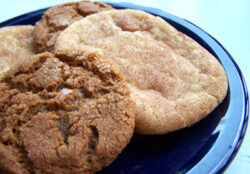 Have you ever seen two different recipes for the same thing and didn't know which one to make? That happens to me all the time. Sometimes I don't bother at all, thinking it's too much pressure to pick the "right" recipe, but if it's something that looks really good I might just make both and see what I like better. That is the case for these dueling snickerdoodle recipes that I found on two or my favorite sites: What Geeks Eat and Simply Recipes. The big difference between the recipes is the Shuna's at Simply Recipes has cornstarch, while Vanessa's has the more traditional cream of tartar. You can go read Shuna's post about why cornstarch is special. Due to this different "secret" ingredient in the cookies, I found the outcome of both to be completely different tasting cookies.
If you are cookie dough connoisseur, the …
February 9, 2010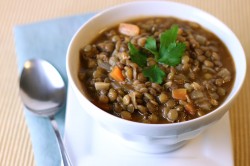 Yep, I'm still obsessed with soup and things I can make in my Dutch oven so this recipe called out to me as I was flipping though the cookbook's pages.
Also calling out to me? Bacon! Put some bacon in anything and I'm there. There's not a lot of bacon, though, so this is still a relatively healthy soup. And if you took out the bacon it would still be hearty and filling thanks to the lentils and the vegetables.
With the exception of the lentils, which I personally had never eaten or bought before I made this recipe, it doesn't have any other specialized ingredients. I had everything already sitting in my kitchen and I definitely prefer recipes where I can use ingredients I already have. I hate, hate, hate, buying a special ingredient for a recipe and then having the leftovers go bad or …
June 17, 2009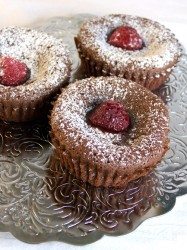 I love chocolate cake. It's one of my biggest cravings, one that pops up over and over again (almost always late at night). But in the last few years, I've noticed something disturbing (to me, at least): I don't seem to be able to eat it anymore. Take last month, for instance:
Brandon was out with some friends so I was home alone. For some reason when I'm home alone I always want to bake so I decided I would finally indulge my chocolate cake craving and make a cake. After looking though my delicious account, I decided to try Smitten Kitchen's Peanut Butter and Chocolate cake. So I went to all the trouble of making the cake layers and the two different kinds of icing and after a couple hours finally sat down with a delicious looking piece of it to eat. …
October 8, 2013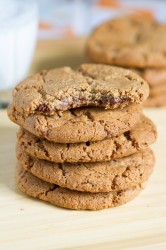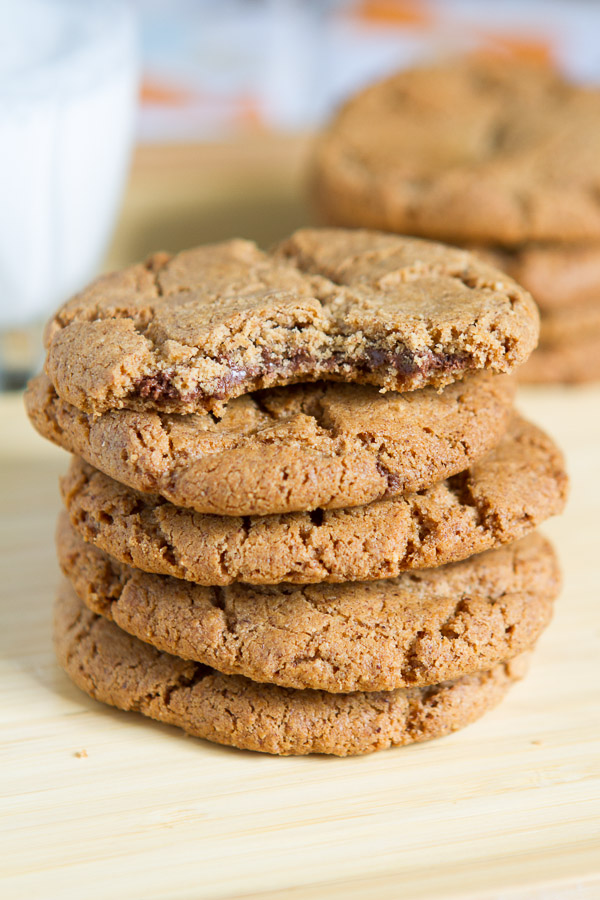 It's been a little over two weeks since I completed Whole30. It wasn't easy, but I'm so glad that I did it and I'm really happy with the results. So far, I've dropped 15 pounds but the biggest difference has been losing 6 inches off my waist and 3 inches off my hips. Hello, smaller pants size! The only other time I've ever lost this much weight was when I did Weight Watchers about 5 years ago. That took a lot of dedication and point counting and feeling hungry most of the time. What I really liked about Whole30 was just being able to eat without counting calories or feeling like I was supposed to starve myself to get results.
It's also been very illuminating to find that even when you can't have grains, sugar or dairy, there is …