December 4, 2008
I decided to buck tradition this year and I made a cheesecake for Thanksgiving instead of apple or pumpkin pie. Brandon and I both LOVE cheesecake and he insists that it's more pie than cake, so in his mind I still made the traditional pie. I used my previous cheesecake recipe, (which IMHO is the best) but modified it by adding melted white and dark chocolate, a method I've seen in a bunch of other recipes. If you remember from my previous sojourn into cheesecake baking I had some issues getting it right (it looked undercooked, though it really wasn't). I baked it a bit differently this time and found this is definitely the right way to do it. Plus I think this new method makes it much more like a real New York cheesecake (or so I've heard) because it browns the top and sides slightly. While this method made the top kind of flaky looking (nothing you notice when you are eating it), the cake itself didn't crack.
More Recipes
October 9, 2012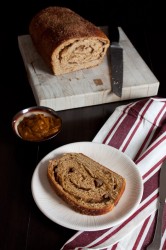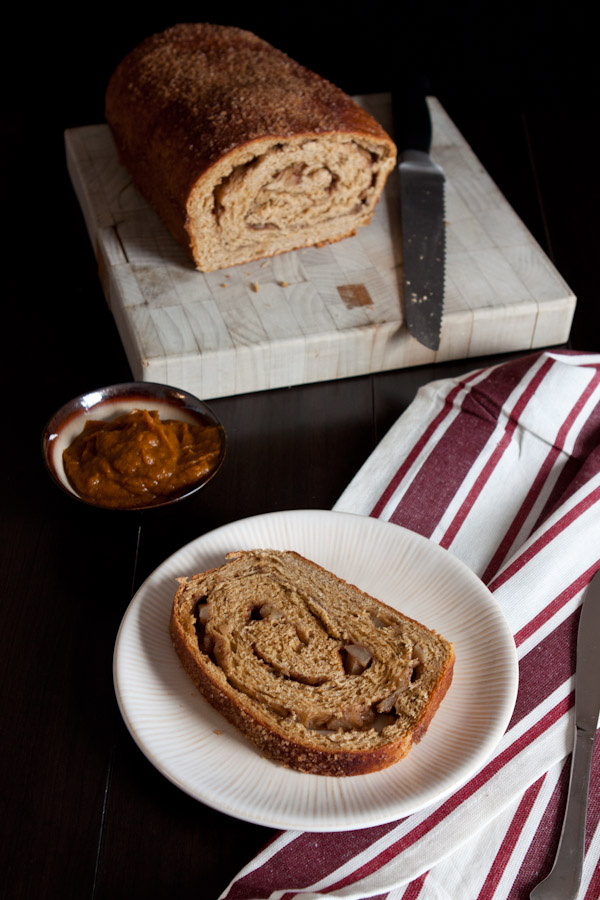 It looks like Fall has finally arrived in Tennessee this past week. The temperature has been dropping as the leaves are starting to change and that has me instinctively heading into my kitchen to bake with my favorite ingredients: pumpkin and apples! This recipe is inspired by the apple fritter bread and pumpkin streusel bread that I've been obsessively buying from Target for the past couple of months. I'd been wanting to try to make a homemade version of the apple fritter bread but then I realized it would be so much better if the apple fritter bread had pumpkin in it, too!
I started with a pumpkin yeast bread recipe that I really like because it's quite healthy in addition to being delicious. It's made with all-purpose flour but also has some whole wheat flour and oats to add …
August 17, 2010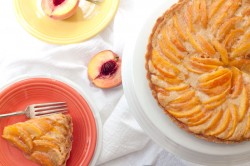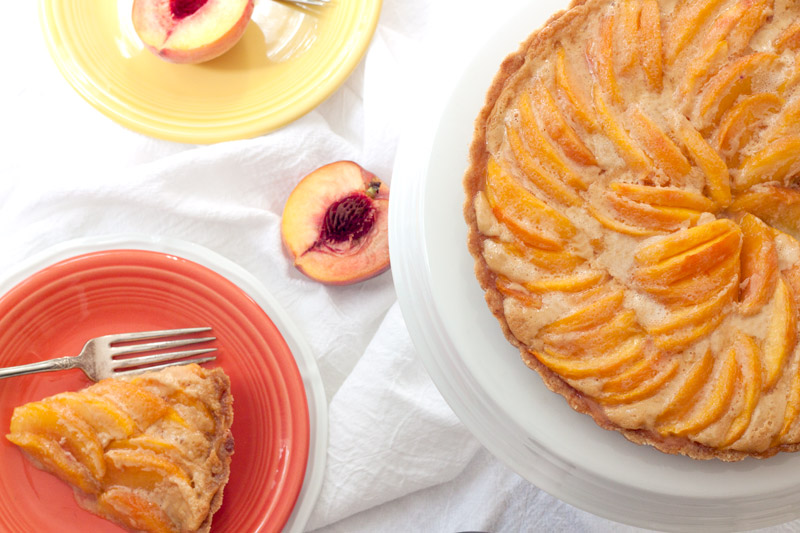 I've always been a really picky eater. I've made some progress on that front since I started this blog, but I'm still way too picky to be called a "foodie" or anything like that. But this summer I've made some pretty big discoveries that have challenged my preconceptions of certain foods and because of that I've decided to change. I made this challenge to myself: I will try everything at least once. If I don't like it, fine, but at least now I know I don't like it and I'm not just assuming based on how it looks or smells or whatever weird childhood memories it brings up.
For example, I've never liked carrots because in elementary school I threw up in the middle of the cafeteria after eating some. Now it turns out, I still don't really like the taste of raw carrots. …
April 11, 2012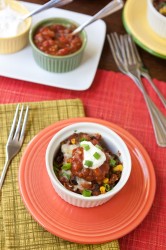 When it comes to dinner, Mexican food is my big weakness. I don't go out to eat too much anymore, especially compared to five plus years ago when Brandon and I dined out more days than we ate at home, but I can't give up my Mexican food. I go to my favorite Mexican restaurant at least every other week, sometimes more often. Whenever we move to a new town, finding a Mexican restaurant with a decent chimichanga and good queso blanco is my number one priority. And there have been some places (*cough* Jacksonville) where that meant trying out pretty much every Mexican restaurant in town.
I know I shouldn't eat at the Mexican restaurant so much, though. It's probably one of unhealthiest meals you can have. So whenever I see a Mexican-ish recipe in one of my many low fat/light cookbooks I always try it in …
October 25, 2012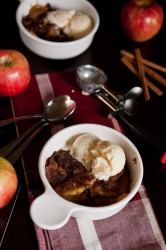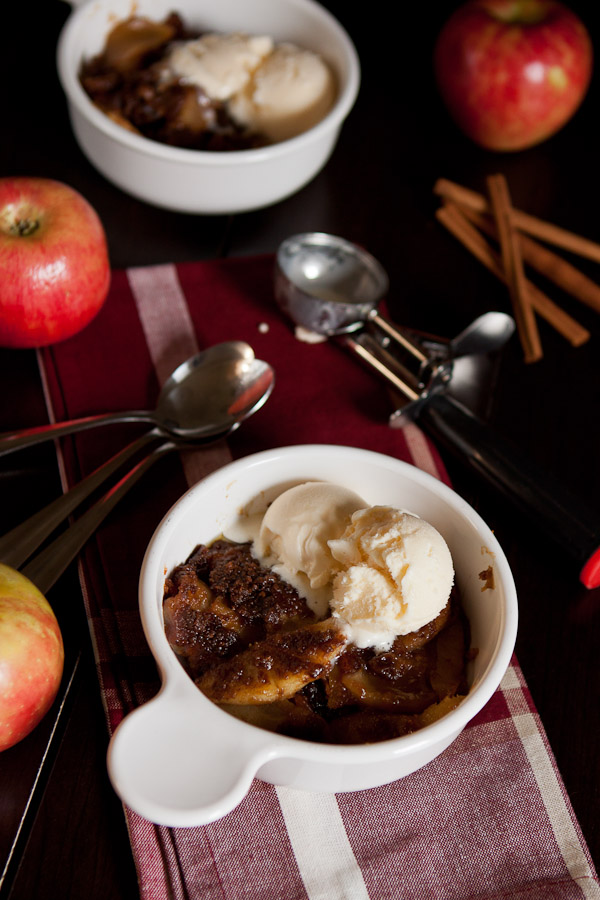 You know that saying, "An apple a day keeps the doctor away?" Of course you do, everyone does, but I wonder how many people actually eat an apple every day? After eating poorly and—not surprisingly—feeling crappy all summer I've been making an effort to get my diet back on track and eating an apple every day was the first thing I decided to do. But not just apples, I've been making sure I have at least one fruit or vegetable with every meal. That includes dessert, too, which is where this wonderful Brown Betty comes in.
A Brown Betty is a dessert that's similar to a crisp but instead of just having the awesome streusel-y part on the top you get several layers of it. Crisps are already one of my favorite desserts so a layered version is …
October 14, 2008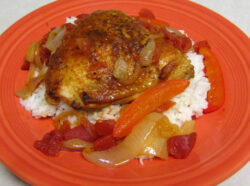 My boyfriend and I have this inside joke about paprikash and goulash. It makes no sense to anyone but us, but suffice it to say, when I saw a recipe for paprikash, I HAD to save it. I finally got around to making it last week and while I may have made it sort of as joke, it's really good. And easy to make as well.
This recipe is supposed to be made in a dutch oven, but I don't have one (it's on my Christmas list!). I just made it in a skillet and then transferred everything to my 13×9 Pyrex to cook in the oven. Because I was making it in a larger dish, I didn't think there were enough diced tomatoes so I added a second can. But even if I was making it in a smaller dish, I still think I would have doubled …
November 3, 2010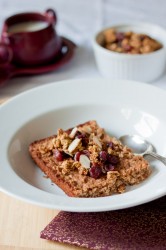 Now that Halloween is over and there's no more candy to tempt me, it's time to start eating better. I've recently decided to make an effort to eat less processed food. (Do homemade twix bars count?) I pretty much have the healthy dinner thing down, so most of the processed food I eat was coming during the day because it was simpler to grab of bowl of sugary cereal or a handful of overly salty crackers from box rather than take the time to make real food.
But I had certain criteria when looking for things to eat during the day:
Easy to make (either the day of or ahead of time)
Eaten at room temperature or easy to reheat
Easy to snack on (e.g. can be eaten at my computer without being too messy)
Common denominator? EASY. I put a lot of effort into making a good dinner so I don't …
November 19, 2009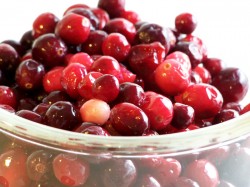 This whole blogging every day thing is hard. I don't know how some of you do it. It's hard for me to blog even once a week sometimes (though I've been trying to remedy that). Anyway, a work emergency left me unable to post yesterday and I still have lots to do today, so a slight change of plans: I'll post all the rest of the side dishes today and the turkey tomorrow. Then next week I'll post my favorite part of Thanksgiving (or any meal, really): Dessert!
So I already posted all my sweet potato side dishes but you can't just eat sweet potatoes (well, I actually think I could, but I'm weird). All of today's recipes (as well as the turkey) are courtesy of my mother. I found them all in her battered, food covered, recipe scrapbook where she dutifully taped in handwritten recipe cards or …