May 5, 2011
Most of the time I don't have the forethought to plan recipes related to holidays that aren't Thanksgiving or Christmas, but I happened to make this for dinner a few days ago and I knew it would be perfect to post on Cinco de Mayo. And in fact, this dish is sort of a celebration for me because it signifies that I've finally graduated from the realm of the picky eaters! Chile peppers were my last big food phobia and I'm very happy to say this recipe has put all my fears to rest. And, even crazier, as I was shoveling a stuffed poblano into my mouth my main thought was that I wanted it to be spicier. Five years ago, I wouldn't even touch bell peppers, so eating a dish with not one, but two kinds of chile peppers in it would have been crazy talk.
This recipe is like a healthier version of chile rellenos. It uses poblano chiles that don't need to be charred or peeled or anything fussy like that. They're hollowed out and stuffed with a mixture of black beans and cheese and then …
More Recipes
February 4, 2010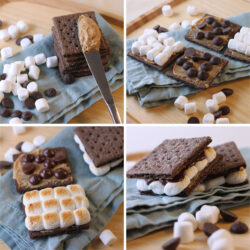 I'm doing Project 365 this year, which is a challenge to take a picture every single day for a full year. It's a month in and I'm already starting to run out of ideas of what to take pictures of. Last week I was sitting in my kitchen trying to come up with something, but my mind kept wandering to dessert (this is not unusual). Then I realized: I should take a picture of dessert! Perfect.
This is my favorite go-to snack. I always have all the ingredients in my pantry and when I'm having a chocolate craving I can make a couple of these in 5 minutes, which is much faster (and healthier) than making up a batch of cookies or brownies. It's not a mind-blowing dessert or anything, but when I posted this picture on flickr a lot of people commented saying how …
May 20, 2009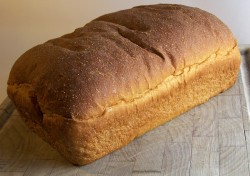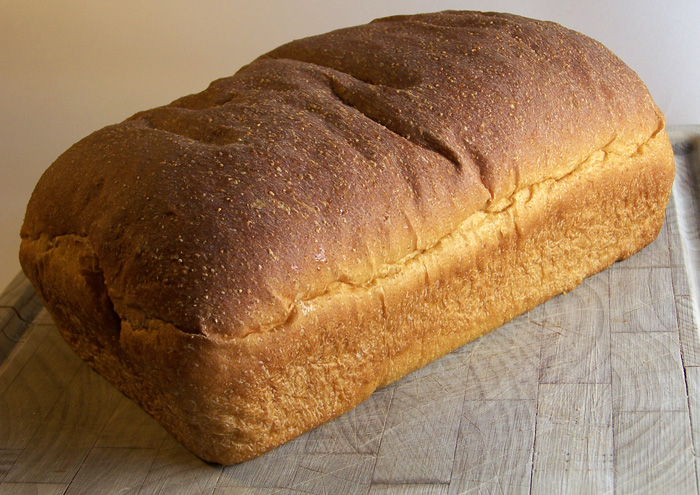 So I decided to do something a little crazy. The awesome Nicole at Pinch My Salt started a group to make every single recipe in The Bread Baker's Apprentice by Peter Reinhart. When she first announced it on Twitter, I was interested but ultimately decided it would be too much work. But then more and more people started joining with her and I kept thinking about it until she announced she was closing the group to new members. As soon as I heard that it made me realize how much I wanted to do this, so I emailed her immediately to join the group.
September 6, 2011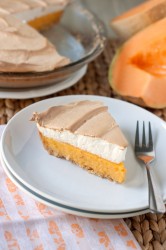 I know what you're thinking. Seriously. Because I thought it, too. Cantaloupe pie?? That sounds weird and kinda gross. But you're just going to have to trust me on this one. I would never share something gross and honestly? This recipe…it's kind of amazing.
But let's start at the beginning. You see, I got two big cantaloupes in my CSA box a few weeks ago. I knew Brandon and I wouldn't be able to eat both within a week, especially since one of them was already well past ripe when I got it. So I set out searching for cantaloupe recipes. Something, anything to use these babies up. Unfortunately, unless I wanted some kind of fruit salad, granita or sorbet (I already had watermelon sorbet in my freezer) there just isn't a whole lot out there. But I kept looking and finally this recipe for cantaloupe pie …
December 29, 2011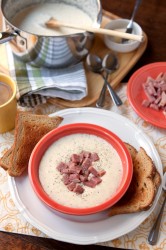 I almost didn't think I'd make it, but it looks like I'll be able to squeeze in one final post in 2011. I was in crazy work deadline mode the week before Christmas and barely had time to cook anything much less photograph and post it here. After I got all my work done, I went a little cooking crazy figuring something I make over the weekend would be worth posting but it turns out everything has already been posted! I made Chicken and Dumplings and Honey Cornbread on Christmas Eve. The next day, we had our traditional Christmas dinner of glazed ham and my mom's famous "Pineapple Stuff." For dessert I made mini Oreo and Peppermint Bark cheesecakes and we snacked on my favorite Mint-Chocolate Shortbread Cookies all weekend long.
It was definitely a satisfying Christmas, food and gift-wise, but I couldn't help …
September 5, 2012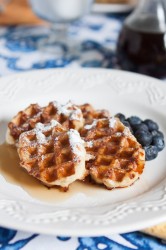 Has this ever happened to you: you see someone eating something on TV or in the movies and all of sudden you just have a huge craving for what they're eating? This summer I've been rewatching one of my favorite TV shows, Gilmore Girls — Remember? Lauren Graham? Rory? Stars Hallow? The dear, departed WB? — and this has become a major problem for me. If you don't remember or never watched the show, let me just tell you: those Girls can eat. A lot. But they live in magical TV land where people can eat 20 pounds of junk food a day and not gain weight or have any kind of serious health problems. Sigh. I want to live in that world! Sadly, I don't so there's been a lot of watching Lauren Graham and Alexis Bledel eating delicious things as my stomach growls grumpily.
But some things you just can't shake. …
October 19, 2010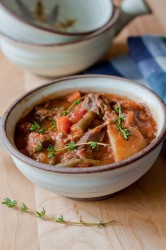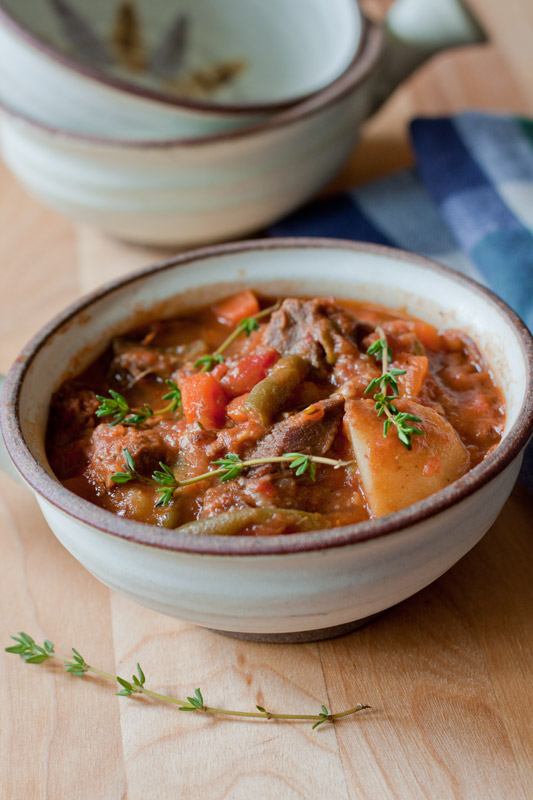 I've posted a lot of sweet stuff lately, so I decided it was time to switch things up and post something healthier. Since the weather finally started turning cooler this month, I've been on the look out for some new soups or stews that I love as much as my chicken tortilla and chicken pot pie soups. Unfortunately, there are a lot of soups out there that are bland and boring, but after trying out two disappointing soups I was happy to find out that the third time was the charm with this recipe.
December 7, 2010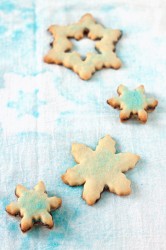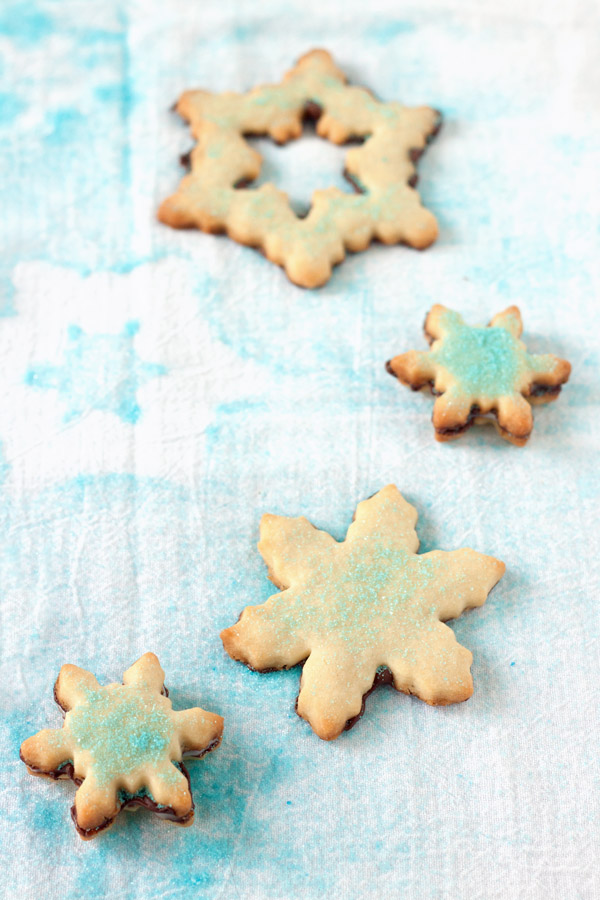 These cookies have been on my mind for a while. You see, 10 months out of the year I make a pretty concerted effort to eat healthy. Obviously I splurge sometimes, many posts on this blog can attest to that, but for the most part I try to limit the really high fat/calorie foods to only a few times a month. But then Thanksgiving comes around and I go absolutely nuts. Did you know that the mashed potatoes I made had butter, half and half AND cream cheese. Yeah. And I didn't feel even slightly guilty for eating them. Because they were damn good. There's just something about the period from Thanksgiving until New Year when I just don't care. I want to eat all my favorite foods no matter how unhealthy they are and the guilt I usually have isn't there anymore.
So when everyone was talking about cookies last week on twitter it made me realize how much I've been wanting to make these. I made them a couple of years ago and every time I go through my recipe binder I think about making them again. Finally, with Cookie Week and my guilt on vacation, it was the perfect time.
I decided to play with the original recipe a bit, but it still has the same components: shortbread, chocolate, peppermint. I honestly can't stand most of those bland sugar cookies that everyone seems to make this time of year, I'd much rather have delicious, buttery, shortbread. Each shortbread cookie has a layer of peppermint infused chocolate spread on the bottom. Then I lightly brushed a peppermint glaze on top that soaks into the shortbread and I sprinkled on some colored sugar. If you want to go extra peppermint crazy, you can stick two cookies together with a layer of peppermint filling in between!
If you think that sounds like too much peppermint, don't worry because I used very small amounts of peppermint extract. Plus the buttery shortbread works well with the peppermint and doesn't let it overpower the whole cookie. And you can always reduce the amounts to your own tastes. Or maybe even try another flavoring: I think orange extract would work really well.
These cookies are so good and highly addictive! I made them on Friday and Brandon and I had finished them off by Sunday. If you have lots of cookie lovers in your house, I would recommend doubling the recipe because they will go fast.