Thanks to everyone who entered last week's giveaway! You guys really love your mac n' cheese, which makes me think I should post my favorite recipe for it. Anyway, if you haven't commented on that post yet, you still can and you'll be entered to win Everyday Food: Fresh Flavor Fast
. Computer issues prevented me from posting on Friday like I had planned, so I'm posting the second giveaway today and will announce the winners of both cookbooks on Friday instead of Wednesday (barring other computer issues, which I'm still working through). If you comment on today's post as well then you'll get another chance to win!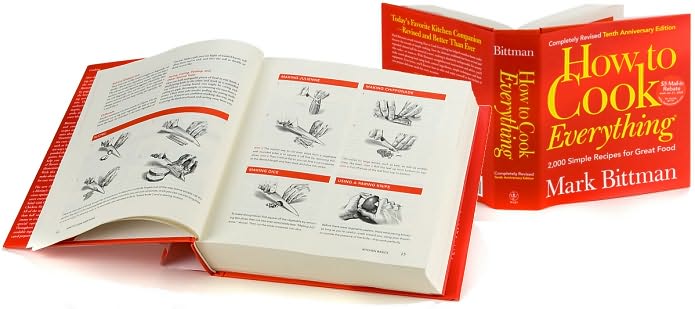 The second cookbook in the giveaway is one of my favorite resources: How to Cook Everything
by Mark Bittman. The title doesn't lie, it really is everything. This cookbook is giant with over 2,000 recipes, but it's more like 5,000 because he offers alternate versions or additions to almost every recipe. The beauty of it is that he tells you how to make all the basics and then you can combine them or add them to other recipes. Good examples of that are this strawberry tart (crust, filling and glaze, all separate recipes) or this brownie tart which I added his butterscotch sauce to or my individual chicken pot pies where I used his biscuit recipe for the topping. Besides all the recipes there's tons of tips, tutorials, and suggestions. If I have any kind of cooking question, I always check this book first. For instance, for today's recipe I didn't know what the right temperature should be for medium-well meat, so I checked and of course he had a list of all the correct temps as well as tips for the best way to cook it. I didn't know that meat cooks best if it's at room temperature when it first hits the heat, so let it sit out for 30 minutes or so before you put it in the oven.
Let's talk about that recipe now, shall we? When I was organizing my recipe and ingredient indexes for the redesign, I realized that in two years I've only posted two recipes with beef. There is tons and tons of chicken and even a good amount of pork so adding more beef is something I definitely need to work on. I've not always been a big fan of red meat, but I'm coming around to it. I've mentioned before that I get tired of eating chicken all the time and while I still do eat chicken more than other meats, lately I've been making an effort to have at least one beef, one pork and one seafood dish each week.
Big slabs of beef have always been intimidating to me so the main thing that attracted me to try this recipe is how simple it is. The main thing that will keep me making this dish over and over is how flavorful it is, despite it's simplicity. Just insert some slices of garlic and rub it with some herbs and then you let the oven do the rest. Brandon is always less than excited when I say we are having roast beef for dinner, but this finally won him over. I guess his mom made some pretty crappy roasts when he was a kid and he didn't know it could taste so good! If you have a similar reaction give this one a try, it's pretty much fool-proof. (Just make sure to have an instant-read thermometer, so you can test for doneness.)
And the peppers, onions and potatoes? Probably my favorite side dish ever. Cut them up and throw them on the pan with some olive oil and let them roast to perfection. Honestly, I'd be happy with a dinner that was just potatoes, peppers and onions because I love them that much, but of course they go great with this roast. They'd work great with roasted chicken, too.
This recipe is from the first cookbook of the giveaway Everyday Food: Fresh Flavor Fast
. To enter to win that or How to Cook Everything
(or an amazon gift certificate if you already own either) just comment on this post and let me what you think about meat: what are your favorites, what would you like to see more recipes of on here? Maybe you're a vegetarian and this post totally disgusts you, that's okay, let me know it! Good Luck!
Roast Beef with Peppers, Onions and Potatoes
adapted from Everyday Food: Fresh Flavor Fast
Dinner | Servings: 4
Prep time: 15 min | Cook time: 1 hour | Total time: 1 hour 25 min
Ingredients
3/4 lb new white potatoes, scrubbed and cut into 1 inch pieces*
5 mixed red and yellow bell peppers, ribs and seeds removed, cut into 1 inch wide strips*
2 red onions, halved lengthwise and cut into 1 inch wedges
5 garlic cloves: 3 whole, 2 cut into 6 slivers each
2 tbsp. olive oil
Course salt (I prefer sea salt, but kosher is fine, too)
Pepper
2 – 2 1/2 lbs. eye-of-round beef roast
3/4 tsp. dried thyme
*Note: I increased the potatoes to 1 or 1.5 lbs. and used 4 peppers instead. I love potatoes and 3/4 lb. just didn't seem like enough!
Process
Preheat the over to 400 degrees (F).
Place potatoes, peppers, onions and whole garlic cloves on a large rimmed baking sheet. (You'll probably need to use two baking sheets unless you have a commercial sized baking sheet
— that's what mine is and I love it — or you are halving the amount of vegetables.) Drizzle with 1 tbsp. oil and season with salt and pepper, toss well.
Using a small knife, make 12 small slits in the top and sides of the roast and insert the garlic slivers.
Combine 1 1/2 tsp. salt, 1/2 tsp. pepper and thyme in a small bowl. Set aside.
Place roast in the center of the baking sheet, moving any vegetables out of the way. Rub with remaining tablespoon of oil. Then rub the salt and pepper mixture all over the beef.
Place in oven and roast, tossing vegetables occasionally, until tender and cooked to your liking, 40-60 minutes. An instant-read thermometer inserted into the thickest part should be 130-135 degrees for medium-rare, 140-145 for medium.
Cover loosely with foil and let meat stand for 10 minutes. Cut into thin slices and serve with vegetables.
Nutrition info:

Serving size: 1/4 of the roast and 1/4 vegetables
Calories: 352
Fat: 10.8g
Carbohydrates: 29.2g
Fiber: 5.3g
Protein: 34.8g