Next Monday, this blog will be 2 years old and since I didn't really do anything to celebrate the anniversary last year I decided to go all out this year. So welcome to the completely redesigned Back to the Cutting Board! If you're reading in the comfort of your feed reader, I'd love it if you'd click on through and take a look. Plus there is a reason you will want to visit, which I'll get to soon…
Since I've posted quite a few recipes over the last two years, I wanted to make the site easier to browse. I cleaned up the Recipe Index and I added a new Ingredients Index if you want to search for recipes with specific ingredients. I also made an effort to simplify things. I loved my previous design, but I wanted something cleaner and simpler this time. I think the home page and sidebar were too busy before so I made an effort to pare everything down to the essentials (well, mostly anyway, minimalism is kind of against my nature, so this is as pared down as it gets for me). Plus, the site is loading much faster now after removing some plugins and sidebar items that were slowing it down pretty substantially.
But anyway, enough about that…on to the giveaway! I've never done one before, so I thought this was perfect time to finally do one. And while it may not be original, I thought it only appropriate to do a giveaway with some of my favorite cookbooks. I'm not formally trained and two years ago I knew very little about how to cook and all the different kinds of ingredients and foods that are out there. I certainly wouldn't have this blog if it weren't for my cookbooks and I wouldn't have learned half a much as I have about cooking and baking without them. Two years ago I was too scared to make even the slightest changes to recipes, but lately I've noticed that I feel much more confident in my cooking and in my knowledge and techniques that I have no problem adapting recipes to my liking. One day I hope to be writing my own recipes, but for now I'm very thankful to have my cookbooks for guidance.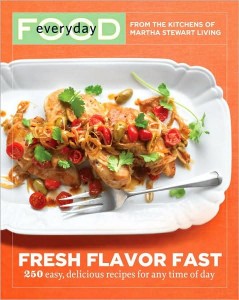 I'll be doing two giveaways this week. The first is my current favorite cookbook which is Everyday Food: Fresh Flavor Fast
. This is sort of a sequel to an older Martha Stewart Everyday Food cookbook, which I also love and highly recommend: Everyday Food: Great Food Fast.
The recipes in both cookbooks are simple but delicious and also relatively healthy ("only as much fat as necessary" which is a way I've heard some recipes described before). And I think the photography and food styling in them is also simple yet stunning. It's a big inspiration to me when I take photos for this blog.
Today's recipe is similar to one that is in Fresh Flavor Fast. I was planning to make that recipe, even though it had cherries which I'm not a big fan of (though I'll admit this is mainly based on my abhorrence for cherry cough syrup and candy), but then I found another recipe on the Everyday Food website that was basically the same thing but with mixed berries, so I decided to make it instead. The recipe is extremely simple and you can easily adapt it to use cherries or any kind of berries you prefer. But I really liked the mixed berries because they taste and smell heavenly when all their flavors meld together.
With prep and cooking time, most desserts take a while to make so I especially love how fast this recipe is, you can whip it up after dinner with very little effort. There's no baking involved, it cooks right on the stove top. This recipe has everything I love in comfort food: warmth, sweetness, soft bread and of course, a la mode! And it's not even that bad for you, either, which is a major bonus since I've had very few lighter desserts that are this satisfying to eat.
All you need to do to enter the giveaway is to leave a comment telling me your favorite comfort food. I'll be posting again on Friday on Monday (computer issue, sorry!) where I'll announce the other cookbook I'm giving away (and it's a big one…literally) and you'll have another chance to enter to win one of the cookbooks. And don't worry if you already own either, you can still enter, I'll just send an Amazon gift certificate instead! The winners will be chosen at random (so if you comment on both posts this week, you double your chances!) and I'll announce them here next Wednesday, June 30th. Good Luck!
Warm Berries and Cinnamon Dumplings
adapted from Everyday Food
Dessert | Servings: 4
Prep time: 13 min | Cook time: 15 min | Total time: 28 min
Ingredients
1 bag (16 oz.) frozen (unthawed) mixed berries (or strawberries, blueberries, blackberries, cherries, etc.)
1 tbsp. lemon juice
1/4 cup water
1/4 cup plus 4 tbsp. sugar (divided)
1/2 tsp. cinnamon (divided)
1 cup flour
1 tsp. baking powder
1/2 tsp. baking soda
1/8 tsp. salt
2 tbsp. unsalted butter, melted
1/2 cup low-fat buttermilk or milk
Process
Combine berries and 1/4 cup sugar, lemon juice and water in a large skillet (it should have a lid, if possible). Cook over medium heat until the liquid is syrupy, 11-13 minutes.
While the berries are cooking, combine 1/4 tsp. cinnamon and 2 tbsp. sugar in a small bowl. Set aside.
In another bowl, stir together the flour, remaining 2 tbsp. sugar, remaining 1/8 tsp. cinnamon, baking powder, baking soda and salt.
Combine melted butter and buttermilk and slowly add to the flour mixture, stirring just until a wet dough forms. Add a little more milk if it's still too dry. Don't overmix.
When the berries are ready, reduce the heat to medium-low. Use a tablespoon to scoop the dough on top of the simmering berries. Sprinkle generously with the cinnamon-sugar mixture. Repeat until all the dough is gone (about 8 spoonfuls).
Cover skillet with a lid or foil and simmer until the dumplings are set and dry to the touch, about 15 minutes.
Serve warm, with ice cream (if you want).