I enjoy cooking but since I only taught myself to cook through sheer force of will, a bookshelf full of cookbooks and lots of food blogs some of my technical cooking skills are pretty lacking. Baking comes to me pretty naturally but I still struggle a lot with cooking. I think it's because baking is mostly linear: you mix all the dry ingredients, then you mix all the wet ingredients, then you mix them all together, etc. Cooking seems to have a lot more multitasking: cook this in a pot and while you're doing that saute this other stuff in the skillet and while you're doing that chop this stuff up and on and on. I cannot tell you how much that stresses me out! That's why I'm a much more adventurous baker than cook. My favorite dinner recipes are the ones that are as simple as possible. But just because something is simple doesn't mean it can't be great. That's definitely the case for this roasted shrimp recipe.
I've made several different versions of this recipe in the past — always cooking the shrimp in a skillet — but it's not until recently that I found this method of actually roasting the shrimp. I love roasting things, especially vegetables, but I didn't know you could roast seafood like this. But it turns out you can and it's quick, too. The key to this recipe is to first make an infused oil by cooking it with other ingredients and then roasting the shrimp in that oil. The oil in the original recipe was just infused with herbs, but I added garlic and some red chili flakes to spice it up. Not only does the oil coat the shrimp and make them absolutely delicious, but it tastes just as good by itself. You'll definitely want to buy a big loaf of French bread for dipping!
I wanted to serve the roasted shrimp on top of pasta and one of my favorite kinds of pasta is Orzo. If you've never had it before, Orzo is small and oval-shaped sort of like rice. This Orzo recipe has become one of my go-to recipes for serving with seafood and other meats. It's easy to make, you just mix in a few ingredients like garlic, lemon zest and cheese and you're done. The lemon zest in the pasta compliments the lemon juice that's added to the shrimp at the end. The red chili flakes in the infused oil add a nice bit of spiciness to everything.
To complete the meal (and because I've been making an effort to add some kind of green vegetable to every dinner) I made a simple side of lemon-butter broccoli. It adds a little bit of that multitasking that I hate so much, but the broccoli only needs to be steamed and then mixed with lemon and butter so it's not complicated at all. It makes a quick, healthy side to go along with the shrimp and pasta.
Spicy Garlic Roasted Shrimp on Lemon-Parmesan Orzo
adapted from Fine Cooking and Cooking Light Complete Meals in Minutes
Dinner | Servings: 4
Prep time: 10 min | Cook time: 20 min | Total time: 35 min
Ingredients
6 tbsp. plus 2 tsp. extra-virgin olive oil, divided
6 fresh thyme sprigs
5 garlic cloves, divided: 3 sliced thin and 2 minced
1/2 tsp. to 1 tsp. red chili flakes (depends how spicy you like things!)
3/4 cup uncooked orzo
1 1/2 lb. shrimp, peeled and deveined
1 1/2 tbsp. fresh lemon juice
3/4 tsp. kosher salt, divided, plus more for pasta water
2 tsp. grated fresh lemon rind
1/4 cup chopped fresh parsley
2 tbsp. grated fresh Parmigiano-Reggiano cheese, plus more for sprinkling on top
1/4 tsp. pepper
Process
Position a rack in the center of your oven and preheat the oven to 400 degrees (F).
Pour the olive oil into a 9×13-inch baking dish. Add a bit more if the bottom of the pan isn't completely covered. Add the thyme, sliced garlic and red chili flakes; bake until the oil is fragrant, about 10 minutes.
While the oil cooks, bring a pot of water to boil and cook the orzo according to package directions. Drain and set aside.
Add the shrimp to the oil mixture and toss with tongs until coated. Bake the shrimp until pink and firm, 8 to 10 minutes.
Add the lemon juice and 1/2 tsp. salt, toss well. Let rest at room temperature until the oil cools slightly, about 5 minutes.
Meanwhile, heat 2 tsp. oil in a medium non-stick skillet over medium-high heat. Add grated lemon rind and minced garlic; saute for 1 minute. Remove from heat.
Add the orzo, parsley, cheese, remaining 1/4 tsp. salt and pepper to the skillet and toss well.
Discard the thyme from the shrimp mixture. Serve shrimp on top of the orzo, making sure to spoon some of the infused olive oil onto the pasta. Sprinkle with more cheese, if desired. Great with Lemon-Butter Broccoli (recipe below) and French bread to dip into the remaining olive oil.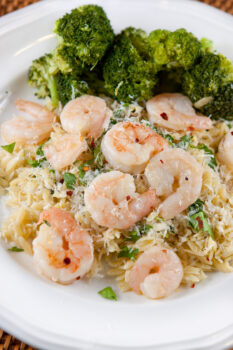 Lemon-Butter Broccoli Spears
from Weight Watchers New Complete Cookbook
Dinner, Side Dish | Servings: 4
Prep time: 5 min | Cook time: 5 min | Total time: 10 min
Ingredients
1 bunch broccoli, trimmed and cut into thin spears
1 tbsp. unsalted butter
2 tsp. lemon juice
1 tbsp. grated fresh lemon rind (from 1 lemon)
1/2 tsp. salt
1/4 tsp. pepper
Process
Fill a large pot with 1 inch of water and bring to boil.
Put chopped broccoli in a steamer basket and place inside the pot. Cover and cook until crisp tender, about 3-4 minutes. Remove pot for heat.
Melt butter in a large non-stick skillet over medium-high heat. When butter foams, add lemon juice and cook for 30 seconds.
Add broccoli, grated lemon, salt and pepper. Cook, tossing occasionally for 1 minute or until the broccoli is heated through. Serve immediately.