Back to the Cutting Board
Spicy Garlic Roasted Shrimp on Lemon-Parmesan Orzo
adapted from Fine Cooking [1] and Cooking Light Complete Meals in Minutes [2]
Dinner | Servings: 4
Prep time: 10 min | Cook time: 20 min | Total time: 35 min
Ingredients
6 tbsp.

plus 2 tsp.

extra-virgin olive oil

, divided

6

fresh

thyme sprigs

5

garlic cloves

, divided: 3 sliced thin and 2 minced

1/2 tsp.

to 1 tsp.

red chili flakes

(depends how spicy you like things!)

3/4 cup

uncooked

orzo

1 1/2 lb.

shrimp

, peeled and deveined

1 1/2 tbsp.

fresh

lemon juice

3/4 tsp.

kosher salt

, divided, plus more for pasta water

2 tsp.

grated fresh

lemon rind

1/4 cup

chopped fresh

parsley

2 tbsp.

grated fresh

Parmigiano-Reggiano cheese

, plus more for sprinkling on top

1/4 tsp.

pepper
Process
Position a rack in the center of your oven and preheat the oven to 400 degrees (F).
Pour the olive oil into a 9×13-inch baking dish. Add a bit more if the bottom of the pan isn't completely covered. Add the thyme, sliced garlic and red chili flakes; bake until the oil is fragrant, about 10 minutes.
While the oil cooks, bring a pot of water to boil and cook the orzo according to package directions. Drain and set aside.
Add the shrimp to the oil mixture and toss with tongs until coated. Bake the shrimp until pink and firm, 8 to 10 minutes.
Add the lemon juice and 1/2 tsp. salt, toss well. Let rest at room temperature until the oil cools slightly, about 5 minutes.
Meanwhile, heat 2 tsp. oil in a medium non-stick skillet over medium-high heat. Add grated lemon rind and minced garlic; saute for 1 minute. Remove from heat.
Add the orzo, parsley, cheese, remaining 1/4 tsp. salt and pepper to the skillet and toss well.
Discard the thyme from the shrimp mixture. Serve shrimp on top of the orzo, making sure to spoon some of the infused olive oil onto the pasta. Sprinkle with more cheese, if desired. Great with Lemon-Butter Broccoli (recipe below) and French bread to dip into the remaining olive oil.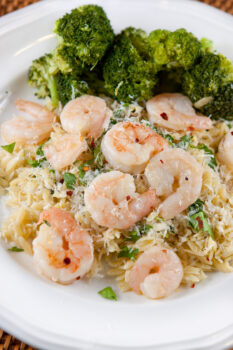 Lemon-Butter Broccoli Spears
from Weight Watchers New Complete Cookbook [3]
Dinner, Side Dish | Servings: 4
Prep time: 5 min | Cook time: 5 min | Total time: 10 min
Ingredients
1 bunch

broccoli

, trimmed and cut into thin spears

1 tbsp.

unsalted butter

2 tsp.

lemon juice

1 tbsp.

grated fresh

lemon rind

(from 1 lemon)

1/2 tsp.

salt

1/4 tsp.

pepper
Process
Fill a large pot with 1 inch of water and bring to boil.
Put chopped broccoli in a steamer basket and place inside the pot. Cover and cook until crisp tender, about 3-4 minutes. Remove pot for heat.
Melt butter in a large non-stick skillet over medium-high heat. When butter foams, add lemon juice and cook for 30 seconds.
Add broccoli, grated lemon, salt and pepper. Cook, tossing occasionally for 1 minute or until the broccoli is heated through. Serve immediately.
Spicy Garlic Roasted Shrimp on Lemon-Parmesan Orzo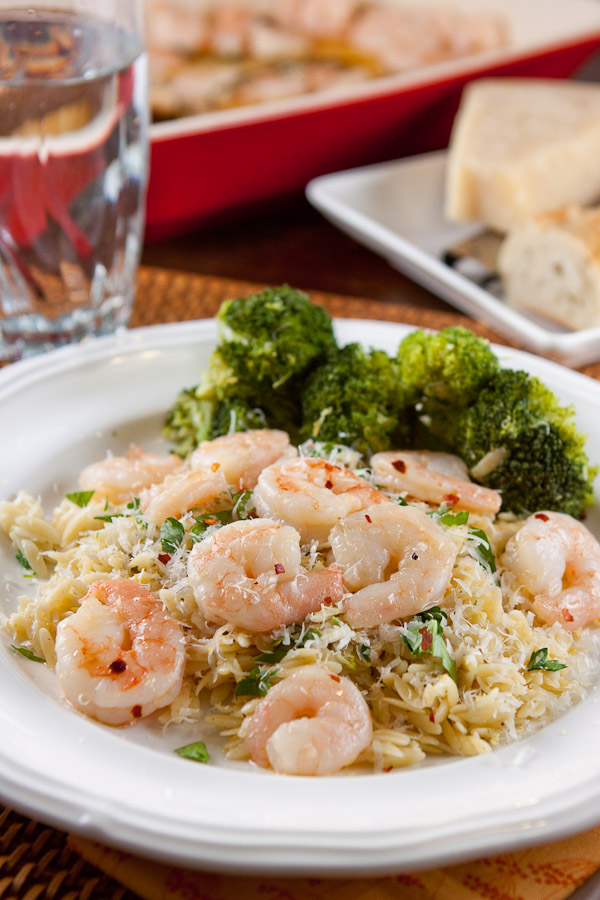 Ingredients
Process