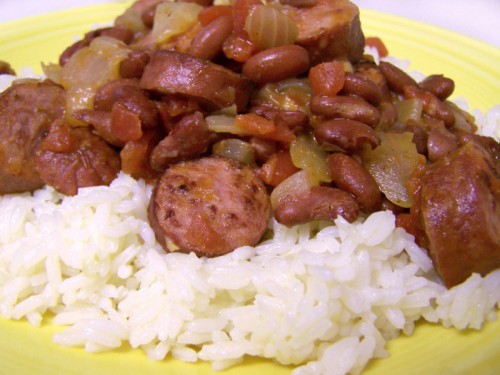 This is my favorite new recipe.  What's really surprising about that is: (1) it's dead simple (or at least I made it that way) and (2) it's from the Weight Watchers cookbook.  You wouldn't think something like that would be so good, but I swear I could eat it every single night.
The main thing to note is that this my version of the recipe.  I took some shortcuts and also switched the meat (but I've had it with the original meat and it was good that way, too).  I'll make notes where the changes are, though.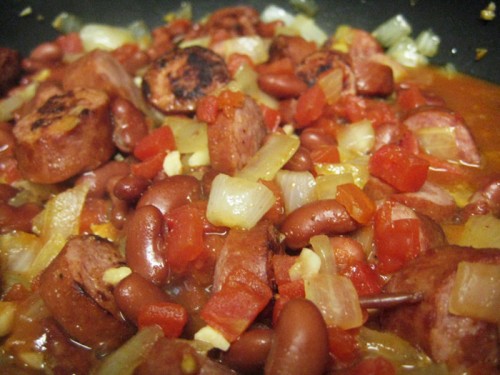 Garlicky Red Beans and Sausage
adapted from Weight Watchers New Complete Cookbook
Dinner | Servings: 3-4
Prep time: 10 min | Cook time: 30 min | Total time: 40 min
Ingredients
4 tsp. olive oil
14 oz. Turkey sausage, sliced into 1/2 in. pieces*
1/4 tsp. pepper
1 medium red onion, chopped
6 garlic cloves, minced
1 (15 oz.) can diced tomatoes with green chiles, drained**
1 (15 oz.) can kidney beans, drained***
1/2 tsp. cumin****
1/2 cup water
Cooked white or brown rice
*You can substitute 10 oz. lean boneless pork loin, cut into 1.5 in. cubes
**You can substitute 2 chopped tomatoes and 1/4 cup chopped chiles.
***You can substitute dried kidney beans that have been soaking over night.
****Reduce to 1/4 tsp. if you don't like overly spicy food
Process
In a large saucepan, hear the oil. Add the sausage and pepper; brown over medium heat, stirring as needed, about 5 minutes. (If using pork instead cook until the meat is cooked through and lightly browned, 5-10 minutes.)
Add the onions and garlic; cook, stirring as needed, until the onions are tender, 5-8 minutes.
Stir in the tomatoes, beans, cumin and water; bring to a boil. Reduce the heat and simmer, covered, until the beans are tender, 15-20 minutes. Serve over rice.
I find the dish to be really spicy, so I like to serve it with a fruit salad to give my tastebuds a break.
Dead Simple Fruit Salad
1. Start with a can of fruit cocktail (if I'm feeling really crazy, I'll use tropical fruit cocktail) and add in chopped up pieces of whatever fresh fruit you have on hand. I like: apples, bananas, grapes, strawberries, pineapple.  Mix in some marshmallows to make it extra yummy.