Another Thanksgiving has come and gone. I've already disposed of the turkey because I could not look at that sad carcass one more day. I'm just turkey-ed out. I hope you guys had a nice Thanksgiving day/weekend! We invited a few friends over and I did most of the cooking, making all of my traditional dishes. I've never really hosted a dinner party like that before so it felt very grown up. I think it was a success!
It helped that we ended the night on a good note, which was this apple crumb pie. I've made it before, but after posting that Caramel Apple Cider last week, I could not get the whole caramel-apple combo out of my head. So I decided to experiment with the recipe and add some caramel! I did not have a plan B for dessert, so thankfully the pie turned out as good as I had hoped.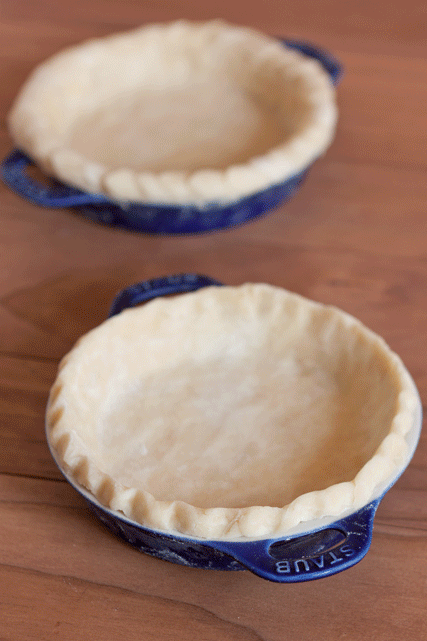 The ingredients list may look long but this pie is actually very simple. The chopped apple filling is drizzled with caramel and then sprinkled with a brown sugar streusel topping. It's like apple crisp in a pie shell!
The actual pie takes almost no time to make, but the crust needs quite a bit of prep, mostly involving waiting for it to chill. You can substitute your favorite pie crust recipe but I used a classic Martha Stewart recipe that always works for me. To make things faster you can use store-bought pie crust and caramel but if you have the time I think it's definitely worth it to make those components from scratch. Neither takes more than 20 minutes of hands-on time and they can both be made a day or two ahead.
I made a full size pie for Thanksgiving but when I remade it for this post, I used these cute mini pie dishes. It turns out this recipe works especially well as a mini pie. My one and only complaint about this pie is that it's very messy. Cutting it into a nice, elegant looking slice of pie is almost impossible. You're better off using a big spoon and serving it in a bowl. But if you make this as a mini pie, you don't have to worry about cutting it! It just looks much nicer serving someone their own little pie rather a mess in a bowl.
But thankfully, no matter how you serve it this apple crumb pie still tastes delicious. If you want something a little different from the standard apple pie this recipe is a good alternative.
Caramel Apple Crumb Pie
adapted from All Recipes and Martha Stewart's New Pies and Tarts
Dessert | Yield: One 9-inch pie or Four 5-inch mini pies
Prep time: 1 hour 15 min | Cook time: 45 min | Total time: 3 hours
Ingredients
Caramel Sauce:
1 cup sugar
1/4 cup plus 2 tbsp. water
2 tbsp. butter
2/3 cup whipping cream
Pie crust:
1 1/4 cups flour
1 tsp. sugar
1/2 tsp. salt
1/2 cup (1 stick) cold unsalted butter, grated or cut into small pieces
2 to 4 tbsp. ice water
Filling:
6 cups (4 to 6 apples) chopped, peeled tart apples
1/2 cup packed brown sugar
2 tbsp. unsalted butter, melted
2 tbsp. sour cream
1 tbsp. flour
4 tsp. lemon juice
1/2 tsp. cinnamon
1/2 tsp. cardamom or nutmeg
Topping:
3/4 cup flour
3/4 cup packed brown sugar
1/2 tsp. cinnamon (optional)
6 tbsp. cold unsalted butter, grated or cut into small pieces
Process
Caramel Sauce (this can be made 1 or 2 days ahead): Add the sugar and water to a small, heavy saucepan over medium-low heat. Cook, stirring gently, 3 to 5 minutes or until the sugar melts. Stop stirring and continue cooking for 5 to 10 minutes or until golden. Remove from heat and let stand for a minute. Stir in the butter until melted. Gradually add whipping cream, stirring constantly. Move pan back to stove and cook over medium heat, stirring constantly until smooth. Remove from heat and set aside to cool.
Tip #1: Instead of cutting the butter into small pieces, place the stick in the freezer for a few minutes to harden, then grate it with a cheese grater! The pieces will be uniform and easier to incorporate into the flour.
Tip #2: I prefer making pie crust in a mixer rather than a food processor. My food processor cuts up the butter too finely, but using my paddle attachment on the lowest speed, I can watch carefully and turn off the mixer before the crumbs begin to get too small. Pie crust (this can be made a day ahead): Mix together flour, sugar and salt in a mixer bowl or a food processor. Add butter and mix on low or pulse until mixture resembles course meal, with some larger pieces remaining. (See Tips) Drizzle 2 tablespoons of water over the flour mixture. Mix on low or pulse until it starts to hold together. If dough is too dry drizzle a bit more water (about 1/2 tablespoon at a time). Gather the dough into a ball. Wrap well with plastic and flatten the dough slightly into a disk. Refrigerate until firm, 1 hour or up to 1 day.
If necessary, let the dough soften at room temperature about 10 minutes. Roll out on a lightly floured surface, working from the center out to the edges. Turn the dough slightly as you roll to make sure it's not sticking to the surface. Once it's big enough, fold the dough over the rolling pin and then drape it over your 9″ pie dish. Gently press the dough to fit into the dish. Trim the edges, leaving a 1 inch overhang. Pinch or crimp the dough all around with your fingers. Transfer the pie crust to your freezer to harden for about 30 minutes.
Meanwhile, preheat the oven to 375 degrees (F). In a large bowl stir together the apples, brown sugar, butter, sour cream, flour, lemon juice and spices.
In a medium bowl, combine the flour, brown sugar and cinnamon for the topping. Add butter and use a fork to but it into until it resembles course crumbs.
Once the crust is ready, pour in the apple mixture. Warm up the caramel sauce if necessary and drizzle about 4 tablespoons all over the apples. Sprinkle evenly with the streusel topping.
Bake for 35 to 45 minutes or until the crust is golden and the filling is bubbly. Cool on a wire rack.

Serve warm, topped with vanilla ice cream and drizzled with caramel sauce.

Recipe Notes:

This pie is best served the day it's made. It still tastes just as good after a day or two, but the topping starts to look a bit mushy.

I like to use several different kinds of apples for this pie. I would recommend half Granny Smith and half Jonagold, Gala or Honeycrisp apples.