You know that saying, "An apple a day keeps the doctor away?" Of course you do, everyone does, but I wonder how many people actually eat an apple every day? After eating poorly and—not surprisingly—feeling crappy all summer I've been making an effort to get my diet back on track and eating an apple every day was the first thing I decided to do. But not just apples, I've been making sure I have at least one fruit or vegetable with every meal. That includes dessert, too, which is where this wonderful Brown Betty comes in.
A Brown Betty is a dessert that's similar to a crisp but instead of just having the awesome streusel-y part on the top you get several layers of it. Crisps are already one of my favorite desserts so a layered version is even better! Like a crisp, a Brown Betty is very simple and doesn't take long to make. I've seen lots of variations but generally they consist of fruit and some kind of bread or cookie crumbs. I was inspired by a recipe that I found in one of my favorite cookbooks, but I wanted to make it a bit more seasonal so I adapted it to incorporate some of my favorite Fall/Winter ingredients.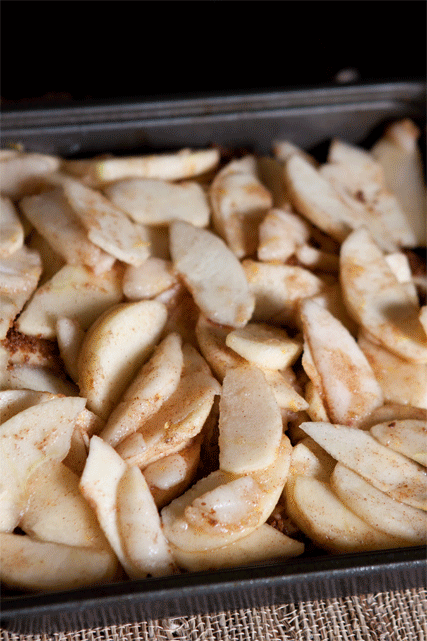 The "crust" is a simple mixture of gingersnap crumbs, sugar and butter just like any gingersnap/graham cracker pie crust. It's sprinkled on the bottom of a pan and then topped with fruit. Then you add another layer of gingersnaps and fruit and finish with more gingersnaps sprinkled on top. So easy!
Apples and pears were a no-brainer since they go so well with ginger. I had also picked up a few quinces at the grocery store and since I've seen quince paired with apple in other recipes this seemed like a good way to use them. A quince is similar to an apple but it's very hard and sour when it's raw. However, when cooked it softens and tastes like a tart apple. The tartness and slight crunchiness of the quince is a really nice contrast to the sweet and very tender apples and pears in this dessert. If you can't get your hands on any quinces this Fall, try substituting a tart apple like a Granny Smith.
This dessert isn't very pretty but when you take it out of the oven it looks and smells so good with its crunchy, crumbly top and bubbly center. This recipe would be very easy to half or double depending on how many servings you need. It would also be easy to make in a ramekin if you wanted an single serving all for yourself. Besides, if that saying about apples really is true you'd be doing yourself a favor.
Apple, Pear and Quince Brown Betty
adapted from Rustic Fruit Desserts
Dessert | Servings: 6 to 8
Prep time: 20 min | Cook time: 1 hour | Total time: 1 hour 20 min
Ingredients
2 large apples, peeled, cored and sliced 1/4″ thick
2 large pears, peeled, cored and sliced 1/4″ thick
2 quinces, peeled, cored and sliced 1/4″ thick
1/2 cup apple juice or apple cider
Juice and zest of 1 lemon
1/2 tsp. salt
3/4 tsp. cinnamon
1/2 tsp. cardamom or ginger
2 cups (5 oz.) crushed gingersnaps or graham crackers
1/2 cup (4 oz.) unsalted butter, melted
1/4 cup sugar
Process
Position a rack in the lower third of your oven and preheat to 350 degrees (F). Spray or butter a 9-inch square baking pan.
Combine sliced apples, pears and quinces in a large bowl. In a small bowl stir together apple juice, lemon juice and zest, salt and spices. Pour mixture on the fruit slices and mix until evenly coated.
Stir the cookie crumbs, melted butter and sugar together. Sprinkle 1/3 of the mixture on to the bottom of the baking pan. Evenly spread half the fruit mixture on top of the crumbs. Top with another 1/3 of the crumbs. Spread the remaining fruit on top and sprinkle with the remaining crumbs.
Cover with foil and bake for 30 minutes, then remove the foil and bake for another 25 to 35 minutes or until the filling is bubbly and the topping is toasted. Serve warm, topped with ice cream.
This dessert is best the same day it's made but still good the next day, too. Cover leftovers loosely with foil or plastic wrap. To reheat, bake in a 300 degree (F) oven until warmed through, about 15 to 20 minutes.
Recipe Notes
You can use any kind of apples and pears you prefer but I suggest using a sweeter apple like Gala or Fuji.
If you're unable to find quince try substituting a tart apple like Granny Smith.