Search Results
October 22, 2008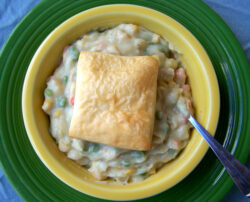 We've already established how much I love Jason's Deli. Well, this soup is another item they have that I love almost as much as their muffins. When I was searching around for a similar recipe, I wound up finding two. One was made from scratch and kinda high in fat, while the other was uber simple (10 minutes to make it – TOTAL) and low fat. I decided to make both and see how they compared. In end all taste-testers (which…
November 17, 2009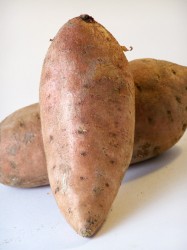 It's Thanksgiving week on Back to the Cutting Board, which means you get not one recipe like usual, but a ton of yummy Thanksgiving recipes over the next 4 days! This was all brought by the people at SpringPad who invited me to participate in their Springsgiving Event. My mission, if I chose to accept it, was to come up with a Thanksgiving menu consisting of five dishes: appetizer, turkey dish, two sides and a dessert. I didn't get…
June 15, 2011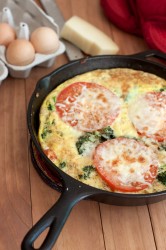 Eating more fresh produce has been a goal of mine since I started this blog. Before that, the few times a week when we weren't eating at a restaurant or ordering take-out, most of the dinners I made came from boxes and the only produce I bought at the grocery store was maybe a few bananas, apples or potatoes. Heck, I can't even say I bought potatoes all that often because Brandon still teases me about all the boxed mashed potatoes…
March 29, 2011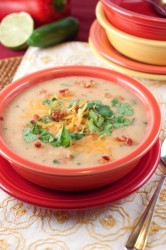 It feels weird to be posting a soup recipe when it's almost April, but it actually snowed in Charlottesville this past weekend so Spring isn't quite here yet, at least for many of us in the top half of the country. And you know what? That's kind of okay with me. Spring is beautiful time of year up here, but I actually prefer cold weather. Plus I get to eat more soup! I don't think there's anything I love more than…
September 26, 2011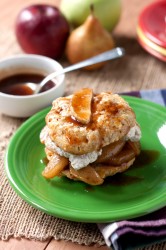 I've been learning to cook for several years now and I finally feel like I'm getting a handle on adapting recipes and improvising to suit my needs, but since I never went to culinary school or anything like that some of the science behind making food still eludes me. Baking can be especially tricky since I've been trying to use more whole grain flours and they don't have quite the same properties as white flour….
February 15, 2012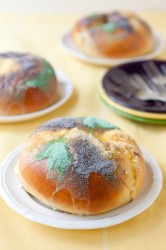 Even though I haven't lived anywhere that celebrates Mardi Gras for a very long time, I grew up on the Gulf Coast and still have lots of fond memories of going to the parade every year. And since my birthday is in late February, Mardi Gras has fallen on or near the same day—the date changes every year, along with Easter—a bunch of times so I would usually have some kind of Mardi Gras themed party and we'd order a King…
October 6, 2011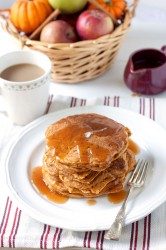 I hope you guys like pumpkin and apples because those are pretty much the only two ingredients I'm interested in baking with for at least another month (ok, that's probably not true…I may have to use chocolate at some point). In fact, I've been going back and forth since last week about whether I should post another apple recipe or another pumpkin recipe and finally the idea came to me to put both of them together in…
September 19, 2012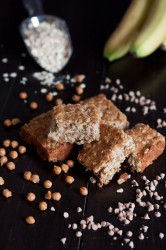 I don't know what it is about bananas but I always feel compelled to buy a huge bunch of them despite the fact that most of the time I eat three or four while the rest sit there and rot. But then I wind up standing in front of the bananas again at the grocery store and telling myself that this time I'll really eat them all. THIS TIME. I'll eat two a day! I swear! Yeah, right. But now, I finally have a good excuse for letting…
October 27, 2010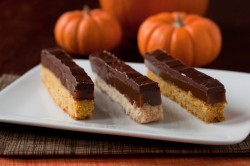 Well, I tried. I told myself I was going to stay away from desserts for a while. But….TWIX BARS. I really tried, but come on. TWIX BARS!!! Plus, with Halloween coming up I actually had a good excuse to make them. It's not me, it's Halloween. Halloween made me do it. Really, it couldn't be helped. (In my head this is a perfectly logical argument.) Whatever the excuse, I am so glad I made these because they are fantastic….
January 25, 2012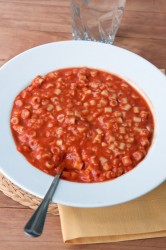 Ok, it's confession time. While my eating habits have improved a lot over the past couple of years, I still have a lot of weaknesses for the unhealthy processed food I used to eat all the time. Things like corn dogs and snack cakes and store bought cookies. But the good thing about learning to cook is that you can learn to make all the "bad" stuff you love. Yes, it may still be unhealthy, but at least you know every single…