October 25, 2009
Late last week I finally got the island I ordered for my kitchen, which adds almost 4 glorious feet of counter space, so on Saturday I had an itch to break it in with some type of fun recipe that involved rolling out dough. Scanning through my cookbooks, I saw this recipe and it definitely fit the bill. I wound up modifying it to fit the ingredients I had in my pantry (mainly I substituted raisins for figs and added cinnamon and ginger), but it turned out really, really good.
And seriously, what's not to love? It's a giant cinnamon roll. Let me say that again: a cinnamon roll the size of a cake! It's taken a lot of effort to eat this thing like an actual cake (ie you cut a small section from it) instead of just unrolling and eating the whole thing the way I usually eat cinnamon rolls.
August 7, 2008
Have you ever seen two different recipes for the same thing and didn't know which one to make? That happens to me all the time. Sometimes I don't bother at all, thinking it's too much pressure to pick the "right" recipe, but if it's something that looks really good I might just make both and see what I like better. That is the case for these dueling snickerdoodle recipes that I found on two or my favorite sites: What Geeks Eat and Simply Recipes. The big difference between the recipes is the Shuna's at Simply Recipes has cornstarch, while Vanessa's has the more traditional cream of tartar. You can go read Shuna's post about why cornstarch is special. Due to this different "secret" ingredient in the cookies, I found the outcome of both to be completely different tasting cookies.
If you are cookie dough connoisseur, the cornstarch recipe wins hands down. I LOVE cookie dough, but I could barely eat any of the other recipe because it was too flour-y. The problem comes after you bake them. The cornstarch cookies have a really nice …
February 1, 2012
I know oranges are available year round but for some reason the only time I actually want to eat a whole orange is in the early months of year when my two favorite varieties are available: Cara Cara and Blood Oranges. When they show up at my grocery store I start hording them so I'll be able to eat as many as possible before they disappear again. I haven't been to the grocery in a few weeks, so when I went on Monday and saw they finally had blood oranges I grabbed a bunch and decided it was a sign that I had to make something delicious out of them. I was so energized by the idea that I found myself in the kitchen at 11pm later that night making these scones. If I had any regrets about staying up too late I forgot them as soon as I took a bite of one the next morning.
As I said last fall, cream scones are the only way to go. All the scones I've tried to make without cream were dry and dense and almost inedible. After some searching I think I …
April 9, 2013
I was recently given my grandmother's box of recipes, most of them handwritten, probably many, many years ago and it's been really fun going through it and seeing what her favorite recipes were. My mother also had a similar recipe box filled with cards and magazine clippings that I look through periodically. Cookbooks are great, but I love taking one of those meticulously written recipe cards out the box and trying to decipher the tiny, perfect cursive handwriting; trying to follow the sometimes very opaque directions; chuckling at old-fashioned ingredients like "oleo."
Sometimes I think there is too much importance placed on "original" recipes. I love finding a recipe and knowing that it was made the same way for years and years by my grandmother or my mother or hundreds of people's grandmothers and mothers. I love having a whole boxes of recipes that have been passed down over and over. Maybe my mom got that recipe from her sister. Or maybe my grandmother got that recipe from a friend. Maybe they never even got a chance to make it, but they still …
March 18, 2009
This easy to make recipe is from the Philippines. You might think it was just your garden variety chicken and rice dish, but the sauce is so good it takes it to a whole other level. It's rich, tangy, tart and kinda sweet all at the same time. Maybe like a Filipino version of BBQ sauce…but honestly that description does not do it justice at all. You just have to taste it, you'll see what I mean. I got it from Mark Bittman's cookbook How to Cook Everything
, which I LOVE and highly recommend for the sheer number of recipes, but also the tips and helpful info he offers.
I'm pretty sure I remember Anthony Bourdain talking about Adobo on a recent episode of No Reservations? It's a very popular Filipino dish and this recipe can be made with chicken or pork, but I remember him saying there are tons of variations. If they are all as good as this, then I need to find more Filipino recipes because I could eat this …
January 26, 2011
Streusal is probably one of my most favorite words to say as well as one of my favorite things to eat. But now I have a new favorite word: Kuchen. Kuchen just means cake in German, but it's so much more fun to call it kuchen, isn't it? Whatever you want to call this recipe, it's really good and very easy to make. It got the Brandon seal of approval and he rarely likes fruit-filled cakes, especially ones with cranberry. He said it tasted way too good to be a light recipe, but it is, so you don't even have to feel guilty about eating it!
This is basically a coffee cake, but it doesn't matter if you eat it for breakfast or dessert. I would venture to guess that you'll want to have it both times! It's an extremely moist cake, filled with caramelized pears and dried cranberries and then topped with a delicious streusal topping (I added some oats to give it a bit of crunch and make it healthier). You can also make this recipe with apples and raisins if that's more …
December 20, 2010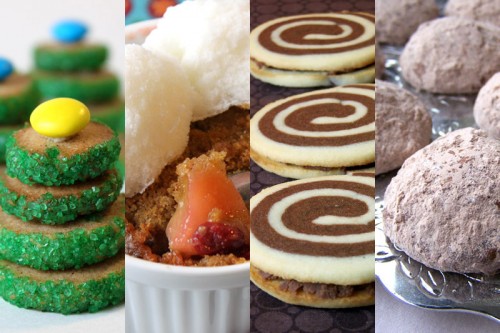 I tried to make a pie for you guys this weekend. I really did. But, it didn't work out. I could post it, but (A) it's really ugly and (B) it's just ok. I think it could be really good, but the recipe needs work and probably a whole different crust (I think it needs to be a tart instead of a pie), so I'll wait to post it until I have it right. But unfortunately, that leaves me with nothing to post this week, so I decided a round up was in order. These are all great choices if you're looking for some last minute cookies or sweets to make. You also may want to check out the Cookies archive as there are a few others I didn't include here.
I have a really awesome dessert I'm planning for Christmas dinner, so I may go ahead and make it early and try to get it posted here, but if I don't, I hope everyone has a lovely weekend! 🙂
December 23, 2008
In January I promise to post some low fat recipes to get in the New Year's resolution diet mood, but until then it's still December and I'm baking like there's no tomorrow! The cookies come to me courtesy of my boyfriend's grandma from Tennessee who I like to think of as the quintessential southern woman. Almost every time I've been over to her house she has a feast prepared, even if she's only expecting a few people to come over! Brandon compares my cooking to hers all the time (That's not how my grandmother makes it…), but that's ok because she's a great cook, so if I could be as good as her one day that would be a great compliment.
I'd never had these cookies until the first time I went over to her house and I think I must have eaten about 50 of them that day because now every time I go back she'll tell me that she made my favorite cookies. She's even sent us a big batch of them for Christmas in years past. But since Brandon had forgotten to send …