August 11, 2011
It's still pretty hot out, but I can't put off posting this recipe anymore. It's worth heating up your kitchen on a hot summer day to make this for dinner. If you've been reading this blog for awhile you may remember last year when I posted a recipe for thyme-roasted chicken and I said it was the best roast chicken I've ever had. I'm not going back on that, in fact I still stand by that statement and I still make it regularly. But. Even the best recipes can get stale if you make them over and over again. That's where this chili-roasted chicken comes in to save the day. Now I alternate between the two recipes so we never get tired of eating either of them!
The thing that attracted me to this recipe in the first place is that the method is really similar to the other recipe but the flavors are completely different. The key in both recipes is to rub the herb/spice mixture underneath the skin, directly onto the meat. That makes the chicken extra tender and flavorful. This recipe uses a spice rub with chili …
February 22, 2011
To celebrate Valentine's Day and my birthday, Brandon and I spent a wonderful weekend in a little cottage I rented in the mountains a few hours away. It was such a fun getaway: we did some hiking, we drove around and got lost and we spent a lot of time soaking in the hot tub. When we got back home on Sunday afternoon, I wanted to make myself a birthday cake but after such a relaxing weekend I didn't want to deal with complicated recipes or put time into making something that didn't turn out great. That's why I love the internet and recipe sites with reviews like Epicurious. I mean, if you can find a cake that has 1,400+ mostly raving reviews, that has to be a good cake, right?
I am very glad to have found this recipe because those reviewers were right: I now have my ultimate chocolate cake. I honestly can't imagine another cake being able to surpass it. It's made with coffee and oil which result in an extremely moist and soft, but dense cake. I'm pretty picky about my …
April 30, 2009
This is just a damn good dinner. I mean, come on, can you ever go wrong with bacon? Bacon makes everything better (Seriously people, you can still eat bacon, virus be damned). Also, sweet potatoes are in my top 5 favorite foods ever. I could eat them pretty much everyday and I think they get a bad rap as being "that stuff with marshmallows that you eat at Thanksgiving". They are way more versatile than that one dish (see exhibit B another great chicken dish with sweet potatoes and where I got part of the inspiration for this recipe).
I've been making this chicken dish for a while and it's always a treat. In fact, I don't make it all that often because I think of it as my "special" chicken dish. I think it tastes better when you only save it for special occasions.
While I wouldn't call the recipe hard, I definitely struggled with it the first few times I made it, but that may have just been my cooking inexperience. If you're not prepared then it can be really …
March 20, 2013
After my trip down to the Gulf Coast in February, I came home with a ton of Meyer Lemons from my aunt's own tree. I've been steadily trying to use them up in muffins or any other lemon recipe I could find, but in the end I wound up making lemon curd. I hope everyone reading this has made lemon curd before and if not, get yourself some lemons so you can make it soon! The process is quick and simple and you'll want to spoon some of that sweet-tart lemony goodness on everything from your morning toast, to your ice cream for dessert.
Since I had so many lemons to use up, my batch turned out to be almost 3 cups of curd, which unfortunately wasn't going to keep forever. I'm more than happy to eat it by the spoonful but I knew I had to find a way to use it up faster. As I was swirling lemon curd into my yogurt, I realized it would be the perfect addition …
October 17, 2012
I'm so happy that the weather is cooler because now I can finally make my favorite comfort foods again. The list includes:
Unfortunately, all of those recipes either heat up the kitchen too much or they're just too hot to eat on a muggy summer day so I haven't made them in what feels like forever. When I was excitedly making up a new weekly meal plan full of these recipes I realized I hadn't yet shared one of my very favorite comfort foods: Barbecue Chicken!
Back when I lived in Florida, Brandon and I had a favorite barbecue restaurant nearby that we ate at regularly but when we moved to Charlottesville the nearest good barbecue was a 45 minute drive away. That's when I started making this recipe so that we could still get our barbecue fix. Barbecue sounds like it could be time-consuming to make and in the past I have tried other recipes that took a lot longer which is why I love this recipe. You …
January 23, 2013
I don't know about you, but it's pretty cold where I am. And I'm down in Tennessee so if it's cold for me, I know it's lot colder for many others. When the temperatures get down this low all I want to eat are warm and comforting foods. I crave thick soups and stews or pot roast or chicken and dumplings. But it's also January, and while I didn't specifically make a New Year's resolution to go on a diet, I definitely overindulged over the holidays and have been trying to eat better this month.
Thankfully, Cooking Light came to the rescue with their Comfort Food cookbook that I bought recently. Their Shrimp Etouffee is just the kind of warm and comforting dinner that I want when it's below freezing outside but I can also feel good about eating it since the recipe has been lightened.
April 6, 2012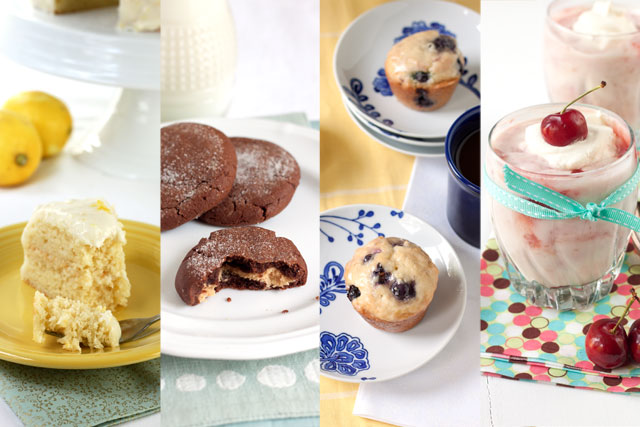 I was hoping to get a new recipe up here this week but several work deadlines haven't left me with much free time. So with Easter coming up I thought it would be a good time to post a round up of my favorite Spring recipes. At the end I also included a few links to fun looking Spring/Easter recipes from some of my favorite food bloggers. Check them out!
I'll be back next week with a new recipe. Hint: it's not very Springy but it'll be great for Cinco de Mayo next month. 🙂
July 28, 2011
Are you tired of hearing people complain about the heat yet? Well, sorry, but I live in Virginia and it's hot here. I am literally counting down the days until Fall because I HATE this heat with a passion. No wonder I was so miserable when I lived in Florida! Fortunately, the fact that I have a real Fall and Winter to look forward to makes Virginia much more bearable, even when it's 100 degrees outside. I had a whole different recipe prepared to post, but it involved chile powder and a 400 degree oven and I just couldn't post it. It's too damn hot outside to even think about turning on the oven that high.
Instead, I decide to make the complete opposite. It involves no cooking (well…unless you count boiling a cup of water) and it's frozen. And it has my new obsession: watermelon. I've always loved watermelon, but at the grocery store earlier this month I realized that I hadn't bought one in years. I have no idea how that happened, so I've been trying to make up for it by eating …