March 2, 2011
I generally put a lot of effort into making dinner. I comb through my cookbooks and bookmarks to come up with a meal plan every week and I try to make dinner most nights so that we won't go out to eat instead. Brandon is a good sous chef and helps me prep everything, but sometimes I'm just not in the mood to put in all the effort, so over the past couple of years I have gathered a bunch of go-to recipes just for this occasion. I keep the ingredients in stock so that if I'm tired or I forgot to defrost the meat for my planned recipe or whatever else goes wrong, I can pull them out and have dinner within an hour. This is one such meal and probably the one I default to the most. I realized I had never blogged about it, which felt weird since we eat it so much. But I think it's because these chicken tenders are so good that I've never wanted to bother with photographing them when I could be eating them …
May 27, 2009
I've been on a strawberry kick lately (seriously, I hope you like strawberries because I have two more strawberry recipes coming up). I also finally bought a tart pan last week and I wanted to make something fun and different. This may not sound like such a "different" dessert, but it's really different for me. The majority of the desserts I make are either cake or cookies (or some variation like cupcakes and brownies). I've only make pie during the holidays and as much as I'd LOVE to make my cheesecake all the time I have to force myself to save that for special occasions.
Anyway, I found this recipe in my favorite cookbook and decided to go for it. I'm glad I did because this was damn good but it's kind of involved. It's definitely worth the effort to make, but like pies and cheesecake, I think this is a "special occasions" kind of dessert. It's not difficult, per se, but there's a lot of steps because you have to make all the parts (the crust, the …
December 20, 2010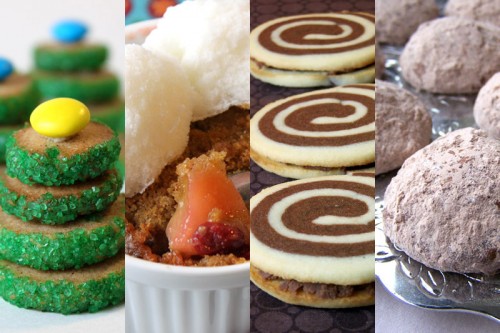 I tried to make a pie for you guys this weekend. I really did. But, it didn't work out. I could post it, but (A) it's really ugly and (B) it's just ok. I think it could be really good, but the recipe needs work and probably a whole different crust (I think it needs to be a tart instead of a pie), so I'll wait to post it until I have it right. But unfortunately, that leaves me with nothing to post this week, so I decided a round up was in order. These are all great choices if you're looking for some last minute cookies or sweets to make. You also may want to check out the Cookies archive as there are a few others I didn't include here.
I have a really awesome dessert I'm planning for Christmas dinner, so I may go ahead and make it early and try to get it posted here, but if I don't, I hope everyone has a lovely weekend! 🙂
August 4, 2010
I'm not 100% happy with the name of this recipe. Caramelized Cinnamon Toast might be better, but calling it French Toast is more descriptive of how it's made. I would say this is a combination of French Toast and Cinnamon Toast, but Caramelized Cinnamon French Toast is way too long, so we'll just keep it simple. Everyone knows what French Toast is, right?
I've never been a big fan of French Toast. Don't get me wrong, I've never disliked it, but in the world of breakfast foods, I'd usually rather have pancakes or pastries. In fact, I'm not sure I've ever even made it at home before. I remember my mom used to make it when I was a kid (though not as much as pancakes or waffles) and of course I've had it at restaurants, but I guess it's never occurred to me to actually make French Toast myself. But Cinnamon Toast? Well, that is one of my most favorite things in the whole world. I make that all the time. So much so that I have a bottle just to store my …
October 9, 2012
It looks like Fall has finally arrived in Tennessee this past week. The temperature has been dropping as the leaves are starting to change and that has me instinctively heading into my kitchen to bake with my favorite ingredients: pumpkin and apples! This recipe is inspired by the apple fritter bread and pumpkin streusel bread that I've been obsessively buying from Target for the past couple of months. I'd been wanting to try to make a homemade version of the apple fritter bread but then I realized it would be so much better if the apple fritter bread had pumpkin in it, too!
I started with a pumpkin yeast bread recipe that I really like because it's quite healthy in addition to being delicious. It's made with all-purpose flour but also has some whole wheat flour and oats to add whole grain goodness to it. If you've baked with pumpkin before you know it's not hugely flavorful (especially combined with 8 cups of flour!) but it adds natural sweetness and definitely helps keeps the crumb soft and moist. On it's …
July 9, 2008
So this is one of those titular "30 Minutes Meals", which is definitely what attracted me to this recipe. Well, that and the potatoes. I love red potatoes! The problem is that it took wayyyy longer than 30 minutes, but I fully attribute that to the fact that I've never made it before and that I'm just a slow cook. I have no doubt an experienced cook would totally knock this out of the park in 30 minutes, but it you're like me, it's probably going to take you longer.
I made quite a few mistakes with this one (though it still turned out well), so after the recipe I will include notes that go a bit more into my process and what I learned, so that you won't make the same mistakes as well. As usual I made some substitutions which I'll note also, but I'm listing the original ingredients.
November 20, 2009
I'll always remember my first Thanksgiving with Brandon when we were living in our first apartment together at the ripe old age of 20 and I didn't really know how to cook anything except brownies. The turkey was the thing I most afraid of. I had always thought that cooking a turkey was so complicated and was surprised to find that it…wasn't. I had much more problems with my stuffing which I completely ruined when instead of using a real actual onion (I think the only vegetables I cooked with back then were potatoes and tomatoes) I put in 1/2 cup (!!) of onion powder. You haven't tasted onion until you put a 1/2 cup onion powder in something. To this day I really can't use onion powder in anything, I think I used up my life quota of it.
But anyway, I think anyone can make a turkey. As long as you keep an eye on it and baste it regularly, there isn't much thought or work involved. And the end product is almost always impressive looking and something that you can feel proud of cooking. …
September 13, 2011
I love graham crackers, so I've been wanting to make these for a long time. Graham crackers are just about the only packaged "cookie" that I buy because they're the only ones that I don't totally lose control around. I can eat a couple of graham crackers and be totally satisfied, unlike Oreos where I want to eat about 20 of them at a time. Graham crackers are in that perfect spot between healthy and indulgent and you can do so much with them like make smores or dress them up by slathering on something delicious. These days, I'm very partial to a graham cracker sandwich with nutella on one side and marshmallow cream on the other. So simple, so good!
But laziness has always stopped me from making graham crackers at home. It's just easier to pick up a box at the grocery store. But when I saw this recipe in my favorite cookbook all my excuses went out the window because you can't buy these graham crackers in the grocery store. They're made with whole grain flours so they're healthier and more flavorful that any store bought version. In the past, …