January 19, 2009
So I'm finally back. We moved in to the new apartment about a week and half ago and I got the last few things unpacked and my pictures hung this weekend so I guess we're officially settled in. After looking through my cookbooks I went on a grocery shopping spree last week and restocked my new kitchen (LOVE my brand new oven and dishwasher) and I've been cooking up a storm since then. Because, seriously, for the two weeks while we were moving, ALL we did was eat at restaurants and fast food places. I was sooooo tired of greasy food by the end of it and I think I've had my fill for the foreseeable future.
So for the next month (up until my birthday, exactly a month away), my goal is try as many recipes as possible from my Weight Watchers cookbook. I'm not going to be doing the whole point counting thing (though I have in the past and lost a substantial amount of weight) but I definitely want to concentrate on eating better (more vegetables, whole grains, etc.) and trying to be healthier …
May 20, 2010
Do you ever go to the grocery store and randomly pick up something that looks so inviting or is such a good deal that you can't pass it up, even though you don't know what you will actually do with it? Well, that's how I ended up with 2 cartons of giant blackberries this week. They were beautiful and they were buy one, get one free. How could you not buy those?
But then, if course, I had to find something to make with them so they wouldn't all go to waste (although they were pretty perfect in a bowl with a little sugar sprinkled on top, too). I already posted a blackberry cobbler a while ago, so that was out. After searching around for a while, this recipe jumped out me, and for good reason! It's extremely simple and produces a very moist and delicious cake. And since I really like the combination of lemon and blackberry, I added a lemon glaze on top (the same one from these lemon cakes). I think the glaze perfectly balances out the tartness …
September 1, 2009
Thanks to twitter I recently discovered it's possible to make ice cream without an ice cream maker. I honestly had no idea this was possible and have been actively contemplating buying an ice cream maker this summer after seeing so many great homemade ice cream recipes. But then my popcorn popper died (after weekly use for almost 2 years it was worth it's $30 price tag) and I decided it was much more important to replace it than to buy an ice cream maker. But just as I had given up on being able to make ice cream, someone on twitter complained about not having an ice cream maker and another person replied with a link to instructions for making it by hand. I did some googling and found some more tips. Turns out it's really easy. No, not as easy as pouring it into a machine, but for the most part with this method you are letting your freezer and a hand mixer do all the work, so it's still not especially labor intensive.
First, I had to decide what …
September 17, 2013
One interesting aspect of Whole30 has been adding a lot more protein to my diet. In the past, I didn't eat much meat during the day, for the most part defaulting to smoothies, toast, cereal/oatmeal and sandwiches (usually PB&J) and for dinner I'd usually make some kind of chicken or fish (occasionally pork or beef) that was served alongside pasta, rice or potatoes. So when I started Whole30 and I couldn't eat any gluten, grains or starchy vegetables I basically had to start over. I never had a problem planning dinners but breakfast and lunch was hard to figure out.
It quickly became apparent that when I ate meat and/or eggs during the day, I had a lot more energy and felt much better. Despite that, it's been a big adjustment, since the meats I prefer (bacon, ham, lunch meat) have added sugar or chemicals so I'm not allowed to eat them. To keep my energy up during the day, I've mainly been eating a lot of eggs …
December 4, 2008
I decided to buck tradition this year and I made a cheesecake for Thanksgiving instead of apple or pumpkin pie. Brandon and I both LOVE cheesecake and he insists that it's more pie than cake, so in his mind I still made the traditional pie. I used my previous cheesecake recipe, (which IMHO is the best) but modified it by adding melted white and dark chocolate, a method I've seen in a bunch of other recipes. If you remember from my previous sojourn into cheesecake baking I had some issues getting it right (it looked undercooked, though it really wasn't). I baked it a bit differently this time and found this is definitely the right way to do it. Plus I think this new method makes it much more like a real New York cheesecake (or so I've heard) because it browns the top and sides slightly. While this method made the top kind of flaky looking (nothing you notice when you are eating it), the cake itself didn't crack.
September 30, 2010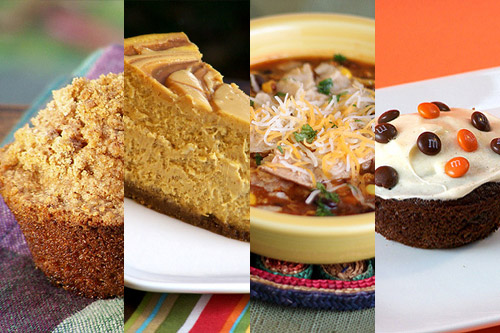 Okay, I'm cheating a little with this post. I've just gotten back from vacation so I haven't had time to try out any new recipes in a few weeks, but I did bake a bunch of muffins and breads to take on our trip and that got me looking though my recipe archives. Plus, I've seen a big increase in search engine traffic looking for soups and other Fall comfort foods, so I thought I'd make a list of my favorites.
I'll be back next week with something new, until then try out some of these great recipes:
December 20, 2012
I always have grand plans every Christmas. This year I'm going to send homemade Christmas cards! This year I'm going to make peppermint bark and send it to everyone in pretty tins! This year I'm going to make cookies for Brandon's whole office! Over the years, I have actually accomplished all of these things—though rarely all in the same year—but sometimes it doesn't work out. I get too busy with work or I'm just too lazy to make all the effort.
This is definitely one of those years. This month has gone by so fast, and I can't believe we're less than a week from Christmas. I have a few (store-bought) cards and (not handmade) gifts to send but who knows when I'll get to the post office. I still have quite a few people to find gifts for! Besides all that, I also have work deadlines hanging over everything. I hate being this stressed, especially during my favorite time of the year! All I really want to be doing this week is watching Christmas movies and …
March 3, 2010
I'm not sure why it's taken me so long to post this recipe. I've been making it since last year . It's one of my favorites and something I make regularly. I have another more traditional chicken pot pie recipe which I like a lot, but that recipe is most certainly not low fat so I don't make it as much (usually only after holidays to use up the extra chicken/turkey). This recipe is a lighter version of chicken pot pie, but it tastes just as good. I got it from the Weight Watchers website and while I've made some modifications to it, it's still pretty light, especially compared to other chicken pot pie recipes you'll find.
As I've mentioned before, I love using ramekins to make individual portions of my favorite recipes. I'm not so good with the portion control so I like having things portioned out for me in advance. It's just easier that way. You can make this in 4 small ramekins (10 oz.) or 2 large ramekins (20 …