August 14, 2008
When I made my last trek to the grocery store, I was wandering aimlessly around the produce section (as you do) and saw they a large carton of blackberries on sale. I love blackberries and this made me think back to when I was kid living on the Mississippi Gulf Coast. My neighborhood was right across from the beach (I say was because it's not there anymore due to Katrina) and there was house at the front of the street that had been ripped away by one hurricane or another and all that was left was the foundation. Plants and weeds had grown up around the destruction over the years and it was CRAZY with blackberries. I remember riding my bike over there in the summers and picking blackberries and then I brought them home and my mom made a yummy cobbler with them.
April 30, 2009
This is just a damn good dinner. I mean, come on, can you ever go wrong with bacon? Bacon makes everything better (Seriously people, you can still eat bacon, virus be damned). Also, sweet potatoes are in my top 5 favorite foods ever. I could eat them pretty much everyday and I think they get a bad rap as being "that stuff with marshmallows that you eat at Thanksgiving". They are way more versatile than that one dish (see exhibit B another great chicken dish with sweet potatoes and where I got part of the inspiration for this recipe).
I've been making this chicken dish for a while and it's always a treat. In fact, I don't make it all that often because I think of it as my "special" chicken dish. I think it tastes better when you only save it for special occasions.
While I wouldn't call the recipe hard, I definitely struggled with it the first few times I made it, but that may have just been my cooking inexperience. If you're not prepared then it can be really …
April 17, 2013
Do you ever get obsessed with a certain food and eat it every single day for weeks or even months? This is not a rhetorical question. I'm genuinely wondering if I'm crazy or not. I do this same thing with new music or TV shows on Netflix, so it may just be my personality to become obsessed with things. In this case, I've recently rediscovered my childhood love of cinnamon toast that my mom used to make for me. My new favorite afternoon snack is cinnamon toast with a cup of my favorite Earl Gray tea. I cannot get enough, even though I know that eating bread with butter and sugar on it everyday is not the healthiest thing in the world. Eventually, I'll get tired of it and move on but I can tell I'm not anywhere near that point yet.
In the midst of the cinnamon toast obsession I was browsing through my grandmother's recipe box again looking for inspiration. I don't intend for all the recipes I post here from now on to be from her collection, but I have to …
December 16, 2008
I think Mexican Wedding Cookies are one of the quintessential Christmas cookies out there*. Besides decorated sugar cookies and gingerbread men, they are definitely what come to my mind when I think of holiday sweets. I've also seen them called Mexican Wedding Cakes or Russian Teacakes. I remember my mom would make them for Christmas parties and she'd always have to make special ones for me because I don't like nuts.
*Update 5/1/2009: A commenter said she was making these for Cinco De Mayo, too. Great idea!
Last month I thought about these cookies, which I haven't had in years, and decided to whip some up. They are so easy to make and just as good as I remember. I still don't like nuts and I think these cookies taste just fine without 'em. The recipes I looked at instructed me to make them into balls, but I always remember that my mom made hers into crescent shapes. I obviously didn't have her technique down because mine weren't as nicely shaped as I remember hers to be. I guess that's why …
March 21, 2012
Spring is officially here! And in the spirit of spring cleaning I've started going through my packed freezer to finally use up the last of the fruit that I froze last year. I got a ton of blueberries and blackberries from my CSA and have been using them in muffins all winter but after last week's Pop Tart adventure I didn't really want muffins or anything too carb-y. I've been craving a lemon dessert lately and lemons always pair well with berries so this was the perfect opportunity to finally make something.
Even though lemons are technically a summer fruit, there's really nothing else that evokes Spring to me as much as a lemon. It's just so fresh and bright, like the colorful blooms that are popping up all around my neighborhood these days. It's the perfect thing to help transition between the stark coldness of winter and the hot sunniness of summer.
I had bookmarked a recipe for lemon cream a while ago so I finally decided to give it a try. The recipe turned out to be so simple and tasty that I immediately made another …
March 18, 2009
This easy to make recipe is from the Philippines. You might think it was just your garden variety chicken and rice dish, but the sauce is so good it takes it to a whole other level. It's rich, tangy, tart and kinda sweet all at the same time. Maybe like a Filipino version of BBQ sauce…but honestly that description does not do it justice at all. You just have to taste it, you'll see what I mean. I got it from Mark Bittman's cookbook How to Cook Everything
, which I LOVE and highly recommend for the sheer number of recipes, but also the tips and helpful info he offers.
I'm pretty sure I remember Anthony Bourdain talking about Adobo on a recent episode of No Reservations? It's a very popular Filipino dish and this recipe can be made with chicken or pork, but I remember him saying there are tons of variations. If they are all as good as this, then I need to find more Filipino recipes because I could eat this …
November 11, 2010
I love bread. It's probably my favorite food. When we order pizza, I take off the greasy cheese and just eat the crust. My favorite restaurants are the ones that bring you a basket of bread. Low-carb diets? I couldn't make it more than a couple days. I have a pretty major sweet tooth, but if I was ever forced to choose between bread or sugar, well, this blog would have a whole lot less desserts on it. (But let's really hope that "Sophie's Choice" never comes to fruition, okay?) What I find really strange is that despite my love of bread, I have never had bread pudding before. I don't know how that happened, but I have been meaning to rectify it for a while.
I had a loaf of raisin bread sitting around and getting stale so I finally decided this was the day! And when I found a recipe for bread pudding that also had pumpkin (which regular readers know I am obsessed with right now) it was a no-brainer. That was the recipe I had to make.
April 6, 2012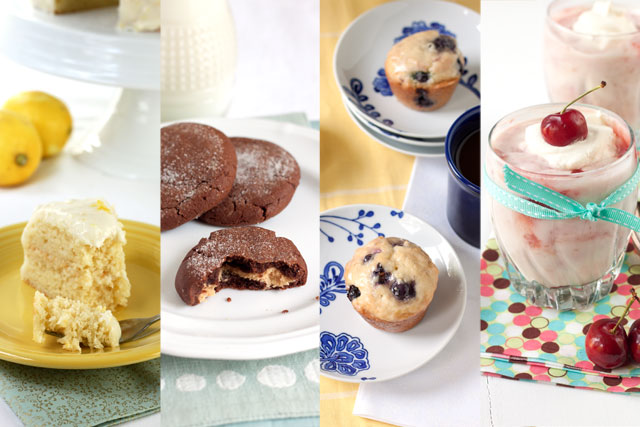 I was hoping to get a new recipe up here this week but several work deadlines haven't left me with much free time. So with Easter coming up I thought it would be a good time to post a round up of my favorite Spring recipes. At the end I also included a few links to fun looking Spring/Easter recipes from some of my favorite food bloggers. Check them out!
I'll be back next week with a new recipe. Hint: it's not very Springy but it'll be great for Cinco de Mayo next month. 🙂