December 20, 2010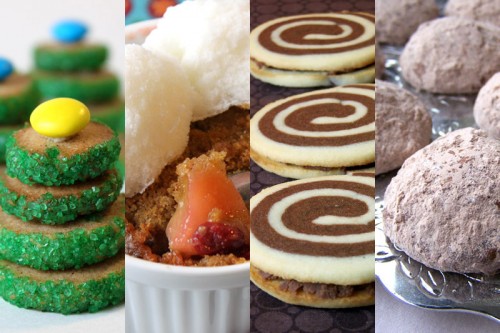 I tried to make a pie for you guys this weekend. I really did. But, it didn't work out. I could post it, but (A) it's really ugly and (B) it's just ok. I think it could be really good, but the recipe needs work and probably a whole different crust (I think it needs to be a tart instead of a pie), so I'll wait to post it until I have it right. But unfortunately, that leaves me with nothing to post this week, so I decided a round up was in order. These are all great choices if you're looking for some last minute cookies or sweets to make. You also may want to check out the Cookies archive as there are a few others I didn't include here.
I have a really awesome dessert I'm planning for Christmas dinner, so I may go ahead and make it early and try to get it posted here, but if I don't, I hope everyone has a lovely weekend! 🙂
September 15, 2008
I know, know, another chocolate chip cookie recipe. There are a million of them and they're always THE BEST, right? Well, no, they aren't because these are hands down the best chocolate chip cookies you will ever bake. Period. These are from the New York Times reporter who went in search of the best ways to make chocolate chip cookies and this recipe is the culmination of that. I made these for my coworkers and they were gone in seconds. Everyone loved them and said they were the best they ever had. One of my coworkers even begged me to make her a batch that she wouldn't have to share with anyone else.
June 15, 2011
Eating more fresh produce has been a goal of mine since I started this blog. Before that, the few times a week when we weren't eating at a restaurant or ordering take-out, most of the dinners I made came from boxes and the only produce I bought at the grocery store was maybe a few bananas, apples or potatoes. Heck, I can't even say I bought potatoes all that often because Brandon still teases me about all the boxed mashed potatoes I used to prepare with pretty much every dinner back then.
I feel like I've come really far from those days whenever I look at my shopping cart and see that fresh fruit and vegetables take up the most space. And now I've finally committed to something that I've been interested in for years: I joined a CSA. I was always worried that we would never be able to eat enough of the produce every week and honestly, there was some extreme laziness involved when I thought about having to go and pick up the share every week. So when Brandon informed me that …
September 12, 2013
Well, hello there. It's been awhile. I hope you all had a nice summer! You might remember (but you probably don't) that I mentioned in my previous post that work was overwhelming me. Well, it kind of took over this summer and since this blog doesn't exactly pay the bills (though it helps pay for my Sephora habit) I had to put work first and get all my projects done. As of last week I finished everything and now I can finally get back to a more normal posting schedule.
Work hasn't been the only overwhelming thing that happened this summer, though. I decided to challenge myself to do something that I never thought I could do. As of today I am 24 days into Whole30. If you've never heard of it before, that means that for 24 days I have eaten no grains, no dairy, no legumes, no white potatoes, no unnatural additives or preservatives and no sugar or any sweeteners (like honey or maple syrup) whatsoever.
May 10, 2011
I think I'm starting to look forward our Game Nights more for the baking, than for the actual, you know, playing games. Since 99% of the cooking I do is for me and my boyfriend it's really fun to have an excuse to make something for other people. It's also pushing me to challenge myself and try new techniques. These mallow cookies are a prime example. I've been wanting to make this recipe for a long time, but it always seemed like too much effort for cookies that only one other person would see. But making them for a group of people seemed much more worth it and even sounded like the process would be really fun. Plus, these cookies are seriously impressive looking. What can I say, I like to show off. Who doesn't?
So, are these as big a pain in the ass to make as they look? I will honestly say I was surprised because they turned out to be easier than I imagined. That's not to say that they don't take some work, but in the end I …
January 25, 2012
Ok, it's confession time. While my eating habits have improved a lot over the past couple of years, I still have a lot of weaknesses for the unhealthy processed food I used to eat all the time. Things like corn dogs and snack cakes and store bought cookies. But the good thing about learning to cook is that you can learn to make all the "bad" stuff you love. Yes, it may still be unhealthy, but at least you know every single ingredient that went into it and you aren't consuming any weird chemicals or preservatives. I've learned to make Oatmeal Cream Pies and Oreos and chewy Granola Bars and while I can't say I totally gave up the processed versions of those things, more often than not when I really want them I'll make them at home.
Spaghetti-Os are another one of my weaknesses. I'm calling them Spaghetti-Os because I think that's how they are best known, but those are actually made by Campbells. The kind I grew up on was from Chef Boyardee and they were called …
July 1, 2008
Have you ever heard of such a thing?  I mean, I know you can fry pretty much anything, but fried pasta?  I've never heard of that before.  Well, I'm here to say fried pasta = yum!
A few weeks ago my boyfriend, Brandon, and I went to Copelands and we were basically blindsided with this item.  We had ordered spinach and artichoke dip as an appetizer and assumed that it would come with tortilla chips like every other restaurant we've ever eaten spinach and artichoke dip at (which is A LOT).  But Copeland's is not every other restaurant.  The dip comes out with a plate of fried bow-tie pasta.  At first we just looked at it in astonishment and even a little disgust, but neither of us are ones to turn away fried food so we tried one.  Oh.  My.  God.  I could eat them all day long.  I would say pasta and fried food are my two biggest weaknesses, so to combine them is just ungodly.
The worst part is that the portion was ginormous.  It was like 5 parts pasta to 1 part dip.  AND WE COULDN'T STOP EATING THE PASTA EVEN WHEN WE FINISHED THE DIP.  It was horrible …
May 20, 2009
So I decided to do something a little crazy. The awesome Nicole at Pinch My Salt started a group to make every single recipe in The Bread Baker's Apprentice by Peter Reinhart
. When she first announced it on Twitter, I was interested but ultimately decided it would be too much work. But then more and more people started joining with her and I kept thinking about it until she announced she was closing the group to new members. As soon as I heard that it made me realize how much I wanted to do this, so I emailed her immediately to join the group.