September 30, 2010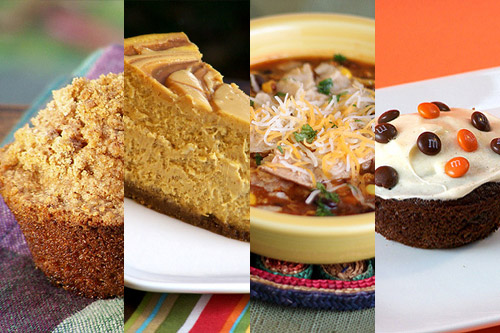 Okay, I'm cheating a little with this post. I've just gotten back from vacation so I haven't had time to try out any new recipes in a few weeks, but I did bake a bunch of muffins and breads to take on our trip and that got me looking though my recipe archives. Plus, I've seen a big increase in search engine traffic looking for soups and other Fall comfort foods, so I thought I'd make a list of my favorites.
I'll be back next week with something new, until then try out some of these great recipes:
September 5, 2008
This is probably one of those basic recipes that everyone in the world (but me) knows, but I've always been scared of making food that sounded, you know, foreign. Like just because it has a fancy-smancy name that means it's also complicated to make, right? Well, there's another cooking misconception down the the drain because I found out last night Chicken Parmigiana is just about the easiest thing in the world to make. And it turned out very very good with very little effort or time on my part. That's definitely a recipe I can get behind for nights when I'm tired or just don't feel like cooking, but I still want a nice meal instead of greasy take-out or pizza.
October 7, 2008
Okay, so actually this recipe is called Applesauce Loaf, but that name just doesn't do it justice. It makes it sound vaguely gross, like meatloaf (I'm not saying meatloaf is necessarily gross, but it sure sounds like it is). This recipe is really similar to Banana Bread, so to call it Applesauce Bread makes much more sense to me. In fact, both recipes go really well together. My mother almost always made both at the same time and while I like Banana Bread just fine, it's the Applesauce Bread that I could never get enough of.
This recipe is perfect for this time of year. It's sweet and lightly spiced with cinnamon and nutmeg, so it's a great start to nice fall day. We don't have fall down here in Florida, which is why I always make applesauce bread and similar recipes this time of year. If it can't actually look/feel like the season, then I can at least make things that remind me of it.
November 15, 2011
It's nearing the end of the year which means that I only have a few more deliveries from my CSA and I'm starting to get sad when I think about not getting that box every Wednesday. But I'll definitely be signing up for another year and, thankfully, I only have to wait about two months since they pick back up in March.
I started this blog several years ago to become a better cook and put more effort into developing healthy eating habits, but joining this CSA has really been the final kick in the pants I needed to make that happen. I've probably tried more new vegetables in just the last 6 months than in all of the last 10 years. It's been great and has helped me to finally convert my inner picky eater into someone who will try anything at least once. There's still quite a few things I don't like (mushrooms…yuck) but at least I tried them and I've even found ways to hide the stuff I don't like so it doesn't go to waste (mushrooms always go into my favorite spaghetti …
September 25, 2009
I'm still here! I just looked at the date on my last post and realized I haven't posted anything since Sept. 1 and I can't believe it's been that long. This month has been a wash due to the fact that I'm moving. Again. Less than a year after I moved back to Orlando. Ugh. But I'm moving to the literal greener pastures of Virginia, which I'm extremely happy about it because it suits me much more than Florida ever did. We weren't planning to move but my boyfriend found a new job in Charlottesville and we both hate Florida, so it seemed like the best decision for us, despite being incredibly inconvenient. We're moving up there next week and once I finally get settled in my new apartment — which I chose entirely because of it's large, well lit kitchen — I'll be able to start cooking again and posting regularly.
But first I thought I would give an update on the BBA Challenge since I haven't posted about it in forever. I'm still plodding along with it, though most people …
July 28, 2010
img class="centered" src="http://farm5.static.flickr.com/4112/4838051960_4e5193608b_z.jpg" alt="Thyme-roasted Chicken with Potatoes" width="640″ height="426″/>
I'm not a very talkative person. I think that's something that readers of this blog might be surprised about. Because I know my posts tend to be long, especially compared to a lot of other food blogs I read. But if you met me at a party, I might not say much, whereas if you give me a keyboard and a textbox to fill, I could probably "talk" for hours on end. That's one reason I love blogging and the internet so much. I guess I just feel more free to express myself here than I do in "real life". That's probably something I need to work on, but that's not really for this post to address.
The point I'm trying to make is that I'm usually so excited about sharing a recipe and describing why it's so good and my experience making it etcetera etcetera that I never have trouble coming up with things to say about it. Editing that sentiment down to something more concise is what always trips me up.
August 4, 2010
I'm not 100% happy with the name of this recipe. Caramelized Cinnamon Toast might be better, but calling it French Toast is more descriptive of how it's made. I would say this is a combination of French Toast and Cinnamon Toast, but Caramelized Cinnamon French Toast is way too long, so we'll just keep it simple. Everyone knows what French Toast is, right?
I've never been a big fan of French Toast. Don't get me wrong, I've never disliked it, but in the world of breakfast foods, I'd usually rather have pancakes or pastries. In fact, I'm not sure I've ever even made it at home before. I remember my mom used to make it when I was a kid (though not as much as pancakes or waffles) and of course I've had it at restaurants, but I guess it's never occurred to me to actually make French Toast myself. But Cinnamon Toast? Well, that is one of my most favorite things in the whole world. I make that all the time. So much so that I have a bottle just to store my …
March 21, 2012
Spring is officially here! And in the spirit of spring cleaning I've started going through my packed freezer to finally use up the last of the fruit that I froze last year. I got a ton of blueberries and blackberries from my CSA and have been using them in muffins all winter but after last week's Pop Tart adventure I didn't really want muffins or anything too carb-y. I've been craving a lemon dessert lately and lemons always pair well with berries so this was the perfect opportunity to finally make something.
Even though lemons are technically a summer fruit, there's really nothing else that evokes Spring to me as much as a lemon. It's just so fresh and bright, like the colorful blooms that are popping up all around my neighborhood these days. It's the perfect thing to help transition between the stark coldness of winter and the hot sunniness of summer.
I had bookmarked a recipe for lemon cream a while ago so I finally decided to give it a try. The recipe turned out to be so simple and tasty that I immediately made another …