April 6, 2012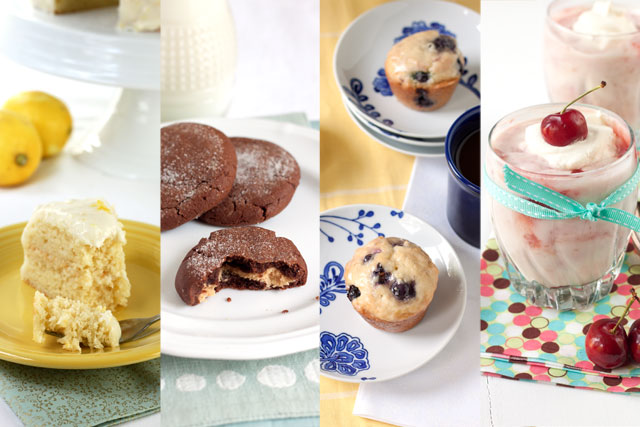 I was hoping to get a new recipe up here this week but several work deadlines haven't left me with much free time. So with Easter coming up I thought it would be a good time to post a round up of my favorite Spring recipes. At the end I also included a few links to fun looking Spring/Easter recipes from some of my favorite food bloggers. Check them out!
I'll be back next week with a new recipe. Hint: it's not very Springy but it'll be great for Cinco de Mayo next month. 🙂
February 22, 2011
To celebrate Valentine's Day and my birthday, Brandon and I spent a wonderful weekend in a little cottage I rented in the mountains a few hours away. It was such a fun getaway: we did some hiking, we drove around and got lost and we spent a lot of time soaking in the hot tub. When we got back home on Sunday afternoon, I wanted to make myself a birthday cake but after such a relaxing weekend I didn't want to deal with complicated recipes or put time into making something that didn't turn out great. That's why I love the internet and recipe sites with reviews like Epicurious. I mean, if you can find a cake that has 1,400+ mostly raving reviews, that has to be a good cake, right?
I am very glad to have found this recipe because those reviewers were right: I now have my ultimate chocolate cake. I honestly can't imagine another cake being able to surpass it. It's made with coffee and oil which result in an extremely moist and soft, but dense cake. I'm pretty picky about my …
August 11, 2011
It's still pretty hot out, but I can't put off posting this recipe anymore. It's worth heating up your kitchen on a hot summer day to make this for dinner. If you've been reading this blog for awhile you may remember last year when I posted a recipe for thyme-roasted chicken and I said it was the best roast chicken I've ever had. I'm not going back on that, in fact I still stand by that statement and I still make it regularly. But. Even the best recipes can get stale if you make them over and over again. That's where this chili-roasted chicken comes in to save the day. Now I alternate between the two recipes so we never get tired of eating either of them!
The thing that attracted me to this recipe in the first place is that the method is really similar to the other recipe but the flavors are completely different. The key in both recipes is to rub the herb/spice mixture underneath the skin, directly onto the meat. That makes the chicken extra tender and flavorful. This recipe uses a spice rub with chili …
February 18, 2009
I'm way behind with posting recipes due to being overwhelmed with work lately, but I just had to post this recipe in preparation for my next baking adventure.
Next Tuesday is Mardi Gras or "Fat Tuesday" and while I haven't lived in a place that really celebrated Mardi Gras in almost 20 years, I grew up on the Mississippi Gulf Coast where it is a really big deal (not as big as in New Orleans, but pretty big). It's one of the things I miss the most about living there. Mardi Gras and my birthday (this Friday) are always closely linked me for since they are usually so close to each other. There have been a couple of years that they have even been the same day (the date of Mardi Gras changes every year depending on when Easter is since Fat Tuesday is always the day before Ash Wednesday which is 40 days before Easter). In the past, I've gotten King Cakes for my birthday, but this year I've decided that I'm going to attempt to make one myself. It's basically like a big …
August 28, 2012
The mousse is very simple mixture of lemon curd (which only takes about 15 minutes to make and can be made up to a week in advance) and whipped cream. So simple! I make a big batch of lemon curd at the beginning of the week, then when dessert time rolls around I whip up a little cream and mix in a few heaping spoonfuls of curd. In 5 minutes you have a smooth-silky-light-fluffy-sweet-tart lemony treat. Bonus: the extra lemon curd is fantastic in yogurt, slathered on cake or muffins or just eaten by the spoonful!
And be sure to try this with Meyer Lemons when they're in season again next year. I was lucky enough to find Meyer lemons very late in the season and this was one of the first things I made with them.
April 19, 2012
If you couldn't tell from previous posts I have quite a long list of store-bought-food-I-want-to-learn-to-make-at-home. After I cleared off Spaghetti-Os, Soft Batch cookies were next on the list. They're probably my second favorite kind of store-bought cookie (because nothing is better than Oreos). I like them so that I can only ever buy the small packs that you get from gas stations because I can't trust myself around an entire package. If you're unfamiliar with these cookies, they're basically what they sound like: extremely soft and chewy chocolate chip cookies. It's sort of like eating cookie dough but without the threat of getting sick since they're baked.
I bookmarked this recipe for Soft Batch cookies a while back and finally got around to trying it out earlier this month. That's when I realized that although I love the texture of those cookies, they don't really have much flavor other than the chocolate chips. So I decided to change the recipe a bit and add one of my favorite ingredients: peanut butter! I had to do several tests (Is Cookie Recipe Tester a real job? Because I …
June 20, 2011
Sometimes I worry that people think I'm way better at this while cooking/baking thing than I actually am. But if anyone is to blame for this perception, it's obviously me because I'm always telling you how easy this or that recipe is to make and blah blah blah…look how great it turned out, too! Here's what you should be taking away from any recipe I post on this site: If I can make this thing, then you most definitely can as well. Because the truth is I'm still learning and I make mistakes ALL the time. But the awesome thing about learning to cook is that the more you do it, the more you learn little tricks and shortcuts so that you can fix your mistakes and learn to steer clear of them next time. But even then, things don't always go your way. It always sucks to waste ingredients, but you just have to stop, take a breath and start all over again.
January 29, 2009
I made this the other night and even though it's not from the weight watchers cookbook, it's definitely low fat (the pork is anyway) and it's quite flavorful. I have some other WW recipes I need to post, but I'm having some technical issues, mainly that I'm having trouble getting good pictures in my horribly lit new kitchen (as you can see from the pic above, which I wouldn't normally post, but it's the best I had)*. I'm thinking about getting one of those table top lighting systems, possibly this one
(mostly because it's under $100, and I'm cheap) . Anyone have experiences with these things like this? Recommendations? It really takes the fun out of it when I make something really good that I want to share and all my pics look like monkeyass (™ Fabio from Top Chef).
*Update: Made this again and got some much better pics to replace bad ones on here before. I wound up getting the lamp mentioned above and I like it a …