November 19, 2010
I tend to stay away from making cakes a lot just because I am not so great with the portion control. But I had been thinking about making a cranberry upside down cake for a while so when I saw it in muffin form I knew I had to try this recipe immediately.
Do you like cranberry sauce? If you do, you'll love these muffins. For the longest time, I absolutely refused to eat cranberry sauce with whole cranberries. I'd only eat the jellied kind that come out of the can…in the shape of a can. I still have that kind at my Thanksgiving, mostly out of tradition, but I make real cranberry sauce, too, and these muffins make me love it even more.
This is a really easy and fast recipe to make and I think the muffins come out so pretty! If you wanted to be a perfectionist, you could cut off the bottoms so they'd sit straight, but it didn't bother me.
November 17, 2009
It's Thanksgiving week on Back to the Cutting Board, which means you get not one recipe like usual, but a ton of yummy Thanksgiving recipes over the next 4 days! This was all brought by the people at SpringPad who invited me to participate in their Springsgiving Event. My mission, if I chose to accept it, was to come up with a Thanksgiving menu consisting of five dishes: appetizer, turkey dish, two sides and a dessert. I didn't get too much advance notice, so I immediately sprung (ohh, bad pun) into action coming up with a pre-thanksgiving meal last week. The thing is, I couldn't decide on just 5 things, so we actually wound up eating about 3 days of Thanksgiving last week trying out different recipes (I love being a food blogger). I ultimately did decide on the five things I wanted to submit to the contest, but I wound up enjoying pretty much all the dishes I picked, so I will be posting all of them here this week.
Now that that's out of the way, lets get on with the recipes! I love sweet …
May 27, 2009
I've been on a strawberry kick lately (seriously, I hope you like strawberries because I have two more strawberry recipes coming up). I also finally bought a tart pan last week and I wanted to make something fun and different. This may not sound like such a "different" dessert, but it's really different for me. The majority of the desserts I make are either cake or cookies (or some variation like cupcakes and brownies). I've only make pie during the holidays and as much as I'd LOVE to make my cheesecake all the time I have to force myself to save that for special occasions.
Anyway, I found this recipe in my favorite cookbook and decided to go for it. I'm glad I did because this was damn good but it's kind of involved. It's definitely worth the effort to make, but like pies and cheesecake, I think this is a "special occasions" kind of dessert. It's not difficult, per se, but there's a lot of steps because you have to make all the parts (the crust, the …
January 20, 2011
Since last fall I've tried a ton of soup recipes looking for that one perfect soup. A soup recipe that could stand up against my absolute favorite: Chicken Tortilla Soup. I've found quite a few good soups, even some great ones, but nothing that I loved as much as that tortilla soup. But, finally, after months of looking I think I may have found it. I'm not sure I'd say I like it more than tortilla soup, but it's definitely tied with it now.
I would call this chowder a cousin to that tortilla soup. They are different and yet quite similar. That's probably why I like it so much. Both have a base of pureed vegetables, but this one doesn't have tomatoes in the base like the tortilla soup does. This chowder is much creamier and has potatoes, which only makes me love it more. I've made this recipe several times and adapted it a bit by adding some corn and a bell pepper to make it even heartier. And don't be scared off by the chipotle part! This only …
December 27, 2010
I hope everyone had a nice weekend! Brandon and I had a pretty laid back Christmas, we stayed in and watched movies and played video games all weekend. It even snowed a little bit on Saturday so we got the proverbial white Christmas. After going all out for Thanksgiving last month, I really wasn't in the mood to kill myself making a big dinner again so instead we had a small ham and I made my favorite Pineapple Stuff to go with it. But it is Christmas, so I couldn't resist having fun with dessert.
One of my presents this year was a set of mini springform pans
. Cheesecake is most definitely our favorite dessert, and we agree that the recipe I use is the best cheesecake we've ever had (two years later I still get regular comments from people who love the recipe) but I only make it on special occasions for two reasons: 1) a 10″ cheesecake is A LOT for two people to eat and 2) we never ever agree on which flavor …
September 20, 2011
It's finally here! Friday is the first day of Fall and I'm ready for it. The weather has even been cooperating with temps in the 60s this past week. I've been baking like mad since the beginning of September but these pumpkin muffins were my inaugural Fall treat and they did not disappoint. I got inspired to make them after cleaning out my kitchen and finding that I still had 4 cans of pumpkin puree and 2 bags of frozen cranberries. I like to stock up on things, can't you tell?
I'd been wanting to make my favorite quick bread recipe ever: my mom's Applesauce Bread because it always feels like fall to me. But I decided to play around with the recipe and make it into pumpkin muffins. I subbed pumpkin for applesauce, some of the sugar for maple syrup and some of the spices for pumpkin pie spice. The pumpkin version turned out just as good as the original! These muffins have a very moist and cakey crumb and the pumpkin flavor really shines through.
The cranberries add a wonderful tart contrast to the sweet bread. I know …
November 12, 2009
Remember when I said I wanted to try out more things with pumpkin in them. Well, be prepared because I've gone a little pumpkin crazy. I had a giant can of pumpkin pie mix that I used for those cupcakes and still had a bunch left over afterward so I went in search for some muffins to use up the rest. But those cupcakes were decidedly not good for you and I wanted to make something that I wouldn't feel guilty about eating. But it still needs to taste good, you know? Well, this recipe totally satisfies both of those requirements.
Basically, I found a recipe that sounded good and I "healthed" it up. I replaced some of the white flour with wheat flour and I substituted the oil with applesauce. That might make these sound kind of boring, but it's the streusal that makes them awesome. That's the only part that I didn't try to fix. In fact, I doubled the amount of streusal because it's the best part. Even doing that, these are still only about 2 …
September 30, 2010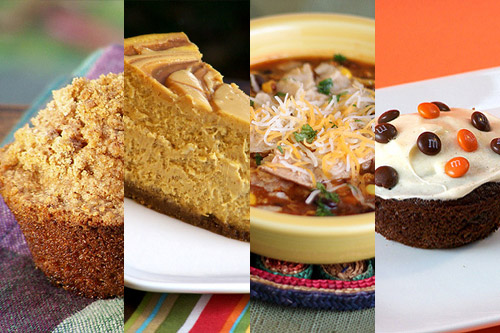 Okay, I'm cheating a little with this post. I've just gotten back from vacation so I haven't had time to try out any new recipes in a few weeks, but I did bake a bunch of muffins and breads to take on our trip and that got me looking though my recipe archives. Plus, I've seen a big increase in search engine traffic looking for soups and other Fall comfort foods, so I thought I'd make a list of my favorites.
I'll be back next week with something new, until then try out some of these great recipes: