Back to the Cutting Board
Mexican Chocolate Pound Cake
adapted from Small-Batch Baking for Chocolate Lovers [1]
Dessert | Yield: One 8×4″ cake or Two 5×3″ mini-cakes
Prep time: 15 min | Cook time: 30 min | Total time: 45 min
I doubled this recipe since most people probably only have a standard size loaf pan. However, if you just want to make a 1 or 2 person dessert, half the recipe and bake it in one 5×3″ mini loaf pan [2].
Ingredients
1/4 cup plus 2 tbsp.

buttermilk

1 tsp.

instant coffee or

espresso powder

1/2 tsp.

cinnamon

1/4 tsp.

baking soda

2

large

eggs

, beaten

1 1/2 tsp.

vanilla

2/3 cup plus 2 tbsp.

flour

2/3 cup

sugar

3 tbsp.

unsweetened cocoa

1/4 tsp.

salt

6 tbsp.

unsalted butter

, softened
Process
Make sure a rack is in the center of your oven and preheat the oven to 350 degrees (F). Butter and flour (I use that special spray for baked goods) one 8×4″ loaf pan or two 5×3″ mini-loaf pans and set aside.
In a medium bowl, stir together the buttermilk, coffee powder, cinnamon and baking soda until the coffee dissolves. Beat the eggs really well in a small bowl. Measure out 1/4 cup plus 1 tbsp. of egg and whisk it into the buttermilk mixture along with the vanilla. Set aside. Discard the remaining egg or save for something else.
Add the flour, sugar, cocoa and salt into a mixer bowl and mix on low until combined.
Add the butter and half of the buttermilk mixture; beat on low until the dry ingredients are moistened, about 30 seconds. Increase the speed to medium and beat until the batter has lightened a bit and become fluffier, about a minute. Scrape down the sides of the bowl and pour in the remaining buttermilk mixture. Beat on medium until well blended, another 30 seconds or so.
Scrape the batter in to the prepared pan(s). Bake until a toothpick inserted in the center comes out clean, 30-40 minutes. Cool slightly on a wire rack. Serve warm or at room temperature.
This cake is great alone but it's even better topped with Dulce de Leche (recipe below), Caramel Sauce [3] or Nutella.
Dulce de Leche
adapted from David Lebovitz [4]
Sauce | Yield: about 2 cups
Prep time: 5 min | Cook time: 1 hour 15 min | Total time: 1 hour 20 min
Ingredients
1 can (14 oz.)

sweetened condensed milk

Dash

of

sea salt

or kosher salt

1

cinnamon stick
Process
Preheat the oven to 425 degrees (F).
Pour sweetened condensed milk into a shallow glass baking dish (like a pie plate). Stir in salt. Add the cinnamon stick.
Cover the dish tightly with foil and set it within a larger baking pan with high sides (like a roasting pan). And hot water until it reaches halfway up the side of the baking dish.
Bake for 1 to 1 1/4 hours. Add more water while it bakes if necessary. When the Dulce de Leche is nicely browned and caramelized, remove from the oven and let cool. Discard the cinnamon stick and whisk until smooth.
Store in the refrigerator until ready to serve. Warm gently in the microwave oven before using.
Mexican Chocolate Pound Cake with Dulce De Leche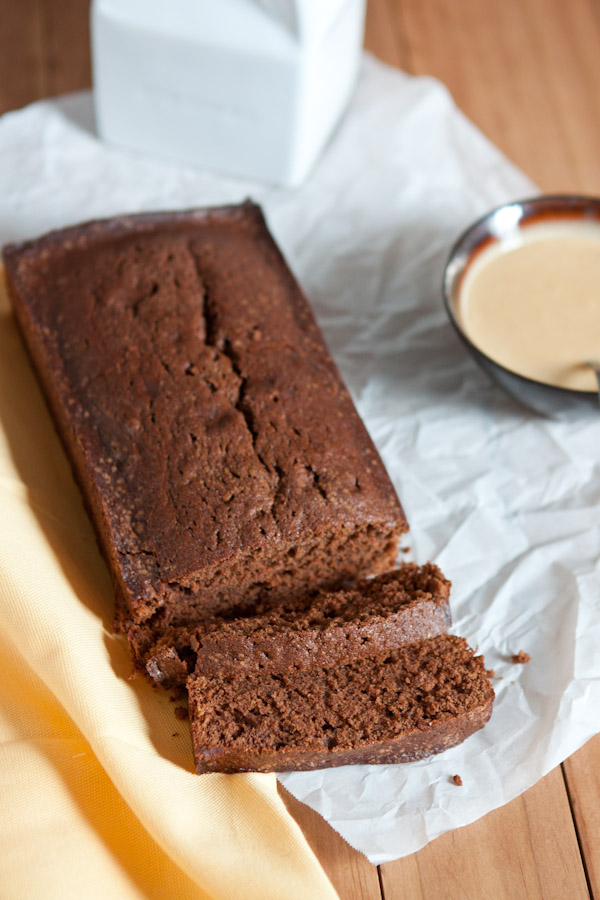 Ingredients
Process